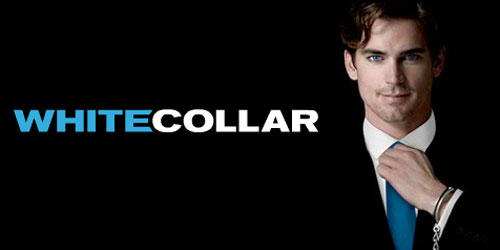 When the little man and Hubby go to bed on an evening I tend to stay up for a little while. I enjoy the peace and quiet and it means I can binge watch whatever TV series I am obsessed with.
I'm quite picky with my shows. If a series doesn't grab me in the first episode, I usually switch it off and it's never watched again. There are some, that I really love though. My top 5 are listed below.
White Collar
Super straight FBI agent Peter Burke (Tim DeKay) and extremely clever and talented con man Neal Caffrey (Matt Bomer) are thrown together in partnership when the FBI decide to let Neal out to help the FBI with some of their more difficult cases. He is tagged and monitored and his freedom is dependant on whether he helps track down criminals for the FBI.
I love both of the main characters in this series. Despite the fact Neal Caffrey is a criminal himself, his character is extreme charismatic and likeable, and it doesn't hurt that he's very easy on the eye. Watching is easy and the I love the banter between Neal and Peter. If you like light hearted American crime shows, this is for you. There are 6 seasons of episodes to watch so you can definitely get your fix if you like it.
Blacklist
This is a recent discovery for me despite being around since 2013. Elizabeth Keen (Megan Boone) is a brand new FBI profiler. On her first day she is contacted by Raymond (Red) Reddington (James Spader) who is a an elusive criminal who has been on the FBI's 'Most Wanted List' for over 20 years. 'Red' hands himself but will only speak with Liz and decides he wants to help the FBI catch a whole host of mastermind criminals. James Spader plays a fantastic part and has been nominated for numerous awards because of this show.
There's a web of secrets and no one seems to be who they say they are in Liz's life, including her husband. Why will Red only work with her? How was he involved in her childhood? The third series of Blacklist has just started so there are still a lot of mysteries yet to be solved. It's another American crime mystery series, with lots of twists and turns along the way.
Nashville
Not my usual genre but I absolutely love Nashville. With the main stories focusing on older Country superstar Rayna Jaymes (Connie Britton) and a younger, newer but equally as successful singer, Juliette Barnes (Hayden Panettiere). It's jam packed with huge selection of famous actors who fit perfectly into the roles. It's set in the busy Nashville music scene and digs into affairs, addictions and indicates just how cut throat the music scene can be,
I absolutely love it. The characters all sing their own songs and there are so many original tracks featured across the series, it's like a much more upmarket Glee without the cheese. 4 series have been aired so far so there's plenty for you to get your teeth into.
House
I'm really quite sad that I binge watched all 8 series this and have now seen all of the episodes. I loved it.
Hugh Laurie plays the ever cynical and unorthodox Gregory House, a extremely witty and talented doctor who is able to diagnose the most complex of cases. House is rude, arrogant and addicted to painkillers so you'll either love him or hate him. Regardless, there's no getting away from the fact Huge Laurie plays the part to perfection. The show touches on the medical side of things but also looks at Houses own life, the reasons he's the way he is and the trouble he gets into.
Greys Anatomy
Grey's has a whopping 12 series so far and it's still being aired. Based at Seattle Grace hospital it focuses on the lives of a group of interns who start at the hospital and their journeys to become full fledged doctors. It has may twists and turns, deaths and revelations along the way and probably one of my most favourite series ever.I challenge you not to fall in love with 'McSteamy' and 'McDreamy'
What do you like to watch on TV? Do you have a favourite program?