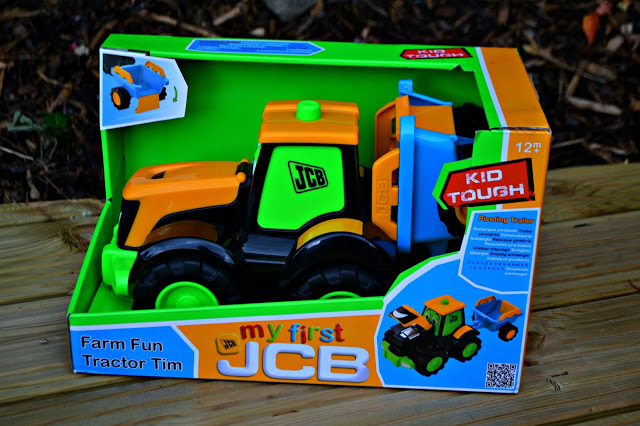 The little man is obsessed with anything tractor related. He will sit for hours looking at his tractor books or looking out of our living room window in the hope a tractor will pass by from one of the local farms.
Tractor Tim is brightly coloured and very chunky. making it perfect for little hands. It's ideal for both indoor or outdoor play and is adequately robust for my less than gentle little man.
The tractor comes with a removable trailer which can be used to transport sand, stones or sticks, whatever your little person sees fit.
Tractor Tim has become one of the little mans favourite toys, he always makes a beeline for it. He loves playing with it in his sandpit, filling up the trailer and wheeling the tractor round and round in circles.
At only £14.99 the newest member to the My 1st JCB range, Tractor Tim is perfect for adventurous little people. It's a great sturdy toy and would a great gift for both boys or girls.
The kind people at Golden Bear Toys are also offering one of my blog readers the chance to with their own Tractor Tim. To enter please complete the Rafflecopter form below.
a Rafflecopter giveaway

Terms and Conditions
A winner will be chosen randomly via Rafflecopter
The winner will be notified via email and Twitter (if you leave your handle)
ALL entries are checked and if any of your entries are found to be fake ALL of your entries will be disqualified.
Fake entries/automated entries will be disqualified.
You will have 28 days to respond to the winning notification, if you don't a new winner will be chosen.
The prize will be sent directly from the company.