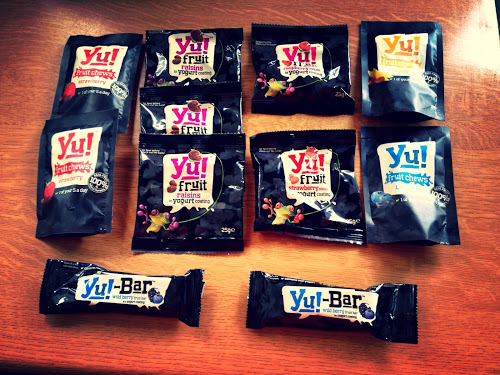 I
discovered Yu! On Twitter, after winning a retweet competition to win
a product sample. They sent me a fab selection of their products, and
I couldn't wait to get stuck in.
So,
who are Yu?
"Made
from real fruit, the Yu! range is the perfect solution to healthier
snacking on the go. There are four delicious ranges, including three
with a natural yogurt coating. Importantly, nothing we make contains
any artificial flavourings, colourings or preservatives".
Yu products are available in Tesco and Sainsburys.
The products they offer are –
Yu! Fruit and Yogurt
Yu! Bar
Yu! Fruit 100%
Yu! Granola
Yu!
bar with wild berry – 30g bar
A
fruity bar covered with yogurt. It contains 33% fruit, including sour
cherry puree, apple puree, strawberry puree, raspberry juice,
blueberry juice and blackberries.
It's
delicious, although its a small bar, it's fruity, sweet and extremely
tasty. It's fab as an energy boost whilst out shopping or for the mid
afternoon lull at work. Usually cereal bars etc don't really floaty
my boat, especially the fruity variety but these bars are lovely. The
filling is not dissimilar to jam. I was very pleasantly surprised by
how much I enjoed this variety, and I'm keen to try some of the other
flavours.
Strawberry
Fruit Chews – 24g packet
One
of your five a day and only 90 calories per packet.
They
are small dark jelly pieces which are fruity and tasty. They're
suckable or chewable and a great alternative to sugary sweets. I
found these fabulous to carry in my handbag, great for day trips or
just as a healthy treat at work.
Strawberry
pieces in yogurt coating – 25g packet
Small
strawberry pieces coated in yogurt. Again, they're another delicious
snack, perfect for your handbag, and I think they'd be perfect for
kids, they'd think they were getting a sweet treat, but a healthy
one.
I
have to say I am so pleased to have been given the opportunity to try
Yu!Products, they're an excellent discovery.
They
retail at 65p per item in Sainsburys but are currently on 3 for
£1.50.
I
think Yu! is a great idea, the packets a handy, healthier than sweets
or chocolate and most importantly, they're delicious!!