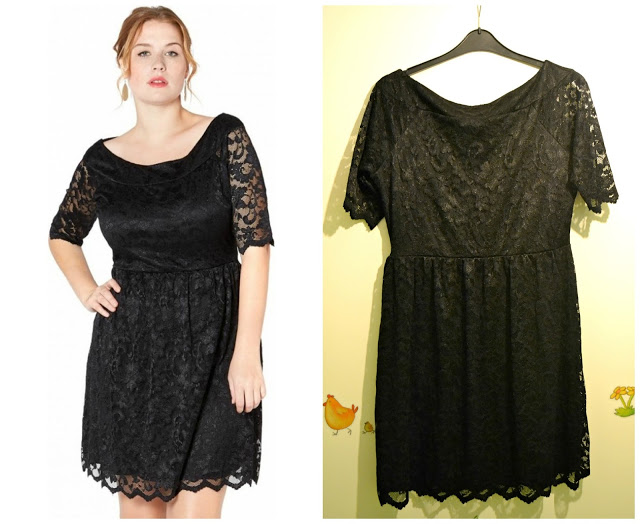 Finding festive party wear in sizes bigger than a 12 can be hard work. It was my work night out recently am I wanted something festive but comfortable. Thankfully Pink Clove got in touch and came to my rescue. They're an online store, selling a great range of plus size clothing with very reasonable price tags. Launched back in 2013, their sizes range from 16-32, giving larger ladies the chance to look glam too without having to spend a fortune.
After much deliberation and scrolling through the Pink Clove website I finally settled on the Lucia all over lace dress, a fully lined black dress with a layer of lace over the top.
I love the Bardot style neckline, though you will need to invest in a good quality strapless bra to pull it off. The dress has a beautiful scalloped edge around both the arms and the hem, I think it makes it look much more expensive than it is.
I love the sleeves on the Lucia dress. They hide away my unsightly upper arms and leave me feeling much more confident. The dress shaped is quite flattering and pulls in nicely at the waist. I'd have prefered something slightly longer though as it did feel a little on the short side, hence opting to wear a pair of black tights underneath.
I teamed the Lucia dress with the elegant Kyra belted Duster coat which is not like anything I have in my wardrobe. It's a lightweight jacket with belted waist that be both dressed up or down. The material is very flattering, flowing over curves and flattering lumps and bumps.
The coat looks great with jeans like the model in the picture above but looks equally as nicer with something a little more dressy.
I think it's a steal a just £30 and has become my new favourite wardrobe item. It's light enough for the warmer months but equally as suitable for layering during the colder weather.
One of my lucky blog readers can win a dress from Pink Clove. To enter all you need to do is complete the rafflecopter form below.
Terms and Conditions
UK only / delivery before Christmas/New Year cannot be guaranteed.
A winner will be chosen randomly via Rafflecopter
The winner will be notified via email and Twitter (if you leave your handle)
ALL entries are checked and if any of your entries are found to be fake ALL of your entries will be disqualified.
Fake entries/automated entries will be disqualified.
You will have 28 days to respond to the winning notification, if you don't a new winner will be chosen.