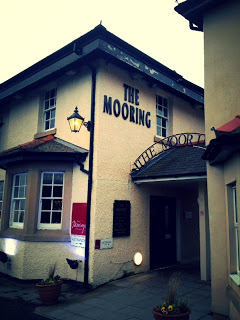 Last
night my hubby and I decided to pop out for tea.
We
decided upon
The Moorings
which is about 2 miles away from our
home. It used to be a firm favourite, providing reasonably priced pub grub that
was delicious. I was aware that it had become both a hotel and bistro since my
last visit, so was intrigued to give it a go.
I am unable to make any comment on the hotel part as I didn't see any of it, but the rooms do look attractive on their website, some containing hot tubs!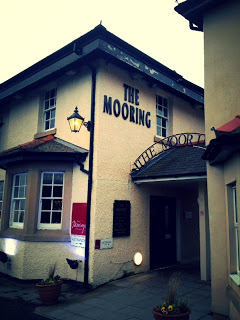 The decor
is both traditional yet contemporary, with lots of dark wood and an 'at sea'
theme. The decor looks great, and looks very much like an old gents local pub.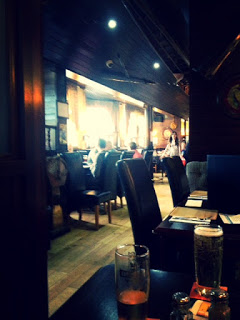 The pub
was quite empty when we first arrived, around 6.30pm but it did start to liven
up while we were there. You'd definitely need to book if you had a large group.
We
ordered drinks at the bar and found a table that wasn't reserved and started to
browse the menu, I was quite disappointed to see the menu had changed
excessively since our last visit, The Moorings has gone along the bistro road :
– smaller portions which are attractively displayed, rather than hearty
portions of traditional pub food.
We
ordered our food at the bar after checking the menu. We both ordered a started
and a main course. We chose –

Starters
Sauté
closed cup mushrooms £4.60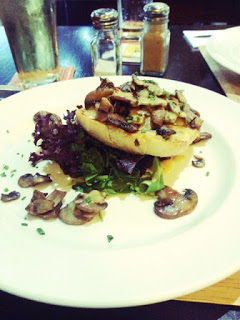 12 hour
slow roasted belly pork £6.60
Mains
Our own
hunters chicken £10.95
Pan fried
duck breast £14.95
There was
a long delay between ordering and the starter arriving, though when they did
they were hot and pleasantly displayed.
The main
courses arrived promptly after the starter mains were removed from our table.

The food
was ok; my hubby really enjoyed both his starter and main course, whereas I
found both of mine very salty.
A manager
was directing customers to tables and telling members of staff what to do, he
appeared quite stressed and a little rude to his members of staff (something
that should be kept to the kitchen) having worked in restaurants and bars for a
large chunk of my life I find that that's not uncommon but usually only when a
restaurant is busy.
Overall
I'd say The Moorings has become an average restaurant. It used to be the bees
knees in my opinion, but it seems to lack atmosphere or the traditional feel it
used to have, appearing to be aimed more now at a higher clientele.
I would
like to go again, maybe during the day or for Sunday length, but based on the experience last night I wasn't a huge fan.
Good
points
· Gorgeous decor
· Close to home
· Lots of free parking
· Reasonably priced – £50 for two
courses for two with two pints of shady.
Bad
points
· Staff are slow and seemed unsure
of what they were doing
· Both the mushroom started and
Hunters Chicken were VERY salty
· Staff refused to serve drinks to
the table despite the fact a tab was open
· Very slow for first course to
arrive
· Lack of atmosphere
· Not a great deal of choice on the
menu, especially if you're vegetarian
I paid for the meal and reviewed to share my experiences only.