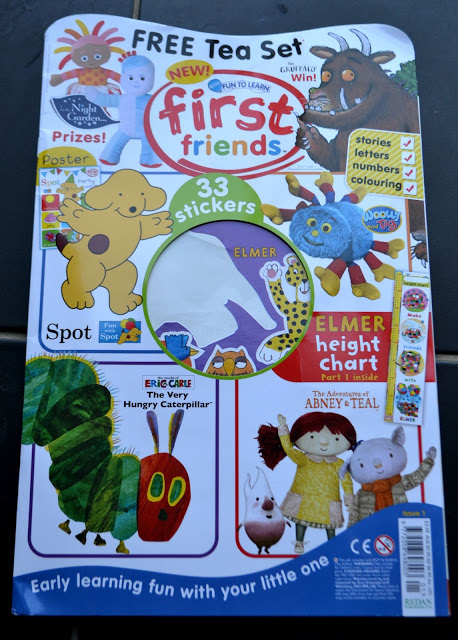 A brand new children's magazine called Fun to Learn First Friends has recently been launched by Redan Publishing Ltd. Already famous for publishing numerous kids magazines such as Ben & Holly's Little Kingdom and Peppa Pig magazine, they've now brought out a magazine aimed at pre school children and their parents.
The brightly coloured magazine contains easy to follow stories, rhymes, simple activities, crafts and colouring in pages all which encourage creativity. With TV characters such as Elmer, Spot and The Very Hungry Caterpillar being prominent throughout it helps your little person to recognise characters away from the TV.
The magazine is excellent, and full of eye catching pages to encourage little people to look and learn whilst reading along with parents. It features ways to help with key learning skills and has helpful notes for parents to help them inspire their little people and encourage participation and progress.
The edition we were sent is the very first edition and costs £2.99. It includes various free gifts including a Very Hungry caterpillar tea set (the little mans current most favourite toy), 33 stickers, a Spot the Dog poster and an Elmer height chart.
The little man keeps going back to the magazine and seems very impressed with the bright colours. He loves pointing at things until Mammy or Daddy tell him what they are. The stickers are a good size, which means he can peel and stick them himself although very few have been stuck in the actual magazine!
You can buy the magazine from all major and independent newsagents and supermarkets for £2.99 which I think is a bargain for the amount of things it contains and the hours of fun it fills. We will definitely be buying in future.
If you have a little person who'd like to try out the first edition of the magazine themselves fill in the rafflecopter form below and three people will be sent a copy of the first issue.
Terms and Conditions

A winner will be chosen randomly via Rafflecopter
The winner will be notified via email and Twitter (if you leave your handle)
ALL entries are checked and if ANY of your entries are found to be fake ALL of your entries will be disqualified.
Fake entries/automated entries will be disqualified.
You will have 28 days to respond to the winning notification, if you don't a new winner will be chosen.