We all have something precious, something we cherish and would save from a burning house. For me, that would be photographs. Before the age of digital photos and Smart phones I became obsessed with point and shoot disposable cameras. The anticipation of waiting for your pictures to be developed, waiting to see if any were actually in focus and then painstakingly inserting them into the individual slots of photo albums.
I'm a massive fan of pictures. I have them dotted round the house, there are pictures in every room, I have canvas prints, metal prints and traditional pictures in frames. Each and every one is precious and a reminder of great times.
I've wanted to put some of favourite photographs together for quite a while now and make a photo wall in the house. My brief for this month from Graham and Brown fits in nicely with this idea too. I was challenged to move something precious into another room, in my case our dining room.
I started collecting picture frames from charity shops and car boot sales last year but never really had the time to do anything with them. Charity shops and car boot sales are a treasure trove for pretty frames and unusual trinkets, it's true what they say about one persons junk is another's treasure. On a recent sunny day I spotted some pretty frames, remembered my collection in the spare room and bought them.
I emptied the frames of their pictures, removed the glass and put them outside to spray with gold paint. I used a cheap interior paint that cost around £3.
I left them to dry and started to choose my pictures. To say we have a lot of photographs is a massive understatement. We literally have thousands stored on the laptop and a separate hard drive. I can waste away hours flicking through the files and albums, reminiscing of times gone by, people no longer with us and the terrifyingly fast growth of the little man. I took some photos from a frame I had upstairs and some of huge stash of photos I had printed a while ago and matched them up with their new frames.
The photos consist of pictures from our wedding, the little man childhood, various holidays and random nature shots.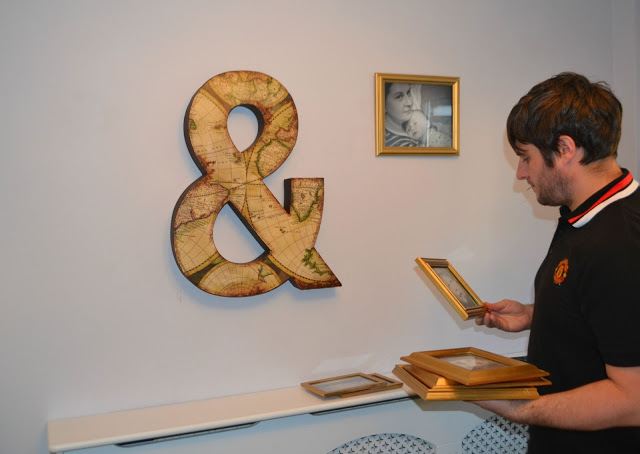 As well as the photo's I wanted a focal point in the centre of my wall, something eye catching and meaningful. This striking Ampersand from Graham and Brown is perfect. The ampersand symbol can be traced back to the 1st century A.D and is used for the word 'and'. I thought it was a perfect as each of us added together makes our little family. It also has a vintage feel to it so compliments the old gold coloured frames.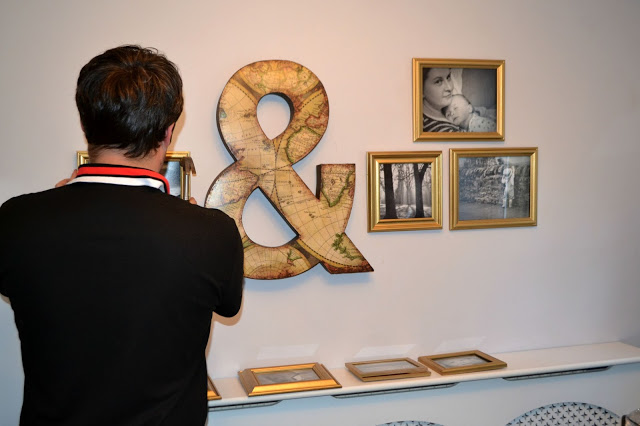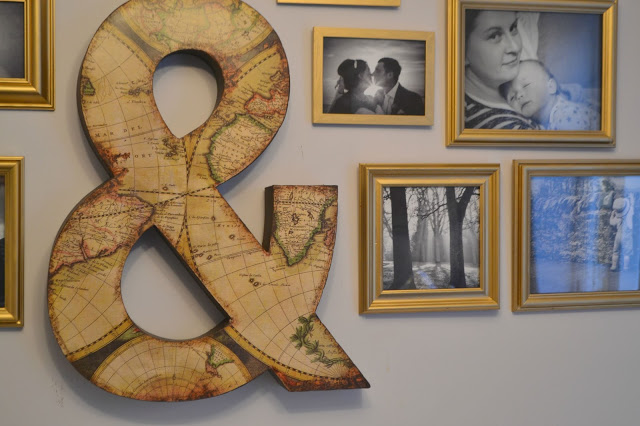 I'm so pleased with the start of our photo wall. The gold frames look eye catching against the pale wall and look amazing with the Ampersand. We can add to the wall as we continue to make memories. I don't want the wall just to contain pictures, I'd like to include mementos and things that are precious to us as a family.
I think there are things I could add to compliment the photo wall further. I think a cream or gold wall would look better. I love these three wallpapers from Graham and Brown, their muted tones are calm and a perfect backdrop for busy frames and photographs.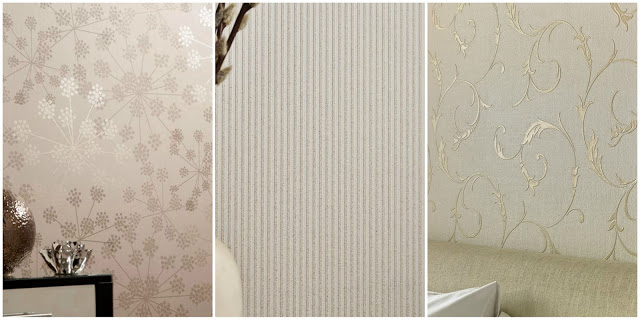 How do you display your photographs?