What the company say
Our certified organic range has been created
for the first signs of ageing. This innovative concentrate helps to
enhance surface skin condition, leaving it looking smoother, fresher
and healthier.



Helps enhance
surface skin condition




Smoothes





Instantly
moisturising




99% of ingredients are of natural origin
Price and Stockists
This
is available from the Body Shop and costs £22 for a 30ml bottle.
Packaging
Drops
of Youth comes in a green glass bottle with pipet type lid. I HATE
the dispenser. It's fiddly and I think my pipet is posessed. It
doesn't work properly, and I find it extremely hard to get the
correct amount of product out and onto my fingers. I usually just dip
the pipet into the bottle without pressing it in and then just wipe
the stick onto my fingers a couple of times. I think a proper pipet
with a rub end would be much easier to use, or just a normal pump
action top would solve all the issues.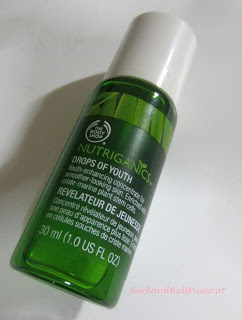 Thoughts
The
product itself is translucent and has a smell which is like a faint
version of Radion B! I'm pleased to say the smell disappears almost
instantly when it's applied to your skin. There's no stickiness and
the product absorbs into your skin very quickly, leaving a soft,
almost velvet like feeling.
A
little goes a long way! I find that three decent sized drops of
product, give my face a good coverage. I massage it into my skin in
circular movements, until it's completely sunk in.
I've
been using it twice a day, prior to putting my make up on and then
before bed after cleansing. I suffer from dry skin and have found
this has made a pleasant change to using thick greasy night cream.
I've had no dry patche flare ups and my skin feels smooth to touch
and my foundation has been going on a lot easier. I find this makes
an excellent base for foundation.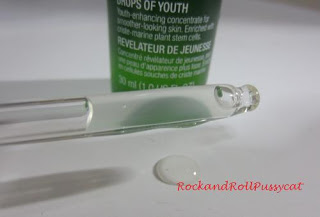 Pros
Soaks into skin quickly and easily

No sticky residue
Has made a noticeable difference to my skin
The pipet is awful, so dispensing is difficult
Finally
I really like this
product, other than it's silly pipet. My skin feels soft and supple
and much smoother since I started using it. It's not oily or greasy
and has made my dry skin feel great. I think the finelines on my
forehead look reduced and I can see that my skin looks much brighter
and more even.
(Competition Win)