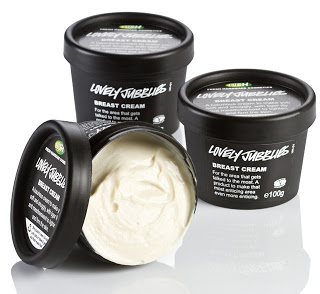 What the company say
Beautiful almond oil, cocoa butter, jojoba oil, evening primrose oil, avocado oil and beeswax combine together to make a softening moisturising cream.
We then add orange blossom honey, fresh rose infusion, lemongrass oil, ylang ylang and jasmine absolute.
We also added tiger lilies and meadowsweet herb, because they were recommended to us many years ago by medicinal herbalist, Alan Hopking, as being firming for the tissues.
A product that is designed to make that most enticing area even more enticing. Because everybody needs a bosom for a pillow.
We made Lovely Jubblies at the request of members on our Lush Customer Forum, who told us they were using our neck cream on their breasts and wanted a bigger bottle of it. So it drove us back into the lab, to boost the neck cream and make it a little bit more man for the job.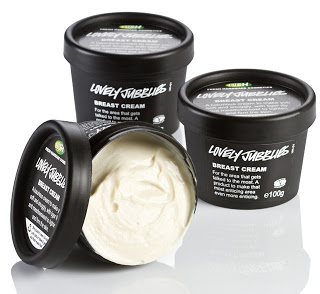 Price and Stockists
This is available from
Lush, both in store and online.
It costs £16.50 for a
100g tub, which admittedly is quite expensive.
Packaging
As with all Lush
products, the packaging, is simple and plain and can be recycled. The
tub is a screw top black pot with white text.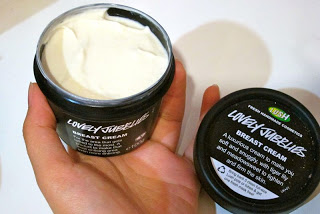 Thoughts
The cream is pale
yellow with a delicious scent. It has quite a rich, exotic smell, and
makes me think of Turkish bizarres.
This cream has amazing
reviews on the internet, and on the Lush website.
My boobs are no means
down to my knees, but e
tiger lily petals to firm and to help fight the forces of gravity.
There's beeswax, almond, and avocado oil to soften and hydrate your
skin, and yummy-smelling flower infusions like orange blossom, rose,
jasmine, and ylang ylang.
You
can use this on all your "wobbly" bits, not just your
chest. It'd be for your boobs, bum hips, stomach – anywhere you want to
tighten. It can also be used on your face, though so far I've been
sticking to my boobs and belly.
Pro's
Smells delicious
Easy to use
A little goes a long way
Con's
Pricey
Only available at Lush stores
Overall
I love the smell of this and it's make my skin feel supple and smooth, but if I'm honest I can't seen any massive changes to how tight or firm my skin is, or maybe my skin needs more time, or a miracle!
I'll keep using this until it's gone and see if there are any changes, but if I don't see any, I'm likely just to go back to using my dry skin moisturiser which makes my skin feel just as smooth, only without the pretty scent.
(Personal Purchase)