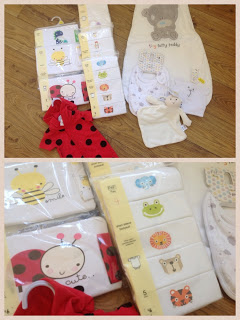 I was recently given the opportunity to order and review some baby clothing from F & F at Tesco.
I chose –
Heavenly Formal maternity trousers
F & F 5 pack of Nursery Rhyme short sleeved body suits
Lamb Comforter
F & F 5 pack of Animal Motif short sleeved bodysuits
F & F 7 pack of long sleeved bodysuits
F & F 5 pack of cloud bibs
F & F 2 pack of dinosaur pjs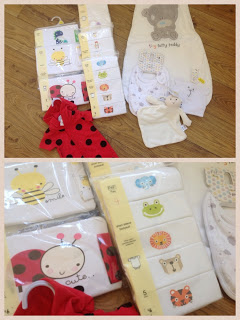 Unfortunately the trousers that were sent came in the wrong size, but I was able to pop to my local Tesco store and swap the trousers for a another romper suit, a 2.5 tog sleeping suit, another pack of two pjs and a tiny teddy bear hat without issue.
None of the items I picked from store are shown on Tesco's website, so presumably the stores must stock different items to those on their website.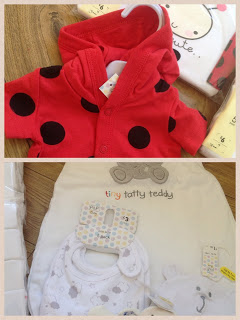 I was really impressed with the quality of the items, especially the basic white sleep suits, I wasn't expecting a great deal considering they only cost £1 each, but they're lovely and soft with a decent amount of stretch. The quality of the cotton is good and they're a complete bargain!
I was also very impressed with the 2.5 tog sleeping bag. The cotton is soft both inside and out and it would make a perfect gift for those who aren't finding out the gender of the baby as it has yellow trim, and who doesn't like the Tatty Teddies.
Overall I was really impressed with both the quality of the products from the F & F baby range and the price.
Tesco have some gorgeous basic baby items at great prices, and some really cute outfits, which are perfect for those on a tight budget or for gifts for mothers to be.