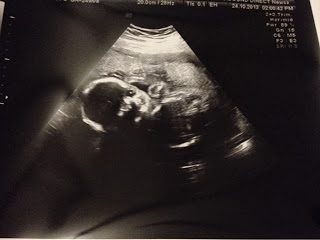 I'm now 24 weeks pregnant and today we were lucky enough to find out our little babies gender.
When we had our 20 week
scan at the hospital last month the baby was all tucked up with its legs crossed so
we were unable to find out its gender, but because I'm so impatient I
couldn't wait any longer and booked a private gender scan. It cost
£79 but was worth every penny.
We found out that our baby is BOY!!!
We're both really pleased, though very shocked as we'd convinced ourselves it was a girl.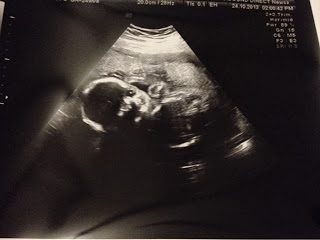 So, anyway, a little update about how things are going –
Stretchmarks

Nope still none yet. I wonder how long I can hold off?! I've been using Silderm oil more recently. I smells really relaxing and although initially feels quite oily soaks in pretty well.
Maternity Clothes
I haven't bought much recently, but have been sent a gorgeous dress from Tiffany Rose to review which I can't wait to wear.
Sleep
I'm super sleepy all the time. I could literally sleep for a week if I had the time. I'm sleeping through the night now, though still usually get up for one wee.
Sickness

Nope, no sickness, but I'd had quite a lot of heartburn which I've been downing Gaviscon for.

Emotions
I'm fine, by no means an emotional wreck just yet.
Issues

I'm suffering from SPD (symphysis pubis dysfunction) which is absolutely horrendous. After our trip to London I was in complete agony. I'm off to see the midwife tomorrow and I think I'll be referred for Physio. On top of my back issues, I'm walking like a little old lady. I'd not the best look. The only time I'm really comfortable is when I'm lying on my side in bed – not moving.
Movement
I'm getting lots of movement now. Loads of flutterings but no full blown kicks as of yet. He likes to flip upside down a lot, I can feel him turning – it feels a little like sea sickness.
Cravings

No cravings really. I get a fancy for somethin and HAVE to have it, but then it's gone. Nothing repetitive at the moment.

Preparations
The nursery is about 90% finished. The pushchair and cot mattress are ordered. I literally only need to buy some baby towels and some sheets and blankets, or and now we know what baby is I can by some blue clothes instead of boring cream or white baby grows.