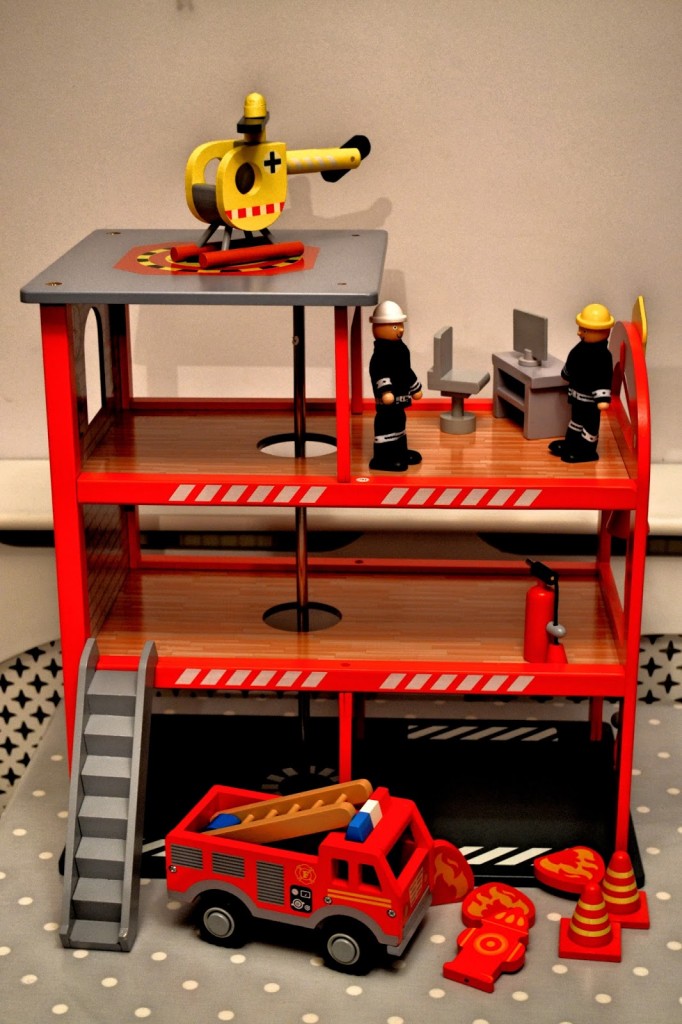 The one toy that sticks in my mind from my childhood was my huge wooden dolls house. It was made for me by my uncle and decorated by my Mam. I loved it and played with it for hours. I suspect it's probably still hidden away in my Mam's loft. I think that's where my love for wooden toys may come from. I love how robust and long lasting they are and like my dolls house, can be passed down from generation to generation.
I was rather intrigued when I found out Asda had a brought out a wooden toy range. just in time for Christmas. Wooden toys always seem expensive so when I found out how inexpensive the range at Asda is, starting at just £10 for a wooden food crate up to £40 for a full blown children's kitchen I was excited but I wasn't really too sure what to expect.
We were sent the George Home Wooden Fire Station* to have a look at more closely.
The Fire station arrives flat packed in a reasonably compact box. It took Hubby about an hour to put together. It was a reasonably simple procedure with very little swearing or whinging from him. We did have a little issue with the screw holes on one side of the Fire Station as they were out of line, but Hubby was able to fix this without too much hassle and it made no difference to the end look of the toy.
As soon as it was erect it was obvious the Fire Station was extremely sturdy. There was no wobbling which it does indicate that it's to be built to last.
The Fire Station is across three levels and comes with a multitude of figures and additional pieces including firemen, a fire engine and some pieces of fire! They're all well made and as sturdy and child friendly as the Fire Station itself.
The colours are bright and eye catching with lots of attention paid to detail The toys are all painted well and are chunky enough for little hands to grab.
It's such a versatile toy, with so many parts to it and hours of fun to be had by your little people. Whilst my little man is still quite young to play with the building in it's entirety, he's become fixated on the firemen figures and rolling the fire engine round and round the living room floor, he also thoroughly enjoyed playing with his Daddy who I think loves the Fire Station just as much as his son.
Things we like
Easy to put together.
The bright colourful design.
Sturdy and robust parts.
Additional extras such as the fire engine and helicopter.
The price is fantastic.
Things that could be improved
The paint does seem to chip quite easily so a more protective final coat on the paint would be a welcome addition to make the Fire Station longer lasting, though I do think any chips could be easily touched up with paint.
I would like to see the option of a storage case to purchase to keep all the figures and extra parts together.