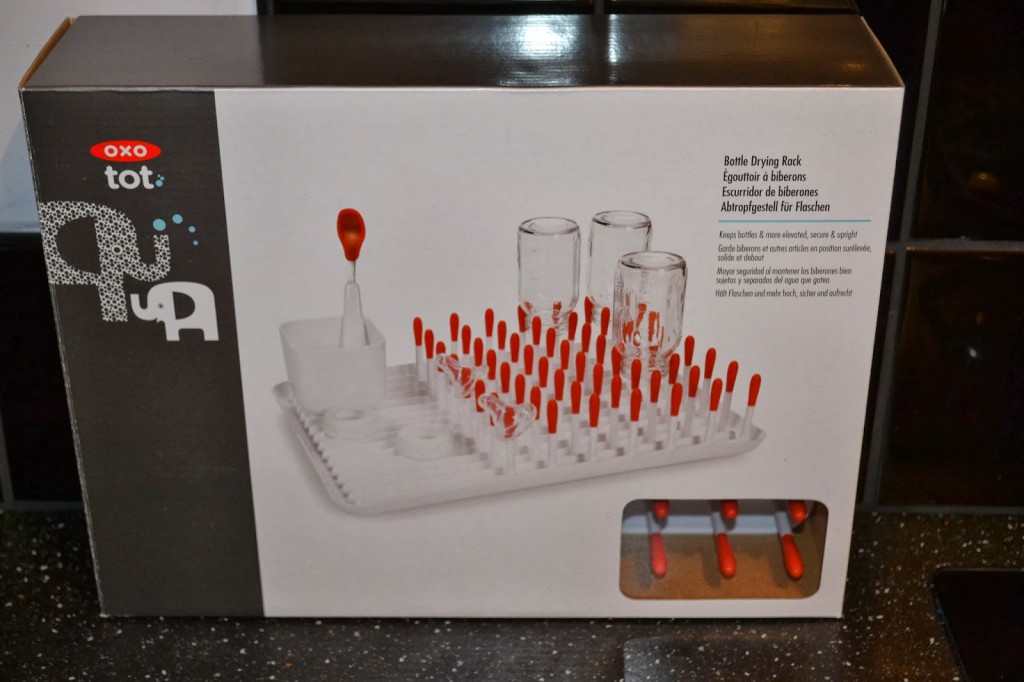 I'd like to think our kitchen is clean and tidy, but I'm not certain it's always going to be 'baby clean'. We already have a draining rack next to the sink for our dishes, but I was lucky enough to be sent the OXO Tot bottle drying rack.
It's a simple idea, but a really good one, and the unique design makes it both easy to use and clean.


Fits at least 8 disassembled baby bottles and their components
Deep walls contain water and corners are shaped to easily pour out excess water
Flexible tines elevate bottles, teats and breast pump parts to allow for ventilation while open area with raised ribs provides space for small parts and keep items away from water at the bottom of the tray
Cup attaches to multiple areas of the tray and is ideal for utensils, straws and medicine droppers
Non-skid feet allow for stability and make it easy to lift

The rack is very easy to clean and can also be put in the dishwasher. The bottom tray has channels that allow the water to run away from the bottles and lets the air circulate to dry the products. The tray at the bottom is easily tipped of the water that drained away, and it's not messy.
The rack has a removeable draining cup which can be removed and washed out easily. You can stand cutlery and dummies in it to dry.
The raised coloured spines are great for standing bottles between and because the design is simple with no unnecessary crevices it stays clean and you can ensure any dirt or grime is easily seen and removed.
I've put ours on the other side of our sink in the kitchen and find it really hand for any baby related items. I'm sure it will come in even more handy when we get round to the weaning and eating stage.
If you'd like to see the rack in action have a watch of this video that I found on YouTube.
I am very impressed with both the quality and the design of the bottle drying rack, although it may seem like a luxury product to buy, once you've used it, you will realise how helpful and indispensable it becomes.
*PR Sample*