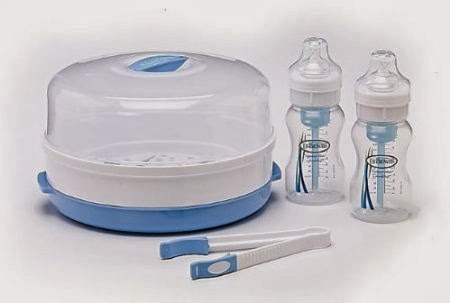 Having recently changed all of our little mans feeding bottles and replaced them with Dr Browns bottles, resulting in a massive improvement to his windy tummy I suspected the other products from the Dr Brown's range would be equally as impressive.
The Dr Brown's Microwave Steam Steriliser has a tray inside that holds 4 Dr Brown's bottles and components. The box also contains 2 x 240ml BPA-free feeding bottles with teats and all inserts and a pair of tongs.
The steriliser is easy to set up and reminds me of a cake box. It's also simple to use. You need to measure out 6fl oz of water with one of your bottles and pour into the bottom of the tray, then arrange the bottle components according to the instructions, put on the lid and heat in the microwave for five to eight minutes. Word of warning – it gets VERY hot. Listen to the instructions and leave the unit to cool for 10 minutes before you can remove it from the microwave or open it. They are there for a reason. The first time I tried it I didn't and ended up with burnt fingers.
The steriliser fits 4 standard or 4 wide neck Dr Browns baby bottles, but it also takes other brands of bottles.
It also helps to effectively kill all common household bacteria.
The steriliser costs a very reasonable £22.50, which considering the bottles that are included cost over £10 themselves makes the steriliser a bit of a bargain!
The good bits –
It takes up less space than a traditional steriliser and is ideal for nights away or travelling.
Providing you don't use your microwave the steriliser can be stored out of sight in there, meaning it's not another baby related item taking up bench space.
It fits most brands of bottle.
It includes two Dr Brown's bottles which cost over £10 to buy separately.
It doesn't need de-scaling like electric sterilisers with metal elements.
It's very reasonably priced.
The not so good bits –
It will only fit in a larger microwave, if you have a compact microwave it simply will not fit.
It takes a full 18 minutes to sterilise bottles which is longer than the Tommee Tippee electric steriliser I was using prior to this.
It will only keep your bottles sterile for up to 24 hours if you don't open the lid, whilst this is the same with every steriliser I have ever heard anything about.
You can read more about the Dr Brown's microwave steriliser and the other products they have for sale on their website.
Overall I am impressed by the steriliser, it's another product from Dr Brown that gets my seal of approval.
One of my lucky readers has the chance to win one of these sterilisers. You need to complete the rafflecopter for to be in with a chance.