We're lucky enough to live very close to the beautiful city of Durham and often take advantage of a wander round the pretty cobbled streets.
While we were in the city on Saturday, we checked out Fire and Ice Durham 2017, a free, family friendly event running across two days ( 24th and 25th February).
The city becomes home to 10 intricate ice sculptures created by Glacial Arts that depict infamous myths and legends and a range of activities such as ice carving opportunities, and two grand finale shows.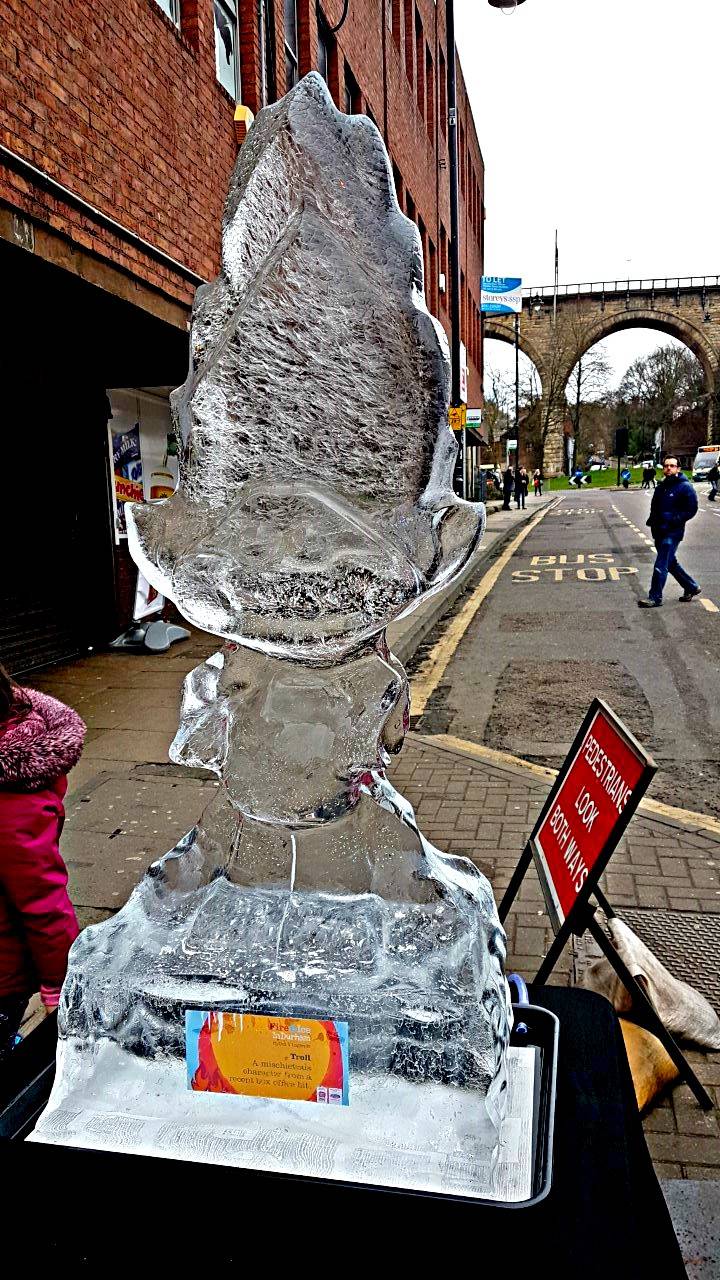 Each ice sculpture is dotted along a trail ( we started at North Road) through the city, obvious by it's high flying fiery beacon.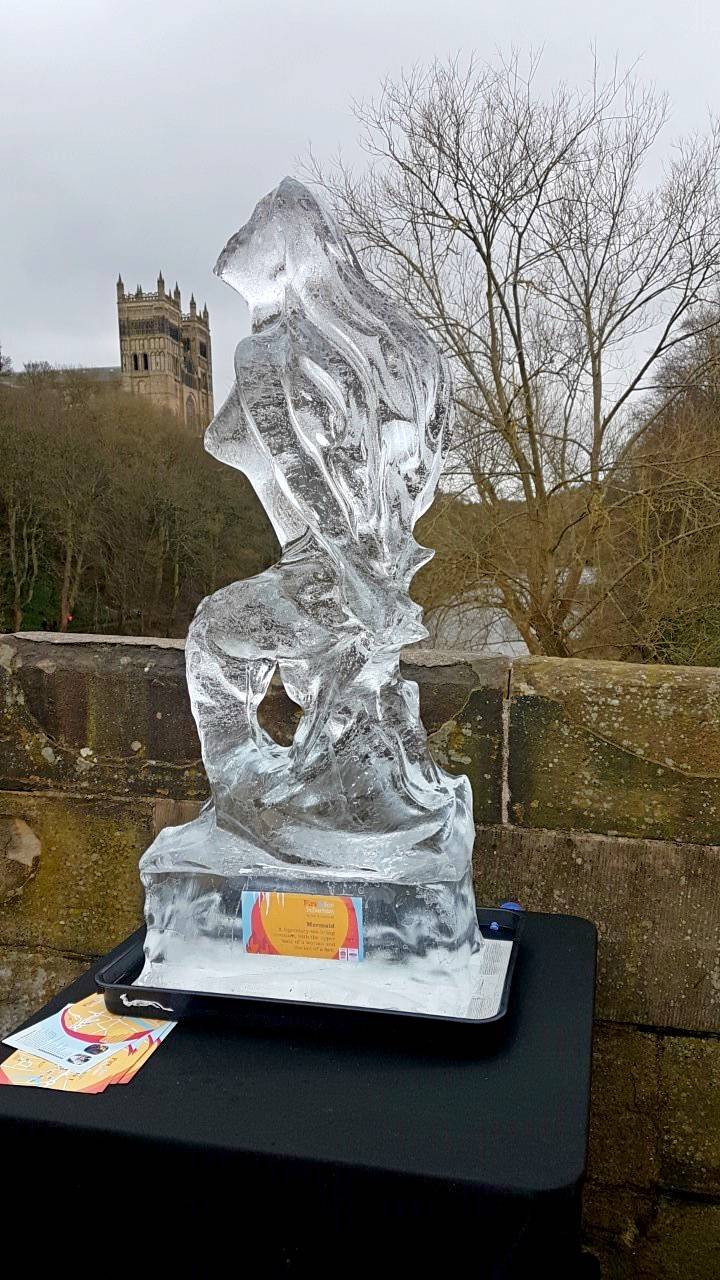 Sadly quite a lot of the sculptures were looking a little worse for wear by our midday visit. Many were melting and had lost a great deal of detail.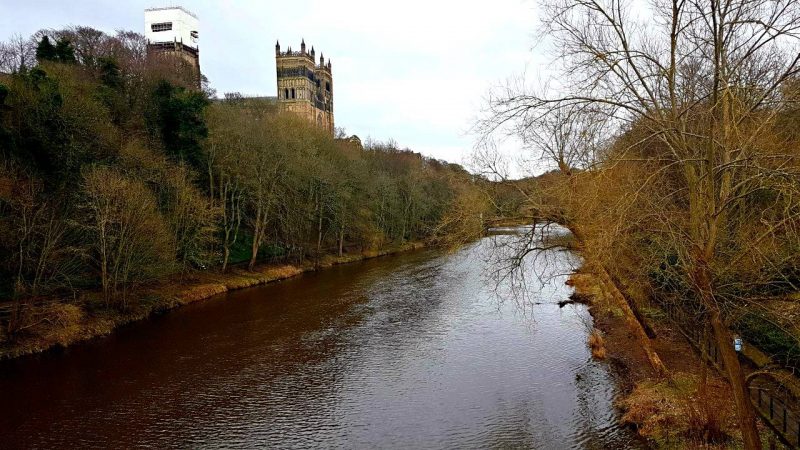 The sculpture at the Cathedral had completely disappeared and only the plinth remained. I imagine it had melted but there was nothing to tell us this before we walked up hill to the Cathedral. We also searched for ages for the sculpture where children had to try and melt it to win chocolate bars. We never found it, so I suspect it had melted or broken prior to our visit.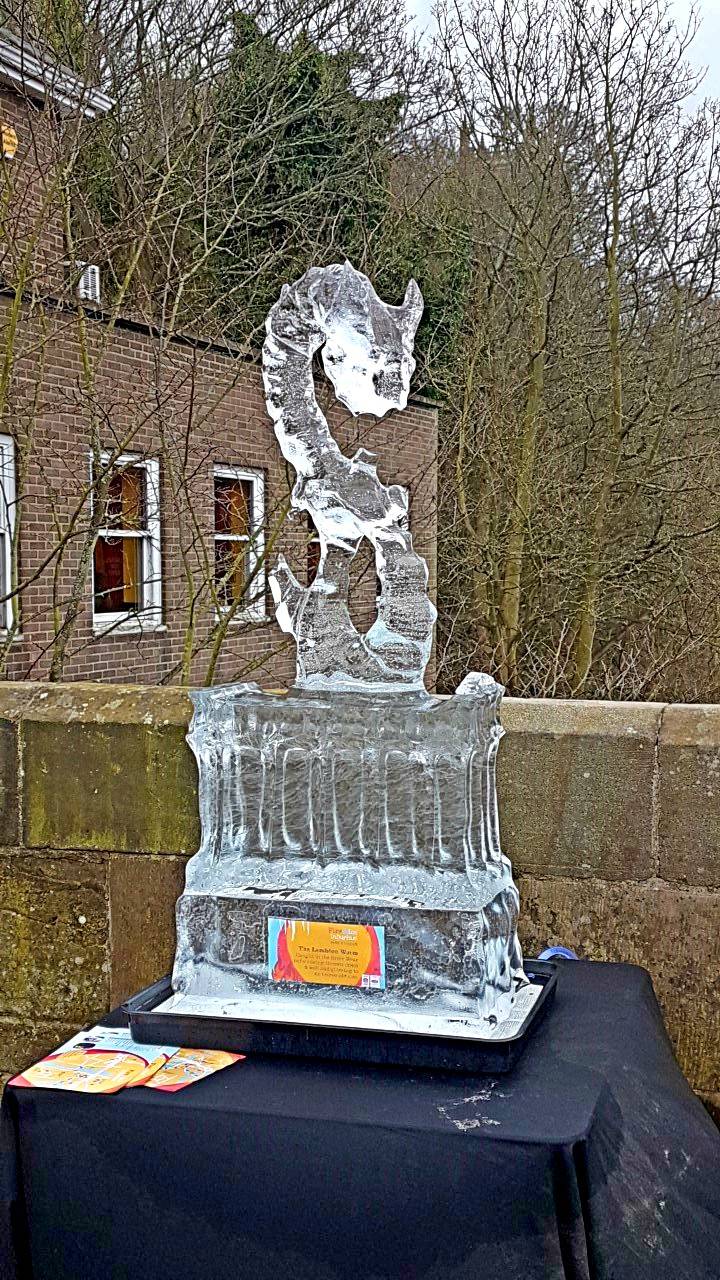 To check out the sculptures on the first day of the event, have a read of Babyfoote, they looked much better before they started to melt.
I was a little surprised that between each sculpture, there was nothing by way of entertainment or interaction. I'd imagined street entertainers and things to look at on the trail through the city.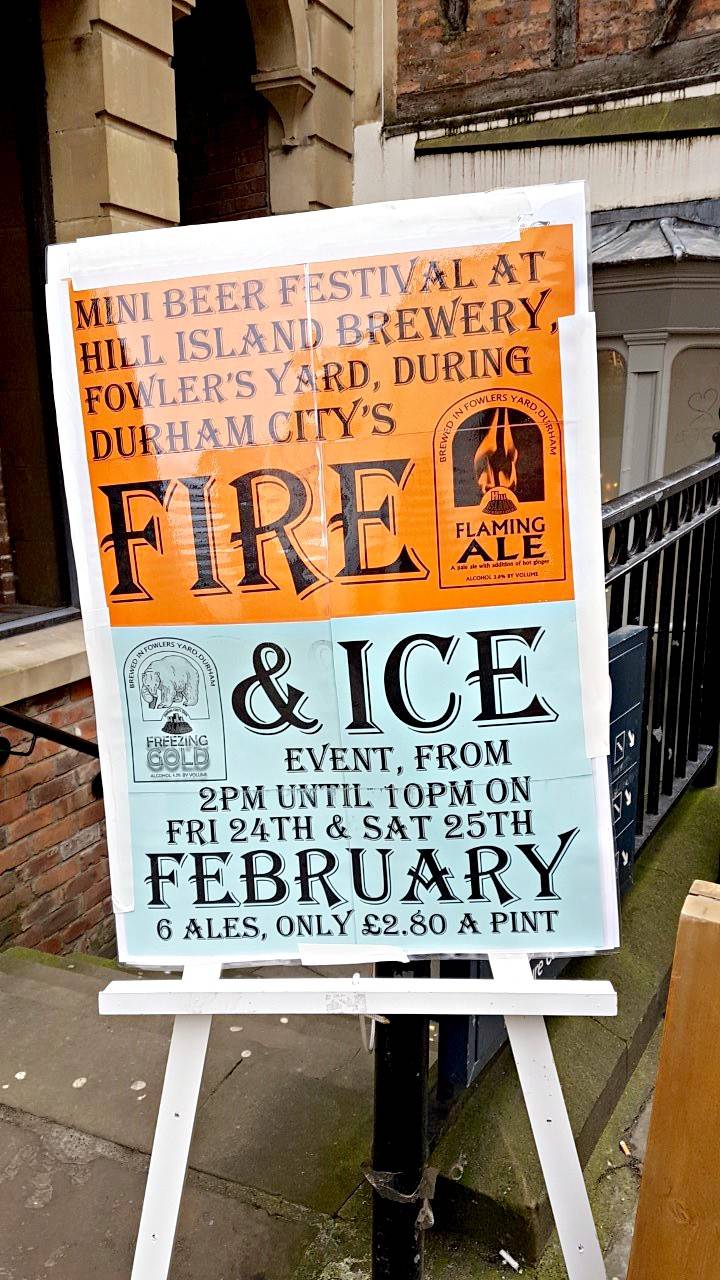 After working our way round part of the trail we decided on a late lunch at La Spaghettata on Saddler Street. They have a great lunch time special menu for just £6.95 (including a free salad bar). La Spaghettata is my go to place for cheap but tasty food in Durham ( it's worth noting though, that it's not wheelchair or pushchair friendly as it's two flights of steep stairs.
Suitable fully and warmed up, we checked out the ice sculpting in the market place.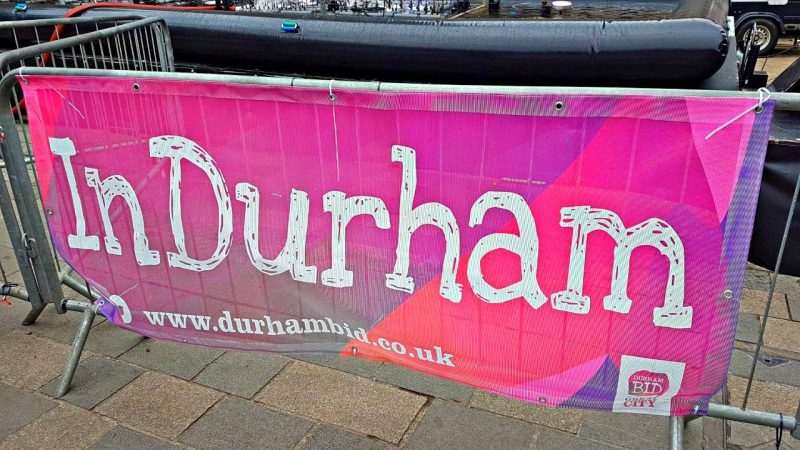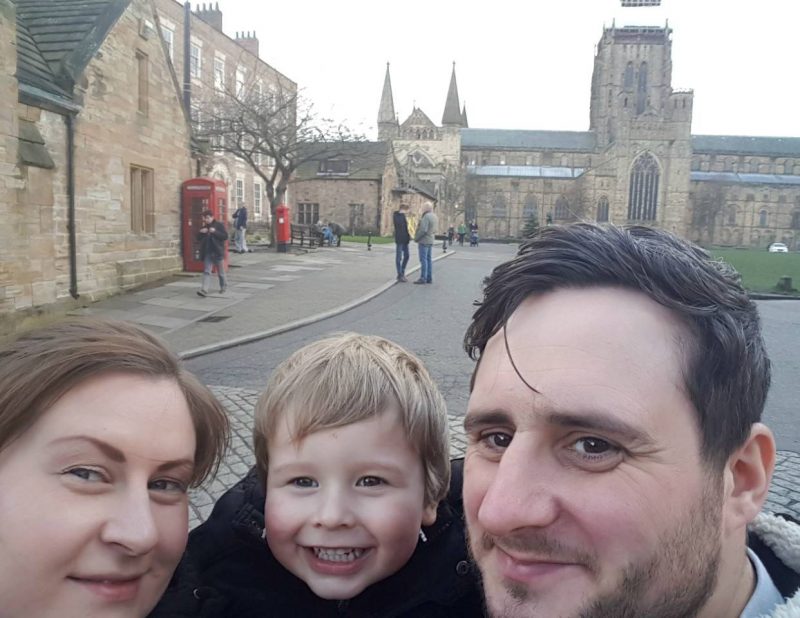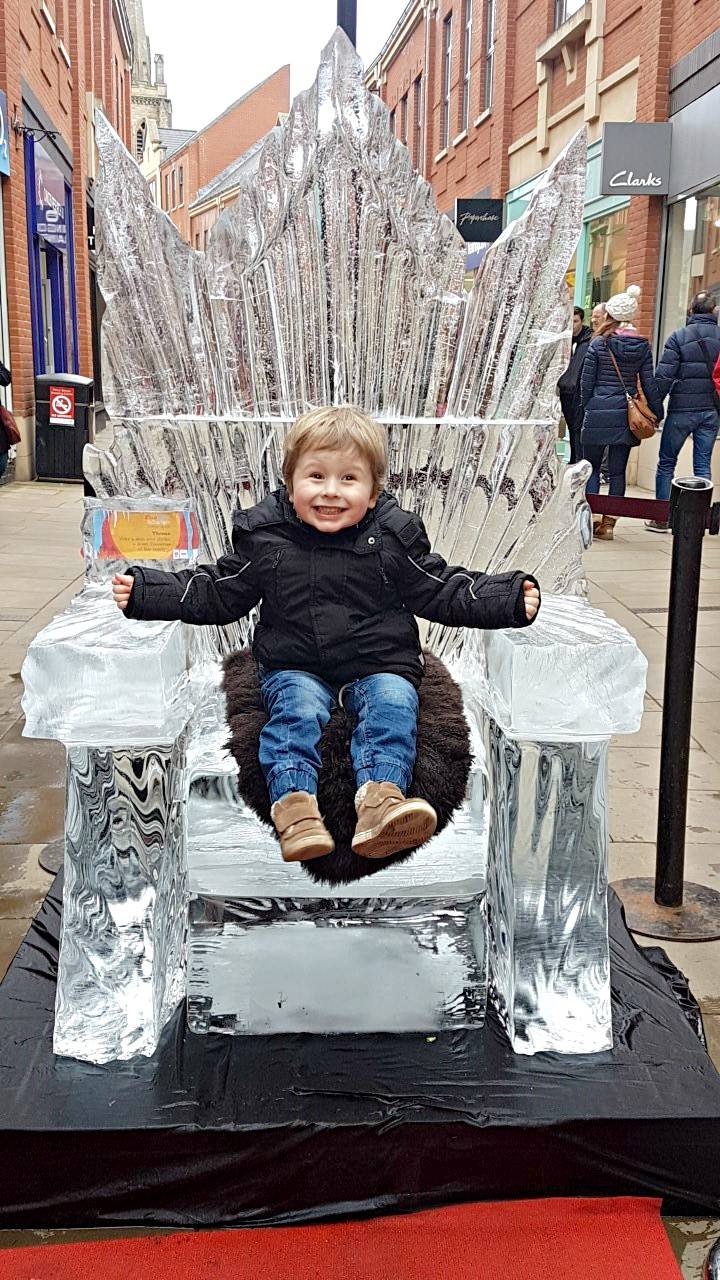 The little man loved posing on the Throne in the Prince Bishops shopping centre.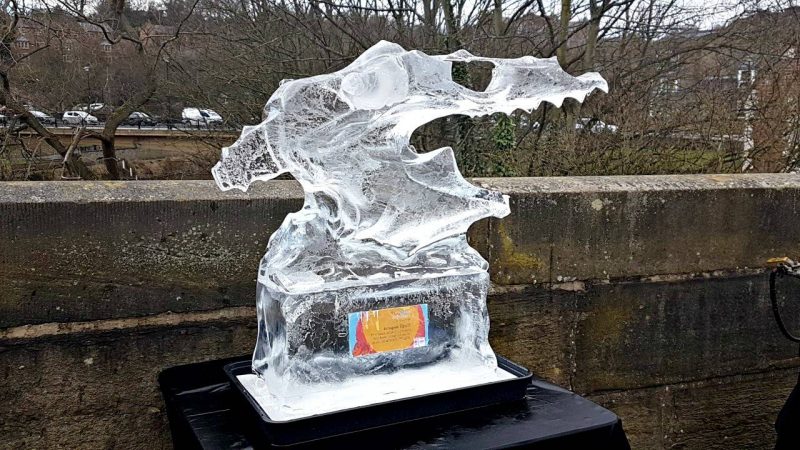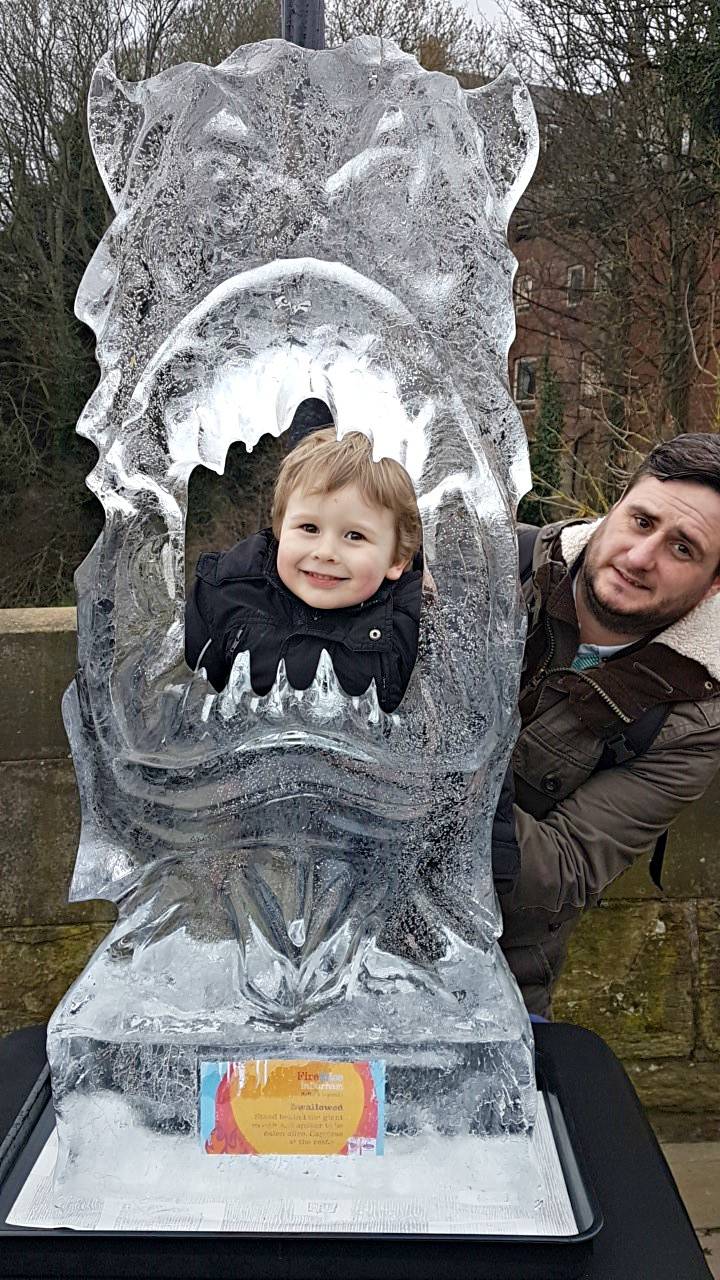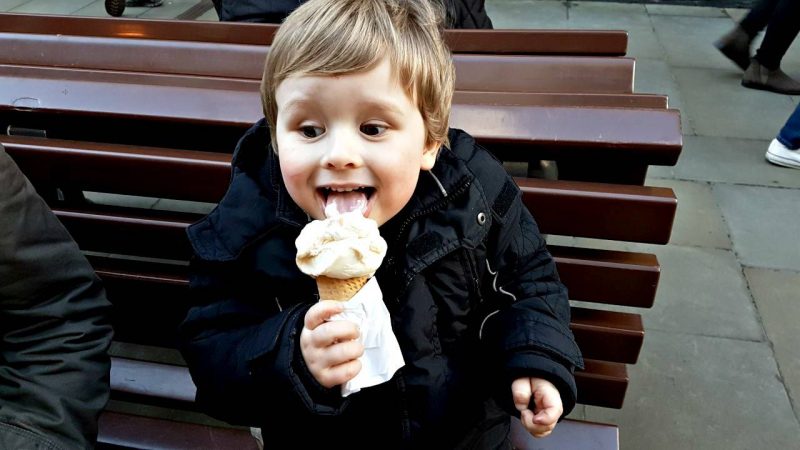 We waited for the 5.15pm show which was aimed at families with younger children. There was also a second show at 6pm which claimed to have more dramatic effects but it was starting to get cold and dark so we decided to leave before that one started. The show itself was pretty good but it was very difficult to see unfortunately. As the fire street performer and the fire and water show were on the same level as the huge gathering of people, it was really hard – especially for smaller children to see. A stage or raised area would have helped massively. The water fountains danced along to some great tunes like Let it Go from Frozen and You're Welcome from Moana which the little people instantly recognised.
Check out our short video of the 5.15 finale show below.
Despite a couple of niggles with things, we actually enjoyed our afternoon in Durham. It gave is a reason to visit and the little man was intrigued by the ice sculptures. If it's back next year, I'd love to see some other types of street entertainment and things for younger children included. Fire and Ice has the potential to be fab but I feel it's missing something to make it a little bit to make memorable.
If you plan on visiting Durham, check out the InDurham loyalty cards which cost £5 and offer a whole host of discounts across the city.