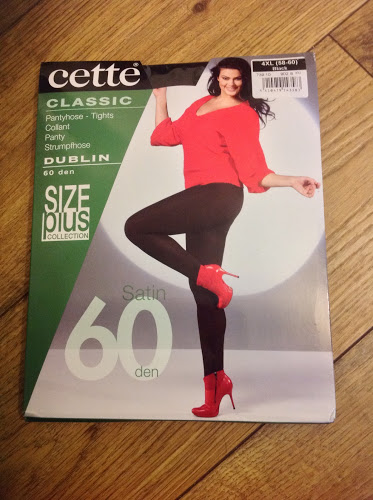 I was sent some tights from Tightsplease to review on my blog. One of the pairs being the Cette plus size Dublin tights in black.
The tights are 60 Denier with a Cotton gusset and matte finish. They're made from93% Polyamide, 6% Elastane and 1% Cotton. They're available to buy in a range of 6 colours and go up to size XXXXL.
The tights can be purchased online at for £14.35 with free delivery.
Whilst I do think £14.35 is a little expensive for one pair of tights, they're VERY good tights. They're extremely thick and good quality with a very comfortable waist band and crotch area.
As you know I'm pregnant and although these aren't designed for maternity wear I found the tights a good fit over my ever expanding belly. They were comfortable and didn't ride up or down.
I wore them with a woolen dress and actually felt pretty good. They're warm too, so perfect for this time of the year.

As the tights are good quality they seem like they will last a while, and not even my cack handedness caused any damage whilst putting them on or taking them off.
(PR Sample)