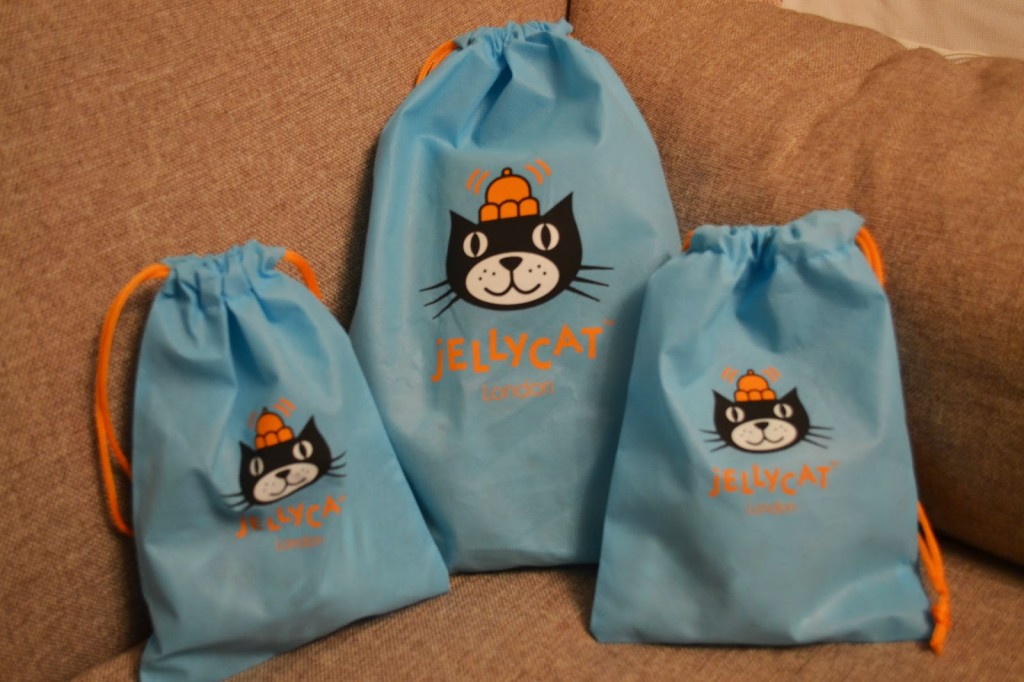 I was recently sent these gorgeous toys to review with the little man from Bella Kidz. Each of the toys are suitable from birth.
The toys are called – Walter Whale Clicketty, Bashful Beige Bunny Medium & Octavia Octopus Jitter Toy. They each come in their own individual drawstring bag which is bright blue in colour.
You can find the whole range of Jellycat toys available on their website where you can also buy them directly.
Bashful
Beige Bunny

The bunny is so sweet. It's extremely soft and perfect for tiny hands to get hold of. The little man loves the feeling of the keys on his face, and seems quite keen to cuddle up with it. We actually bought him a bunny for when he was born, but it's nowhere near as nice as the one from Jellycat. When the bunny is not in use, it sits nicely on the little mans nursery shelf.
Octavia Octopus Jitter

I love the octopus. It's a jittery toy, which when you pull it down shakes and shudders all the way back up to it's starting position. This hangs easily from the bar of a pram or pushchair and its really sweet. Due to the fact its pink and cream in colour its probably more suited to a girl, but the little man seemed happy to watch. Hubby also decided to leg the legs shake and tickle his forehead which he seemed to enjoy. I imagine once the little man is a few months older this was provide hours of fun when we are out and about in the pushchair.
Clicketty Walter Whale

The little man was a little wary of the rustling noise that the whale made when he touched it. He is still very young so this may be one more suitable for the coming months, when he is a bit more aware of his surroundings and is more active in trying to grasp out for things.
The whale attaches easily to the bar on a pram/pushchair and hangs down. It's made from what feels like a soft knit and its really pretty. Not only does the whale have a rustling noise inside its tail there are also blue and white coloured plastic rings which presumably could be used when your baby is teething.
I am massively impressed with all three of the Jellycat toys. They're eye catching, entertaining and are really good quality. I also think they would make perfect gifts for a new baby.
*I was sent the item free of charge for the purpose of this review however all thoughts and opinions are my own.*