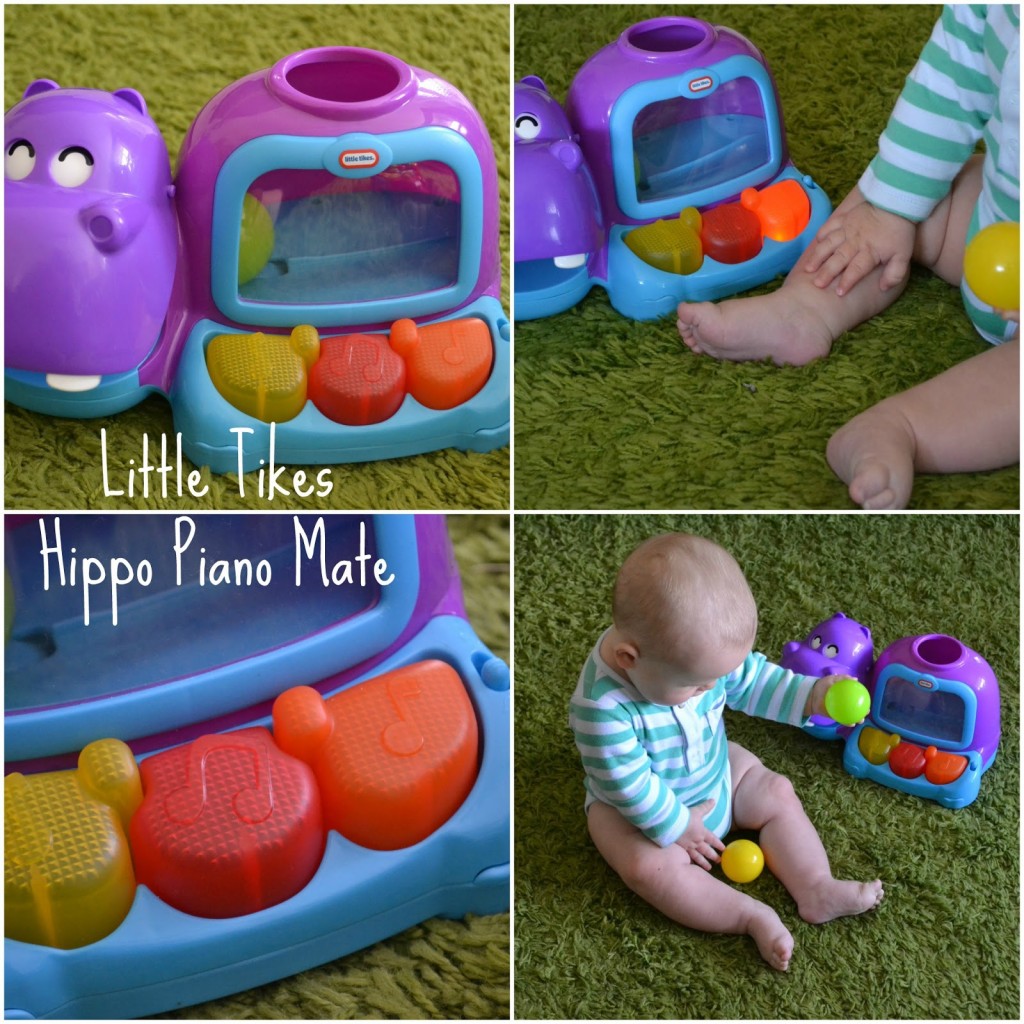 We're huge Little Tikes fans in our house, and the little man has a large collection already, but when we found out that Asda had introduced a new and exclusive range of bright, colourful and engaging toys we couldn't wait to try some out.
Little Tikes Hippo Piano Mate*
The brightly coloured hippo sits sturdily on the floor and is suitable from 6 months. It can be used in two different ways – simply as a piano or as a popping piano where the balls are spat out of the hippos mouth after popping round inside it's tummy.
It has three chunky keys which light up and play music when they're pressed by little fingers. There's a wide hole on the top which the two accompanying balls can be fed back into.
The little man seems to really enjoy the Hippo Piano Mate, he prefers playing with the balls, throwing round the room and attempting to put them back into the hippo. He's mighty impressed by the fact they come out of it's mouth and hits the hippos head in anticipation.
I like the Hippo Piano Mate as despite it being a musical toy it doesn't have an annoying tune or a really loud sound so it's not too annoying for Mammy either. It's a sturdy little toy which has already taken a battering from my over enthusiastic child and lived to tell the tale. It comes already pre loaded with AA batteries which gets another thumbs up from me, so no taking apart remotes and clocks to find batteries that might fit.
After the success of the Hippo Piano Mate I picked up Little Tikes Al the Musicalligator on a recent trip to Asda while we were doing our food shopping. I love his name, I'm a total sucker for a pun! He is usually £14 but was on offer for £10.
He's a brightly coloured alligator which dissembles into separate musical instruments (though I hadn't realised this until I brought him home). I did initially think he was just an alligator shaped musical keyboard.
His bits include a light up xylophone, castanets as his head, shaker feet and a tail that makes a noise when you rub a stick up and down it.
Someone seems to like Al! The little man is obsessed with the alligators tail and loves waving it round while hitting it with the stick.
Asda currently have a range of Little Tikes toys on offer, where you can pick up 2 toys for a rather reasonable £14. It's ideal for those huge Christmas shopping lists or simply to spoil your little person.
*We were gifted the Hippo Piano Mate. Opinions are my own*