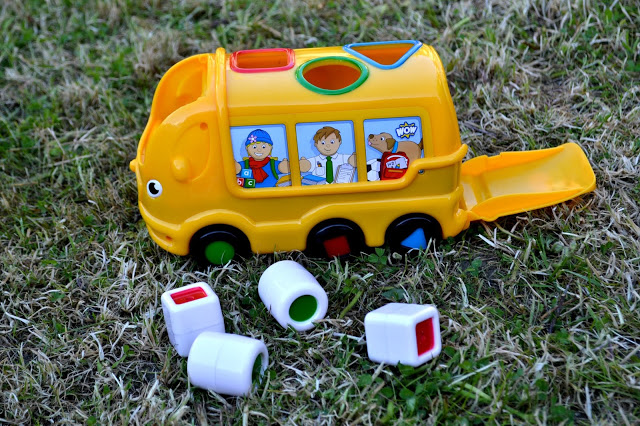 I was recently introduced to the wonderful world of Wow Toys who offer a huge range of brightly coloured and highly robust toys suitable for little people, perfect for my less than delicate little man. All WOW toys are completely battery free, are PVC plastic free and have no small parts so they're suitable for children from a young age.
We were kindly sent a couple of toys from the vast range to try out, one of them being Sidney School Bus. Sid is a rather funky bright yellow shape sort in the shape of a school bus that can also be pushed along.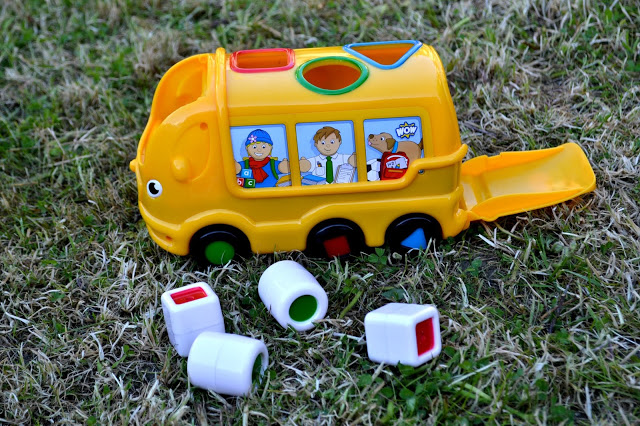 Sid comes with six shaped pieces to post through the shapes on the roof. The pieces are chunky and easy to identify for little fingers.
The little man is a huge fan of Sid. He will happily sit inserting the shapes into the roof of the bus and because there's only three different shapes, he's picked it up quickly and can put them in the correct holes easily.
Sid has a friction powered motor which means he can move pretty quickly if he's pushed. The little man finds the noise he makes hysterical and runs him backwards and forwards along the carpet over and over and over again!
There are no shape pieces and the fact there's no need for batteries is a unique and very clever idea. I suspect Wow Toys would be ideal for Christmas morning, anything to reduced the need to rummage through the house for a battery supply.
The little man was also sent Jax the dump truck and Blaze the fire truck. Both are small push along vehicles with a removable figure. They're a great shape for young children as they're chunky and rounded with no sharp bits. They have rubber wheels so are ideal for both indoor our outdoor use.
We're all massively impressed with Wow Toys. I love the bright colours and the durability of the toys and the little man has loved playing with them since they arrived. We've purchased two of the other push along cars to add to his collection and he's literally never stopped playing with them. They help to encourage little people to explore their imagination, develop their fine motor skills and they're loved by me because they're safe and durable and I don't need to buy batteries!
*We were sent the toys for review purposes. Opinions are honest and my own*