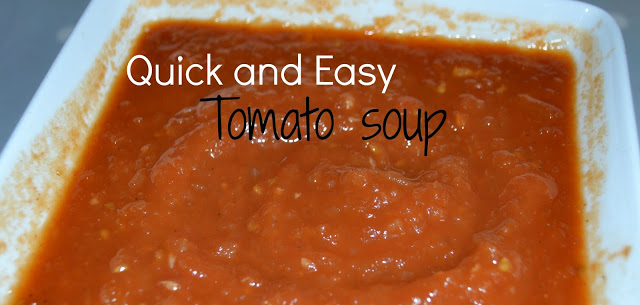 What you'll need
1kg of ripe tomatoes
2 large onions
Fry Light
Seasoning
2 cloves of garlic
1 litre of vegetable stock
Worcester Sauce
Tomato puree
Put all of your tomatoes on a foiled baking tray. Spray them with Fry Light (I use the garlic variety for extra flavour) and sprinkle them with seasoning. You can use salt and pepper or something a little more fancy, depending on your tastes. Place them in the oven on 190 for 20 minutes.
While your tomatoes are in the oven peel and chop your onions and garlic. Fry them down in a pain in 500 ml of the vegetable stock.
When your tomatoes are ready, they will look a little charred and the skins will have split. Remove the skins carefully because they will be as hot as the sun! Chop the tomatoes up and add them to the onion and garlic mix.
Add a dash of Worcester sauce and some a table spoon of tomato puree and leave to simmer on a low heat for 25 minutes. The tomatoes will start to break up in the mixture.
If it isn't smooth enough for you, blitz it for a few seconds in a blender Season and you're done!
The soup is completely syn free on Extra Easy Slimming World and extremely tasty. It's quick to make and can be frozen once it's cooled.