Easter is upon us and the shops are filled with pretty things. There's the obvious gift choices such as chocolate, but I've also put together some other items that would make great Easter gift ideas.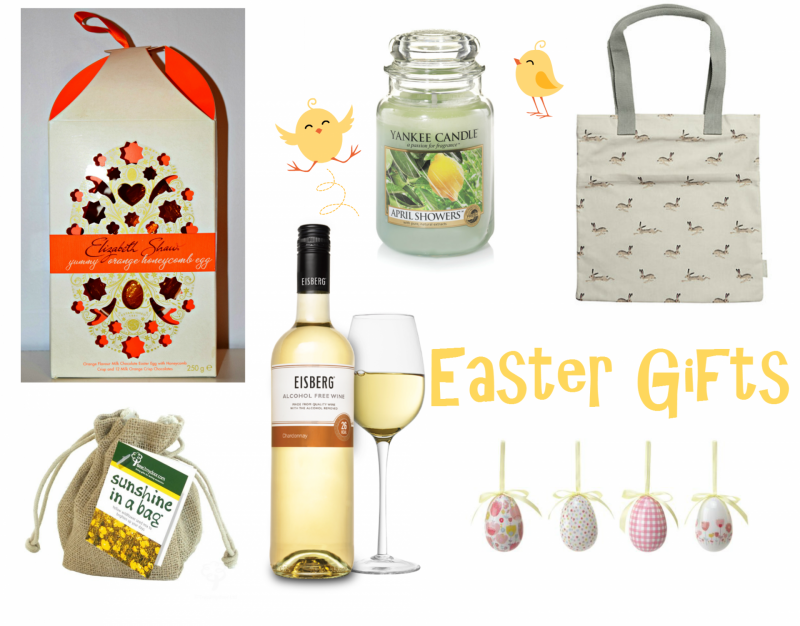 How gorgeous is this Sophie Allport bag? I love the hares running across it. It's the perfect Spring bag and for me, it's the ideal size for work.
It wouldn't be Easter without a delicious chocolate egg. This Elizabeth Shaw orange and honeycomb egg is rich sweet and great for sharing with a loved one. I love the unusual flavour combination and the fact it comes with 12 individually wrapped chocolates is even better!
Any excuse for a new Yankee Candle. The April Showers candle has a clean, spring scent of rain in a citrus orchard and is perfect for this time of year.
If you haven't tried Eisberg Alcohol free wine you really should! Not only is it great if you're pregnant or unable to drink alcohol, it's great if you don't want to risk a hangover. It tastes just like normal wine but because there's no alcohol content there's no fuzzy head or furry mouth the next day. Winner!
I love these beautiful Laura Ashley Tulip eggs. They'd look fantastic hanging on the wall in our dining room. I love their shabby chic style and the pretty spring colours.
I absolutely love this idea as a gift. Sunshine in a bag is a sunshine yellow mix of native wildflower seeds which you can sprinkle in your garden. It comes in a pretty little hessian bag and looks so sweet. I've already decided I'm going to buy my friend from work some for her birthday.
Have you got any other Easter gift ideas?