The Wedding season is here, and if you're like me, you'll have 16,000 weddings to attend this year. My fridge is plastered with wedding invites and my diary is full.
Whilst I love being a wedding guest, choosing the right outfit can be a mind field. There's so much to consider – Does the wedding have a theme? Is it indoor or outdoor, are you there just the ceremony, just the evening or all the way through?
You'll need something like looks stylish and pretty but something that is comfortable and is appropriate for the weather (which at the moments seems to be a combination of everything everyday). I tend to opt for sleeveless dresses then I can add a cardigan or wrap if it's a little chilly.
I stay away from white and wouldn't dream of wearing a plain white dress to a wedding. White is for the bride. I also stay clear of cleavage enhancing numbers, being the ample busted lady that I am, I don't think it's appropriate to have too much on show, particularly at a wedding.
There are so many pretty things on the high street at the moment. From pretty dresses to sparkly accessories, I just struggle to say no!
These gorgeous dresses from the Ted Baker sale are absolutely perfect for the wedding season and if you hadn't noticed, I'm a huge fan of a floral pattern. I love how Summery and bright the dresses are and all have the ability to be dressed up or down, depending on the function you're attending.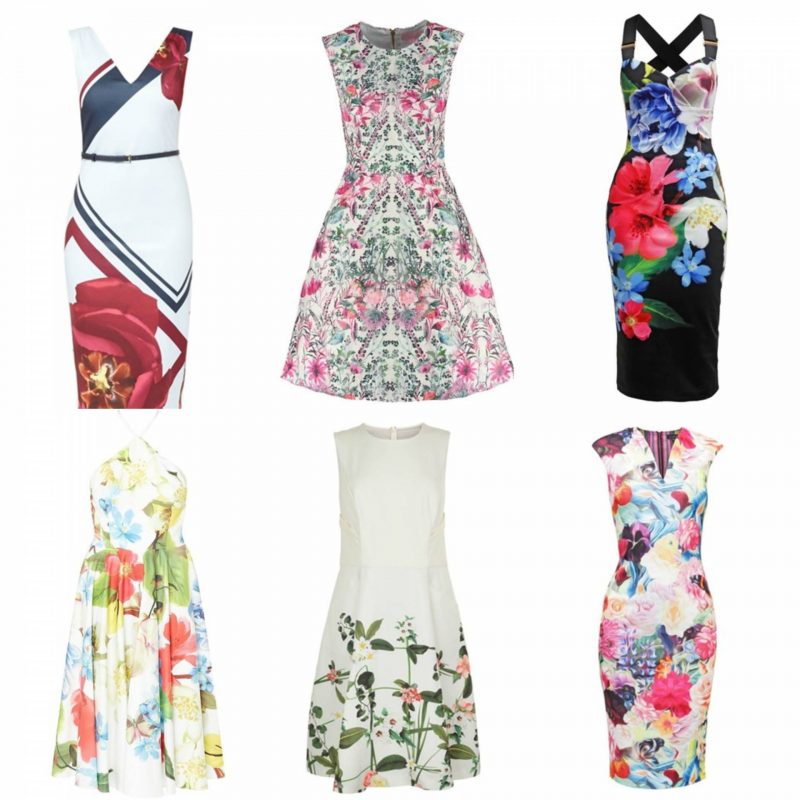 What tips do you have for finding the perfect wedding outfit?
Collaborative post with lovethesales