The latest release from Lionsgate Home Entertainment is Fishtales which is a family friendly dvd which is suitable for even tiny people.
Released on digital download on Monday 11th July and on DVD on Monday 18th July the story focuses on Ollie, Cleo and Puffer. The characters are bright and eye catching animations which are set against real under the sea footage.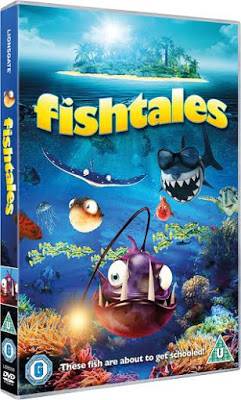 Ollie the Octopus is chased by sharks so Cleo the Angeler fish and Puffer the puff fish get together with the fun-loving, worldly manta ray, Crash to help save him. The story features lots of underwater footage while the trio explore the coral reefs, sea and lakes to find their lost friend. They meet many interesting creatures along the way and explain to the viewers what is happening during their journey.
The little man absolutely loved watching Fishtales and was transfixed by the bright animations and beautiful backgrounds. He kept trying to get closer and closer to the TV to look at the fish. I'll admit, I thought it was pretty cool and interesting too. I much prefer him watching cartoons and films with some degree of learning in them.
Fishtales is U rated so suitable for all ages. It has a run time of 95 minutes and costs £9.99 to buy from Amazon.
Lionsgate Home Entertainment have kindly offered a copy of Fishtales for one of my blog readers. To enter the giveaway use the Gleam form below.
*Our copy of the dvd was sent for review purposes.