Released on download on Monday 19th September and on DVD Monday 26th September, MINUSCULE: VALLEY OF THE LOST ANTS is the newest released from Lionsgate Home Entertainment UK. It's a wonderful animation which is perfect for the whole family.
In a peaceful little clearing in the heart of the woods, an abandoned picnic has become the site of a fearsome frenzy. The tiniest critters of the undergrowth are going antennae to antennae to win the spoils, until the plucky black ant, Mandible, discovers the ultimate treasure – a box of sugar! Little does he know of the little ladybug already hiding inside.
Suddenly, the bold young ladybug finds herself caught in the middle of the battle between two tribes of ants, when the box of sugar sparks the attention of the formidable red ants! Together, Mandible and his ladybug friend must protect the anthill from the red ant warriors in this tale of teamwork, friendship and fun!
A fantastic tale taking place at ground level, MINUSCULE: VALLEY OF THE LOST ANTS is the perfect back-toschool treat for all the family. Based on the popular CBBC TV show, MINUSCULE: VALLEY OF THE LOST ANTS blends stunning CGI animation with live action backdrops to really transport little ones to the undergrowth where they'll embark on a huge adventure with the tiniest heroes.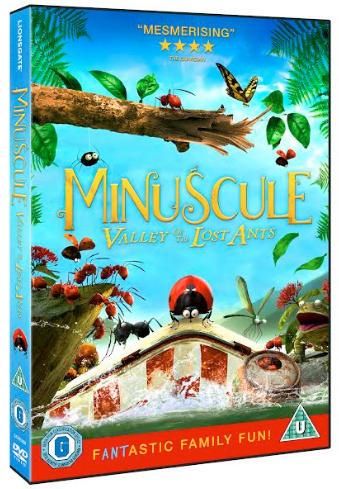 The little man really enjoyed MINUSCULE: VALLEY OF THE LOST ANTS. We watched it yesterday and he was mesmerised by the mixture of real world and animation. Initially I was a little surprised by the fact there were no words from the insects but this didn't seem to bother the little man and it didn't affect how engaging the film is, the sounds and music helped to tell the story.
It's different to the animations we usually watch but the little man seemed to enjoy it just as much, and asked to watch the 'lady birds' this morning when he woke up. I think it's a great little film to watch as a family, especially if you have an insect loving toddler.
One of my lucky blog readers can win a copy of the dvd by completing the Gleam form below.
Competition ends on 2nd October 2016
UK winner only
Random winner chosen by Gleam
If your entries are found to be false all of your entries will be deleted.
You have 14 days to claim your prize from notification email. If not claimed in the time period another winner will be chosen.
This promotion is in no way sponsored, endorsed or administered by, or associated with, Facebook.