The little man loves books and we've been fans of Miles Kelly childrens books for quite a while now, so when I heard about the new Submarine convertible book, I was a little bit excited!
The convertible series already features fire engines, spaceships, princess carriages, pirate ships, trains and bulldozers and the little man has tried out some of the others. The new Convertible Submarine has a great underwater story inside and the outside becomes a bright orange submarine for kids to play inside – perfect for lots if imaginative play.
I love that the submarine convertible has three different uses, a book, a play mat and a submarine which your child can sit inside.
The colours are bright and eye catching and the illustrations by Simon Abbott are really cute and perfect for little people. The little man loves sitting on my knee whilst pointing out the different sea creatures and naming their colours.
The text inside is easy to follow and encourages older children to follow the story. It encourages word recognition and can help young readers to learn to identify letters.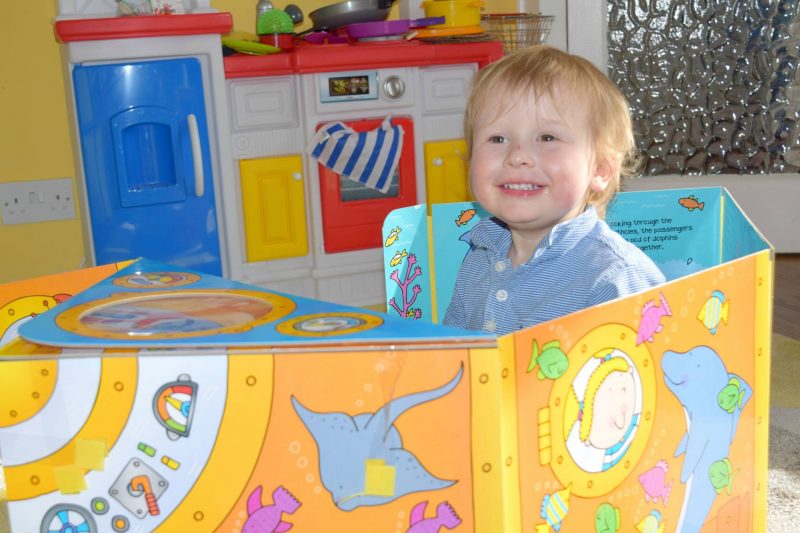 The book can be folded out completely flat, creating a long playmat. Children are then able to trace the path of the submarine whilst searching for a shipwreck and meeting a whole host of cute deep sea creatures along the way.
It folds away almost flat which means it can be stored away like any other book (though you will need quite a tall bookcase as it's a big book!).
The book seems very robust and sturdy. We've had no issues and it still seems strong with no wearing. The only issue we had, was the little plastic clips at the front of the submarine struggle to hold up the window area. It wasn't too much of an issue as the little man preferred it flat but some may find it a problem.
I'm a huge fan of the Miles Kelly convertible books, it's such a great idea to have multi uses for a book and it's bound to keep a child occupied for so much longer. I think the books a perfect gift idea for little people and the submarine will bring hours of fun for the little man. The book usually costs £17.99 but is currently on offer for £13.49 if you're quick.
*I was sent the convertible in return for an honest review.