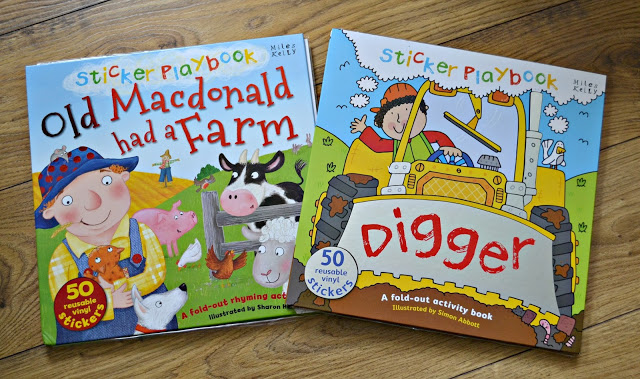 I've made no secret of the fact the little man is a little bookworm. He's like his Mammy, as a child I loved to read and spent hours curled up with Enid Blyton books, so I'm glad that he likes to 'read'.
We've built up quite a little library in his bedroom and were kindly offered the opportunity by
Miles Kelly
to add to it. Miles Kelly are an Essex base independent children's book publishers whose ethos is to create 'Children's books to inspire and share'. They have a great range of beautiful books and their website is a complete pleasure to flick through.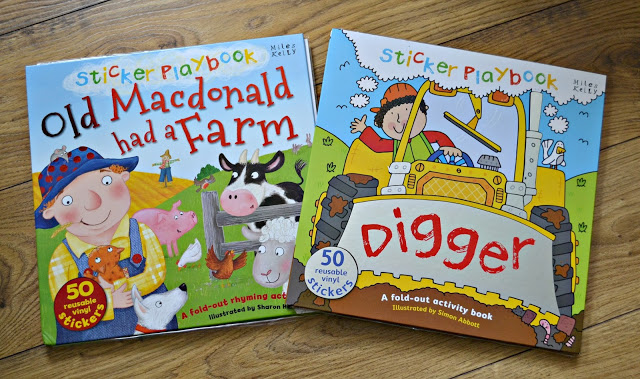 Old Macdonald had a Farm Sticker Playbook
The little man loves stickers. He loves to stick them everywhere. We find them all over the house when he's been playing with them. The Old Macdonald had a Farm sticker play book folds out into a playmat and comes with 50 resusable stickers. What I really like about the stickers, is that they won't damage any surfaces they are stuck on. The little man has a tendency to stick things on the walls so this is ideal.
The little man loves pointing out the animals in the book and making the associated noises. I love how bright and eye catching each page is and how easy on the eye the layout is. The pages are strong and hard wearing and are great for small hands.
Digger Sticker Playbook
Like the Old Macdonald sticker playbook, the Digger book contains 50 reusable vinyl stickers which are brightly coloured and a good size for the little mans small fingers. Out of the two sticker books the Digger one is his favorite. He absolutely loves sitting on the floor looking at the pages and sticking stickers everywhere. Diggers are his 'thing' so he absolutely adores this book.
Convertible tractor book
This is a three in one book and it's such a fantastic idea. Not only can your little person look at the brightly coloured pages and read the farm story while it's a book, they can unfold the pages to make a play mat or put it together to create a tractor to sit in!
Although the book is aimed at those over the age of 3, the little man loves to look at the pictures and pointing at the animals and vehicles he recognises.
I love that the book folds out into such a sturdy play tractor, it's great for creative play but can be easily folded away and stored like a book.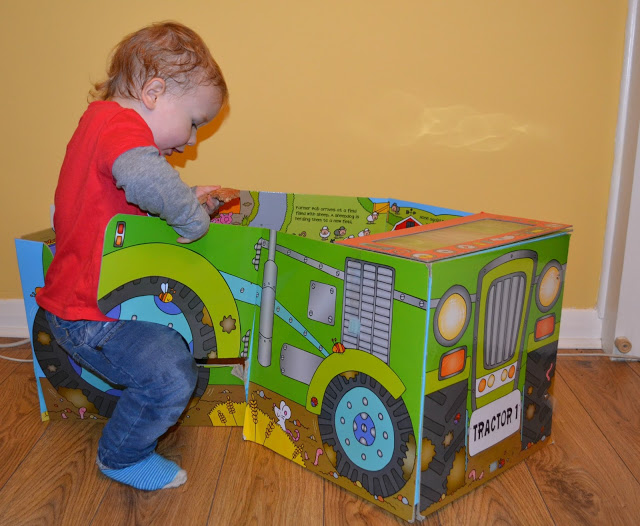 There are some great books in the Miles Kelly convertible range, including a fire engine and a train and we'll definitely be investing in some more.
I absolutely love the Miles Kelly books that we have and I think they've got a fantastic range of products for children of all ages.
They're definitely worth considering for Christmas gifts.
*We were sent two of the books mentioned above for review purposes*