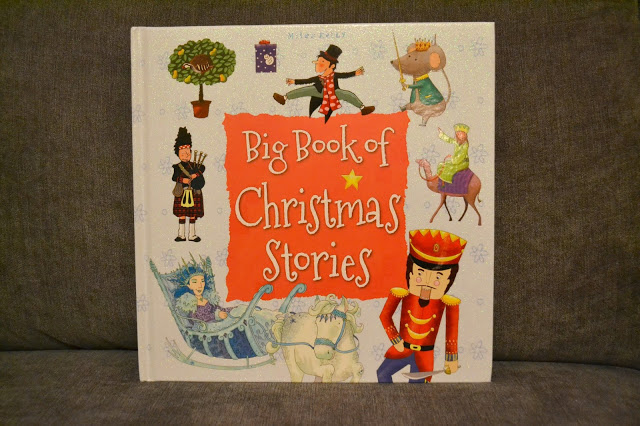 I've featured Miles Kelly on my blog before, and I'm always happy to recommend them wherever I can, They're one of my favourite companies to work with. From their range of beautiful children's books to their fantastic customer service, they're an absolute delight and so many companies could learn some valuable tips from them.
As the festive season is well and truly on it's way, it's only fair I mention Miles Kelly's Christmas range. They've got some gorgeous Christmas books for children with prices starting at just £4.49, they're absolutely perfect for stOcking fillers or gifts for little book worms.
The little man seems pretty impressed and likes to point out the animals and make the noises to go with them. I love how clear and bright the picture's are. The art work is perfect for a traditional children's book, with each story drawn by a different artist.
The book contains three classic Christmas stories :- The Snow Queen, The First Christmas and The Nutcracker, it also features the The Twelve Days of Christmas song with wonderfully detailed pictures.
The little man loves flicking through the pages himself or sitting listening to the stories at bedtime. I'm really impressed with the quality of the book, the stories are the perfect length, the pages are strong and durable and the hardback cover protects the book from rough hands.
It's definitely something that's suitable for many Christmas's to come, a traditional childhood book that is built to last.
If you'd like to see for yourself, enter the competition below. The lovely people at Miles Kelly are offering five of my blog readers the chance to win a copy for themselves. You just need to complete the rafflecopter form below.
Terms and Conditions
A winner will be chosen randomly via Rafflecopter
The winner will be notified via email and Twitter (if you leave your handle)
ALL entries are checked and if any of your entries are found to be fake ALL of your entries will be disqualified.
Fake entries/automated entries will be disqualified.
You will have 28 days to respond to the winning notification, if you don't a new winner will be chosen.