Having a toddler and a busy home means my floors become dirty and dusty quite quickly. I'm always on the look out for appliances that will make life easier and reduce the time and effort I have to spend on cleaning.
I was recently sent the cordless SlimVac from Vax to try out and see whether it met the needs of our family.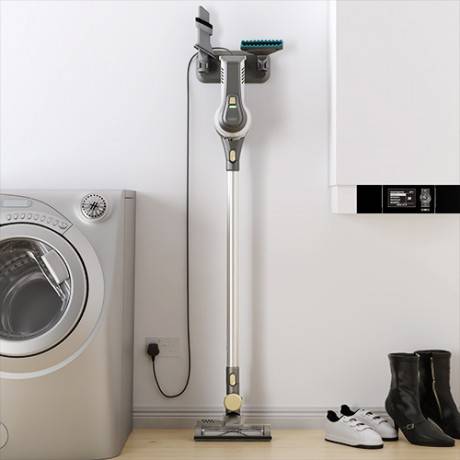 Assembly of the vacuum cleaner was really easy. There's a concise set of instructions included in the box as well as all the parts. The vacuum pieces literally clip together and once you've charged the machine (for around 5 hours) you're ready to go.
I love that the machine is cordless. No more tripping over trailing wires and it's safer for my toddler to follow me round when I'm cleaning as he won't get tangled in the wire.
The vacuum is portable and I can get into every nook and cranny without worrying about moving the plug around the house into different sockets.
The buttons and features are very easy to use and control as is emptying the dirt container. You can turn the rollers on the bottom on or off depending on the type of floor you're vacuuming. There's nothing complicated about using the machine, making it suitable for any one.
We have a combination of carpet, wood floor and stone tiles in our house with a huge low pile rug in the living room. I find the SlimVac works best for us on the hard floors, and struggles a little with picking up from the carpeted areas. It's a complete god send in the kitchen and dining room though and saves us from a life of constant crumbs and dust on our stone tiles.
When fully charged the SlimVac will offer 24 minutes of vacuum time. It may not sound like a great deal of time but it gives me enough time to vacuum either upstairs or down and the staircase itself.
The vacuum has the ability to be used as a handheld cleaner for hard to reach places. I do find it a little heavy for my wrist to use on curtains and ceiling edges but it's fine for using on the floor or in the car.
It's a lightweight machine, weighing just 2.1 kg so it's light enough to carry the body round the house or out to the car with ease.
It comes with a 3 in 1 tool brush attachment with can be used for dusting, getting into crevices and use on upholstery.
The wall bracket that is included in the box is the best way to ensure the vacuum safely stored, but you will need somewhere to attach it too. An easy to remove and clean filter.
It comes with a 2 year guarantee with is reassuring should you have any issues with your new vacuum and Vax customer service is really good.
You can seen the vacuum in action in my video below.
Overall it's a decent vacuum. It's easy to use and is multi functional. It's great on hard floor but I think lacks suction to work well on carpets.
The vacuum usually costs £249.99 but is currently on offer at £139.99 which is a massive £110 saving!
I was sent the vaccuum in return for an honest review.