We discovered WOW Toys way back when the little man was small and they've been popular with us since then. He's often bought their toys as gifts and they always become firm favourites with him and us!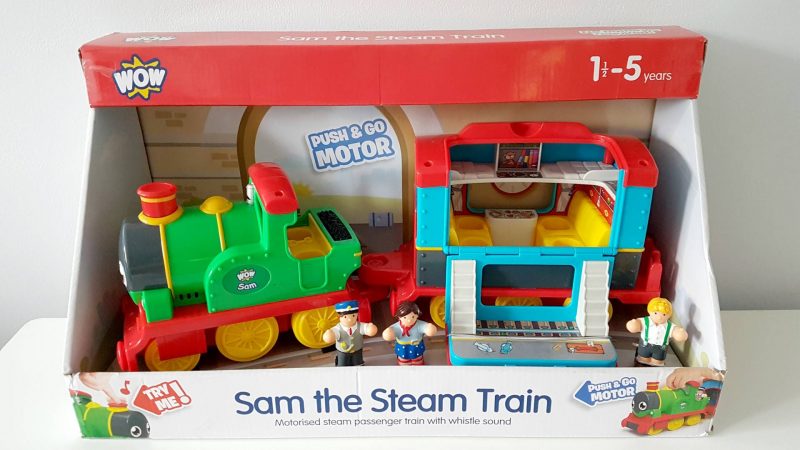 The little man was recently sent Sam the Steam Train to try out, one of WOW Toys more recent additions.
Sam is a bright and colourful and costs £32.99. Aimed at children from 18 months – 5 years, he comes with a detachable blue carriage, a train driver and two passengers.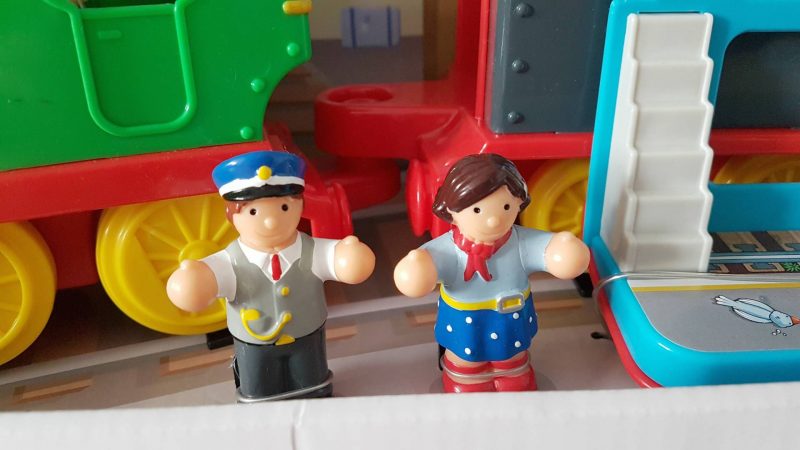 Both the train and figures all have lots of detail and are chunky and robust making them perfect for younger children to play with. WOW Toys are BPA free, PVC free, don't use toxic paint and have no small parts that could be swallowed.
Sam requires no batteries which I think it amazing, especially on Christmas morning when you can simply unpack and play.
Sam is larger in size than any of the other Wow Toys we've played with, which really impressed the little man. He has a motorised engine and with the help of friction power, he moves quickly across the floor. I think the little man is most impressed with Sam's whistling chimney. He lets off a none offensive whistle ( even when it's pressed 17 times in a row). when his chimney is pushed down.
I like the fact that the carriage can be removed completely from the train and played with separately if your child wishes. The roof and side of the carriage both open and allows access to the inside of the carriage where there is a table and chairs for your passengers to sit and a bed above. The carriage is handy in the fact the figures can be stored safely inside when the toy isn't being played with. It saves hours of hunting through toy boxes for stray bits and tantrums from toddlers.
I think Sam is a lovely addition to the WOW Toys range and another great toy to add to our collection. I love how much Wow Toys encourage imaginative and independent play. They're not all bright lights and annoying noises, just well made, fun toys for kids that are built to last.
The little man is a huge train fan and loves playing with Sam. He loves to make up stories and play with him alongside his smaller trains and train track.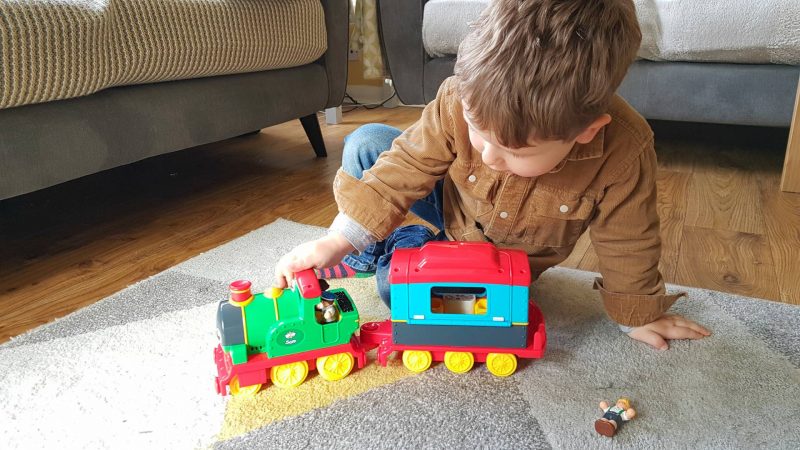 There are many other toys available in the range, including various vehicles and figures and there's even an Advent Calendar if you're looking for something a little different to your traditional chocolate one.
If you've like to win your own Sam the Steam Train, please complete the Gleam form below.
Terms and Conditions
1. UK winner will win 1 x Sam the Steamtrain from WOW Toys.
2. Competition ends on 08/11/2017
3. A winner will be chosen randomly via Gleam
4. The winner will be notified via email and Twitter (if you leave your handle)
5. ALL entries are checked and if any of your entries are found to be fake ALL of your entries will be disqualified.
6. You will have 28 days to respond to the winning notification, if you don't a new winner will be chosen.
We were sent the toy in return for an honest review.