There are so many different Christmas Gift ideas for woman but one of my favourite go to brands is L'Occitane. Offering luxurious natural beauty products and organic cosmetics that are inspired by Provence, L'Occitane are always on my wish list for Birthdays and Christmas. Their Christmas Gift range looks amazing this year and there's something suitable for all budgets.
Here are some of my favourotes that I'd quite like Santa to bring me this year –
Comforting Shea Butter Collection
The Shea Butter products from L'Occitane are by far my favourite. They're perfect for soothing dry and dehydrated skin during the colder Winter months. Not only does the Comforting Shea Butter Collection contain a 150ml tube of my favourite ever hand cream, it includes the Ultra Rich Hand & Body Wash, the Ultra Rich Body Cream
and the Milk Extra-Gentle Soap. It's the ideal combination for some effective self care on those chilly evenings.
Cherry Blossom Festive Bauble
The Festive Bauble gift sets are actually available in a few different fragrances but I think the Cherry Blossom sounds the most delicious. They're ideal as a stocking filler or Secret Santa gift. At just £12.00, the recipient will be able to try out products which capture the poetic beauty of springtime in Provence, where flowering cherry trees colour the Luberon Hills and perfume the air. I love that the products come in a beautiful reusable rose-gold bauble with star-inspired cut-out design that you can hang on your Christmas tree.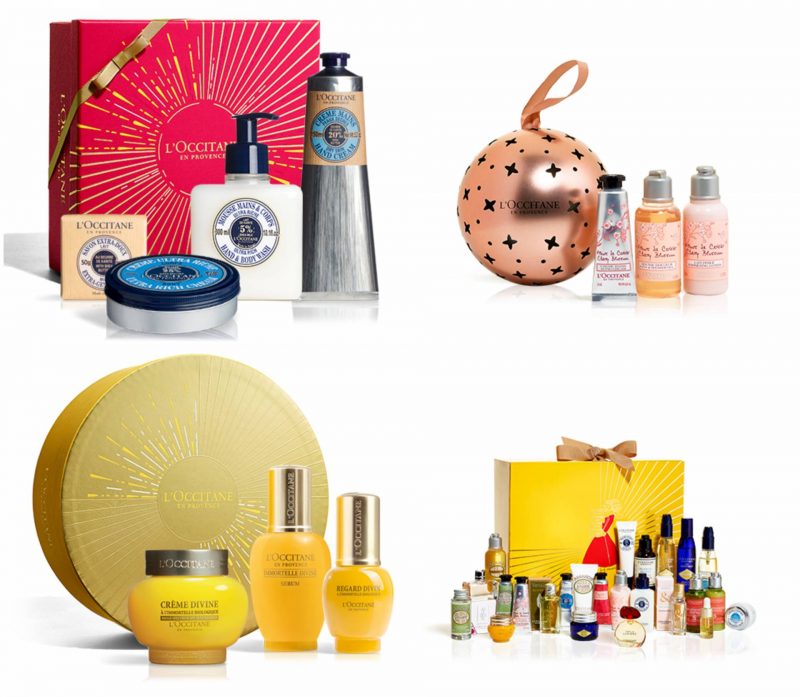 Divine Face Care Trilogy set
The Divine skin care range is such a treat to use and anything that promises to restore, regenerate and reveal younger-looking skin has to be worth a try! Now I'm the wrong side of 30 I'm no stranger to the hunt for good quality skincare products. I have an impressive collection of products but the Divine range is one of my favourites. The products work together to help rejuvenate the skin, redefine facial contours and brighten dark spots to help skin get back that youthful glow.
I'd love Santa/Hubby to pick this fab selection up for me. Even the L'OCCITANE signature gift box looks pretty enough to keep.
Luxury Advent Calendar
I am a huge fan of luxury advent calendars, long gone are the days of tiny pieces of milk chocolate. Just give me all the beauty products!
The L'Occitane Luxury calendar features 24 indulgent surprises hiding behind each door. With products including Immortelle Oil Make Up Remover, Ultra Rich Shower Cream and Néroli and Orchidée Eau de Toilette, will you be able to open just one door each day?
Have you tried L'Occitane products before?
Collaborative post