Anyone can look fabulous at the pool or beach if they make the right choices with their clothes. Choosing the right style to suit your body will make you look great and feel much more confident.
As a rule, women usually have one of four different body shapes :-
Apple – You tend to be larger around your bust and hip area and have shorter and smaller legs.
Pear – You tend to have more weight around your bum and hips with a smaller waist.
Hourglass – Your body shape quite defined with a wide bust and narrow waits before spreading back with wide hips.
Rectangle – What it says really. You're pretty much up and down with very little waist definition.
I'm fully aware of how stressful shopping for plus size lingerie and swimwear can be so I've found you some fabulous choices from Simply Be to save you some time this Summer.
Swimming Costumes
Since I had the little man and gained weight, I usually opt for swimming costumes when I choose swimwear. They hold in my wobbly bits and give me less of a bumpy silhouette.
I love this high neck swim suit as it will keep your boobs safe and sound inside. Anyone with large breasts will know how much of struggle it is keeping them contained while swimming. The graphic print costume features a pattern which will help elongate your body and give the impression that you are taller ( and slimmer). I think the blouson costume is really flattering. It disguises lumps and bumps and the halter neck will offer you additional support.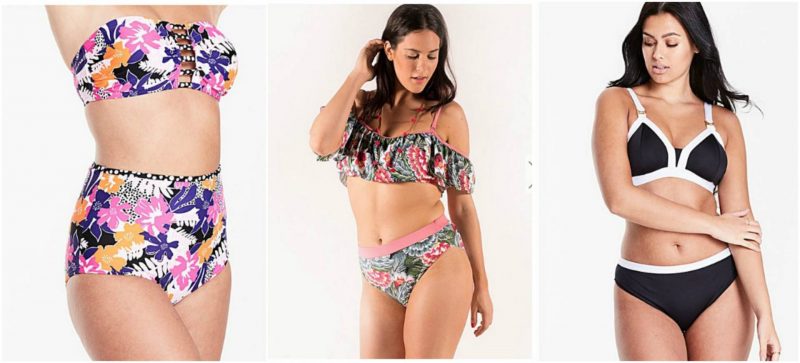 Bikinis
I love high waisted bikinis. I find them much more flattering if you have a mum tum. The floral design on this one is bright and eye catching. The pretty Bardot style bikini is great for disguising the tops of your arms. I love the unique boho look and I think it'd look great for lounging by the pool. The Black and white bikini is really pretty and the black with white trim looks really expensive and stylish. The cups on the bikini top look like they offer great support too.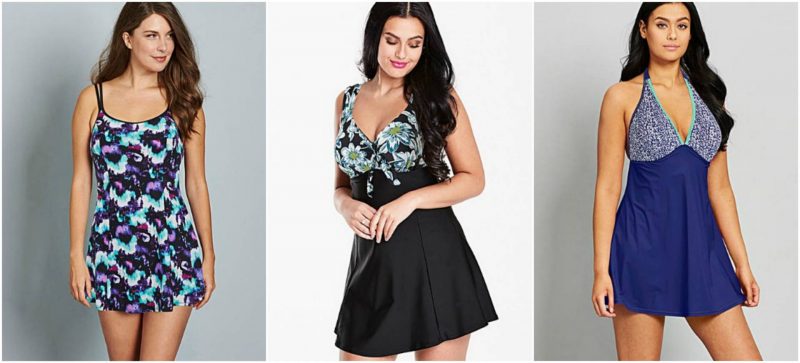 Swim Dresses
Whilst they're not really my swim wear of choice, swim dresses seem to be a hit with a lot of people. They provide more coverage and may help you feel more confident in the water.
The longer length swim dress is perfect for covering larger thighs and hips. The floral swim dress is very flattering, I love how the bottom half is black but the bust area is much more detailed. The navy swimdress with contrasting print cups and edging would look amazing with a tan and the halterneck would offer support for larger busted ladies.
Tankinis
If you're not quite comfortable with a bikini but the thought of wearing a swimming costume fills you with dread, how about trying a tankini. The tankini is less fitted and restrained than a full swimming costume but you will have more coverage than a bikini.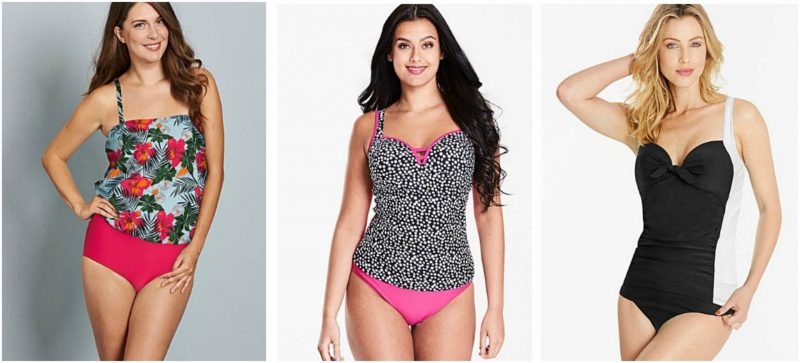 I am in love with this floral tankini with contrasting bottoms. I love how the top is loose fitting so much more flattering for ladies with a big bust. The pink and polkadot tankini is my favourite, I love the bright colours and high neckline. The monochrome tankini is pretty glamorous and has plenty of support around the bust, I really like it's 1950's style.
I hope you've found some ideas if you're looking to update your swimwear collection
* Collaborative post