I'm hoping 2018 brings more time for personal blog posts. I feel like the last few months have been a whirlwind of reviews and sponsored posts and really want to make 2018 more about our family adventures and trips.
I'm looking forward to 2018. A new year, a new start and plenty of time to make a difference.
2017 hasn't been a hugely terrible year but there are lots of things that I promised myself we'd get done … but didn't. I feel we've just plodded along, made no huge changes and not really done anything worthwhile.
I was tagged by the lovely Lucy at Mrs H's Favourite Things to complete the 18 for 2018, so here is my list of 18 things I'd like to do during 2018.
1. Sort out my health
I'm starting a very low calorie diet tomorrow morning. I want to loose weight. I need to loose weight. For me, for my son and for my sanity. I'm the heaviest I've ever been and it makes me so unhappy, however I don't feel like I've been in a place where I could motivate myself to loose weight. Tomorrow see's the start of a whole lot of effort!
2. Pay off our debt
We were left with some debt after my husband gave up his business and it's been festering away and I have some on a credit card and a couple of store cards. It's by no means unmanageable but it's sat there, with just the minimum payment being made each month. I'd like it all paid off by the middle of the year.
3. Start saving properly
I save a small amount each month directly from my pay but I really want to up this. We have no emergency fund and it scares me! My aim is to have enough saved for the little man to put down a house deposit when he needs too, as my Mam did for me.
4. Ensure we have lots of adventures
The little man starts school in September! How on earth has that happened? I want to have as many adventures as possible in 2018 before my little side kick disappears off to school. We'd like to book a very special trip in December 2018 to see Santa and Mrs Claus.
5. Get rid of shit
I've bought the KonMari Method book and started reading it yesterday. I'm hoping it triggers something in me to completely tidy my house. I crave more storage space but I know if I had it, id just find more clutter to fill it with. I'm determined to get rid of things that don't 'spark joy'.
6. Avoid the negativity
It seems over the last few months, all I've seen is negativity and people trying to bring each other down. It's boring and I'm too old to play school yard games. I want to get rid of all negativity from my life and surround myself with nice people!
7. Get off the laptop
If I'm not working on my blog, I'm entering competitions or faffing about on the laptop for something else. I want to learn when to turn it off!
8. Find a hobby
I need to find a hobby away from the laptop. I want to learn how to crochet properly, so I can actually make something.
9. Go on a date
I can't remember the last time I went on a date with Hubby without the little man.
10. Get more sleep
I usually scrape by with 5 hours sleep. I think my body is used to it now but I don't think it's very healthy.
11. Learn more about my camera
I've signed up to do 'A Year with my Camera' by Emma Davies in an attempt to eventually move away from auto more often.
12. Go child free
If I'm not at work 99% of the time I'm with the little man. I love him to bits but I need to spend some time alone! I crave a trip to the shops or a coffee shop by myself!
13. Give
I want to give time to those who need it. I'd like to volunteer somewhere and get involved in more local community projects.
14. Join in with Linkies
I started the year well with linkies but quickly ran out of time and energy to regularly participate. I want to try and commit to some of my favourite ones in 2018.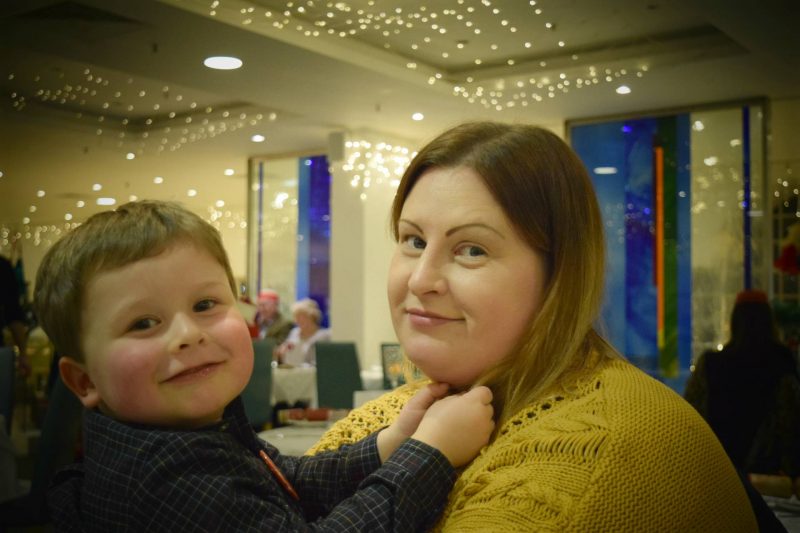 15. Get in more photos
I'm always the one taking the photos and hubby usually has to be asked to take any of the little man and me. I'm going to make a conscious effort to be in more photographs.
16. Be more me!
There's no denying, things change when you become a parent. Your child becomes your focus and you become and after thought. I want to make time for me, go and get my hair cut, have a facial or just generally have five minutes where I'm just me.
17. Make friends
I'm rubbish at staying in touch with friends and making an effort to see them. I have a small group of friends but I'd like to try and make an effort to expand my group and be more approachable!
18. Worry less
I've spent a lot of 2017 stressed for various reasons. I want 2018 to be as stress free as possible and I'm going to try and stay focused on the people and things that are important. Nothing else matters!
Happy New Year!
I'm tagging these lovely ladies. I'd love to read their 18 things for 2018 too. Emma from MrsShilts Laura from DearBearandBeany, Lucy from RealMumreview, Helen from Allthebeautifulthings and Vikki from TippyTupps.