Chaophraya is part of Thai Leisure Group and the sister restaurant to Thaikhun. Whereas Thaikhun is a more casual, laid back dining experience, Chaophraya looks elegant and classy, somewhere you'd go for a romantic meal without your children.
Hubby and I were kindly invited along on a rare, child free day to try out their menu.
Chaophraya is situated in a gorgeous spot. It's on the top floor of the Food Quarter in Eldon Square and can be accessed by two entrances : -a lift near the Grey's Monument entrance to the Food Quarter and a set of stairs up from the first floor.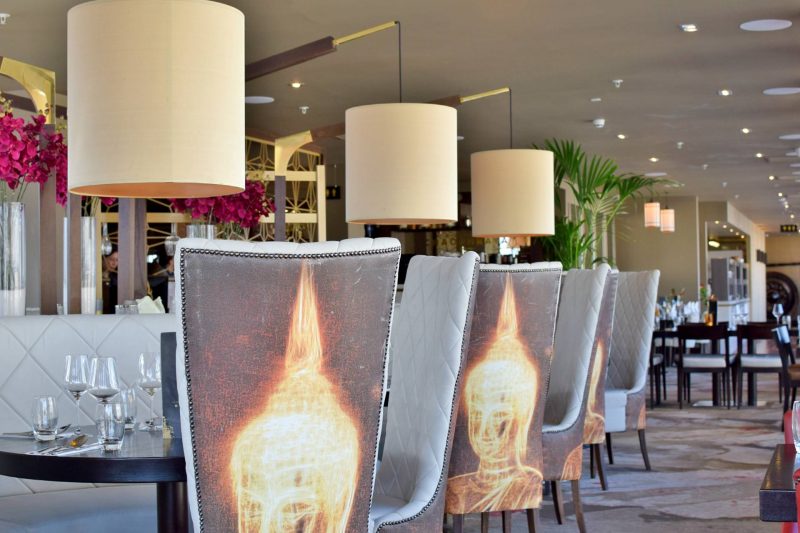 The restaurant has a very sophisticated and contemporary look with plenty of traditional Thai decorative items. You can expect to see plenty of Buddha statues, bright fresh flowers and there's even a huge reclinging Buddha if you look out for it.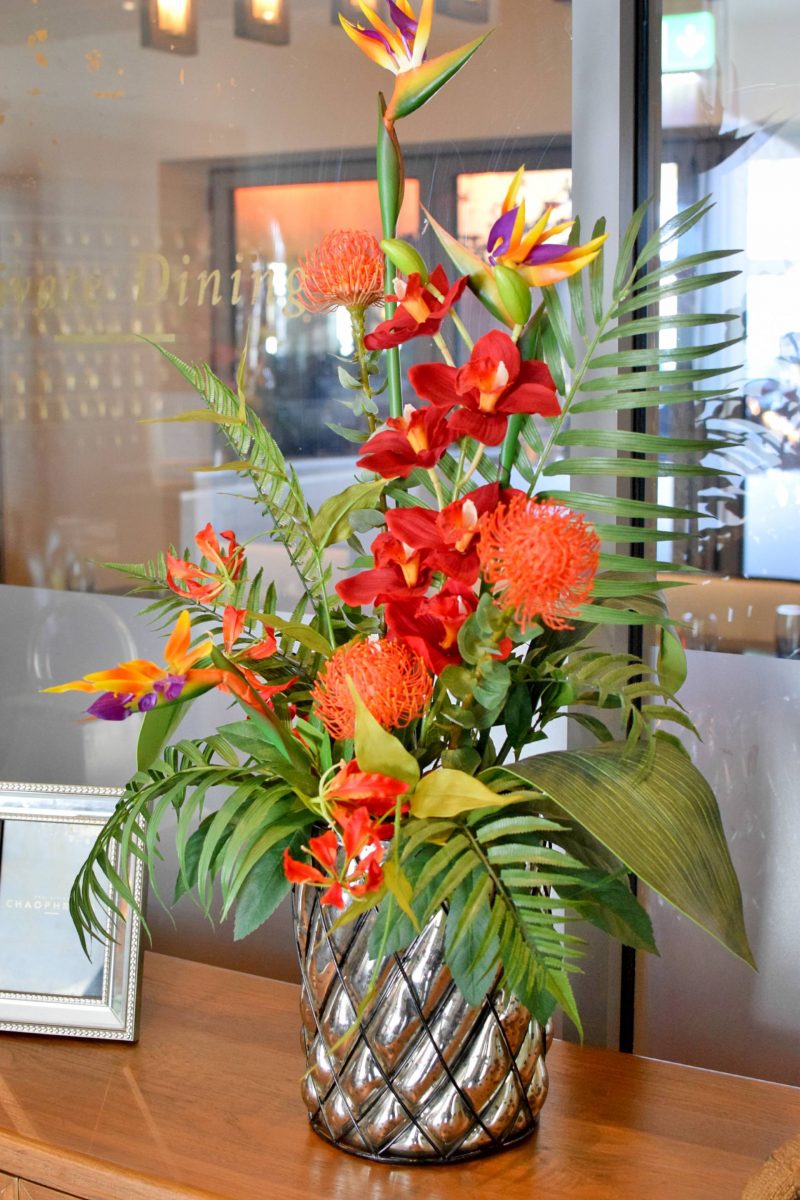 Chaophraya has a private dining are, open-air rooftop dining area and plenty of tables with wonderful views of the City centre.
We were lucky enough to bag one of the best seats in the restaurant, with views of Blackett Street and Grey's Monument, it was absolutely perfect for people watching on a sunny day.
Staff were friendly and quickly took our drinks order.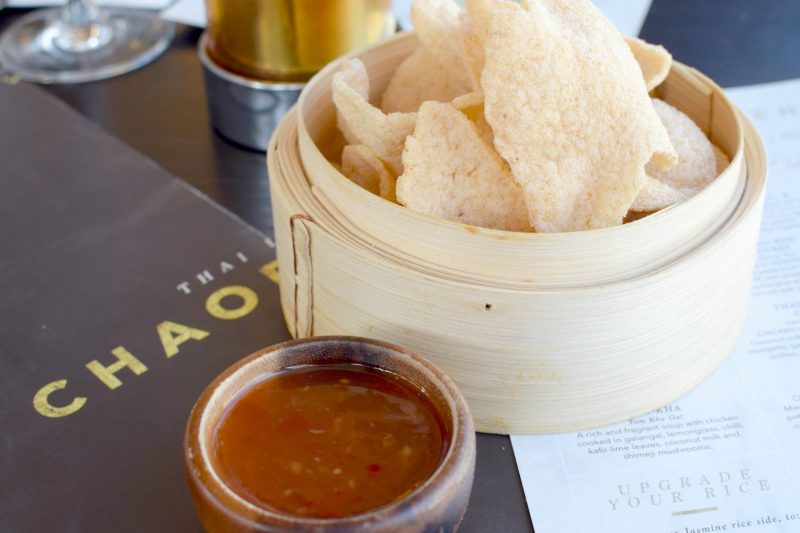 We were brought some very tasty crackers with sweet chilli dipping sauce to share before our food arrived.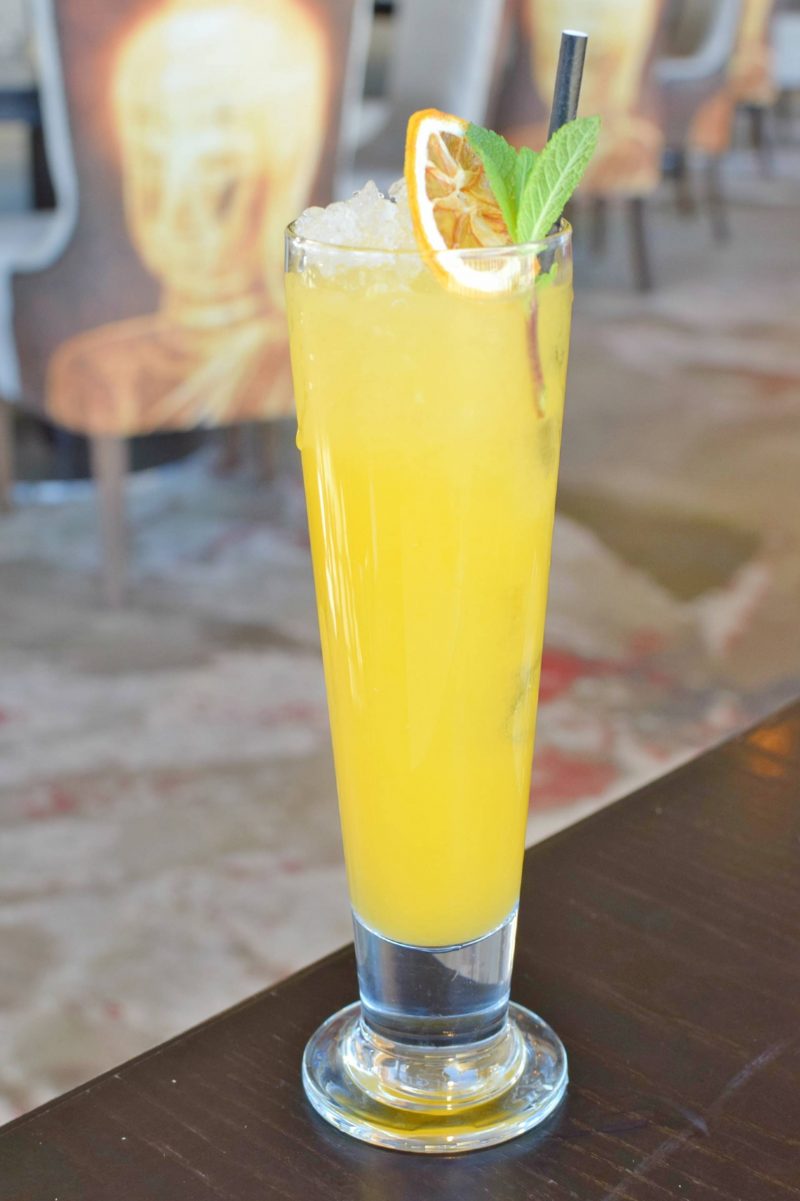 Hubby choose an Elderflower presse and I opted for the sunny Totally Tropical alcohol free cocktail to match my mood. Made using Passion fruit syrup, pineapple, mango & lime juices it was fruity and refreshing with just the right amount of tanginess.
We had a quick look through the menu and decided to take advantage of the lunch time special. One course is £8.95, two courses are £13.95 and three courses for £17.95.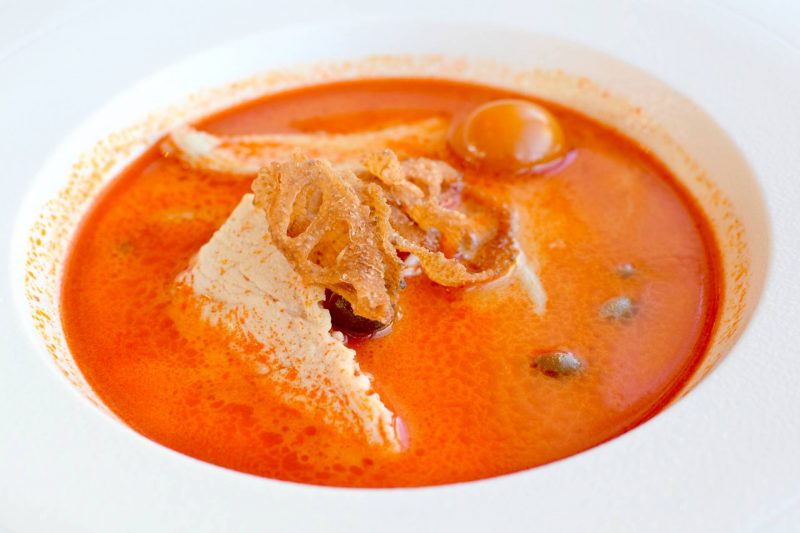 I chose Tom Kha as my starter. It's something I ate many times while living in Thailand but not something I've tried in the UK. I needn't have worried though. It was rich and tasty and filled with large chunks of chicken and shimeji mushrooms. The chilli gave a spicy kick but was mellowed by the coconut milk and I found it surprisingly filling.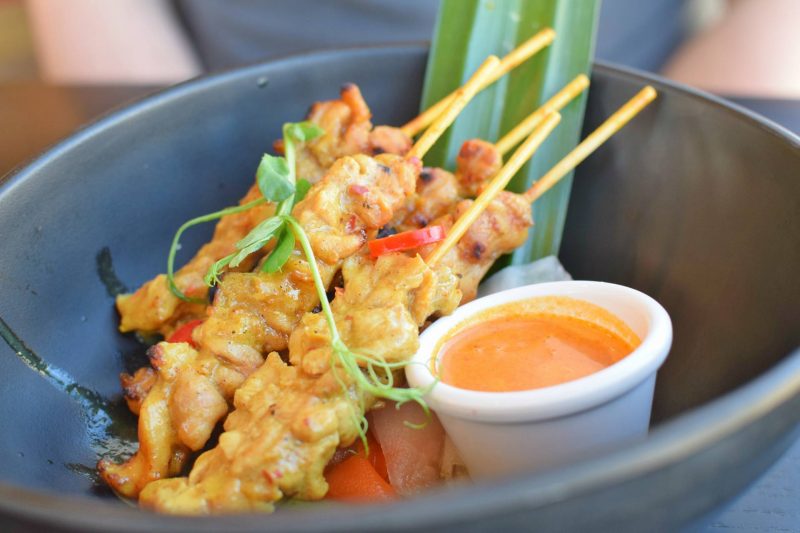 For his starter, Hubby chose the Chicken Satay and we were both super impressed when five generously loaded skewers ( I didn't even feel bad eating one) with a home made peanut sauce were brought out. The chicken was tender, lightly charred and packed full of flavour. The smooth, peanut sauce was the perfect accompaniment and there was plenty in the pot so there was no need to scrimp when dipping.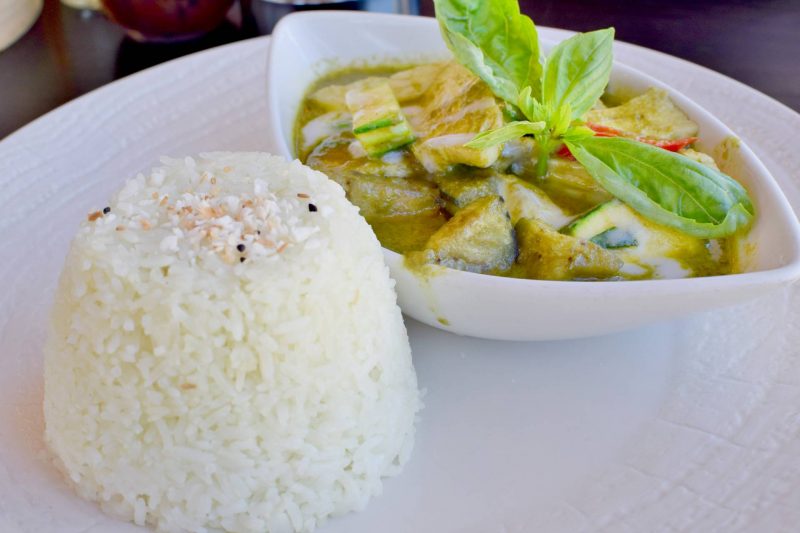 After a very short break, next up were our mains.
I'd chosen the Thai green curry and upgraded my Jasmine rice to coconut rice for an extra £1.50. The portion size was good and I could see chunks of aubergine and courgette poking out of the green sauce. The curry was nice but I felt it was lacking a little something, I think perhaps it needed a little more spice or something to add a bit more flavour. I'm so pleased I went for the coconut rice, it wasn't heavily flavoured but worked well with the curry.
I think Hubby definately won with his main choice. The crispy pork belly with Thai Basil was amazing. The pork was melt in the mouth tender and just on the right side of spicy. The rich red chilli and garlic sauce worked perfectly and it took so much effort not to steal it off him.
Despite the fact we were both close to bursting, we couldn't visit Chaophraya without trying a dessert.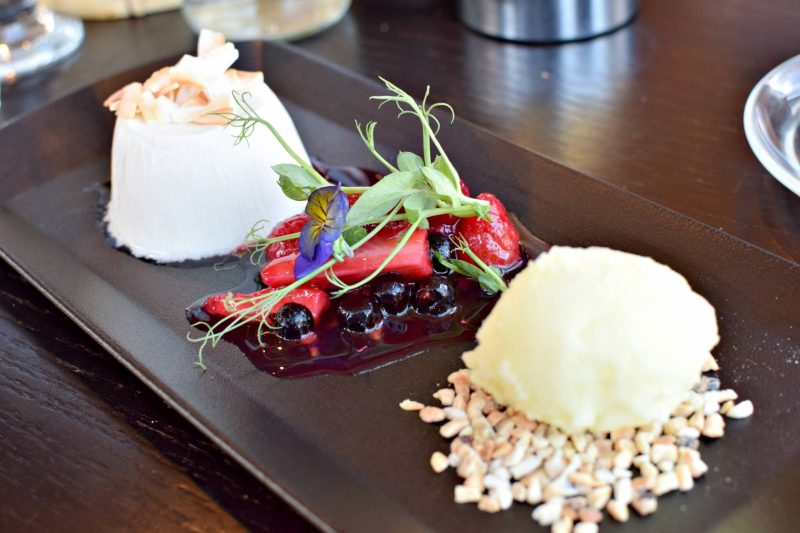 Moving totally out of my comfort zone, I chose the Coconut Panna Cotta and it was everything I could have wished for!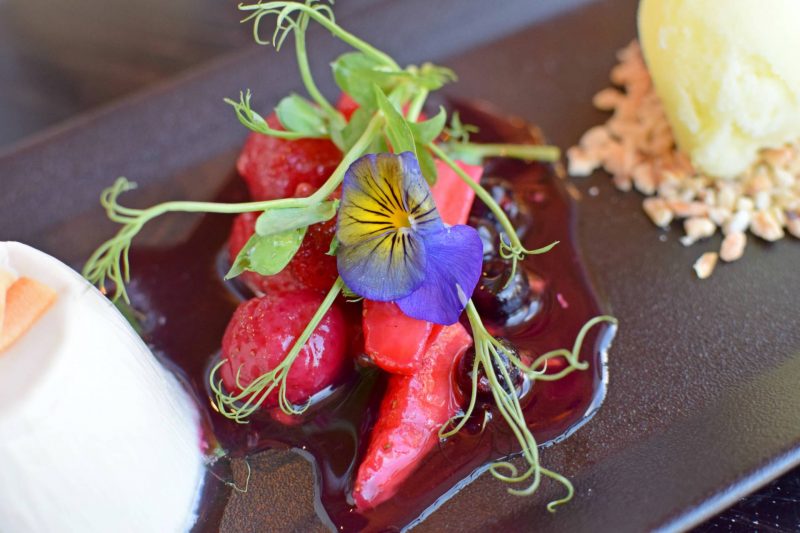 Made with young coconut set cream it was sweet and indulgent and worked surprisingly well with the lime and lemongrass sorbet. The presentation was beautiful and again, the portion was substantial.
Hubby chose the ice cream to round of his meal, opting for one scoop of Thai Whisky flavour and one toasted coconut. Both were delicious but in comparison to my plate, they looked a little boring.
I really enjoyed our meal and we'll definitely be returning next time we're child free.
* Our food was complimentary but opinions are my own.