No longer is the Intu Metro Centre just a place to shop, it's also home to a great range of eateries, with something for every appetite and budget. A recent addition to the Qube in the Metro Centre is Thaikhun, a Thai Street Food restaurant with a vast menu and affordable prices. I like to claim I'm a bit of a Thai food expert, having lived in the beautiful country for a while, so I couldn't wait to try it out.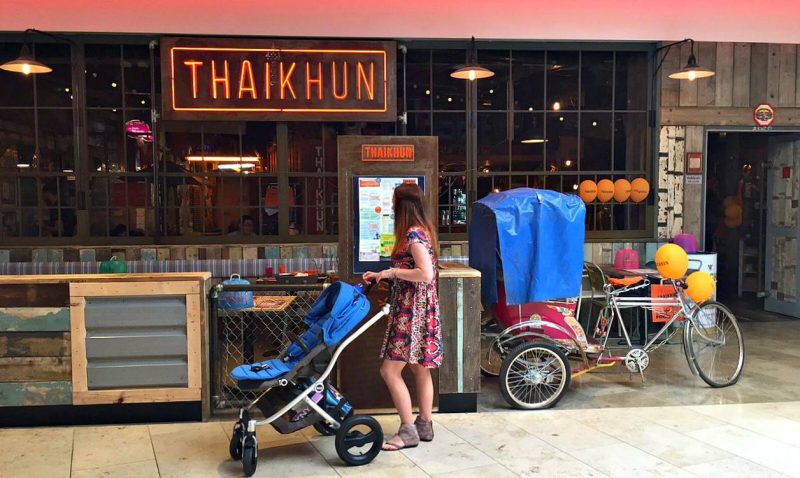 We visited on a Sunday so the Metro Centre was busy. Thaikhun was busy but there were no queues to be seated and we could see a couple of empty tables inside.
The Tuk Tuk at the front of the restaurant and gleaming gold Buddha in the door way give you a sneaky taster of whats to come once you're inside.
As soon as you walk through the door you forget the grey skies of Gateshead because Thaikhun transports you to the hustle and bustle of Thailand's streets or (soi's) with its unique decor that practically pulsates with vibrancy. The bright bold colours, mis matched decor and delicious food smells brought back so many memories of my time in Thailand. The restaurant is set out well, with plenty of space between the tables and enough space to manoeuvre a pushchair if you need too.
The restaurant has a laid back feel and we instantly felt comfortable and at home as well settled into our casual dining experience.
We were greeted by a friendly member of staff and table over to our table where we were able to peruse the menu and decide on drinks. I opted for the Coconut Mojito (£6.95) which was absolutely delicious and Hubby picked a bottle of Chang after being told they had no Singha left.
The little man was brought a high chair and asked if he'd like a colouring sheet and some pencils as well as some buffalo worms to try (the sheet and pencils arrived promptly but the worms were never brought to the table).
After a quick look at the extensive menu our food order was taken. I opted for Goong Choop Pang Tord (£7)(Tempura Prawns) but there was a mix up with my starter and I got Ka Nom Jeeb (£6.50) (steam pork and prawn dumplings) instead. I wasn't bothered as I knew I liked Ka Nom Jebb, and they really were delicious. They were tender, juicy and full of flavour. Hubby went for Por Pia Sod (£7) (fresh prawn rolls) which were fresh and tasty and the portion was really generous.
The childrens menu costs £5.95 per child and is supposed to consist of a drink, starter (vegetable sticks). main course and a dessert (iced lolly).
The children's main course in split into three. They're able to chose from rice or noodles, then grilled chicken, pork or mixed vegetables with their choice of sauce (no nuts Satay sauce, Sweet BBQ sauce or slightly spicy green curry). Each meal is supposed to come with creepy crawlies for the kids to try ( as I said, ours didn't turn up) and a free National Geographic Magazine filled with fun activities, again this didn't arrive.
We asked for the little mans food order to come out with our starters but unfortunately it didn't, it didn't come out with our mains either and we had to chase it (he ended up with his starter arriving after his main course) It did finally arrive and I was a little surprised that it was so plain. I had thought there may be some vegetables or 'extras's included as it does seem to be swamped by the plastic tray. The little man had noodles, grilled chicken and BBQ sauce, he didn't like the sauce, but munched away on the plain noodles and chicken. He did end up eating some of both mine and his Dad's main course to make his a little more exciting.
For my main course I chose Geang Phed (Thai red curry) and hubby went for Nua Phad Kra Prao (beef with chilli and Thai basil) We both commented on how delicious and hot the mains were. My curry was so tasty and tasted identical to the ones I ate in Thailand. It was filled with fruit and huge chunks of melt in the mouth chicken.
After our main course dishes were taken away, the little man was asked if he'd like his dessert (a mini milk ice lolly). He thoroughly enjoyed it and ate much more than he would if he'd had a dish of ice cream,
I was a little surprised that Hubby and I weren't asked if we'd like to see the dessert menu or asked whether we'd like a coffee after our meal so once the little man had eaten his ice lolly we left.
Overall, our experience at Thaikhun was a little bit average. Both the starters and main courses that Hubby and I had were delicious. The food is extremely tasty and quite obviously freshly made, with generous and filling portions. We found the staff friendly and polite, especially the manager who was keen to chat and explain the menu to us. My starter was wrong though so make sure you do check, especially if you have allergies or dislikes. I absolutely love the decor and restaurant layout. It has a relaxed vibe and couldn't look anymore 'Thai' if it tried. It really stands out amongst the other eateries in the Metro Centre.
However, I found the children's menu and associated extras, a bit of a let down. It's great that they're marketing themselves as a child friendly restaurant but seemed to struggle to follow through with it. The food choices for children are quite dull and could do with being livened up. I'd have liked to see child size portions of some of the things on the menu, not just plain rice or noodles and plain meat or veg, not all kids like bland food. It was also a shame that the extras that were supposed to be included never materialised. Both the bugs and National Geographic are a unique and unusual way to promote the restaurant but I imagine if customers fail to get what they're promised, they'd be unlikely to return.
I would definitely return to Thaikhun with hubby but I'd be unlikely to take the little man with us.
*Our meal was complimentary in return for an honest review.