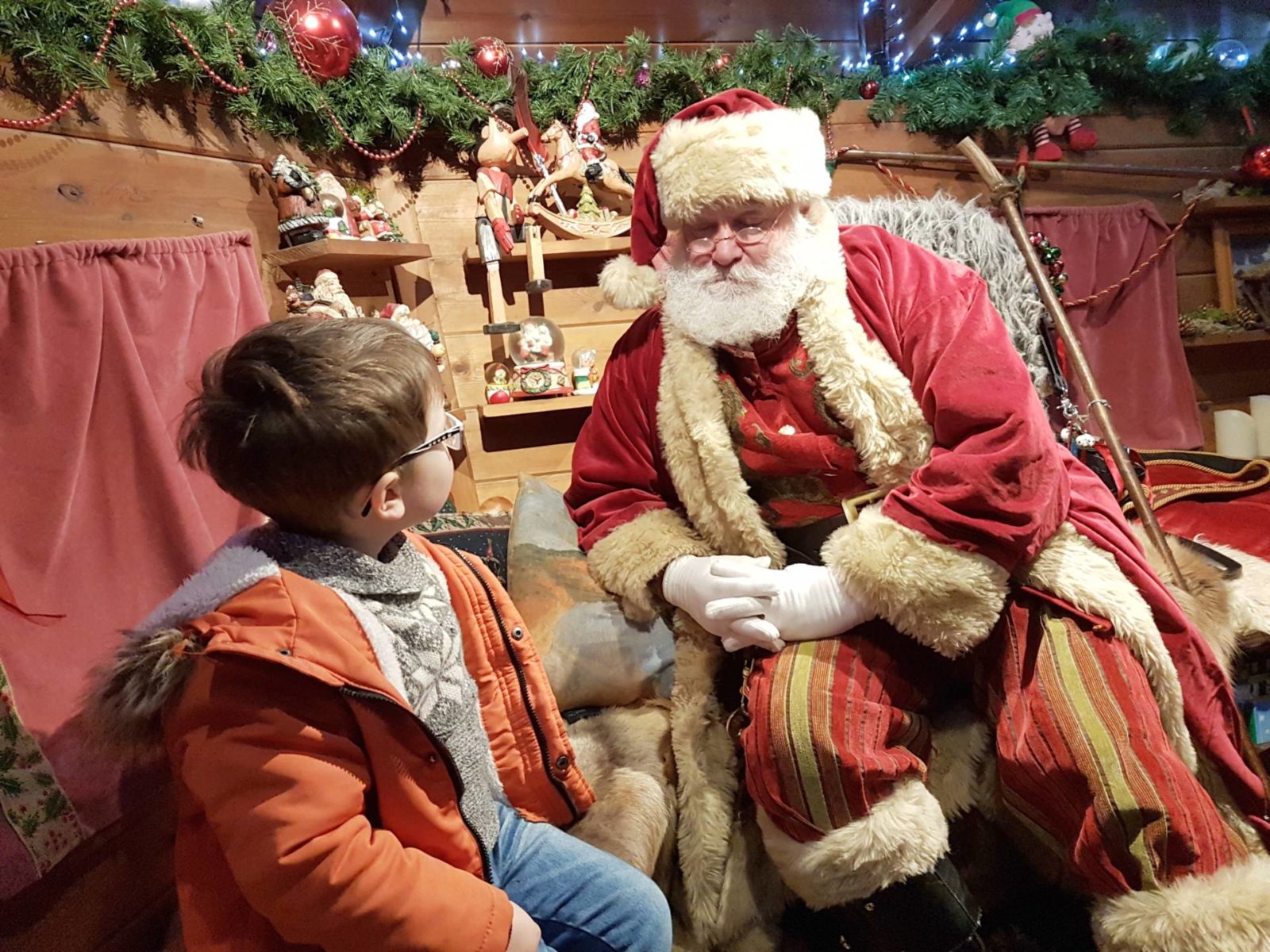 Last year I saw loads of amazing photographs from the Santa experience at Alnwick Garden and we were quite disappointed we hadn't thought to book. This year, I was poised waiting when the tickets went on sale and managed to purchased tickets for the little man to see Santa and for us all to go ice-skating.
We booked way back in July and the tickets we bought cost just under £40.
On the 6th of December I received an email advising Santa would no longer be in the Treehouse, instead they were going to relocate Santa from The Roost at The Treehouse into The Garden itself.
The email also stated –
By way of apology for any inconvenience, we are offering visitors a free skating session and access to The Garden at night to see the 'Sparkle' light installation. Don't worry about the adults – we are not charging them to come in to The Garden during the evening!
I'll admit I was disappointed. We'd already paid for skating tickets – one of which we wouldn't be able to use because I was pregnant and I'll admit we felt a little like we wouldn't receive any gesture as we'd already paid for skating tickets. We gave Alnwick a ring and they kindly offered to refund our skating tickets. However, that didn't actually happen, what they did instead was refund the skating part of my ticket (£6.73). It took three phone calls for them to explain their reason behind this. As we'd be seeing Santa at 15.30 the gardens would be open, therefore we would either have to pay for skating so we could access the gardens or they could refund the skating costs and we could access the gardens after we'd seen Santa.
Thinking that we would have enough time to walk round the gardens before seeing Santa we decided to leave things the way the were. Sadly, due to the fact we spent so long driving round the car park, waiting for our food and skating we might as well have saved the money and visited after seeing Santa.
Alnwick is an hour from our house in Durham so by no means a short trip. When we arrived we pulled into the car park on the side of the road where Alnwick Gardens is. We were stopped by a friendly car park attendant who told us we needed to cross the road and park in another car park, he told us that nearly everyone had made the same mistake ( perhaps this would indicate signage was necessary?). We crossed the road and parked up in the other car park ( another attendant was on the entrance taking a £3 fee from each car.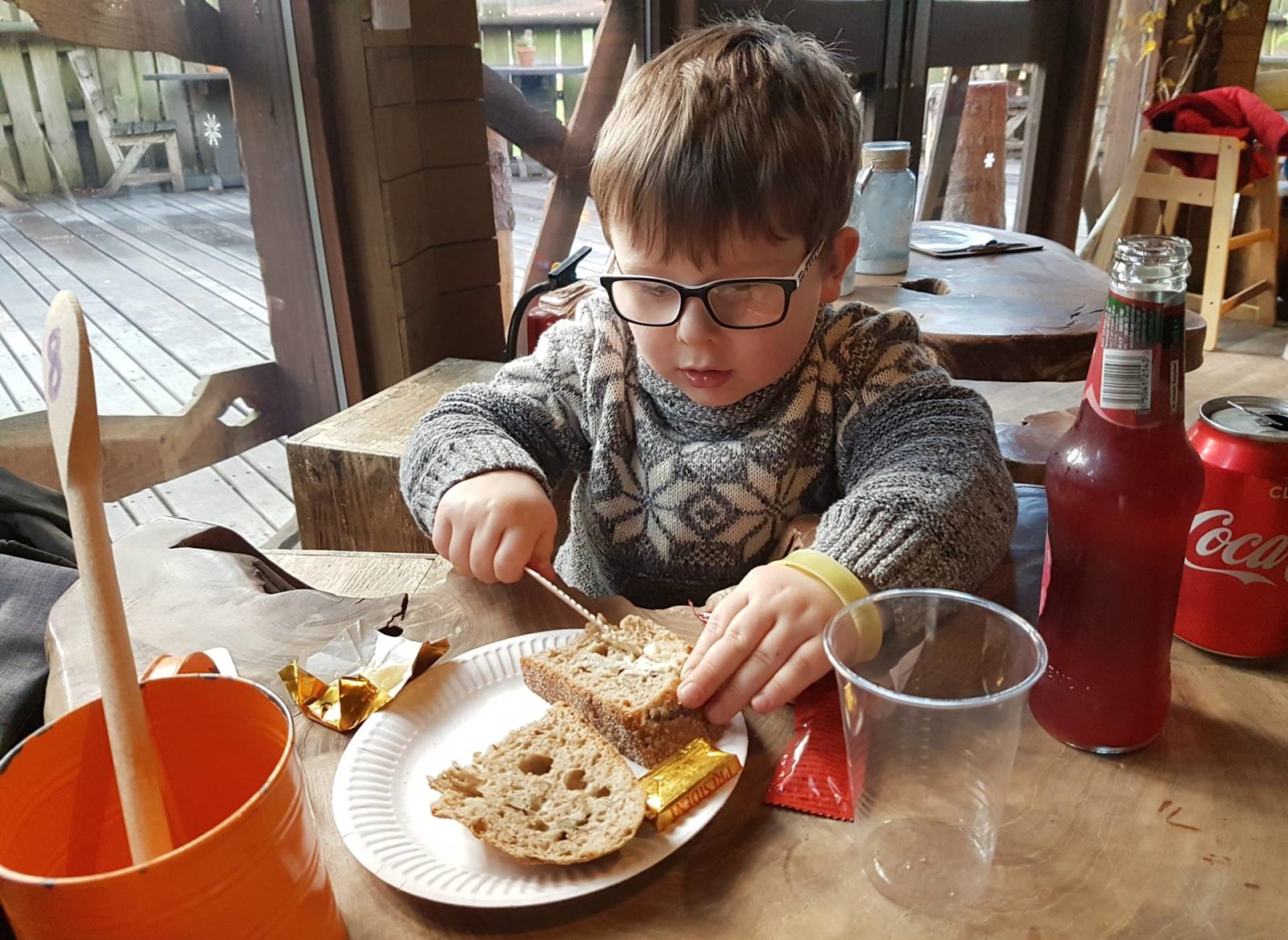 We decided to eat before starting our festive afternoon and asked the car park attendant to recommend somewhere to grab something quick. He suggested The Potting Shed so we headed off to find it. It's a quirky little wooden hut next to the Treehouse Restaurant and we were able to find a seat with ease.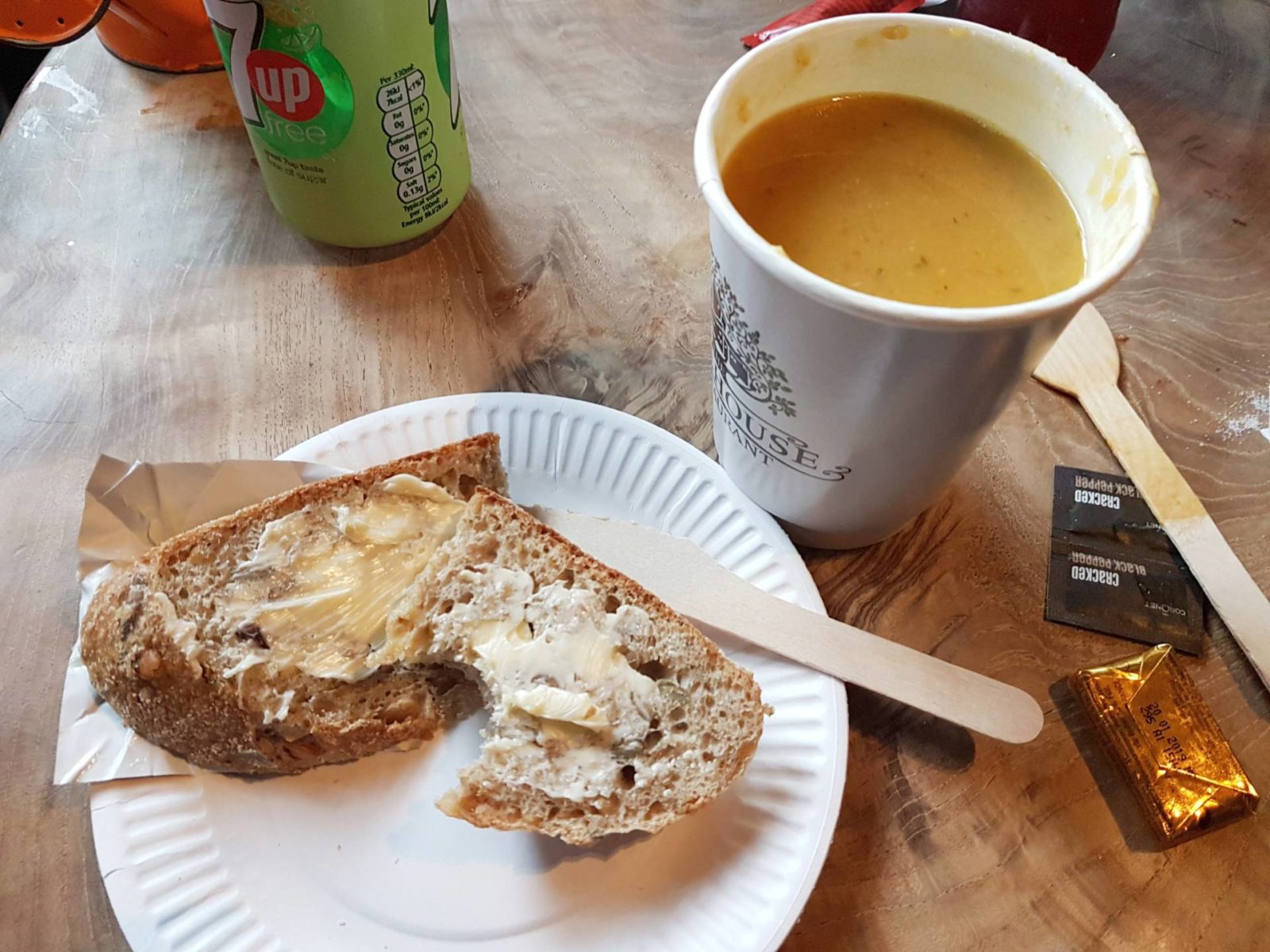 I'll be honest, The Potting Shed was disappointing. We were completely ignored by the member of staff who fawned over a table of females she clearly knew, speaking to us only when we ordered our food at the counter.
The menu is relatively small but there's a decent selection, but wasn't really what I'd expected. I had the Spiced Butternut Squash soup (£3), Hubby has the bacon sandwich (£4.75) and the little man had a sausage sandwich (£4.75). My soup was served up instantly in a paper cut from behind the counter while Hubby and the little man waited a good 15 minutes for the food to be brought through. Two sandwiches, a cup of soup and three soft drinks cost us just over £20.
My soup was hot extremely bland and came with a flat wooden spoon! It wasn't at all spicy and had very little flavour. I'd completely finished by the time the rest of the food came out.
The sandwiches were piping hot with plenty of filling but both came served with what I imagine was supposed to be a 'toasted Brioche bun' however, they were both burnt and very crispy, Hubby had to scrape off the blackness before eating his. The sausages and bacon were both a hit but both Hubby and the Little Man left a good portion of the bread, simply because it was far too well done.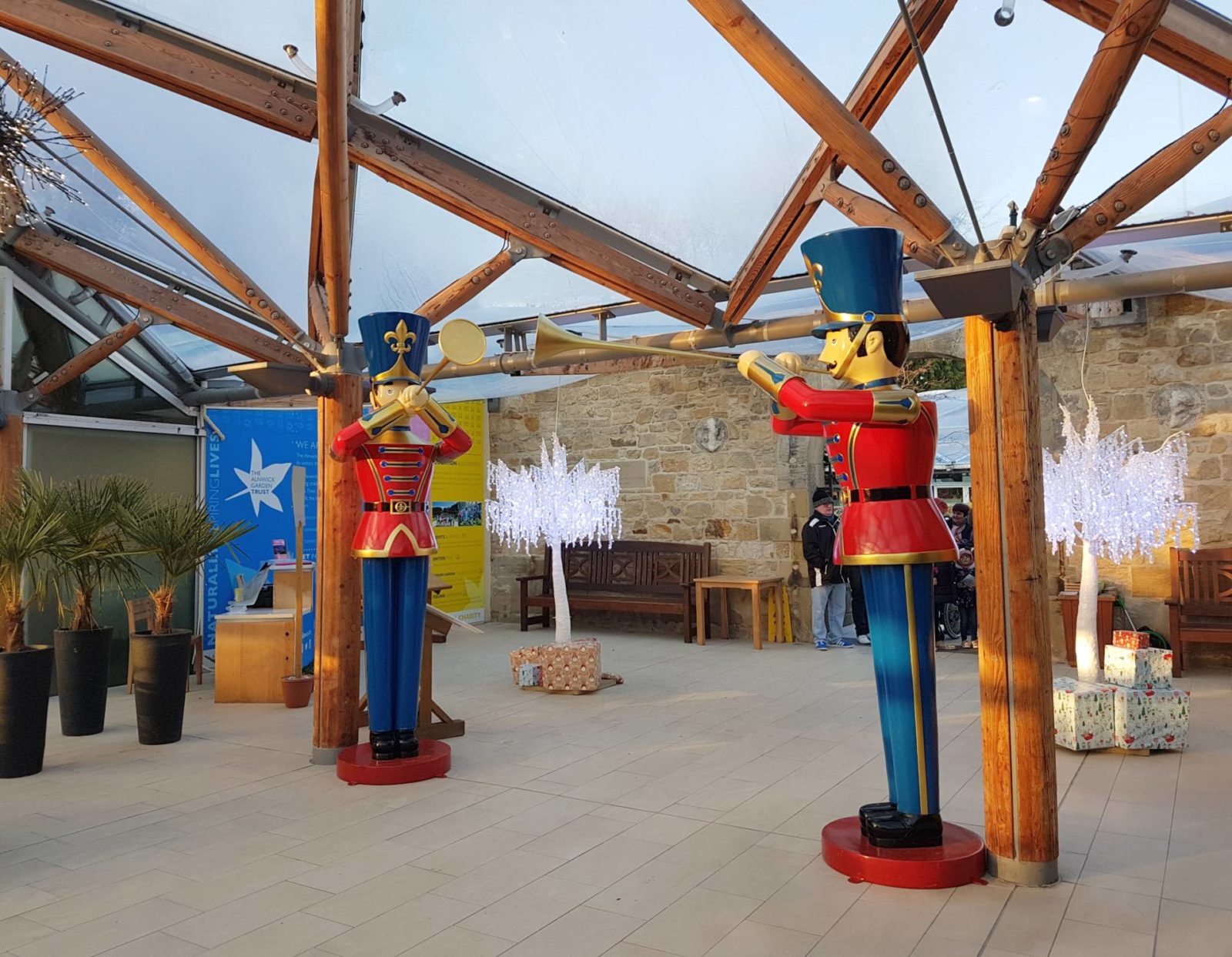 When we'd finished our food, we headed to the Gardens ( it's worth noting there are no obvious signposts to tell you which way to go). We walked through a decoated building before arriving at the ice-skating rink. It was very small but thankfully there weren't a lot of people on during our visit.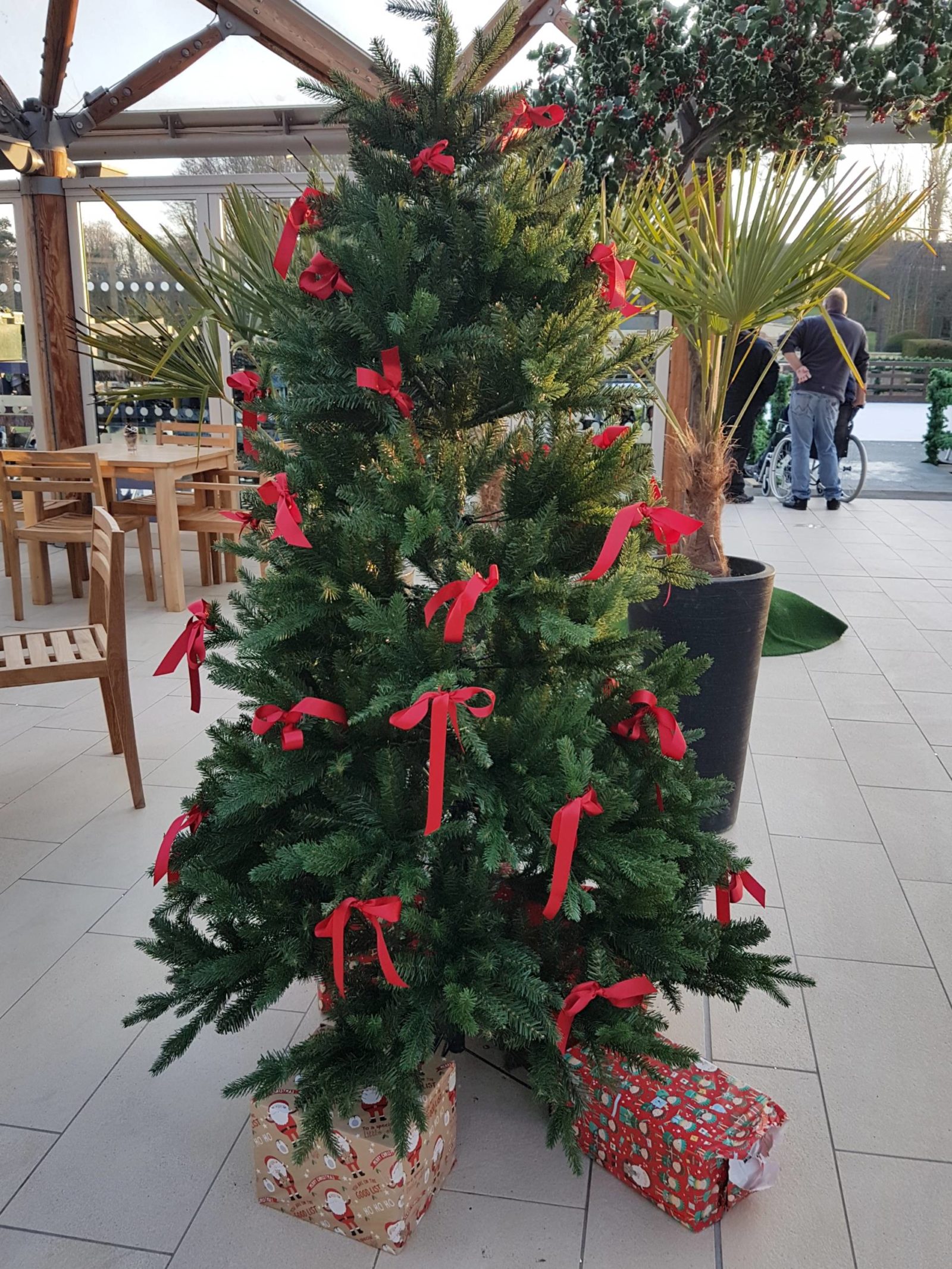 A grumpy member of staff scanned our ticket and left us to it. Hubby and the little man collected some ice-skates and then enjoyed around 30 minutes on the ice. I imagine they'd have been able to stay on longer as it was very quiet but the little man had a very cold bottom and was starting to loose interest.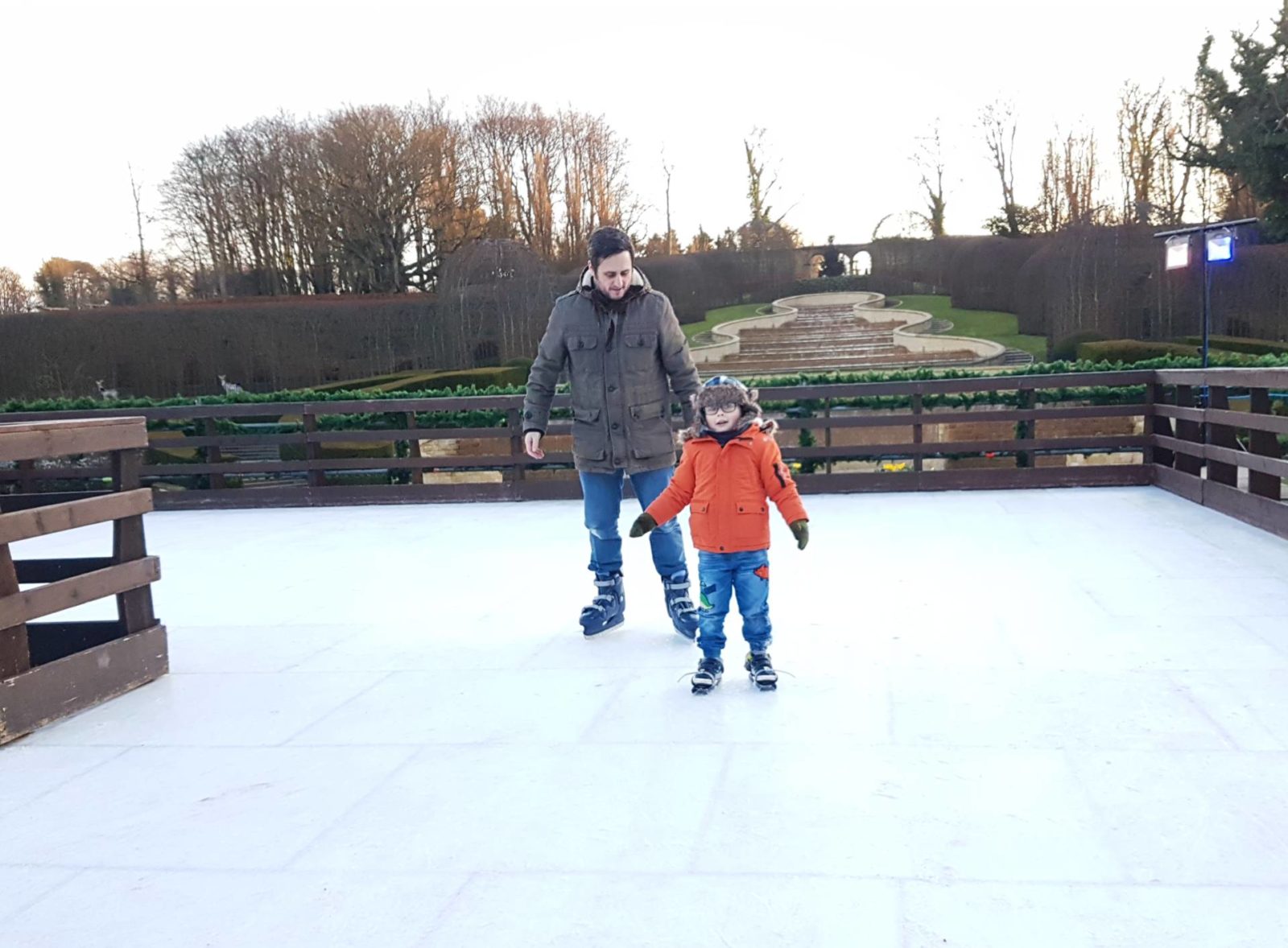 I was also disappointed to find out that others visiting the ice-skating rink as the same time as us had been given free tickets for the Santa inconvenience, whereas Alnwick Garden told us we could only have a refund if we visited the ice after the gardens had usually closed. I think there's been quite a lot of inconsistency with tickets, refunds and the whole Christmas experience.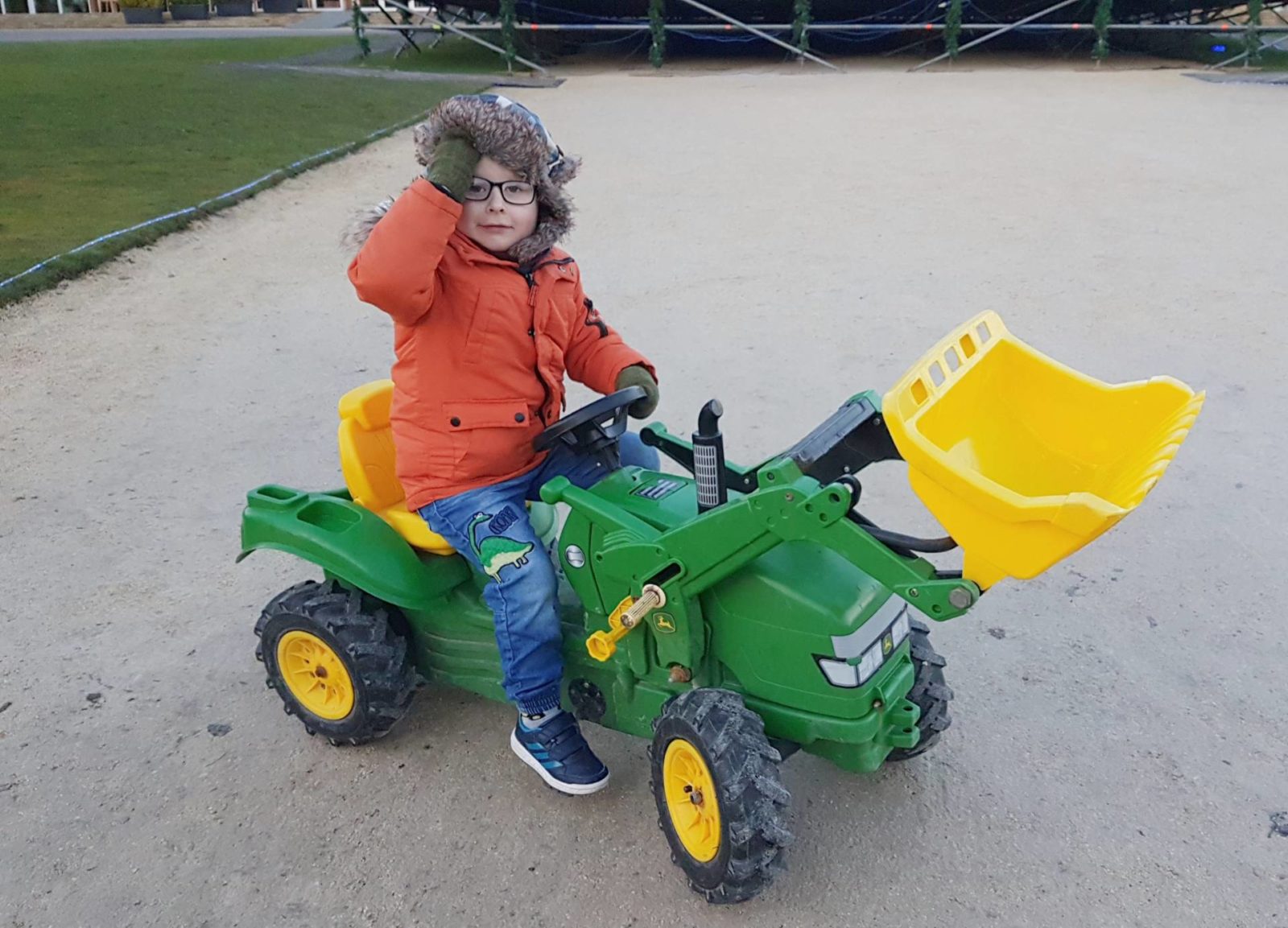 After skating the little man had a quick ride on the tractors in front of the ice-skating rink before walking round to the Poison Garden where Santa was located.
The Poison Garden itself was closed but there were a couple of cabins next to it where Santa and the elves were. When we arrived at 15.15 ( 15 minutes before we were due to see Santa) there was no one there. There were two other confused families, trying locked doors and wondering if they'd forgotten about us. About 15.25, two elves arrived and disappeared into the cabin behind Santa's. They didn't interact with the waiting children and just closed the doors of the cabin. We were finally ushered into the craft cabin by an elf with a clip board. She took our families name and told us there were crafts at the front and to take a seat.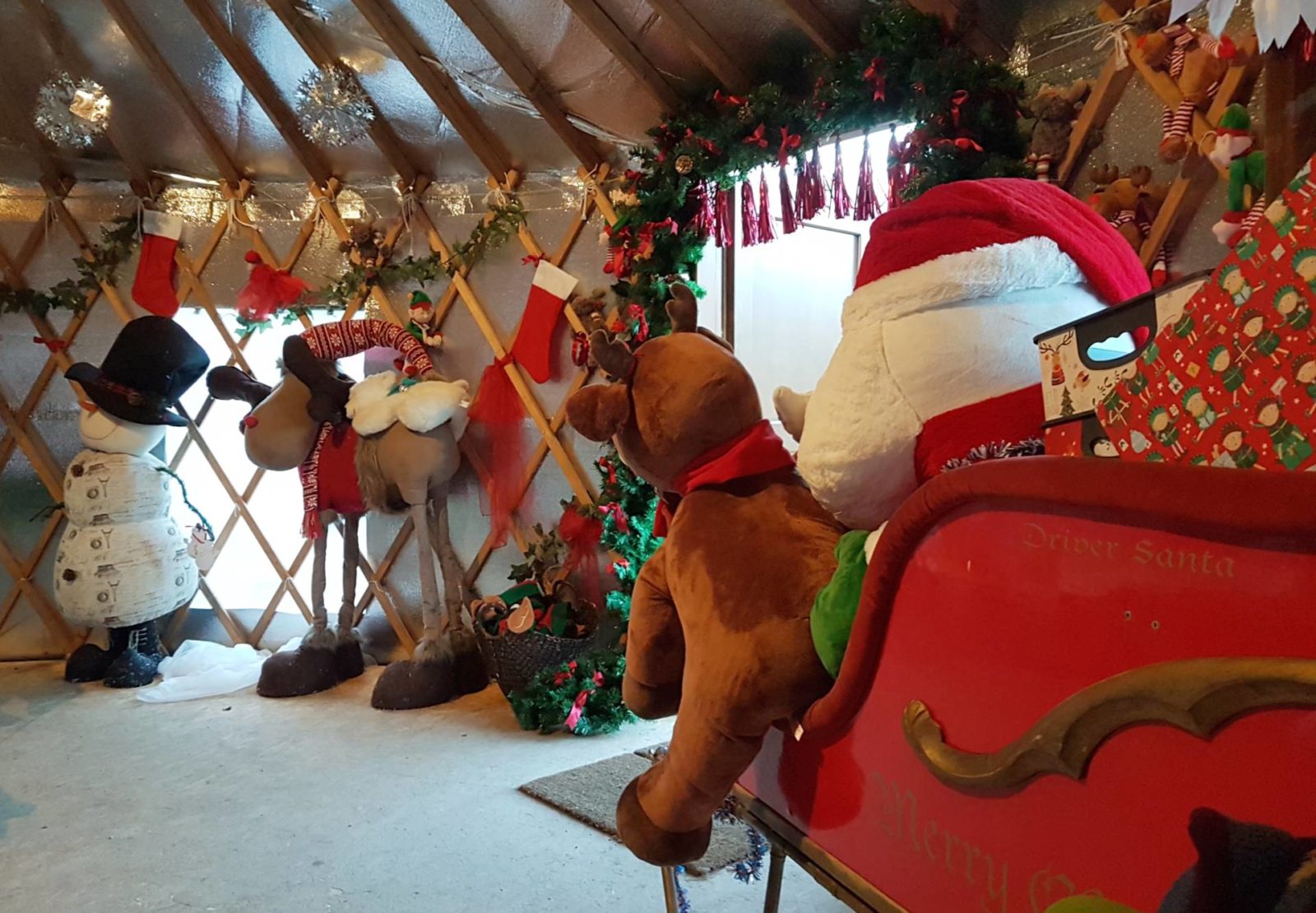 The cabin was well decorated and there were plenty of comfortable seats to sit round the tables on. The cabin was freezing though, so make sure if you're visiting, you have plenty of layers with you.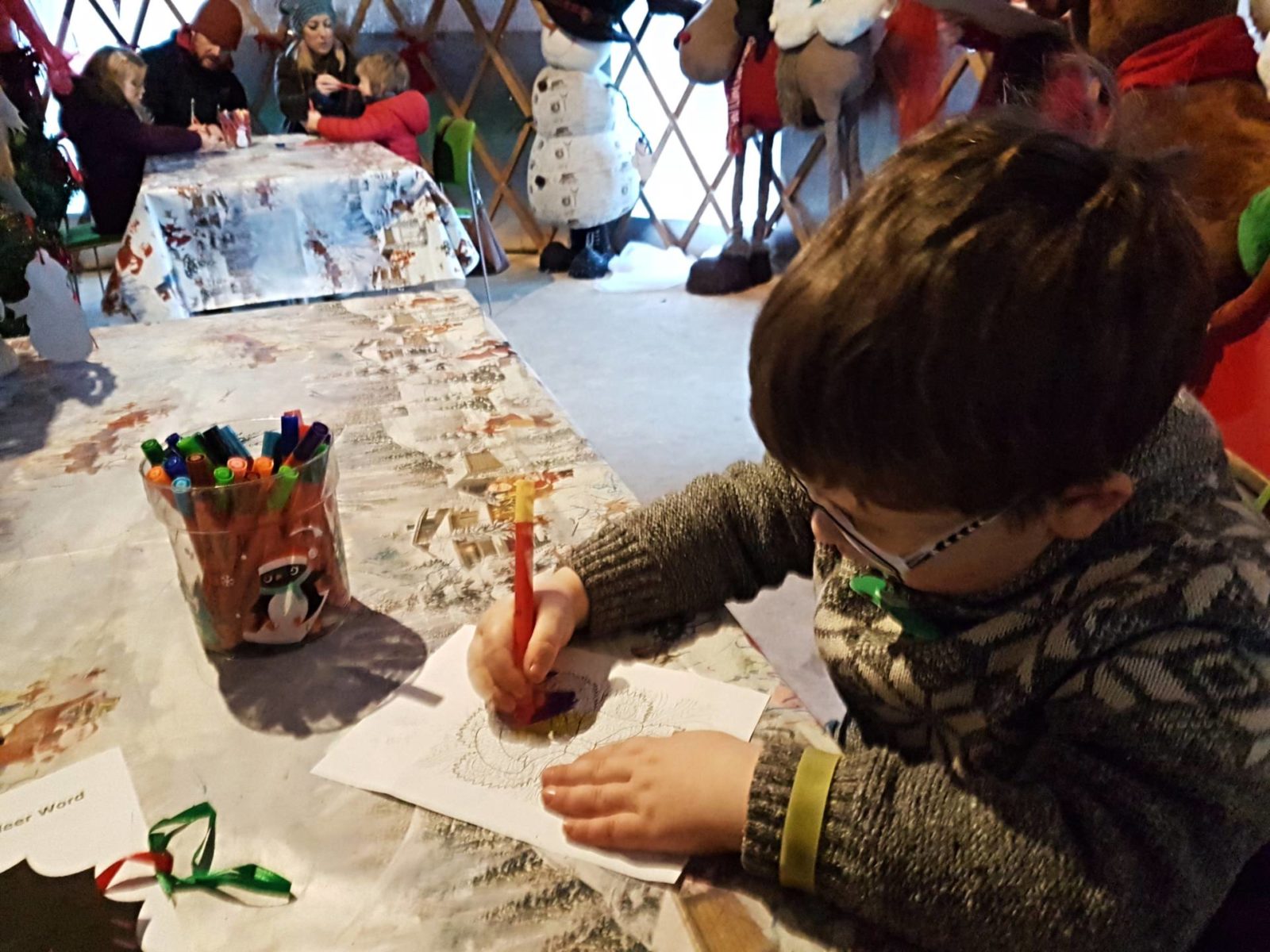 I'd like to say we enjoyed the crafts but in all honesty, they were very poor.
The little man got a shoddily photocopied colouring in page which was very small and not really aimed at younger children, a black Reindeer wreath black scratch art sheet, a tiny wordsearch and a Christmas alphabet game.
We were all disappointed. We've seen better crafts at free Christmas events and for £16.99 we expected something we'd at least be able to take home with us to put on the tree or hang up.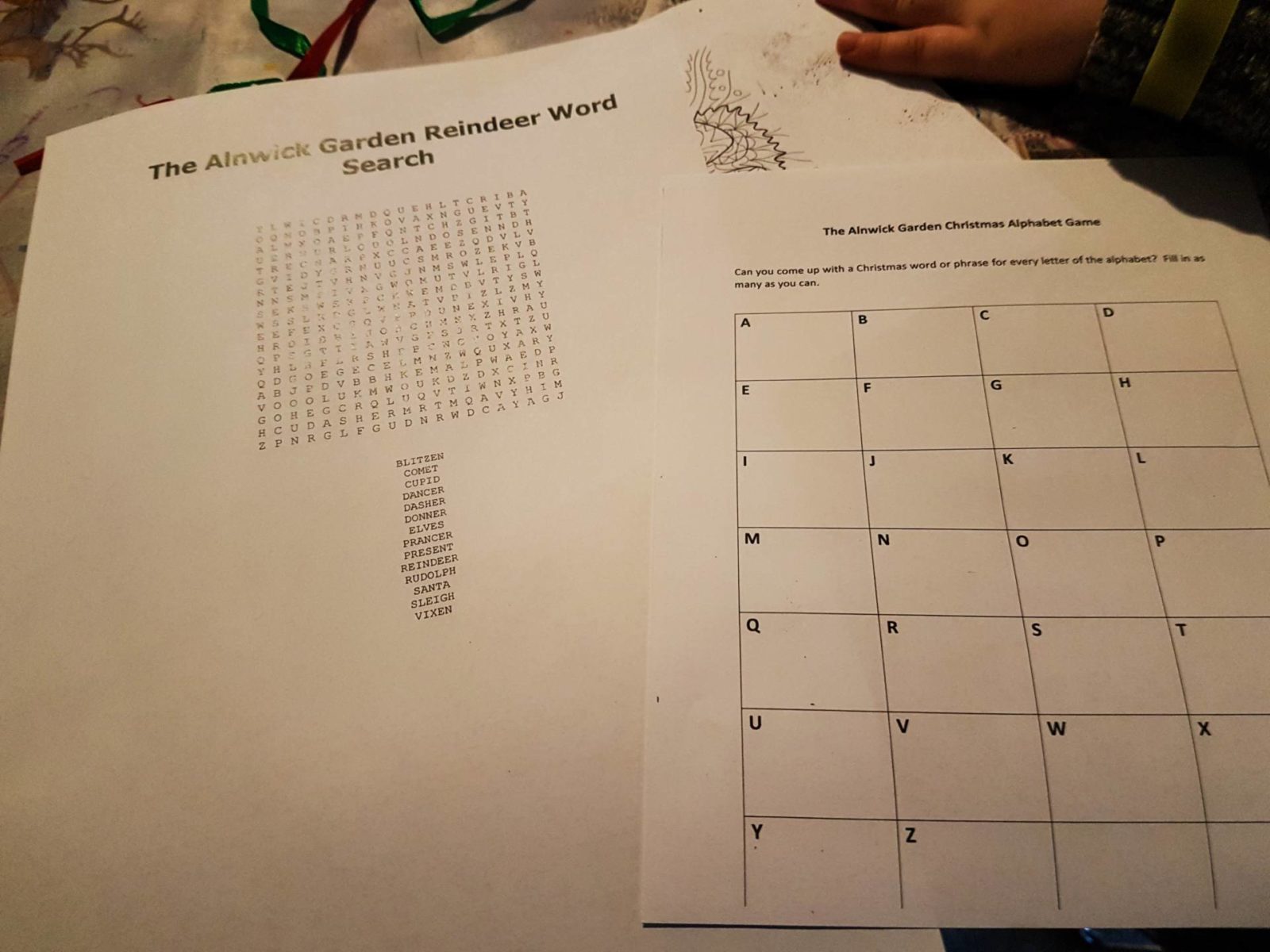 Another thing that really saddened me was the lack of engagement from the Elf. She literally wandered round the cabin with a clip board and ignored the children. She didn't engage with them at all or even make any attempt to ask what they were doing or whether they were looking forward to Christmas. In fact she gave the distinct impression she didn't want to be there.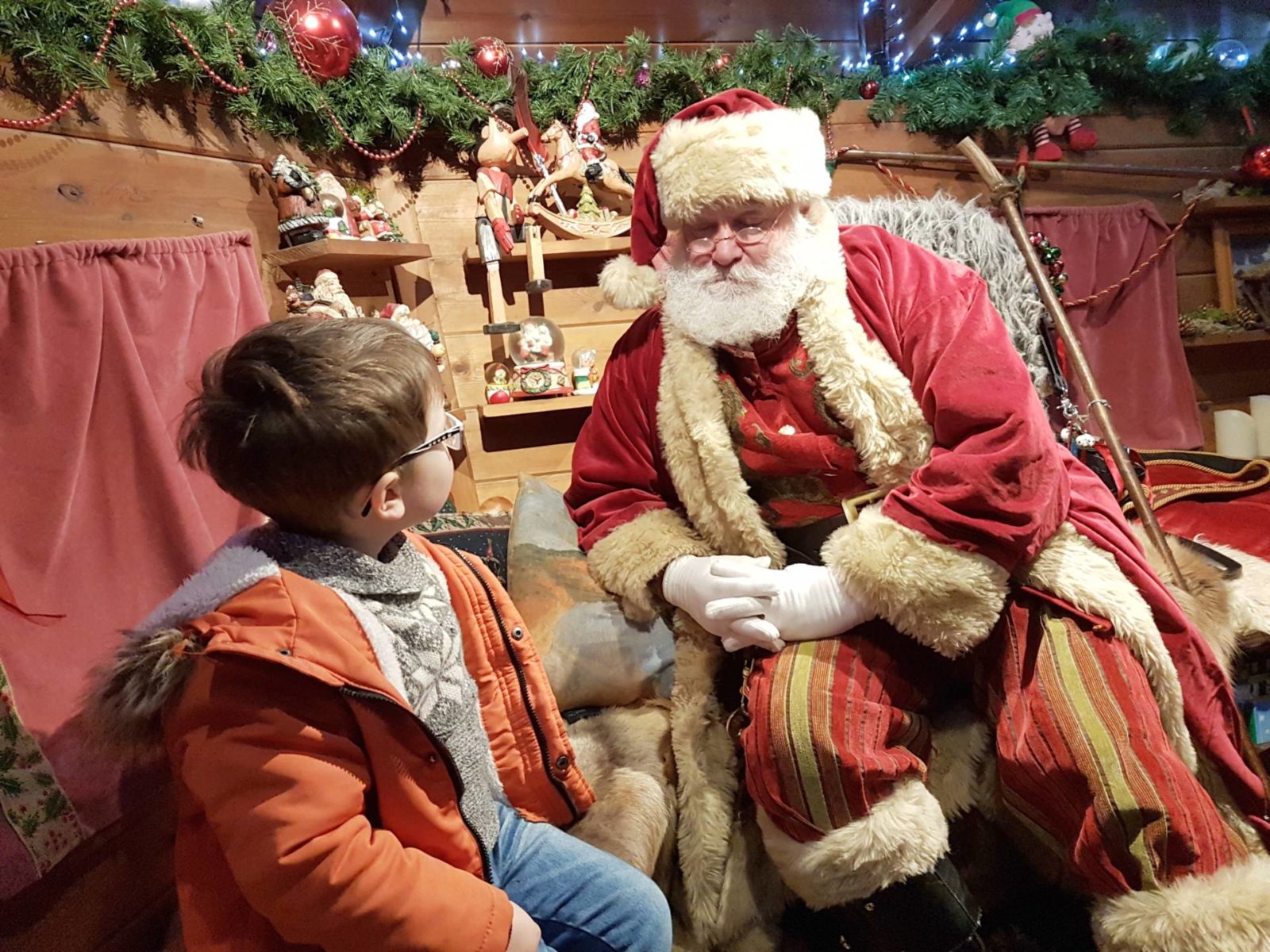 After 10 minutes we were called to see Santa. For us, this was the only redeeming feature for the afternoon. Santa was very authentic and really looked the part. He was friendly and looked perfectly at home in the beautifully decorated cabin.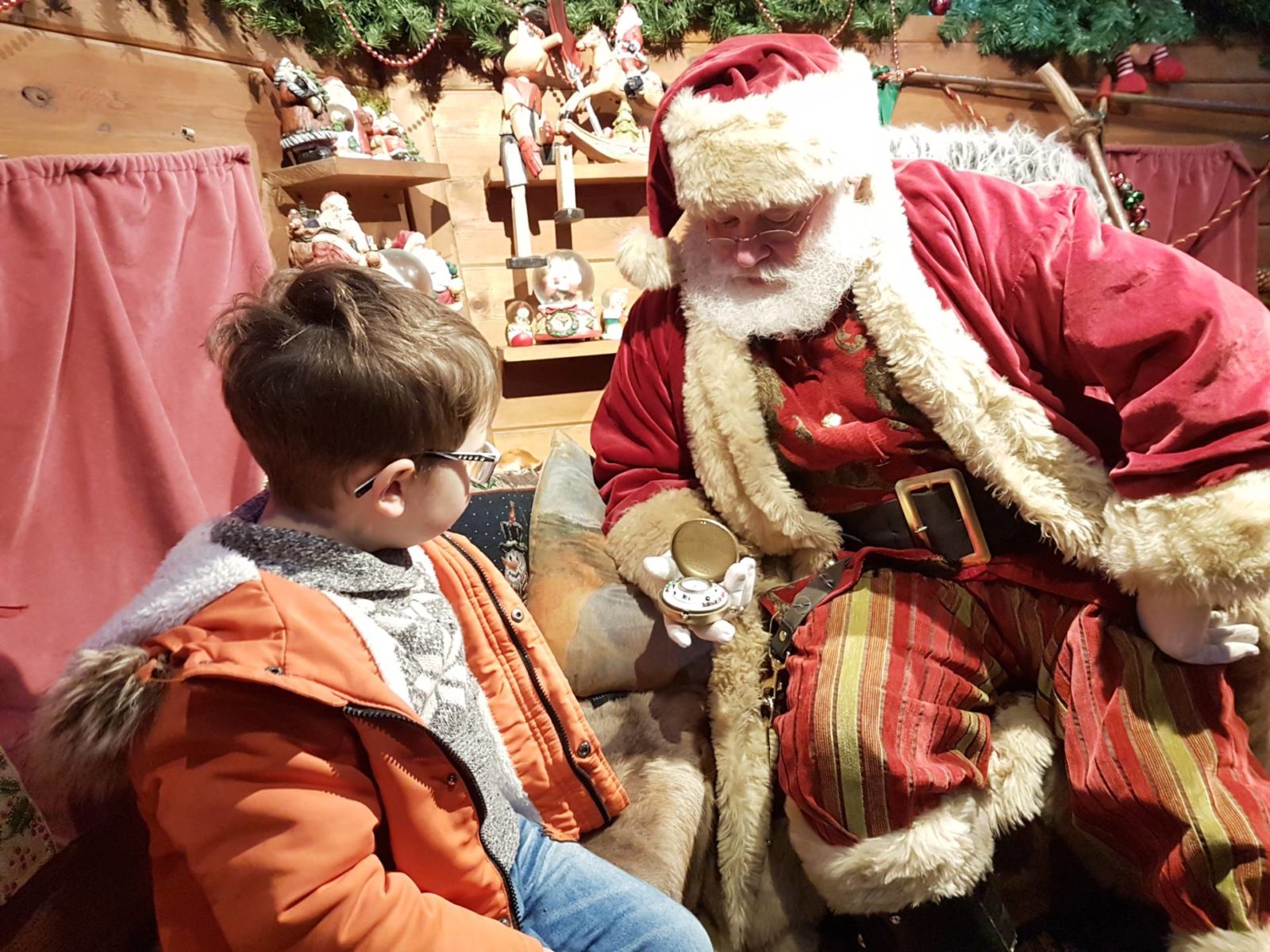 We didn't feel rushed at all and he took the time to speak to us all and showed us his magical pocket watch which the little man was really taken with.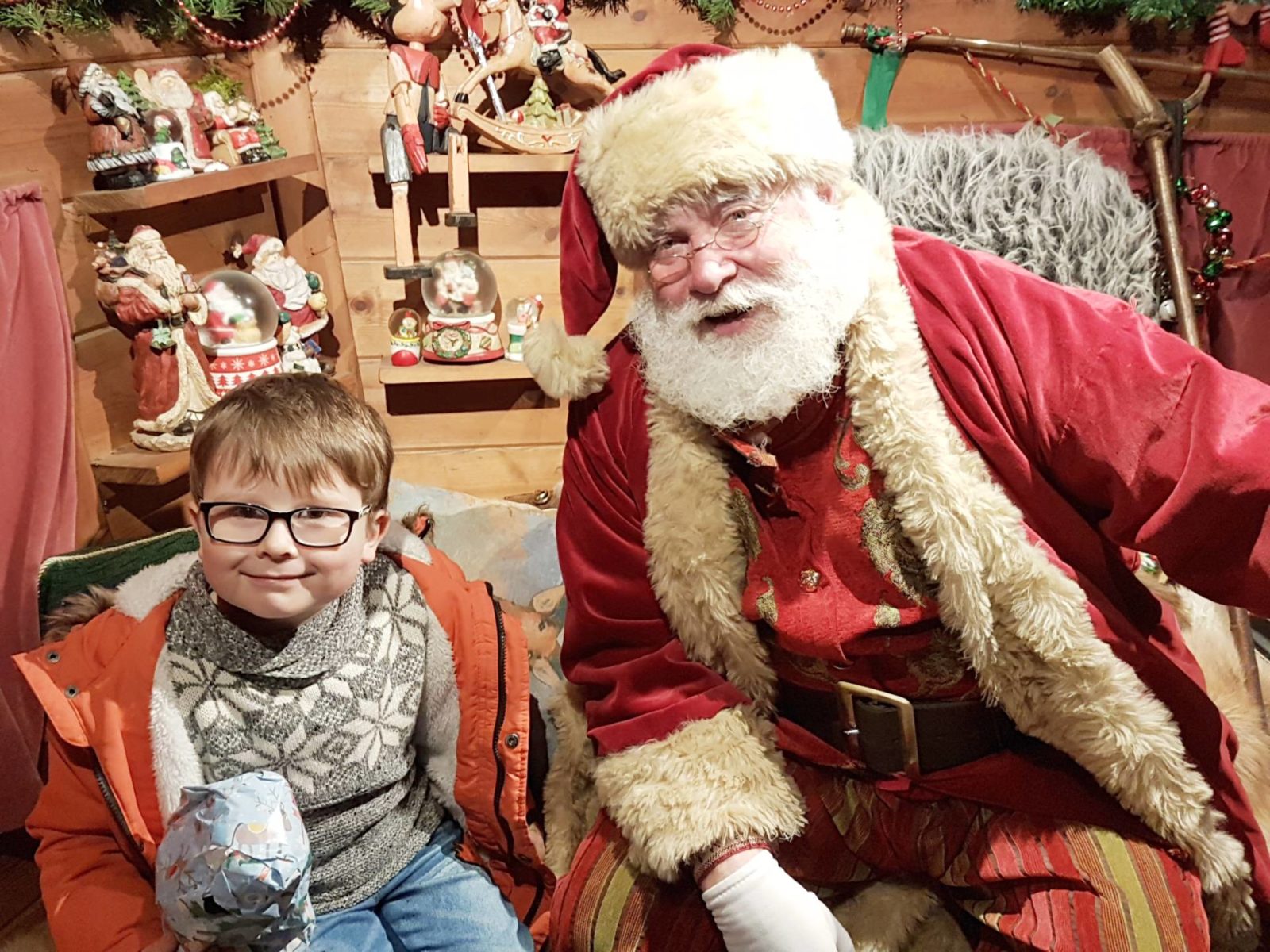 He encouraged us to take photos and was quite possibly one of the best Santa's we've ever seen.
The little man was given a present as he left the cabin which was a branded Alnwick Garden snowman. It's good quality and the little man really likes it. I'm pleased the toy was something quite generic and the same for every child.
Once we left the cabin, you're left to do your own thing. There are no staff outside so weweren't sure what we were supposed to do so decided to wander around the gardens as the sun started to set.
The Christmas Lights show at Alnwick Garden is really good and we enjoyed wandering round it at the sun started to set. You can see it without seeing Santa or ice-skating and it will cost you £7.95 each.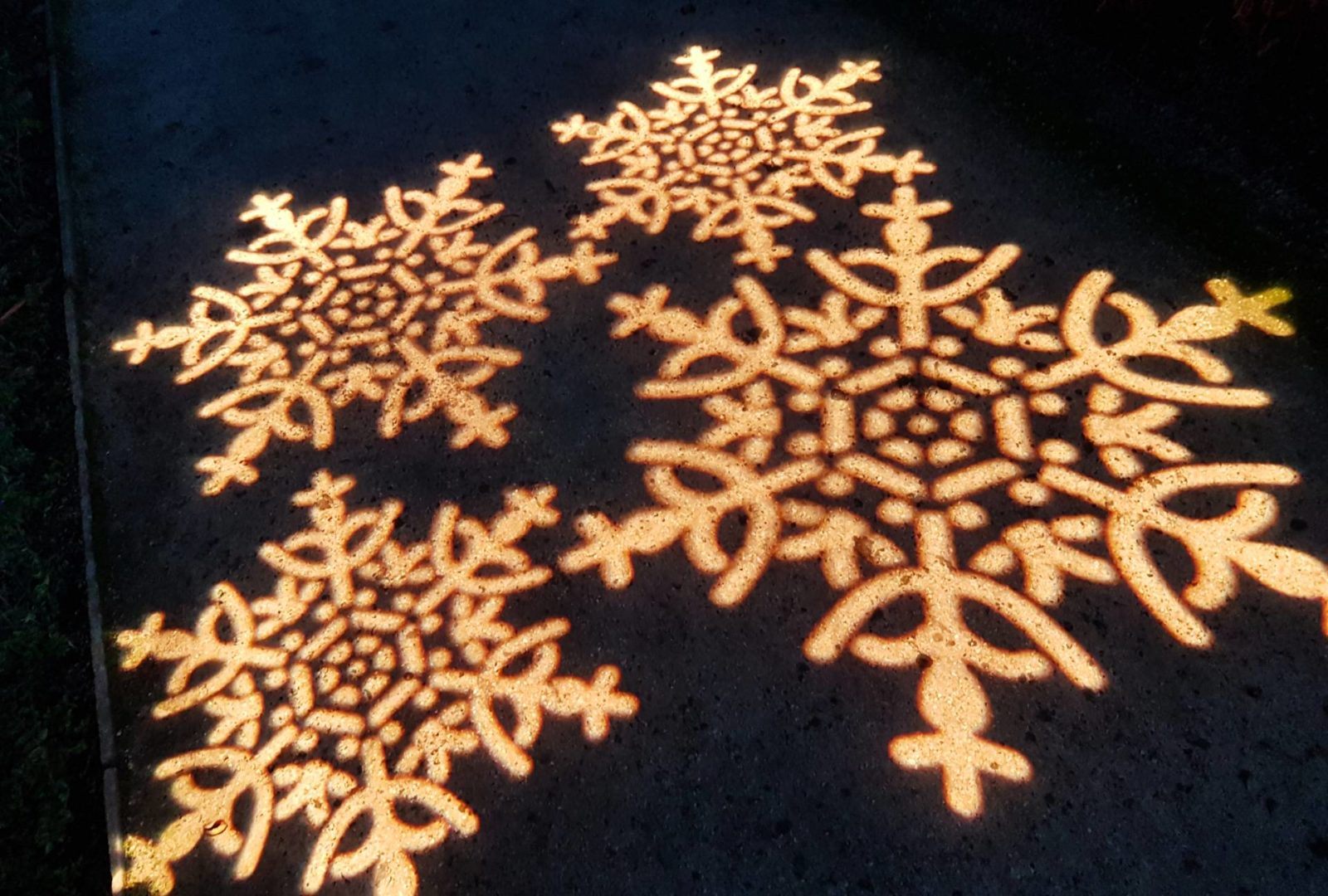 It's quite pricey but really nice to see as it gets dark. It was really quite while we were there too, so felt like we were able to enjoy it all by ourselves.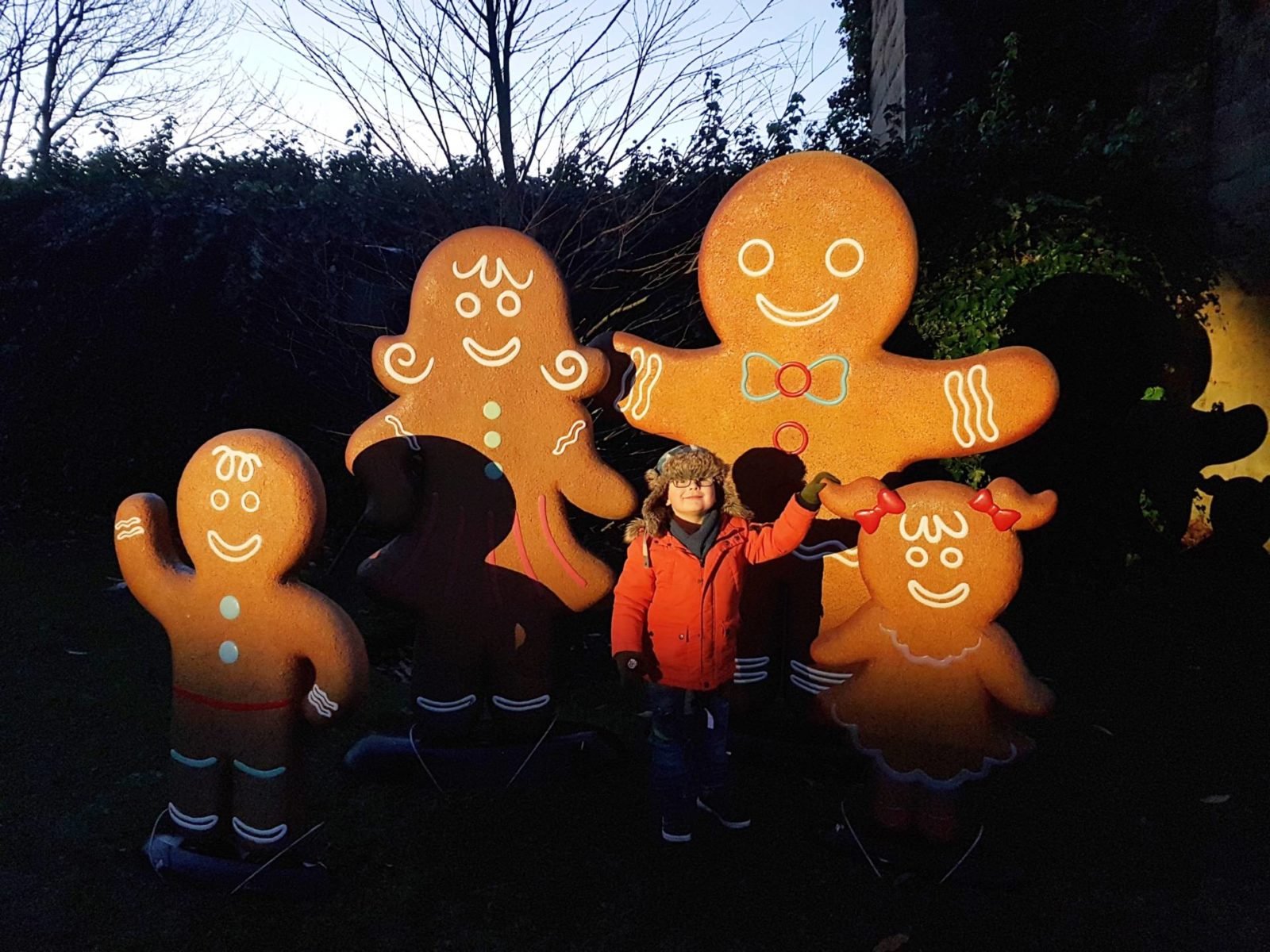 I'll be honest, our afternoon yesterday was quite poor. We paid £16.99 for the little man to see Santa, I think if we'd had more children to pay for we'd have been furious.
Where's the Christmas magic and festive cheer? Certainly not at Alnwick Garden. Had it not been for the authentic Santa and pretty light display in the garden we'd have been very angry at travelling an hour for the afternoon.
None of the staff seemed to be in a festive mood, there was no jolly atmosphere and the crafts included with the Santa visit were terrible.
We've tried the majority of the Santa experiences in the North East over the last few years and sadly, this was probably one of the worst.