The little man loves the Teletubbies and has watched them on TV from a young age. He enjoys the TV program and the Teletubbies Bottom Bump Song is one of his all time favourite songs. There's also a range of associated merchandise and toys that are available on the high street and online.
The little man was recently sent 4 Teletubbies Twist n Chime toys (£4.99) and Teletubbies Talking Laa-Laa (£9.99) to play with, which are some of the newer additions to the range.
I love the Twist n Chime figures, they're made from brightly coloured hard plastic and are chunky enough for little fingers to grasp. The figures twist at their middle and make a chiming noise as they turn. Younger children will love this as I'm sure other parents will.
The noise is none offensive and quite sweet which makes a refreshing change from some of the toys on the market with repetitive and annoying sounds and music.
They're available in each of the four Teletubbies characters and at just £4.99 each, they're an affordable gift or pocket money purchase.
The Teletubbies Talking Laa-Laa is is a super soft plush toy, much softer than any of the other Teletubbies soft toys we have and comes in a handy standing pose.
It's the perfect size for little people as it's small enough and light enough to be carried around with ease and because it's so soft, it's great for cuddling.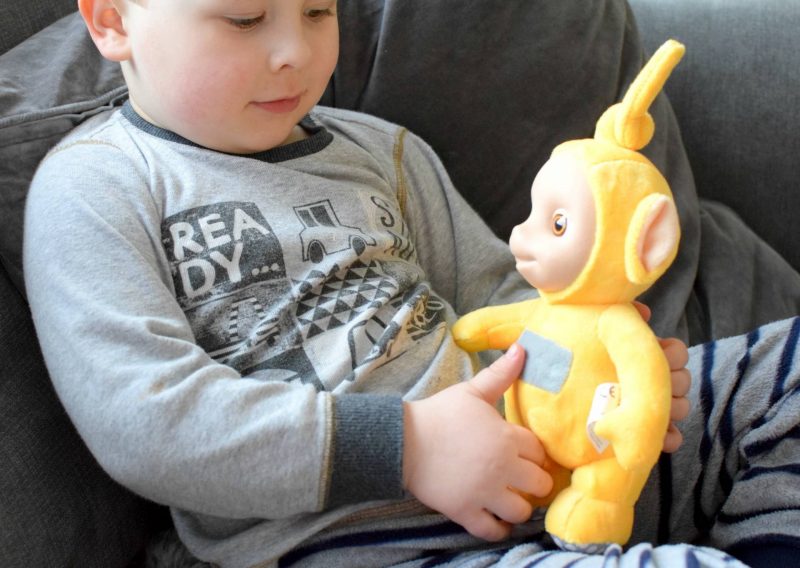 If you press the TV screen in the middle of the Teletubbies tummy you will hear a range of phrases from the iconic TV show that I can assure you, your child will want to hear over and over again! The soft toys cost £9.99 and would make a lovely gift for younger children, perhaps as an alternative to an Easter egg.
The Teletubbies toy collection is available to purchase from Argos where there is currently 25% some of the toys.
We were sent the toys in return for a review. Opinions are my own.