The bathroom is definitely one the of busiest rooms in our house, especially as we don't have a downstairs toilet. Ensuring the bathroom works for the whole family can be a difficult task.
However, some of the tips below may help.
Practical Storage
Making the most of space in a small bathroom is important. If you have younger children, try to keep toiletries and anything sharp like razors, hidden away, up high if possible.
A vanity unit underneath the sink will offer plenty of storage space and mean jam packed shelves are not on display. Handy baskets for each family member that be lifted out when in use are a good idea and means products are all kept tidy and in one place. Mirrored wall cupboards are also a great idea, they're dual purpose and you can stack medicines and other products well out of your child's reach.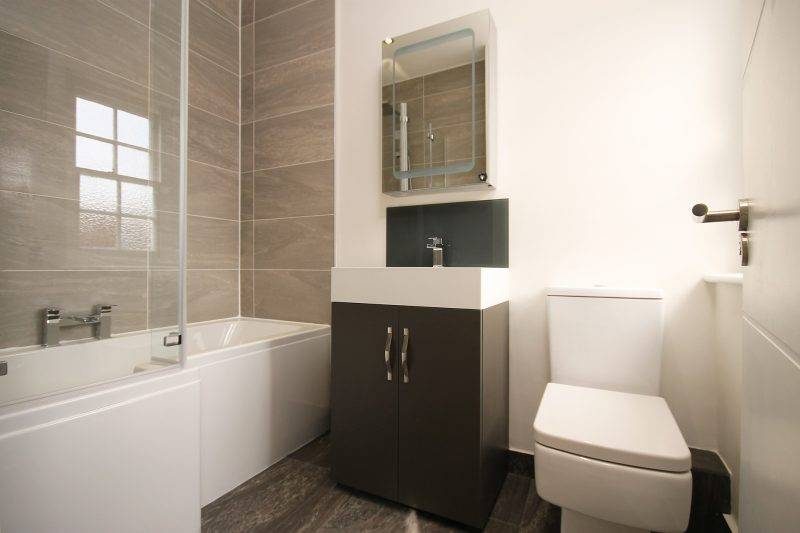 Fit a bath and shower
If you have space, a separate bath and shower means the whole family will be happy. If you don't have space for both then you could check out some other options from BigBathroomShop.co.uk who have a great range of over bath showers. I'm a huge fan of shower baths too. One end of the bath is wider than the other and allows you more space while showering and will be a huge hit with children who like to spread out with their favourite bath toys.
Toys
Kids love to play with toys in the bath but they do tend to take up a lot of room. Use baskets with suction pads fastened to the walls or drawstring bags to keep toys together and tidy when not in use
Slip resistant surfaces
You don't have to be a child to slip in the bathroom. Wet floors can be very dangerous, especially for the young and the elderly. Try and use none slip flooring or a large slip resistant bathmat. The bottom of your bath can also be a very slippy area. Don't use bars of soap and ensure the bath is rinsed out after use. It's also important to choose flooring that can be cleaned easily. I have two men (one bit, one small) who struggle to aim in this house, so a floor that can be easily mopped is a must!
Buy a step
Invest in a step for your child, it will allow them to become more independent by giving them access to the sink, taps and toilet without assistance. If your bathroom is small like ours, buy one that can be hung on the back of the door or one that can be folded down when not in use.
Use hooks and hangers
Using hooks and hangers on the back of the door will not only give you space and allow towels to try quicker, it will ensure you child can dry their hands without rummaging though all your neatly store towels!
A toilet seat with soft close
Toilet seats with soft close are such a great idea. They reduce noise and mean trapped fingers for little people are less likely.
Do you have any tips to make a bathroom child friendly?
Collaborative Post