The little man is a huge fan of Mickey and Minnie so he was super excited to receive this fantastic party bundle of toys from the new Mickey and the Roadster Racers and Minnie's Happy Helpers toy ranges from Flair.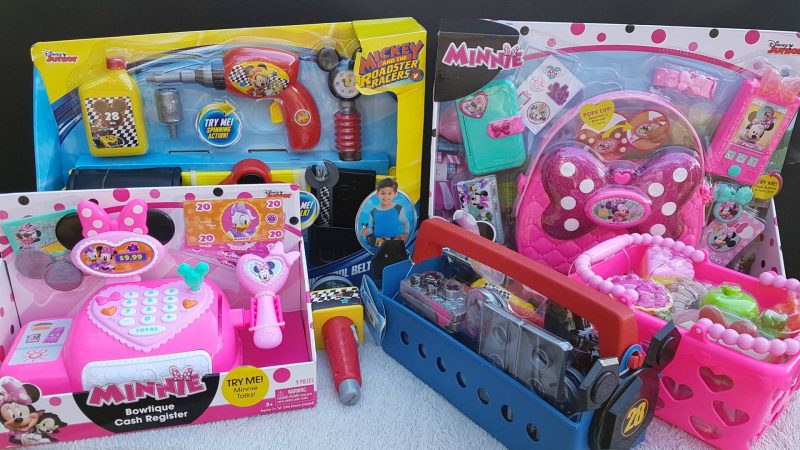 The Mickey and the Roadster Racers and Minnie's Happy Helpers toys range is filled with well made, brightly coloured role play toys that are perfect for pre school children. The toys are great for role play and all children to use their imagination and creative while playing. They're available to buy in all good toy stores and start at just £6.99.
You can check out some of the toys from the range below.
Mickey Roadster Racers Talking Tool belt – £24.99
The little man was super impressed when he opened up the Mickey Roadster Racers tool belt and so was I. It comes with the two batteries it needs so we were ready to play straight away. It includes a selection of tools including a drill with socket and screw bit, a tire pressure gauge, a container of motor oil with a funnel, an open end wrench, and four screws. Some of the tools can be attached to the and the drill spins round when the button is pressed. When children press the lightening bolt on the belt Mickey says a range of phrases.
If fits around the child's waist and clicks into place easily. It's a great role play toy and the little man loves pretending he's fixing things around the house.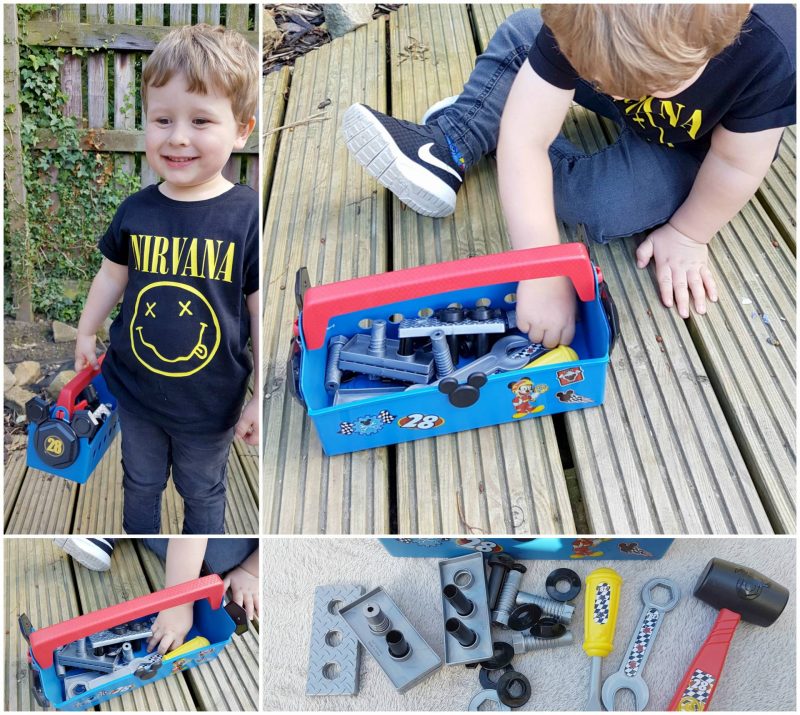 Mickey Roadster Racers Pit Crew Tool Box – £14.99
I think this Disney Junior's Mickey and the Roadster Racers inspired tool box was the little mans favourite toy from the bundle he recieved. It contains a whopping 23 tools inside a sturdy tool box including a mallet, a screwdriver, screws, nuts and nails.
He loves carrying it round pretending he's working on something super important and mending his toy cars.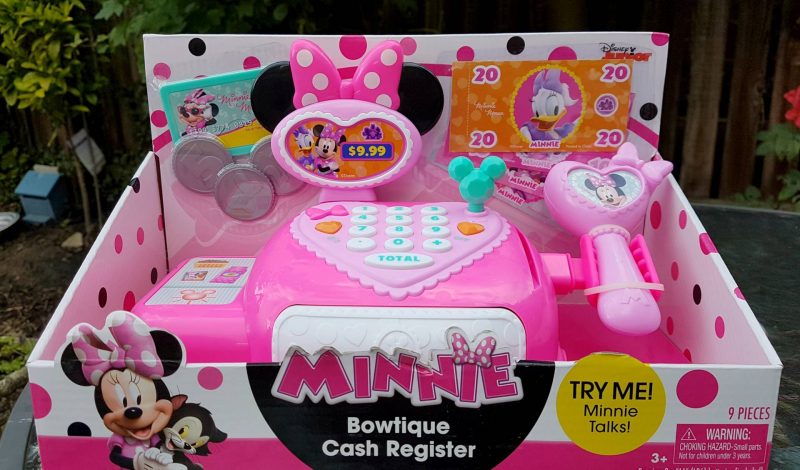 Minnie's Happy Helpers Bowtique Cash Register – £17.99
The cash register makes realistic register sounds, has a real working calculator, a play scanner with sound, basket with assorted play grocery items, working cash drawer, play coins, play money and a pretend credit card. It takes 2 batteries which are included in the box.
The little man loves pretending he's got his very own shop and the sounds are a great addition. He loves stashing his coins and over charging his 'customers'.
Minnie's Happy Helpers Bag Playset – £24.99
The cute pink bag is the same one that's featured in Disney Junior's Minnie's Happy Helpers. The set includes a cute pink bag, a light and sounds phone, a bracelet with two removeable charms, a pretend passport and holder, a pretend boarding pass and a sheet of sweet stickers.
Again, batteries are included which meant the little man could get stuck straight in. The bag is a good size and he can use it to carry around numerous items.
Listening to him on the lights and sounds phone is so funny, he loves chatting away to his friend Minnie.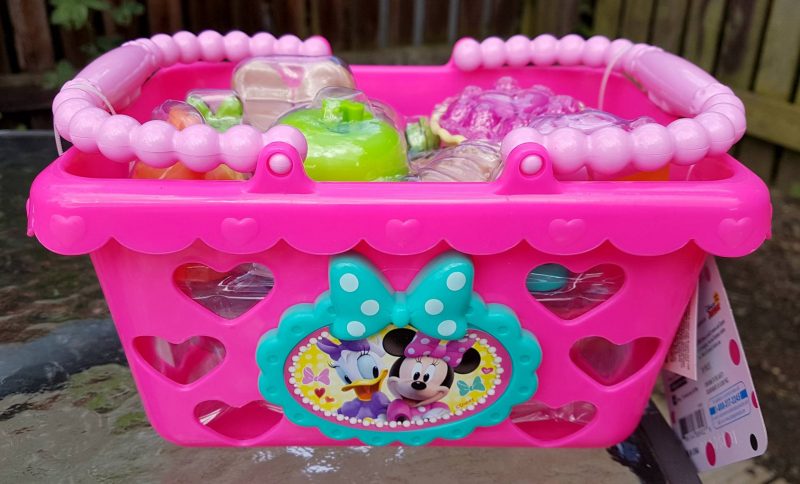 Minnie's Happy Helpers Shopping Basket – £14.99
This was another hit with the little man. He's a big fan of anything you can carry round. The set includes a sturdy pink plastic grocery basket, a shopping list and a range of play food.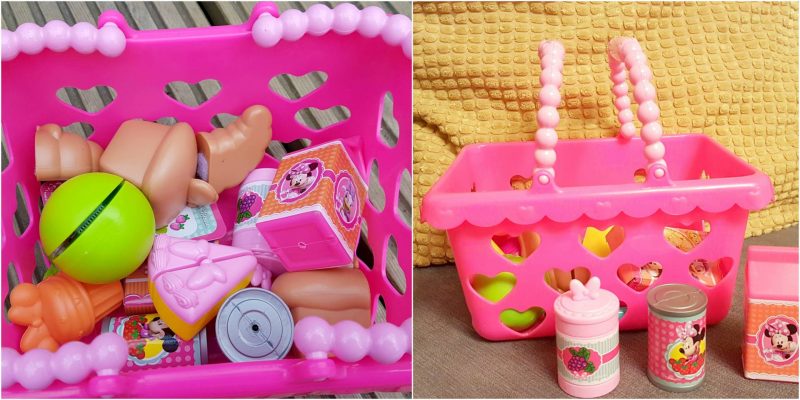 It's nice and chunky, making it ideal for small hands. The food inside is well made and I love the fact that most of the products can be 'chopped' in half with the knife that's included.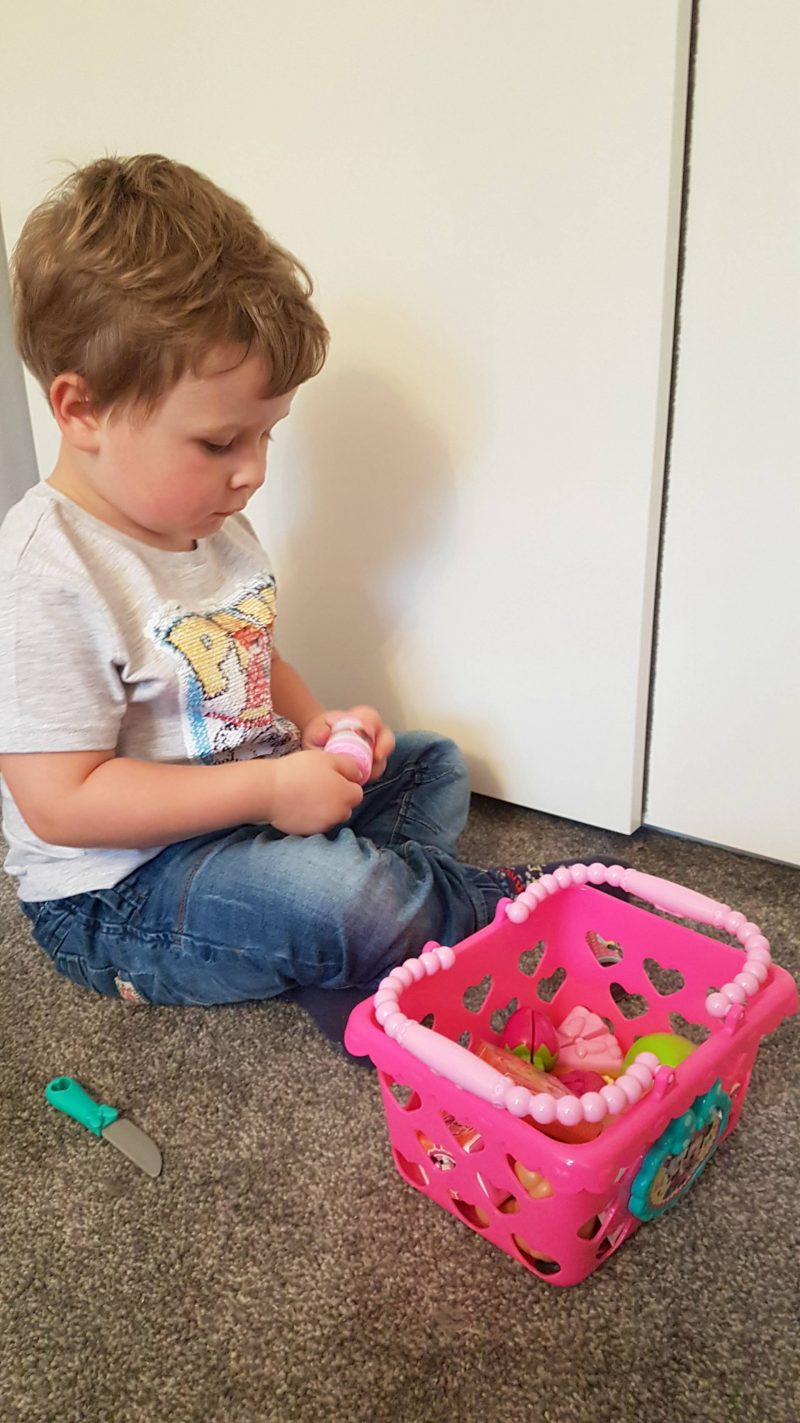 The basket is really well made and the handles are strong which reassures me that they won't snap off when the little man gets a little excited.
Mickey Roadster Racers Musical Microphone – £6.99
The Roadster Racer microphone features the Mickey and the Roadster Racers theme song has lights that flash to the music. It's a great size for little hands and ideal for kids that like to be in the limelight.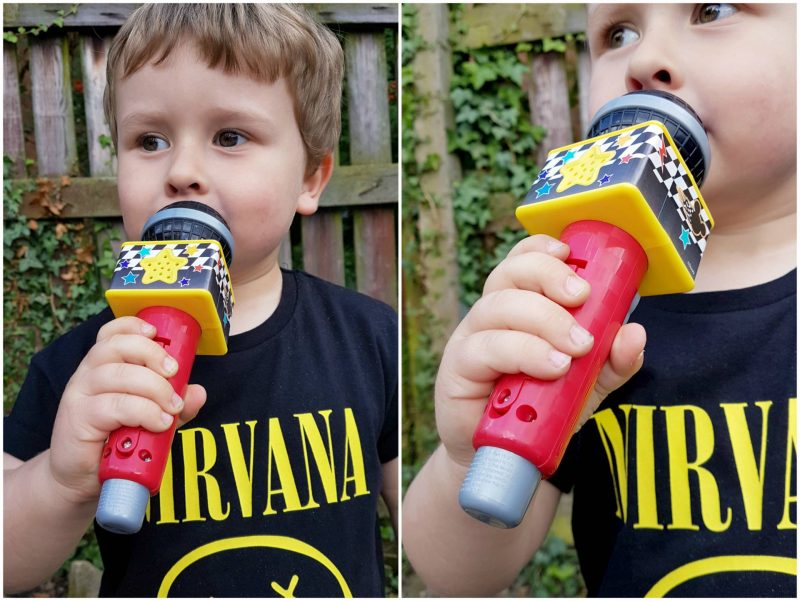 We love the Mickey and Minnie toys and have already spent hours playing with them.