In just under 6 weeks the little man starts school nursery. I feel like I'm loosing a limb. My little side kick is all grown up. I know that he's ready for nursery but I'm not sure I am.
He'll be going to nursery for three mornings a week but if he's happy and settled, we'll be able to up it to five. The house will be so quiet but on days I'm off work it will give me a chance to do some blog work and clean properly.
He has been to nursery briefly before but it wasn't a very good experience. He cried, was super clingy and I wasn't overly impressed with the staff. However, this is a different nursery and a new start.
We've been trying to discuss what will happen as much as we can and try our best to ensure he's prepared for his first day.
Choosing his clothes and bag
The nursery that he'll be going to have a compulsory uniform, even for the little ones. Everything I've ordered, I've let the little man help choose or watch me order. We've ordered his polo shirts and trousers from Very online, his black school shoes are from Sainsburys and his rather cool Sambro Cars 3 backpack which we were sent is available from Very.
The bright red bag is a great size for little people and has a wipe clean plastic front which is ideal for those sticky fingers! It's the perfect size to fit in pictures and crafts that he's be bringing home from nursery as well as his drinks container.
The front of the bag is emblazoned with Lightning McQueen which made the little man very happy and meant he couldn't wait to try it out. We've been using it to take out with and fits a change of clothes, some snacks and a drink in easily.
As well as the lovely bag, we were sent a range of fab Cars 3 stationary to go with it. The little man won't be able to take it with him to nursery, but he's thoroughly enjoyed using 'big boy' pens and pencils as he's scribbled in the notepads.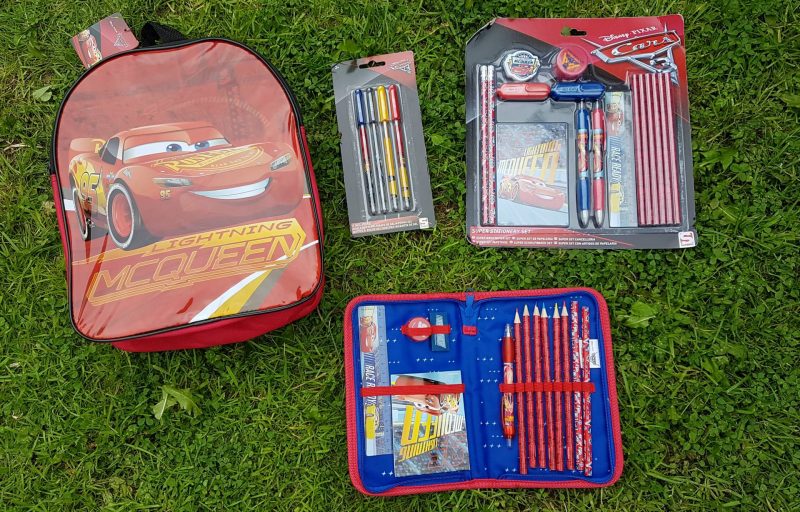 Talk about what is happening
We've been talking about what will happen at nursery, the things he will do, the length of time he will be there and what will happen when we pick him up. He asks about it most days and we try to answer his questions as honestly as possible. I think it's better if he has an understanding of what will happen when he starts in September.
Keep my own emotions in check
Whilst I may feel like crying and hiding him away for the rest of his life, I intend to put on a brave face and a smile when I wave him off for his first day at nursery. I don't want him to see me upset because it will make him upset and reluctant to leave me.
Do you have any top tips to ensure the transition to nursery runs smoothly?
Check out the #SmileWithSambro hashtag on Twitter on 1oth Aug between 6pm – 7pm as they are holding a party with lots of prizes to win. Make sure you're following @SambroUK too and use the hashtag to take part.
* We were sent the bag in return for an honest review.