Complimentary lessons
I'm a huge advocate of children learning to swim early. Big E started baby swimming lessons at around 12 weeks old and at 5 years, continues to impress us all with his confidence in the water. He's flying through his levels and swimming is an activity he always ask to do so I knew as soon as Little E was born, I'd get him into the water as soon as possible.
We were approached by Turtle Tots before Little E was born and asked if we'd like to become one of their ambassadors. They offered us a term of 10 baby swimming lessons and some gorgeous Turtle Tots branded swim products in return for our honest opinions.
Turtle Tots is a swimming programme that you can start attending while you're still pregnant ( aqua-natal yoga ) and then progress to baby and toddler swimming once your little one arrives. Each of the swimming teachers are fully trained and have completed both comprehensive aquatic training with Turtle Tots and training with the Swimming Teachers' Association so you can feel comfortable knowing that what you and your baby are being taught is accurate and safe.
Little E was just 8 weeks old when he had his first Turtle Tots lesson. 8 weeks may seem a little early but it's important to start as soon as you can because younger babies still have their breath-holding reflex ( laryngeal reflex). The reflex works when the baby feels a sensation of water on their face, nose or throat and the soft tissue at the back of their throat seals off the baby's windpipe, making any water that goes into the baby's mouth, divert down into their stomach instead. The reflex is most prominent for babies under 6 months and starts to reduce as they pass that age, though after 6 months, babies tend to learn to hold their breath rather than relying on a reflex.
Turtle Tots focus on play and building strong trust bonds in the water, they help children learn key safety skills and to take their first steps to learn how to swim.
Before our first session Mel, our teacher sent a friendly welcome email with some details about the location and what to expect. Babies need to wear a standard disposable swim nappy covered by a stretchy Neoprene nappy to ensure their are no leakages in the pool. The Neoprene nappies can be bought from Turtle Tots prior to your first lesson if you wish and then collected at your first lesson.
Our Turtle Tots classes are held at a school in Newcastle with a lovely warm pool. The pool is usually 34 degrees so ideal for younger babies and parents who detest getting into cold water! We are part of the Baby Programme – Baby Level 1 Class which is suitable for babies from birth up to 8 months.
Our teacher is Mel and she runs Turtle Tots – Newcastle and Gateshead. She's very friendly and the group has a lovely atmosphere. Mel interacts with both the parents and babies and always remembers our names. We do a few different baby groups and Turtle Tots is definitely one of the friendliest, I felt at ease straight away.
We've been to three classes so far and Little E has been an absolute dream. We've had no tears, lots of smiles and he genuinely seems really happy in the water.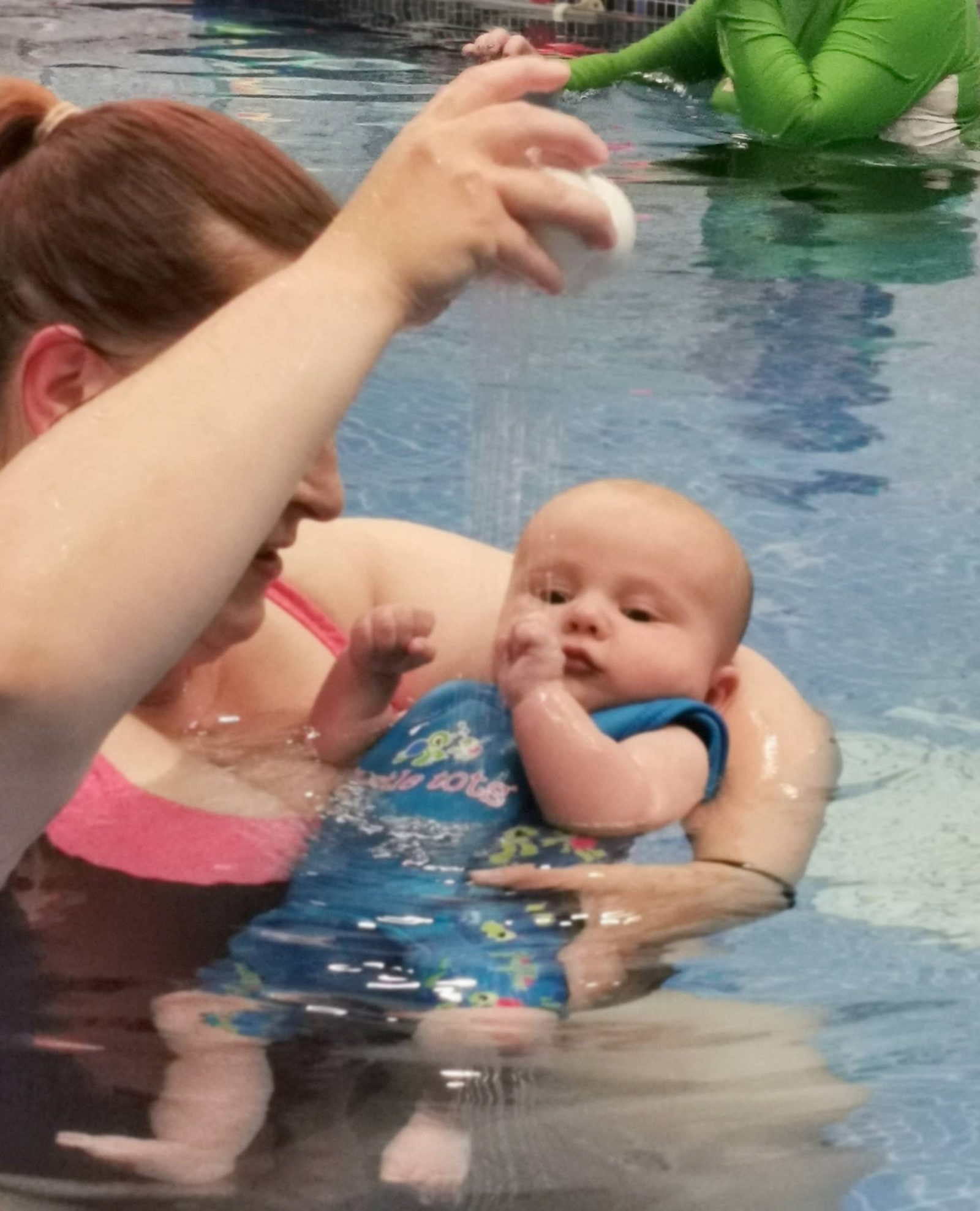 The activities that are done in the class are simple and easy to follow. Babies ( and parents) learn a verbal cue from their first visit and this is repeated during the warm up at every session. Baby's name, Ready, Go is a great way for the baby to get used to water on their face. Parents are encouraged to repeat the words and then use their hand to sprinkle water onto the baby's face and body.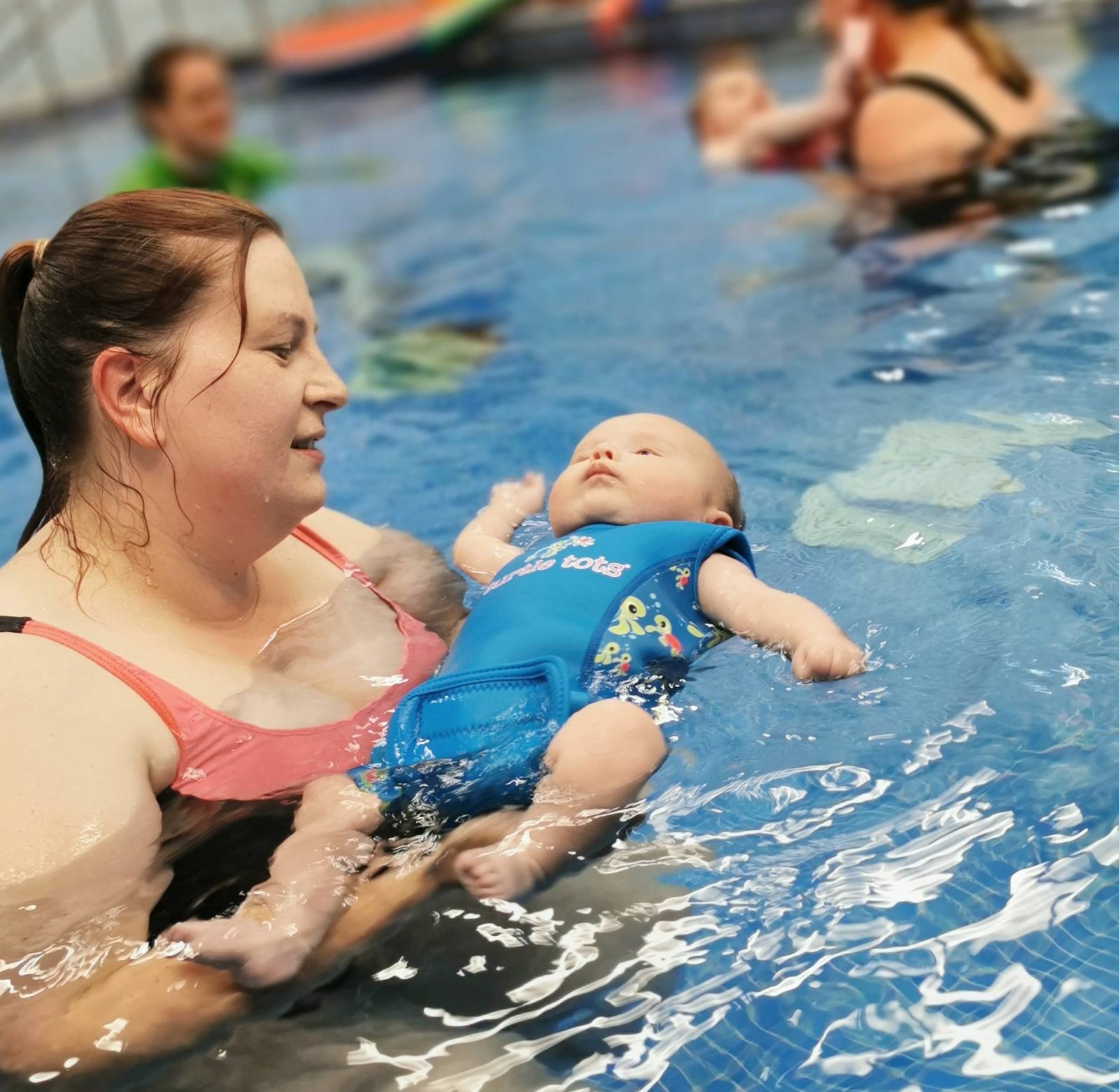 During the class parents sing simple, reassuring songs ( usually to a recognisable tune) to their baby while guiding them through the water in various different positions. Mel gives out props like mirrors and water toys that are used during parts of the class, they're fun for baby and gives parents a chance to make them laugh and smile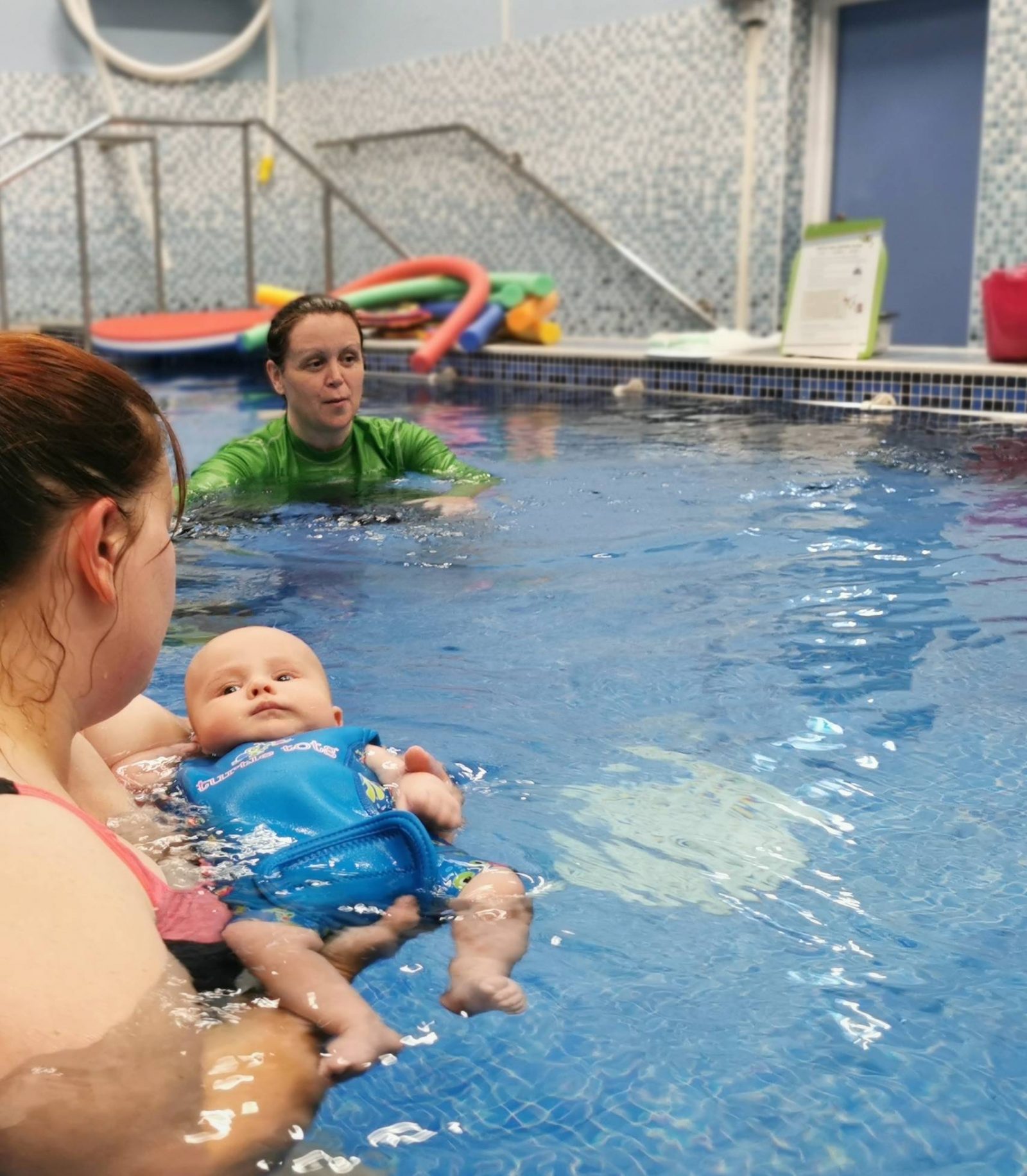 I love how relaxed Little E seems and each session feels like it's just me and him. He smiles as we go round the pool and particularly loves eye contact while I blow bubbles at him in the water.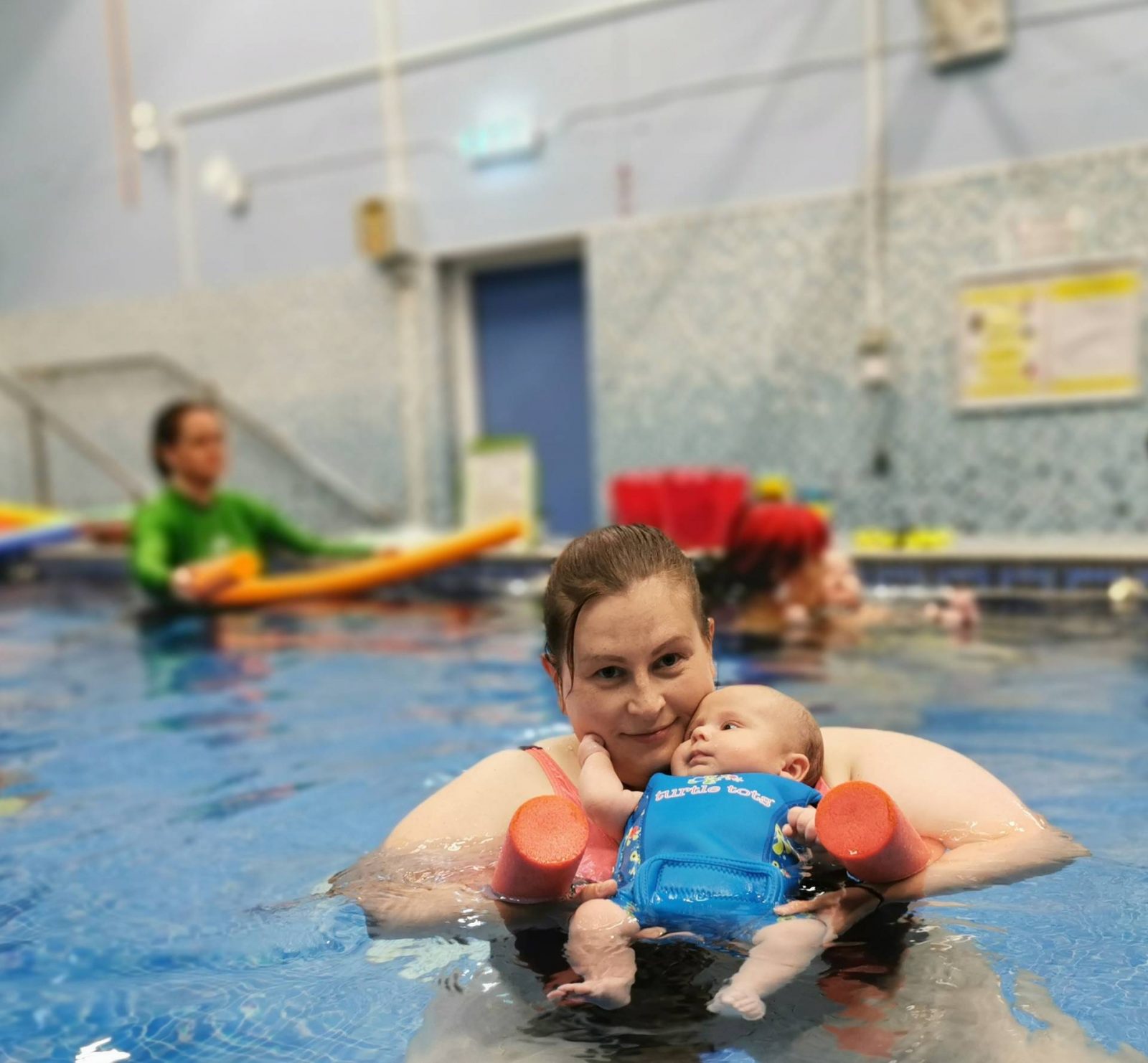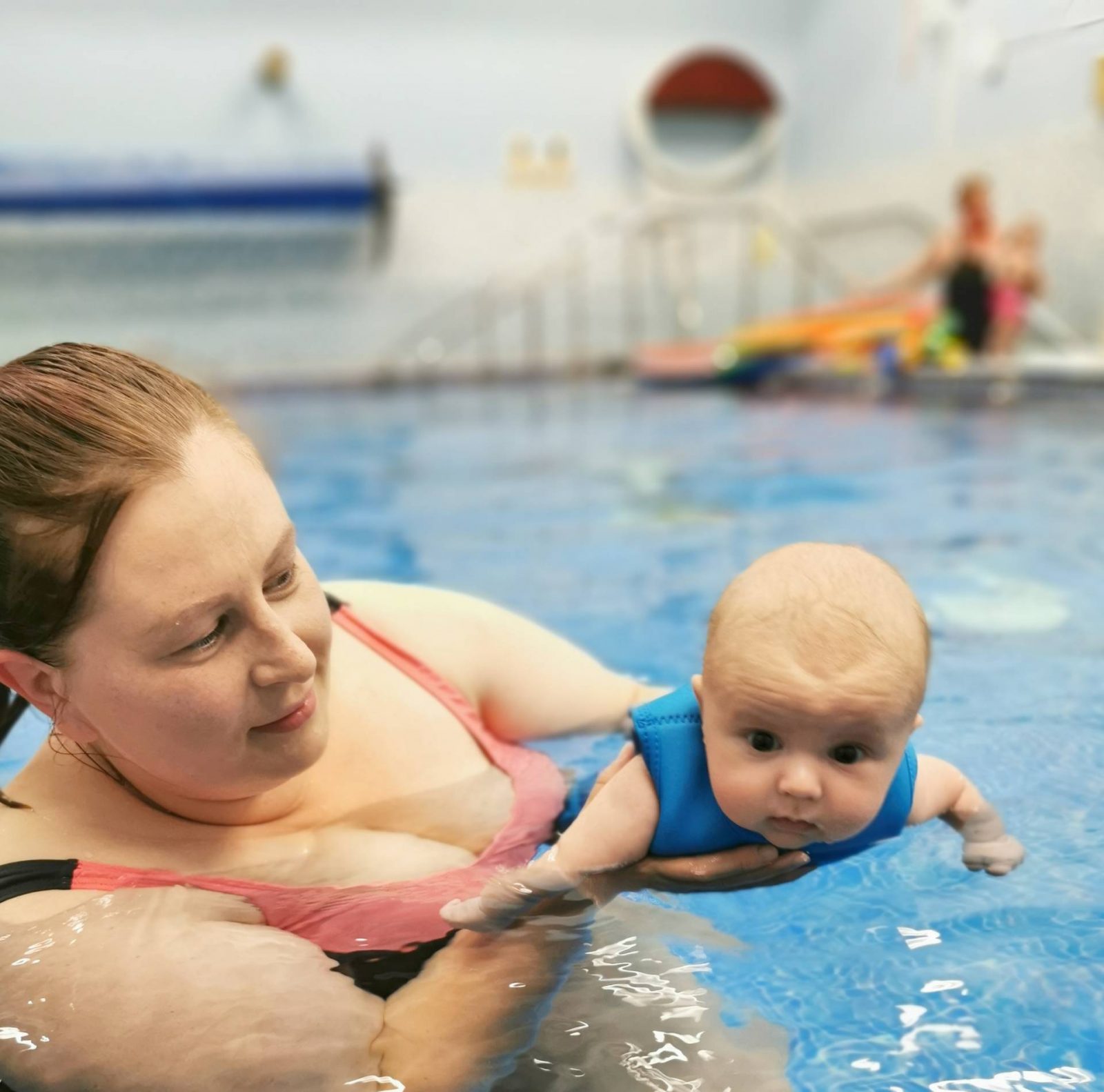 Each lesson lasts 30 minutes which may seem quite short but is perfectly adequate for a baby. The pool and changing rooms are nice and warm ( and very spacious) so we haven't even had any issues with tears when getting changed. I would recommend changing baby into sleep wear or pyjamas if you have a class later in the day like us. Little E does an absolutely massive sleep after his Turtle Tots class and tends to have a very early night on those days.
We've had 3 Turtle Tots lessons so far but we've now broken up for the 6 weeks holidays. The classes take a break over the holidays and then we'll resume for a further 7 lessons ( there are ten lessons in each term). After the break I know we'll be starting to do some underwater swimming so we're going to continue weekly swimming at our local leisure centre to make sure he continues to love the water.
I'll be documenting the rest of our term after the holidays but in the mean time I'll be posting some more details about Turtle Tots and running a great competition soon.
Turtle Tots have classes across the UK and you can use their website to find the one closest to you. Its really easy to check using your postcode.
* Our term of Turtle Tots lessons have been given to us in return for an honest review and some social media posts.