Review Product
Breastfeeding has never gone to plan for me. With Big E I managed a stressful and traumatic two weeks before putting him onto formula. Direct nursing ( traditional breast to mouth) hasn't worked out for Little E either. This time, instead of feeling sad and introducing formula, I decided to try and exclusively pump ( using a breast pump to retrieve my breast milk to bottle feed).
As I'm pumping around 6-8 times each day, a manual pump just doesn't cut it so it has to be a electric pump. I've tried out a couple since Little E was born, some with better results that others.
I was recently sent the Ameda Finesse Double Electric Breast Pump to try and have been using it for the last couple of weeks.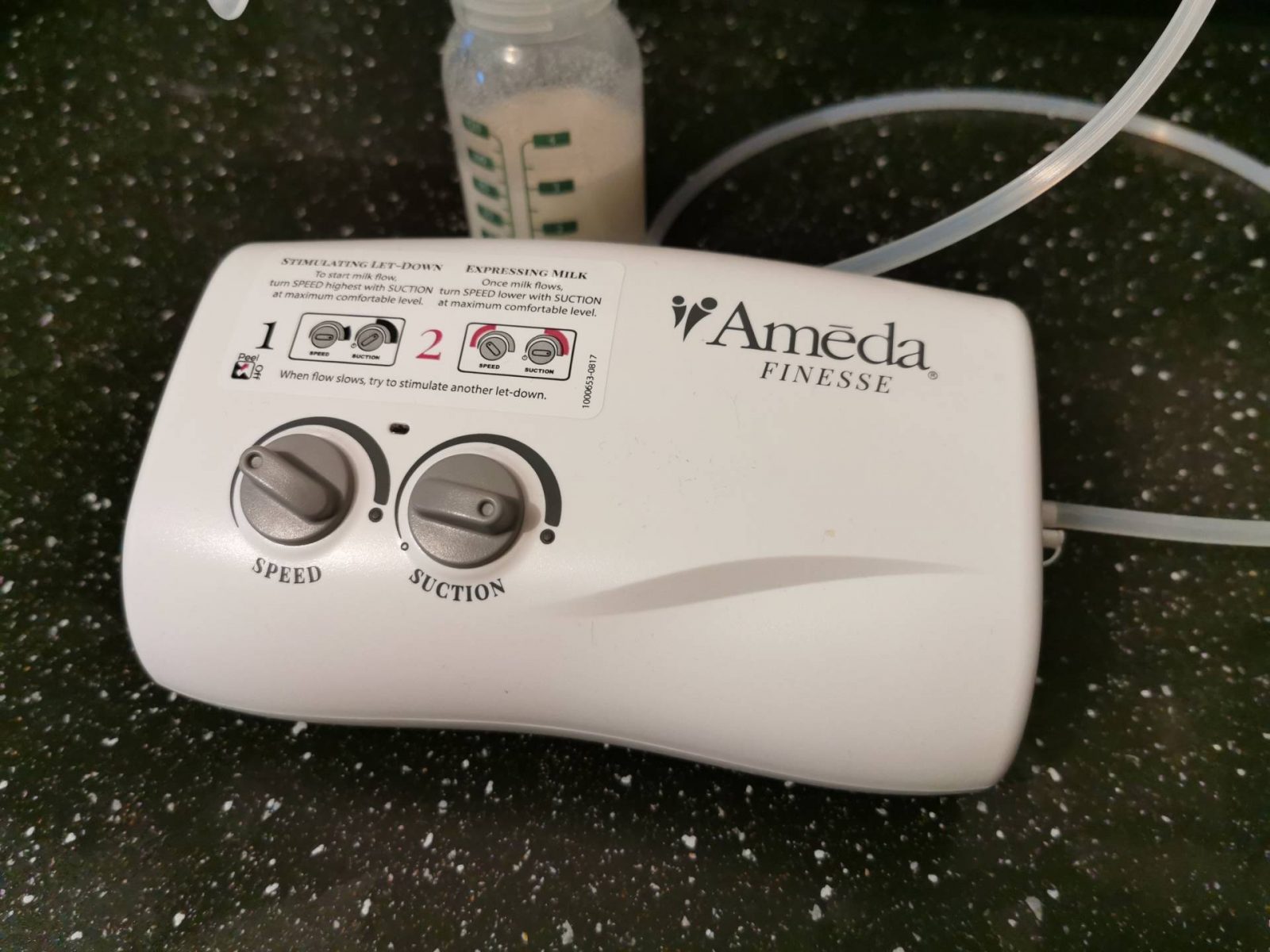 What it looks like
I haven't seen many attractive breast pumps if I'm honest. They all tend to have quite an old fashioned look to them and I don't think the Finesse is too different. The lack of digital display makes the pump look quite old when in reality it's only been on the market for a couple of years. It's none offensive through and looks clean and streamlined which means it's easy to keep clean.
The pump is quite light and much less bulky than my previous pump, it's easy to carry around, though I do think a clip on the rear or a small handle would be helpful for pumping on the go.
Whats included
Included within the box is pump itself, HygieniKit Milk Collection System, 2 x 25.0mm CustomFit Flanges, 2 x extra valves, 2 x Bottle holder, 2 x Locking Ring and Disc and an AC Power Adapter.
The flanges that are included are 25mm but Ameda do have 21mm to 36mm which can be bought separately. I usually use a 28mm flange with my other pump but the 25mm on the Ameda feel quite comfortable and cause no nipping or soreness.
How does it work
The Ameda Finesse breast pump is portable but does need 6 batteries. I prefer pumps that can be charged so having to use batteries has taken a little getting used to. It takes 6 x AA batteries so I invested in some decent rechargeables. I pump a lot so it wouldn't be cost effective to keep buying and replacing the batteries.
When I'm at home I tend to use it plugged into a socket so my batteries are saved. I do find this a little restrictive though, I have to sit near a plug socket so that the pump has power, I'd rather it came with a rechargeable unit so I didn't have to sit in certain seats.
What it sounds like
As soon as you turn on the Finesse you'll notice how quiet it sounds. If you're a regular pumper, or pump out of the house you will want a pump that is discreet. My most recent pump prior to the Finesse was quiet but not on par with this one. It's perfect for discreet pumping in public or during the night. It certainly won't disturb a sleeping child or a TV program.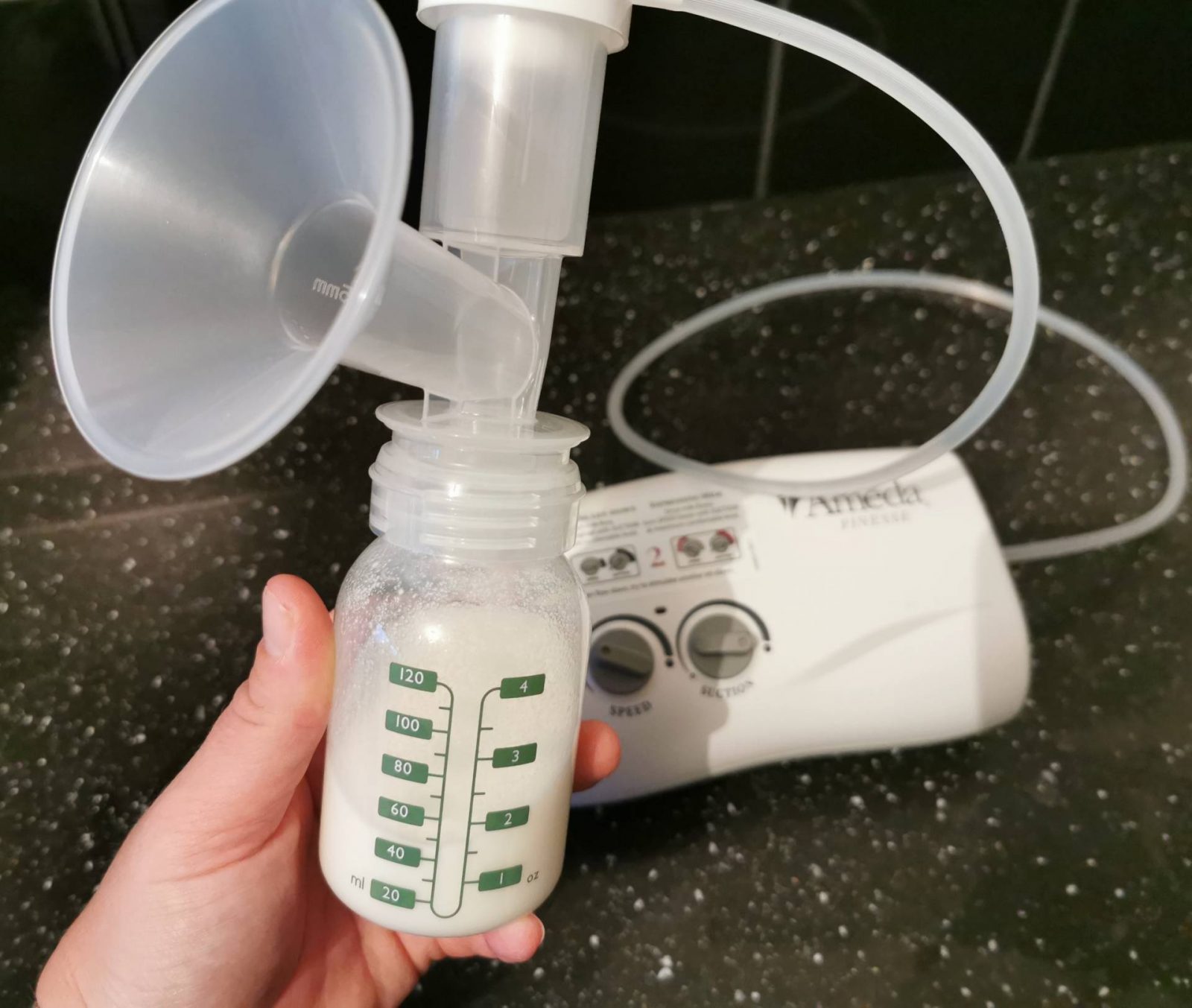 What it pumps like
The pump can be used as either a single of double pump but I tend to just use it as a single. I have to massage whilst pumping so find it easier to empty one breast at a time. There's a tiny silicone cap in the spot where the tubing connects to the pump, if you intend to single pump you'll need to remove one piece of tubing and close the silicone cap to prevent the airflow through the unused pump.
The pump has super easy to use, separate speed and suction dials with 32 fully customised options to suit each individual. Breasts function in different ways so what works for me, may be completely different for you. The pump uses the same Comfort Flow technology as Ameda's hospital grade pumps and this mimics baby's natural suckling.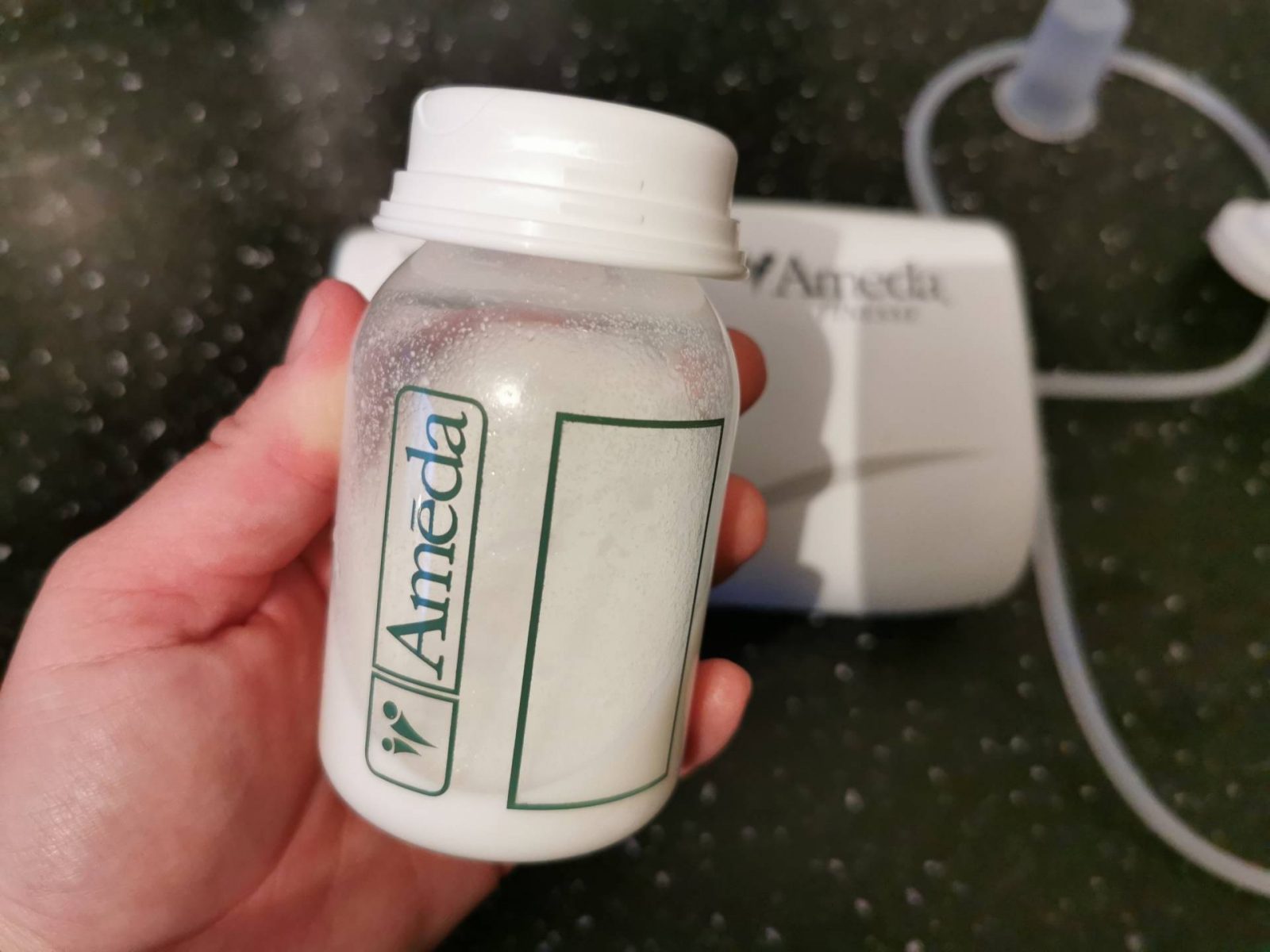 The pump has a Hygieni-kit milk collection system which is designed to protect the pump, tubing and bottle against mould and viruses by using a special barrier system. It is a closed system pump which means there is a barrier between the tubing and bottle and milk is not able to go up the tubes so the risk of bacteria is reduced.
The Ameda Finesse omes with two bottle caps so once you've pumped you can put the bottles straight into the fridge to stay fresh.
My thoughts
I like the Ameda Finesse breast pump but I think I need to experiment a little more with the settings to maximise my output. As I'm exclusively pumping, every single drop of breast milk is important and I've found I'm producing a little less with the Ameda than I was with my previous pump. It is however, a much more comfortable pump and I like the fact it's super quiet and discreet. I would prefer it to have a rechargeable unit rather than batteries but it's still perfectly usable and great for using out of the house.
The Ameda Finesse isn't a cheap pump and retails at around £200. It is however a hospital grade breast pump so you can expect to pay a little more. If you're looking for a closed system breast pump that's comfortable and discreet then the Ameda Finesse is definitely one to consider.
* Product sent in return for review.