Collaborative Post
If you want a holiday filled with history, colour, sensational foods and millions of motorbikes and scooters, a family holiday to Vietnam is a great choice.
Before you travel
Before travelling to any destination it's important to check the requirements to travel. For visiting Vietnam for up to 30 days, you'll need to obtain a Vietnam e-visa online. The E-visa is only applicable to 'British Citizen' passport holders. The E-visa system can all be done online now by filling in an application form and waiting for approval via email, this is much easier than my last trip to Asia. The e-visa is digital authorization from the government of Vietnam, which says you can enter the country for a certain period of time and all travellers must possess one before they are allowed entry to the country. You must arrange this before you travel as you can't arrange a Vietnam Visa once you're in the country.
There is lots of information here which you can read before making the decision to travel to Vietnam.
If you decide that Vietnam is the place for your family holiday, then you'll need to plan the perfect family friendly itinerary.
Hanoi is the capital of Vietnam and is filled with culture, vibrancy and friendly people. It's jam packed with art galleries, parks and lakes and there is plenty for the whole family to enjoy.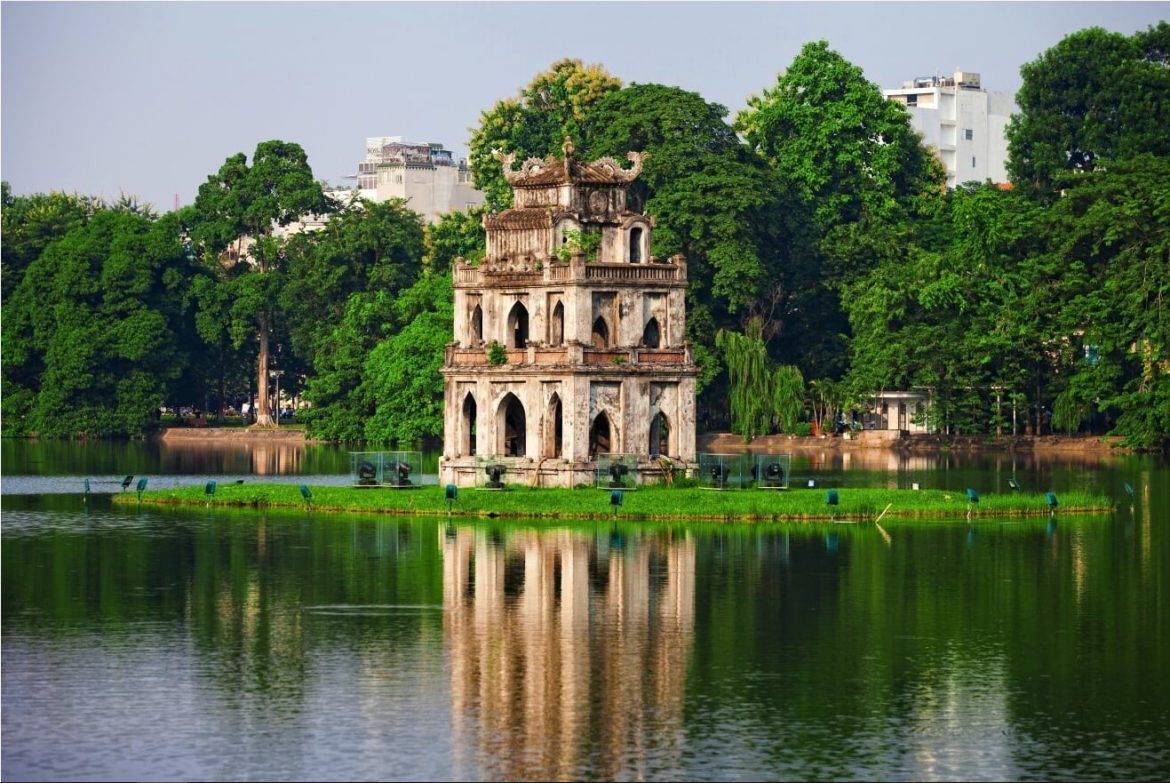 Hoan Kiem Lake ( Lake of the Returned Sword ) is a great place to visit if you want to take a break from the busy pace of the city. The lake surrounds Ngoc Son Temple which sits in the centre on a small island. Ngoc Son Temple was built during the 18th century and legend has it that an emperor was once given a magical sword which helped him defeat the Chinese Ming Dynasty and in doing so saw the return of the Golden Turtle God to the lake.
The park has plenty of shaded areas so is the perfect spot to relax with your small people and watch some of the locals take part in Yoga and Tai Chi.
The Old Quarter is which is considered to be the city's business hub and main tourist area. It is a a maze of little streets and alleyways and you can expect to see streets packed with scooters, bicycles and cars. .The pavements are littered with stalls and street food sellers and children will be mesmerised by the bright colours and pretty displays. If you don't fancy your chances with the traffic, you can always hire a cyclo ( a three wheeled bicycle taxi) and explore the streets whilst your rider does the leg work.
The Museum of Ethnology is home to over 15,000 artefacts including photographs and other multi-media such as audiotapes. It's suitable for all ages and gives an excellent overview of all the minority groups in Vietnam. It has both indoor and outdoor display areas and all documents and display signs throughout the museum are translated into French and English.
Whilst the Thang Long Water Puppet Theatre is primarily in Vietnamese, it's still a very unique thing to see on your travels. It's on 365 days of the year and takes place at Dinh Tien Hoang street, which is near Hoan Kiem lake.
VinKE & Aquarium Times City will be a hit with kids. They'll be able to see penguins, a range of fish and even a mermaid show during their visit.
With an entire floor dedicated to women soldiers and leaders of Vietnam, the Vietnamese Women's Museum is a great place to visit for school aged children.
If you have older children, a trip to Hanoi Train street can be quite an eye opener. Located between Lê Duẩn and Khâm Thin street in Hanoi's old quarter, Train street is street of houses that are pretty much on the railway track. When the train thunders down the track a couple of times a day, those that live there quickly pack up their belongs, grab their animals and children and hide within their homes for a few moments while the train passes through. It's such a bizarre and unique thing to see and definitely one for the photo album.
Do you have any other suggestions for family friendly activities whilst visiting Vietnam?
Collaborative Post