Free of charge press stay
The last few months have been a strange time for everyone. We've stayed at home when we haven't been working and only recently started travelling further than our local woodland to spend time outdoors.
Whilst holidaying abroad at the moment isn't for us, we deliberated on booking some UK breaks when we heard that lockdown had been lifted. We were keen to stay safe and follow social distancing but still wanted to enjoy some time away together as a family.
That's where The Field Studies Council came in.
Who are The Field Studies Council?
"We want to create a world where everyone feels connected to the environment so they can enjoy the benefits it gives and make choices that help protect it".
The Field Studies Council was established in 1943 as an education charity who offer people the chance to spend time in, and study the natural environment in which we live. They have 29 centres across England, Wales and Scotland where they offer fieldwork and outdoor education opportunities for schools, colleges and other groups. Some of the centres offer a range of activities including secondary and further education courses, walking courses and holidays, primary school trips, natural history courses, corporate venue hire and more recently – 'Stay with Us' breaks.
Until recently, The Field Studies Council have provided educational stays particularly for students and those wishing to learn about the environment but they've recently started to open up their centres for basic, no frills group and individual holiday accommodation in a variety of beautiful locations. 11 of their centres have been made 'Covid secure', and offer a unique place for travellers to unwind and explore. There are both countryside and coastal sites to choose from, all with plenty of outdoor space so you can enjoy you break whilst still being able to social distance.
We were kindly invited along to their Blencathra site in the Lake District to try out one of their 'Stay with Us' breaks and we were lucky enough to choose a weekend with amazing weather which is quite often hard to come by in The Lakes.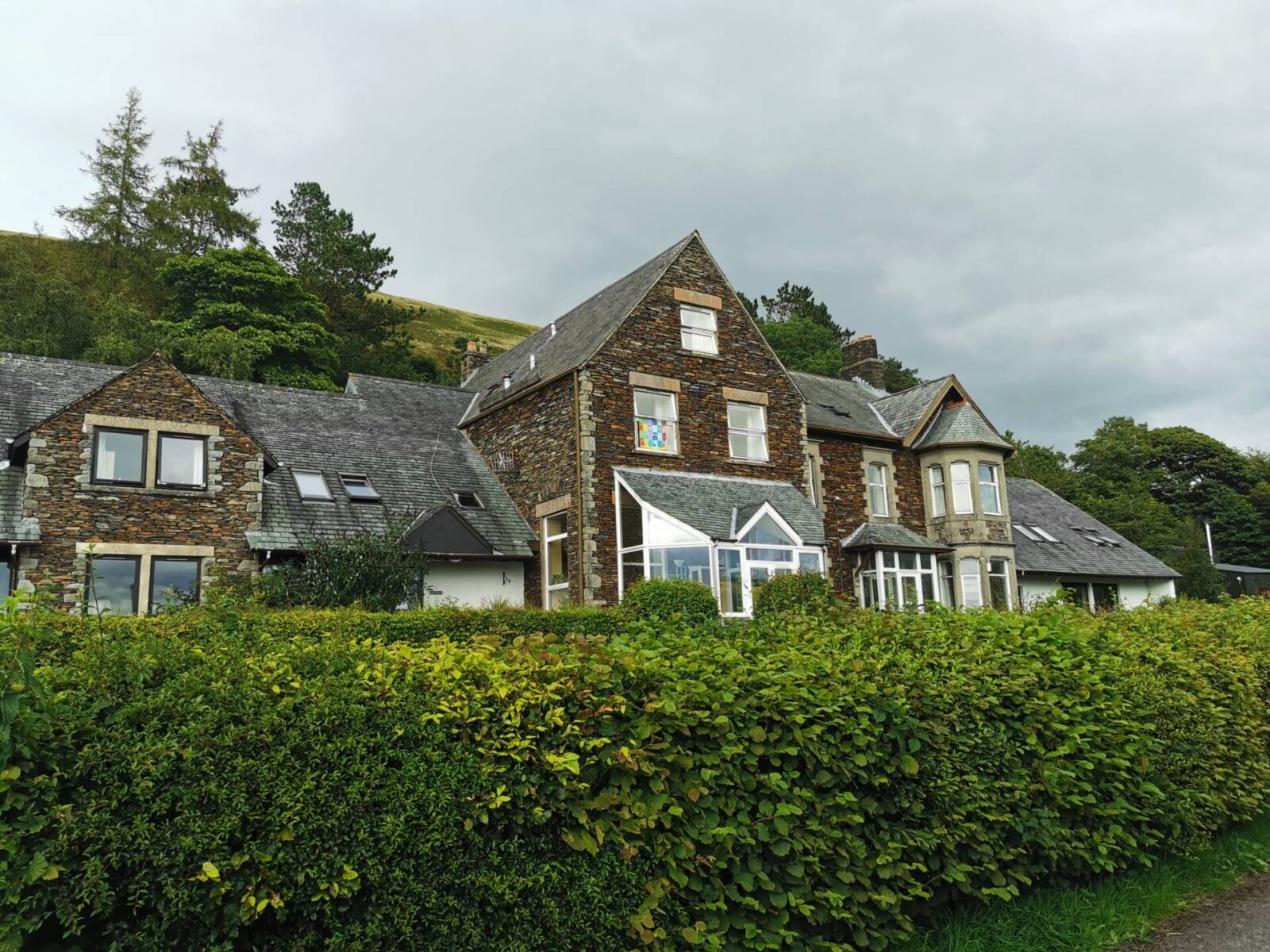 Check in and location
We arrived at FSC Blencathra around 4.30. It was just under 2 hours drive from our home in Durham. We found it easily enough with our SATNAV using the postcode CA12 4SG.
There's no denying that the location for FSC Blencathra is breathtaking. The building is set 300m up the south facing slope of Blencathra in the Lake District National Park and is accessed via a single track road from the village of Threlkeld. It's around a 15 minute drive from the centre of Keswick and 45 minutes away from Windermere.
We weren't really sure where we needed to check in when we arrived, there is a small reception building but it was locked up, though it didn't take long for a member of staff to come and see if we needed any help. A friendly member of staff showed us to our room, explained how things worked and checked if needed anything before leaving us to get settled in. We had no problems with parking as there is plenty of spaces in the car park which also meant no fighting for a space when we returned from exploring the surroundings.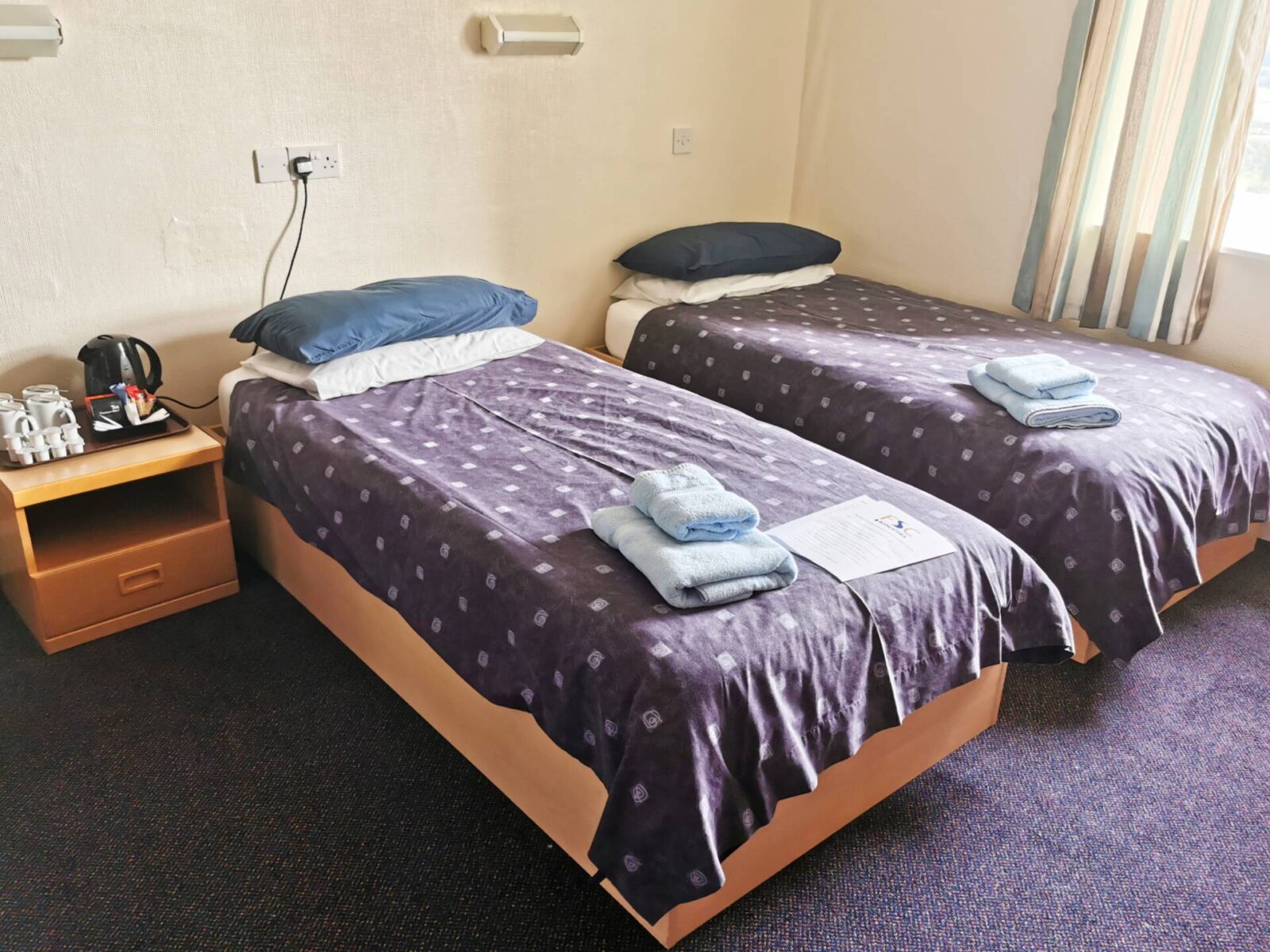 Accommodation
According to the website there are 140 beds across 3 accommodation blocks at FSC Blencathra. We were in the building closest to the car park.
Our room ( M2.1) was at the very top of the main building at the front. The view from the room as incredible with sweeping green fields and mountains in the background.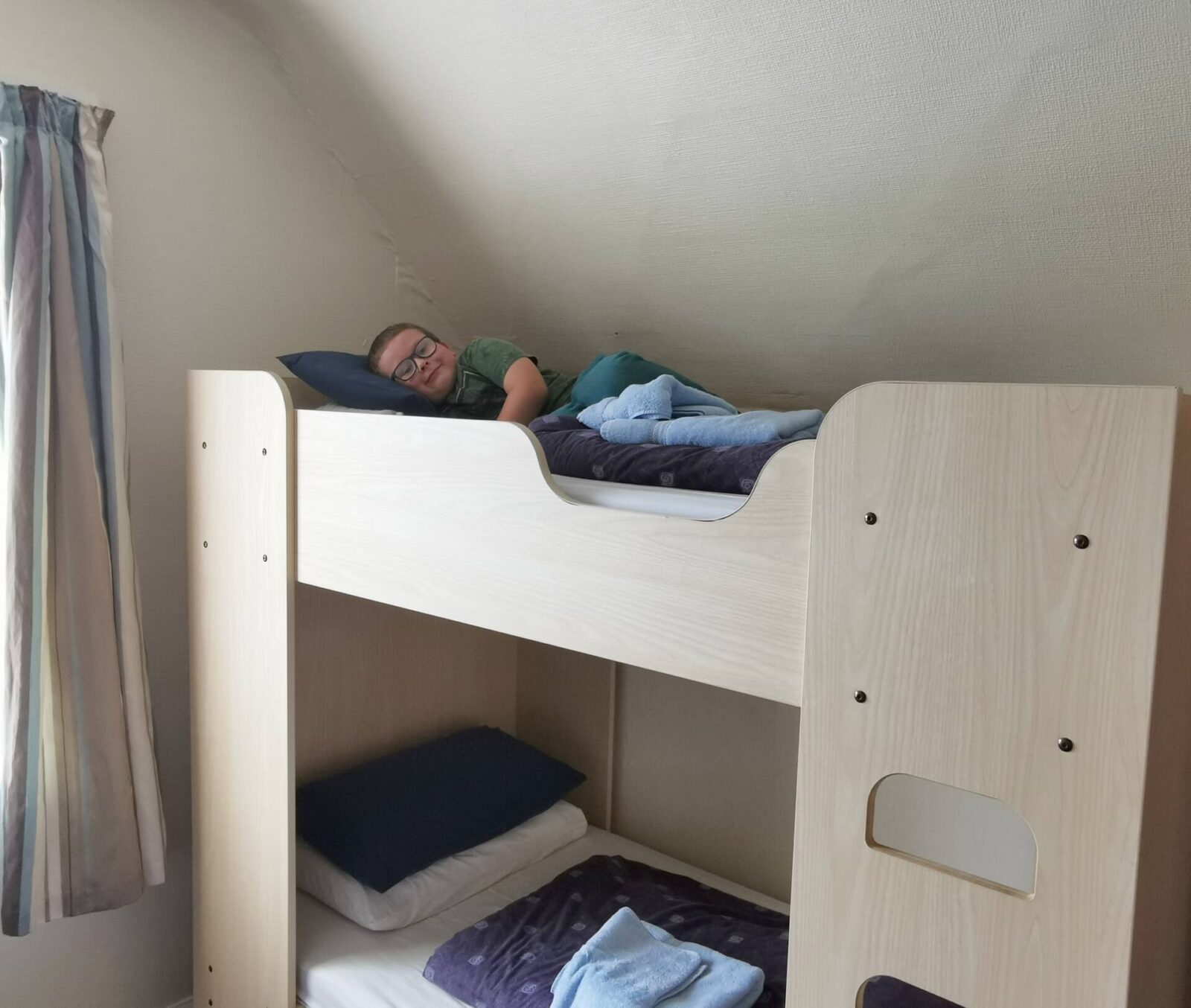 There were A LOT of stairs to climb to the room. Having 2 kids with us, we did have quite a lot of stuff and had to make a few journeys up and down those stairs (all 39 of them!) after we'd checked in . The upstairs rooms wouldn't be suitable for anyone disabled or with mobility problems but there are apparently two downstairs rooms that are suitable for disabled access.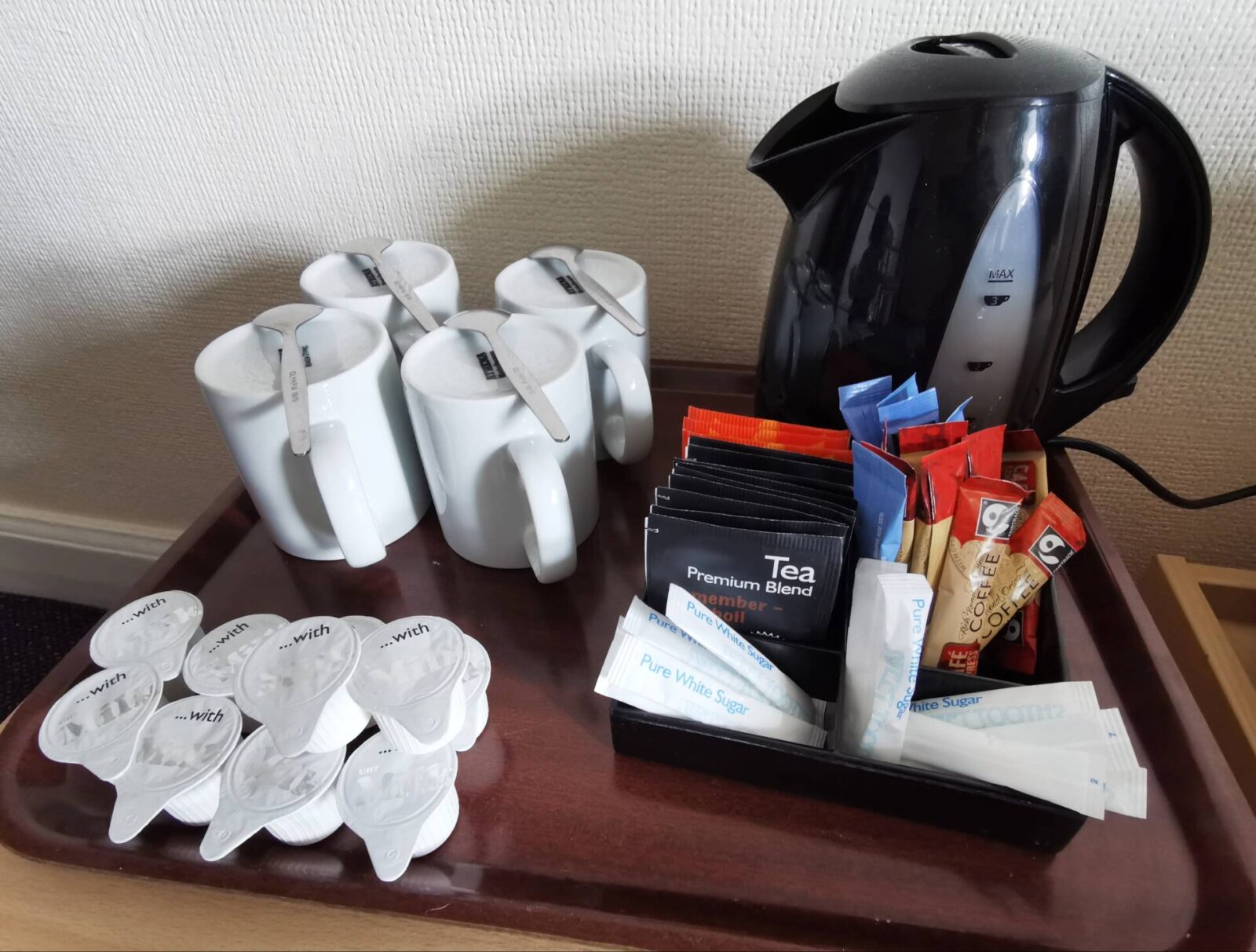 Our room was a really good size. It had two single beds and a set of bunkbeds as well as a wardrobe, small set of drawers, chair and tea and coffee making facilities (there is no TV which was fine for us but something to consider if it's something you'd miss). Although the room was basic and didn't look like it had been decorate for a number of years, it was very clean, warm and had everything we needed for our stay.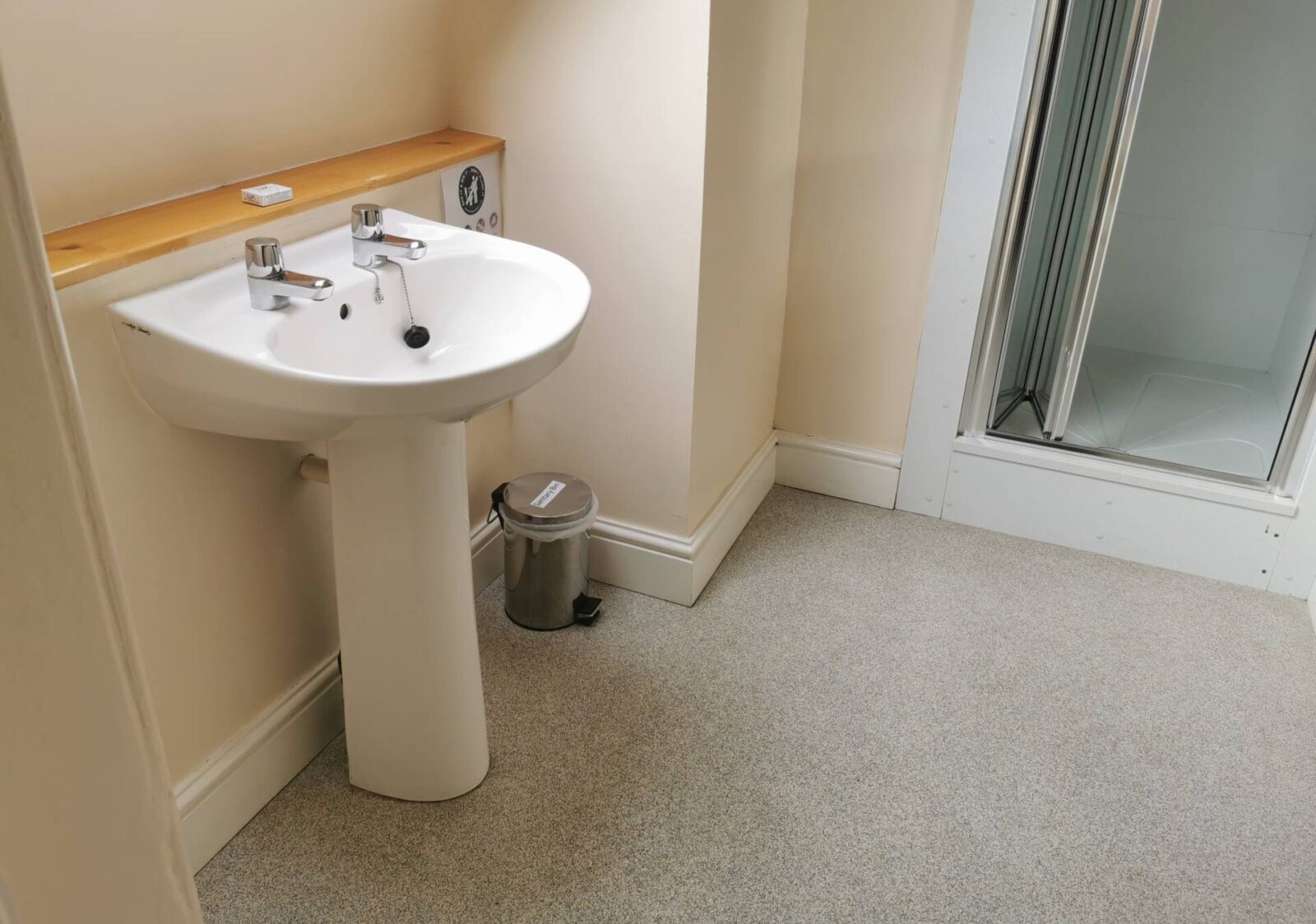 I was very impressed with the bathroom, the views from the toilet were beautiful! The bathroom was light, and airy with a shower, toilet and sink. There was always plenty of hot water when we used the shower and plenty of clean, fluffy towels were provided.
There is free WiFi available on site which we found ok. It did drop in and out now and again but it was perfectly adequate for what we needed it for.
My favourite part of our room was the view. We live near a busy road at home with constant traffic noise so going to sleep and waking up to complete silence was bliss. We left the window open at night and could hear an owl hooting on the first night but other than that, there was no noise at all.
Our accommodation was en suite but there were also rooms which would usually have a shared bathroom and shower however, during the current times these rooms have a clearly signposted, designated toilet and shower which can only be used by the guests from that specific room.
As soon as we'd checked in and dumped our things in the room, we headed out to explore. There are miles and miles of walks around the hostel, and stunning scenery to enjoy.
As it was getting late we decided we'd use our camping stove to eat our tea on the fells towards Keswick.
We took a short walk from FSC Blencathra and set up a rug and cooked our tea while the sun started to set. It was very peaceful and we were completely uninterrupted …
… other than by a very nosy sheep.
Breakfast
Breakfast is included with every stay at FSC Blencathra. As we travel with children, breakfast within our accommodation is a must. There's nothing worse than hunting for somewhere to eat breakfast with hungry children first thing on a morning.
Breakfast was served in the main part of the building ( as well as outside on the picnic benches) between 8am-8.45am. When we arrived on the first morning we were taken to our own table which had a sign with our name on it ( this was our table for the duration of our stay which was reassuring during Covid 19 precautions).
The room we ate in only had 3 tables ( including ours) in use. Guests were spread out with more than 2 metres between each table, which made us feel safe.
We were offered breakfast and drinks almost immediately on both mornings of our stay. There were plenty of options, including cereal, toast or a full English. The breakfasts were simple, hot and filling, we had no complaints. I'm a lover of a strong cup of coffee on a morning but it just didn't hit the spot for me, and the was only diluted juice or water as alternative to coffee or tea.
We did struggle a little at breakfast time as there were no highchairs available. Little E is only 15 months but too small to sit on a normal chair so we had to juggle him on our knees while eating breakfast. I think a couple of cheap highchairs would make a great addition to the breakfast room while The FSC are offering breaks to families.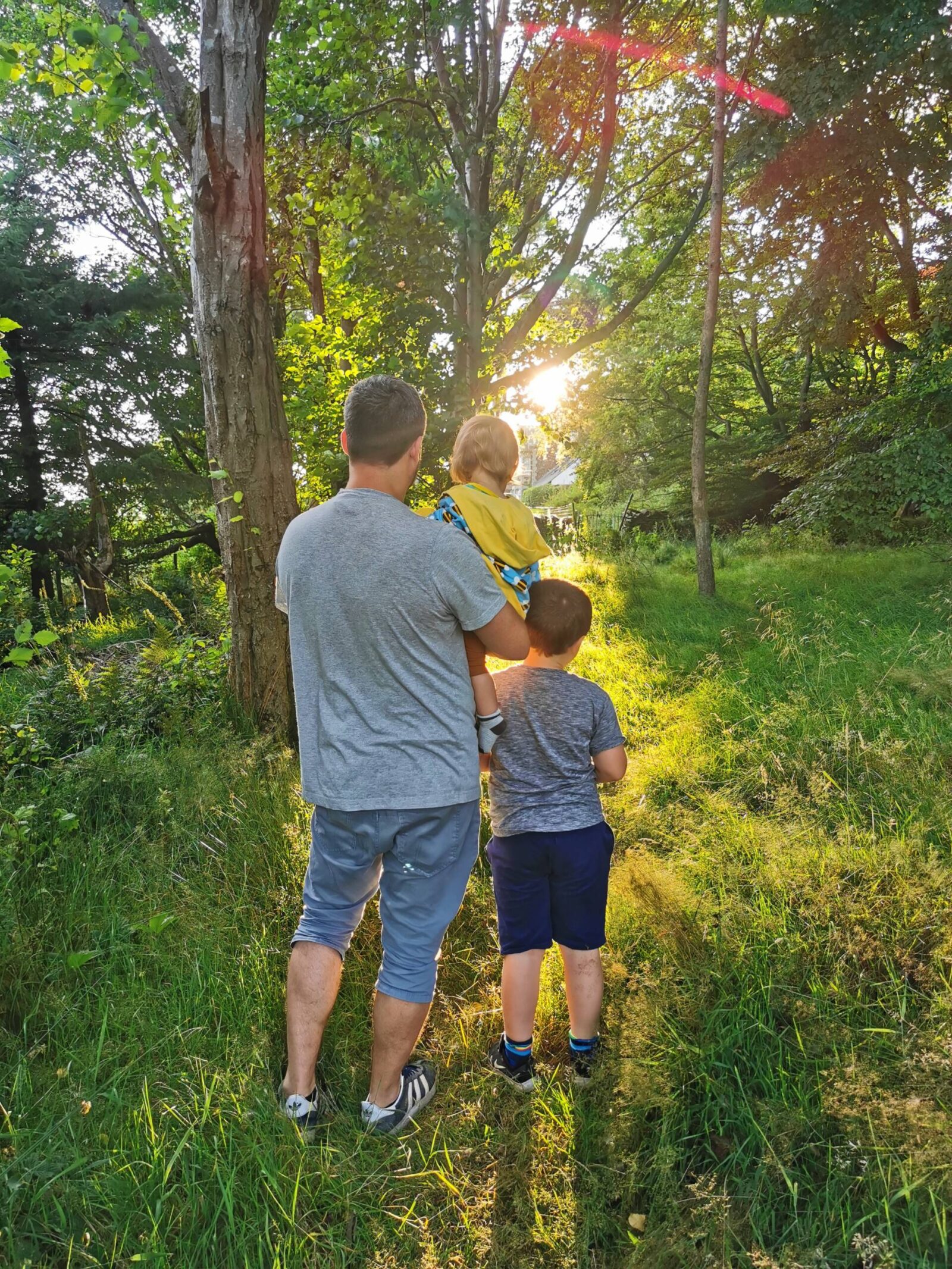 Facilities
FSC Blencathra has a bar, a shared lounge and a garden and there are self catering facilities but we didn't use anything other than the garden. Big E was most taken by the drinking water tap that provides free fill-ups for your water bottles and is provided from a fresh water spring on Blencathra itself. However we did not know about this until we stumbled across it ourselves. FSC Blencathra would do well to promote this as it will help to reduce plastic waste in the area.
Places to visit nearby
There are miles and miles of beautiful walks near FSC Blencathra. It's also the perfect place to stay if you're brave enough to climb the 2,848 feet up Blencathra itself. We visit the Lake District regularly but rarely spend time in the Northern part so it was a treat to visit some of the attractions.
Threlkeld Quarry and Mining Museum is a very short drive away and a great place to visit if you have kids that love trains and vehicles.
Castlerigg Stone Circle is also worth a visit for a picnic and some pretty photos of Helvellyn and High Seat in the backgrounds.
Keswick is only a short drive away too with plenty of shops, attractions and the lovely Hope Park. Keswick was VERY busy during our visit though so maybe better to visit during more normal times.
Eateries nearby to FSC Blencathra are limited. The closest we found was The Horse and Farrier in Thelkeld. It was very busy but we managed to get an outdoor table late afternoon.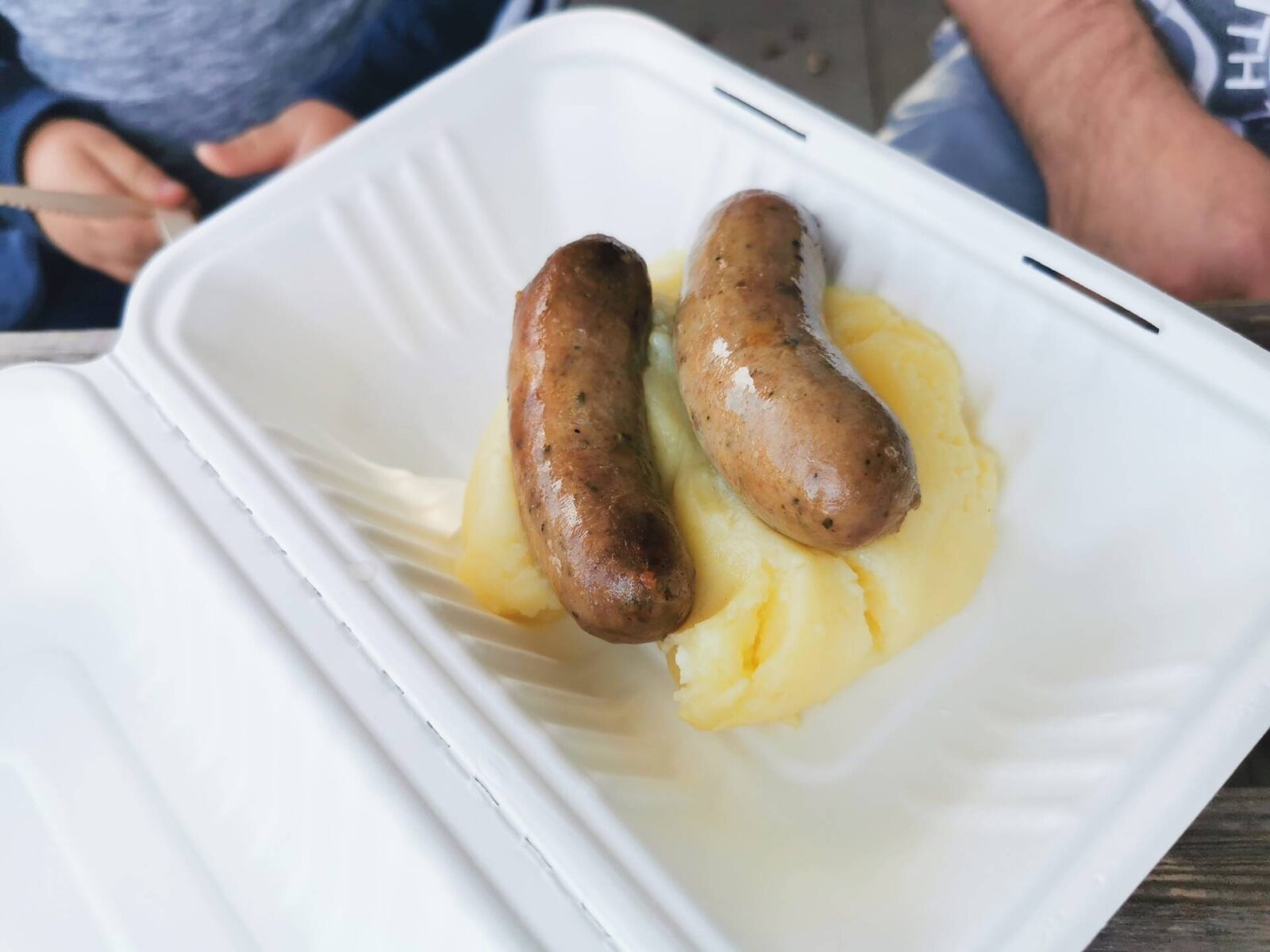 I'll be honest, it wasn't great. We were only able to sit outside as it was very busy but rather oddly some customers were served their food on plates as normal and then others, like us were served it in take away containers.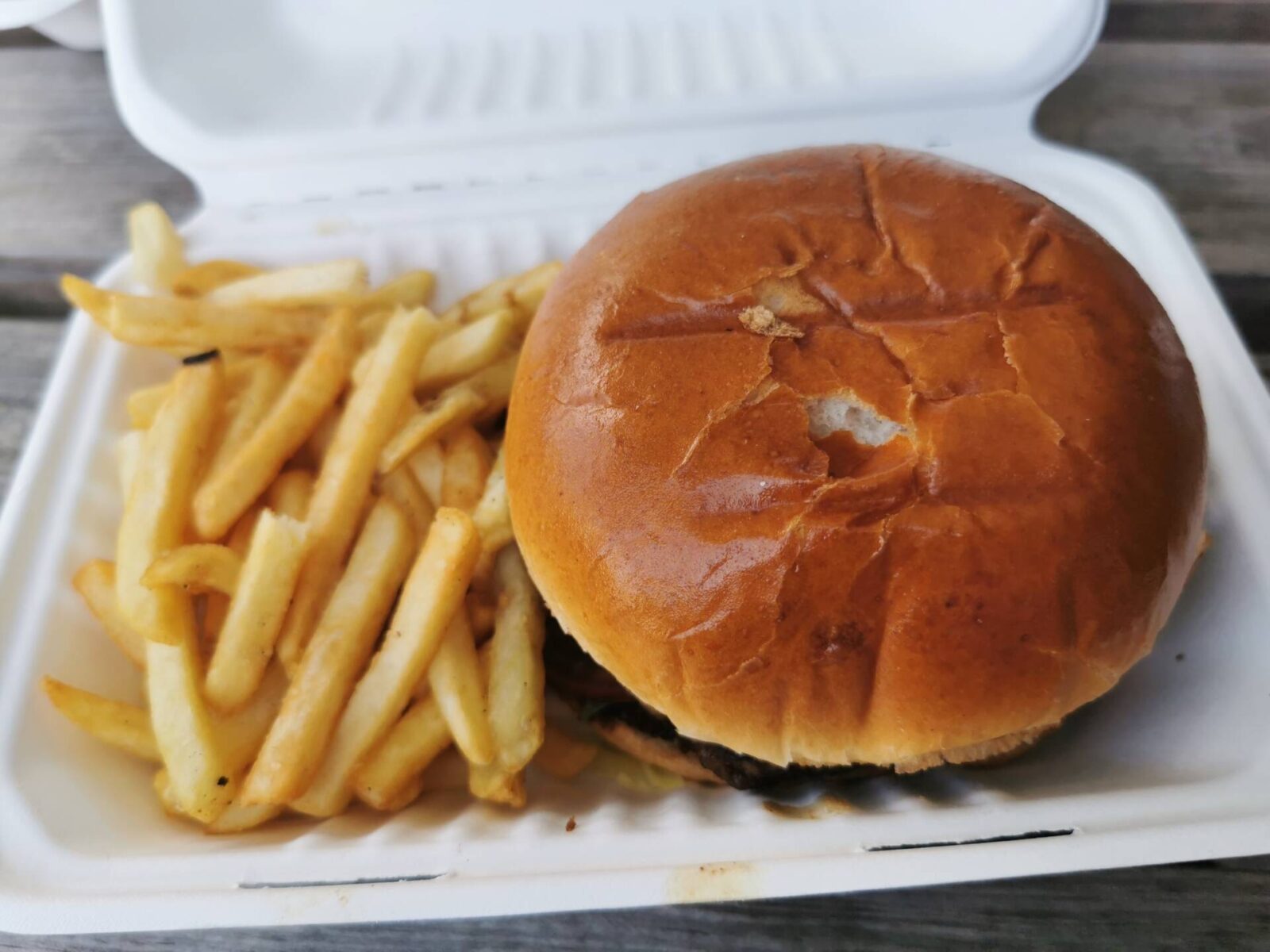 The food was ok, but very pricey for what was served. It wasn't the home-cooked, tasty food I tend to expect in The Lakes.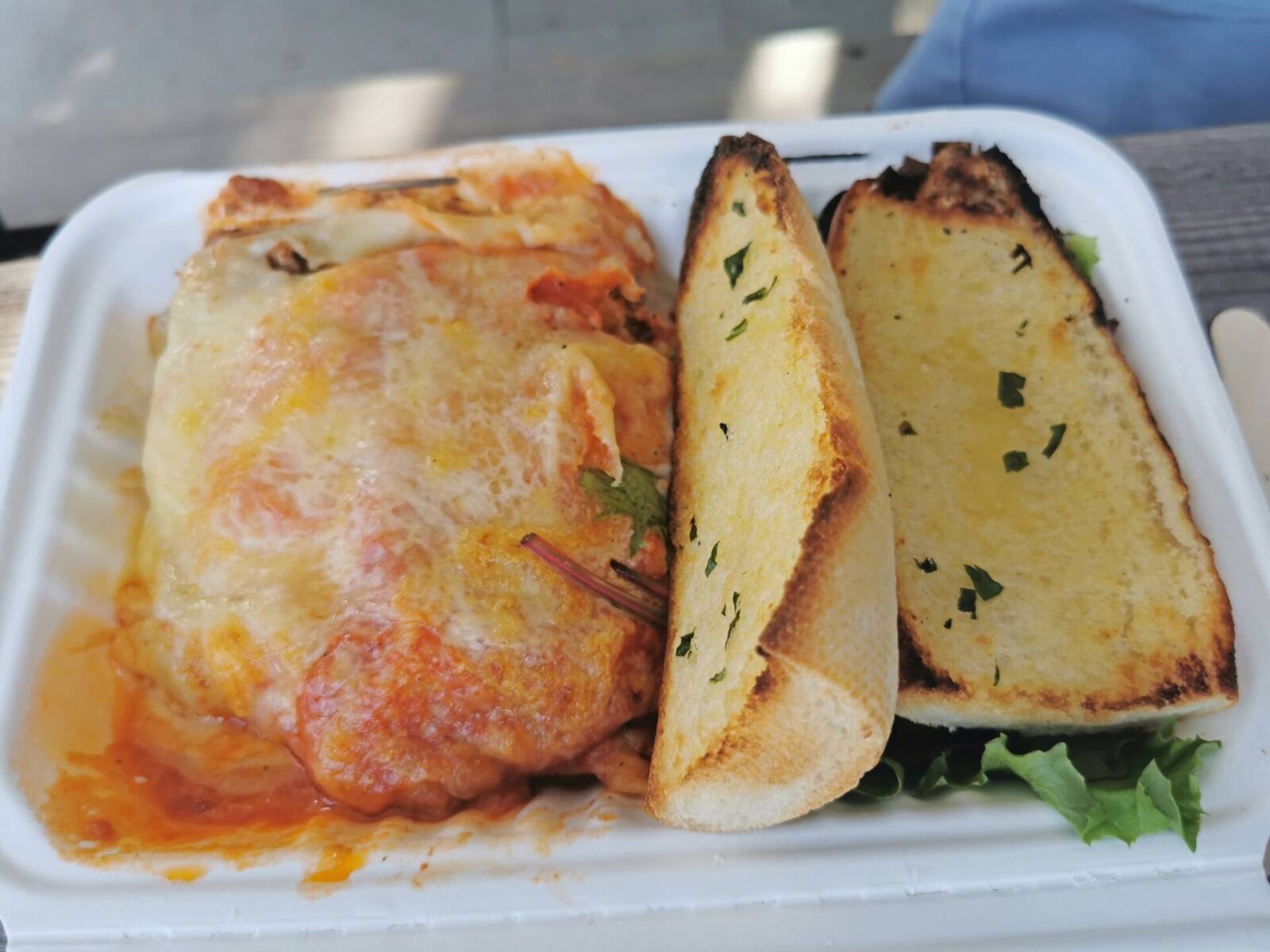 Three meals and 3 drinks came to just under £45 and we did eat it but I enjoyed our own simple cooked tea on the fells the night before.
What we thought
We really enjoyed our visit to FSC Blencathra. The location was peaceful, beautiful and the views across Keswick, Helvellyn and Skiddaw are unrivalled, especially for the price.
The safety measures were fine and there was plenty of space so that we were able to social distance ourselves from other visitors. We felt happy and safe and the building and our room were very clean.
I do think some information and signage would be helpful both around the grounds and in the building. I'd have liked to see some details about walks and other things to do in the area rather than having to rely on intermittent Google. Details about key collection and drop off would also have been helpful, on the day we checked out we couldn't find anyone to hand our keys too. Someone did eventually find us wandering round but the option to post into a letter box or similar would have been good.
All of the staff we spoke too were helpful and friendly without being intrusive. They were all approachable and seemed happy to work in such a lovely location.
As well as accommodation available in the main buildings, there are various self catering cottages available on site which can be booked through HeartoftheLakes.co.uk, I think when we visit again we'd book one of the cottages simply so we have a bit more space and facilities to cook ourselves.
The Field Studies Council 'Stay with Us' break was much better than we expected, whilst the accommodation was simple and basic, it was very clean and offered very good value for money. It was wonderful being able to stay in such a beautiful and unique location in an area surrounded by nature and wildlife. I'd never heard of The Field Studies Council prior to our stay but I'm pleased their buildings are now available to all groups and imagine they will be fully booked for the foreseeable!
* We stayed free of charge in return for an honest review