This post contains press samples which were sent for inclusion consideration
Adults tend to know what they want and then buy it themselves! This doesn't help when you're looking to buy them a Christmas gift though. I hate having to ask people what they want, I think it takes away the surprise element and when you're an adult, surprise gifts are usually few and far between.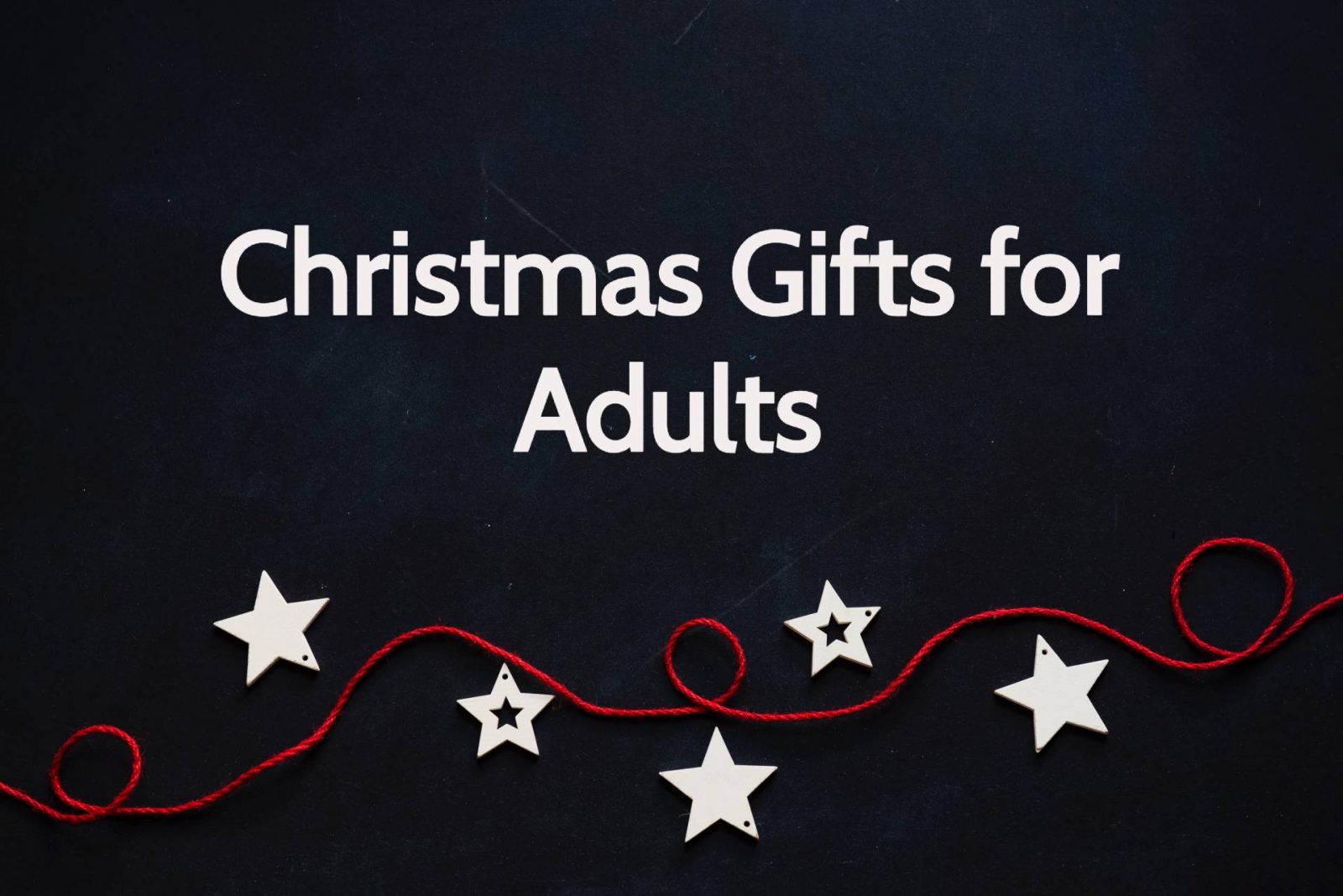 Check out the ideas below for some gift ideas for the grown ups in your life.
I love personalised gifts and Asda Photo do some really fab ones. The mug is made from bone china and you can personalise it with your own photograph or message. I added a photo of my small people as it's something their Nana will love. The keyring is just £6 and made from faux leather. It would make a lovely, thoughtful gift and would be a great addition to your house or car keys.
CBD products are extremely popular at the moment and Green Stem's luxurious 100mg CBD-infused hand cream would make a great gift for those new to CBD products. It's enriched with natural essential oils to effectively restore moisture levels in skin whilst delivering the potentially-beneficial properties of CBD. It contains Lavender Essential Oil, Jasmine Essential Oil and Sandalwood Oil so it smells amazing too.
The CBD bath bomb is so relaxing. With the rich, warming aroma of sandalwood and notes of wild lavender and fragrant jasmine it's uplifting and helps to sooth away the stresses of the day. I can honestly say I felt so relaxed after using this, I used it at night and had the best nights sleep I've had for at least a year!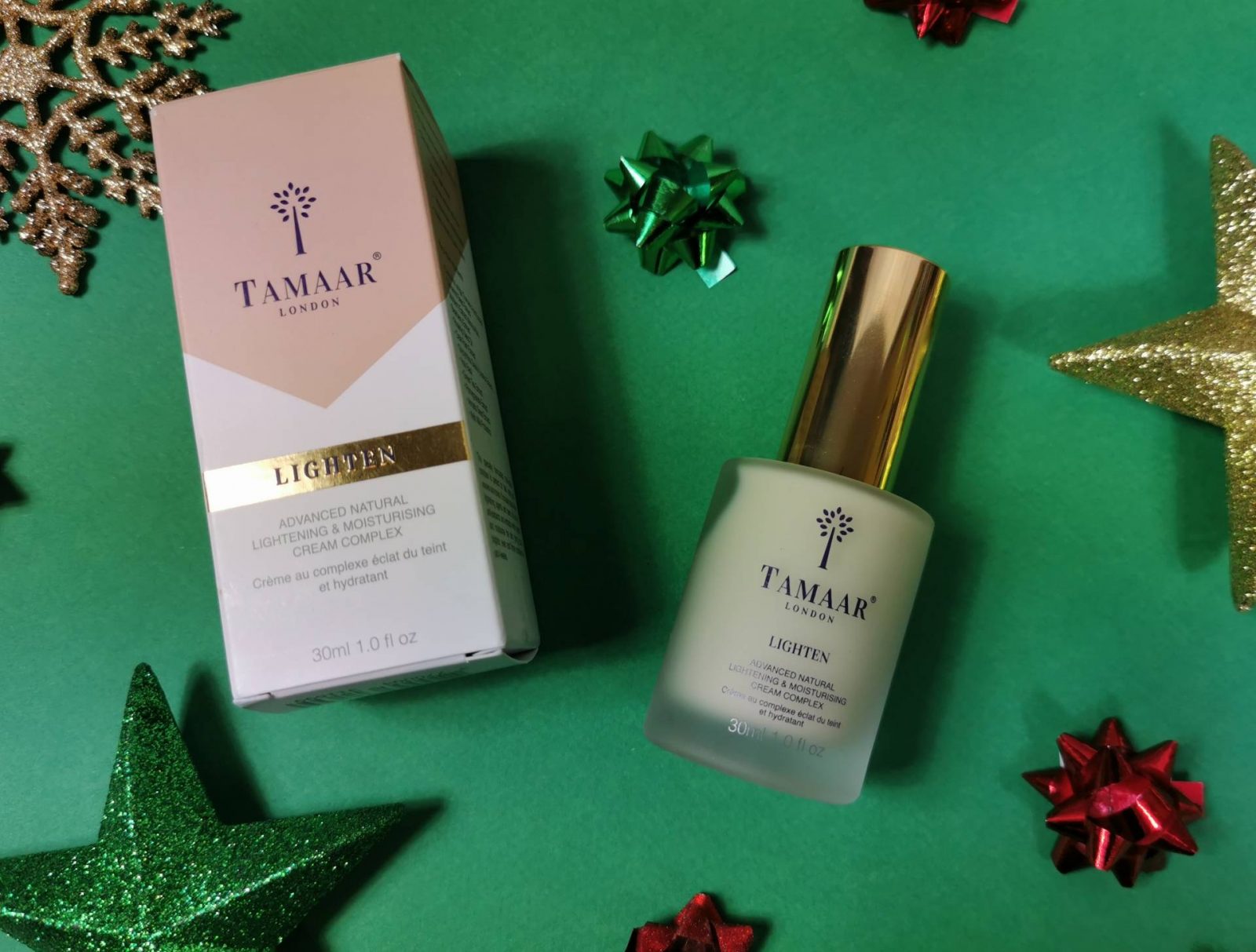 The main ingredient of Tamaar products is Tamarin which is a safe and effective way to naturally brighten the skin. It is said to outperform hyaluronic acid in skin moisturisation and can also help to smooth wrinkles. Their Lightening & Moisturising Cream Complex is such a great product. It's a specially forumulated complex that targets dark spots and uneven skin tone.
I've been using it on Melasma that's been hanging round after my pregnancy and it's dramatically reduced the darkness. It's also very light weight and one of the nicest moisturisers I've used. It contains natural skin lightening agents and seed oils rich in anti-oxidants and extracts which nourish and moisturise the skin and makes a perfect base for make up.
Black Leopard is an Australian Men's Grooming range who use naturally derived, cruelty free and scientifically proven ingredients in their products. The 2 in 1 shave gel cleanser can be used for both washing your face and shaving. It contains plenty of oils and nutrients to ensure a close shave and a clean face. The face scrub is perfect for helping to unclog pores and reduce spotty breakouts. It contains black rice and essential oils to remove dirt and grime from your face. It also contains Glycolic Acid so should only be used a couple of times a week.
I'm a sucker for a pretty diary and the Cooks Diary is a multi purpose diary that's the perfect size to fit in your handbag. It's a week to view diary that features some mouthwatering recipes. The diary includes a sticker sheet to customise your diary and highlight important events and appointments. There's lots of space for lists and it has a fab lay flat design so no writing at weird angles. There are three different cover designs available but I think my favourite is the bright yellow floral design.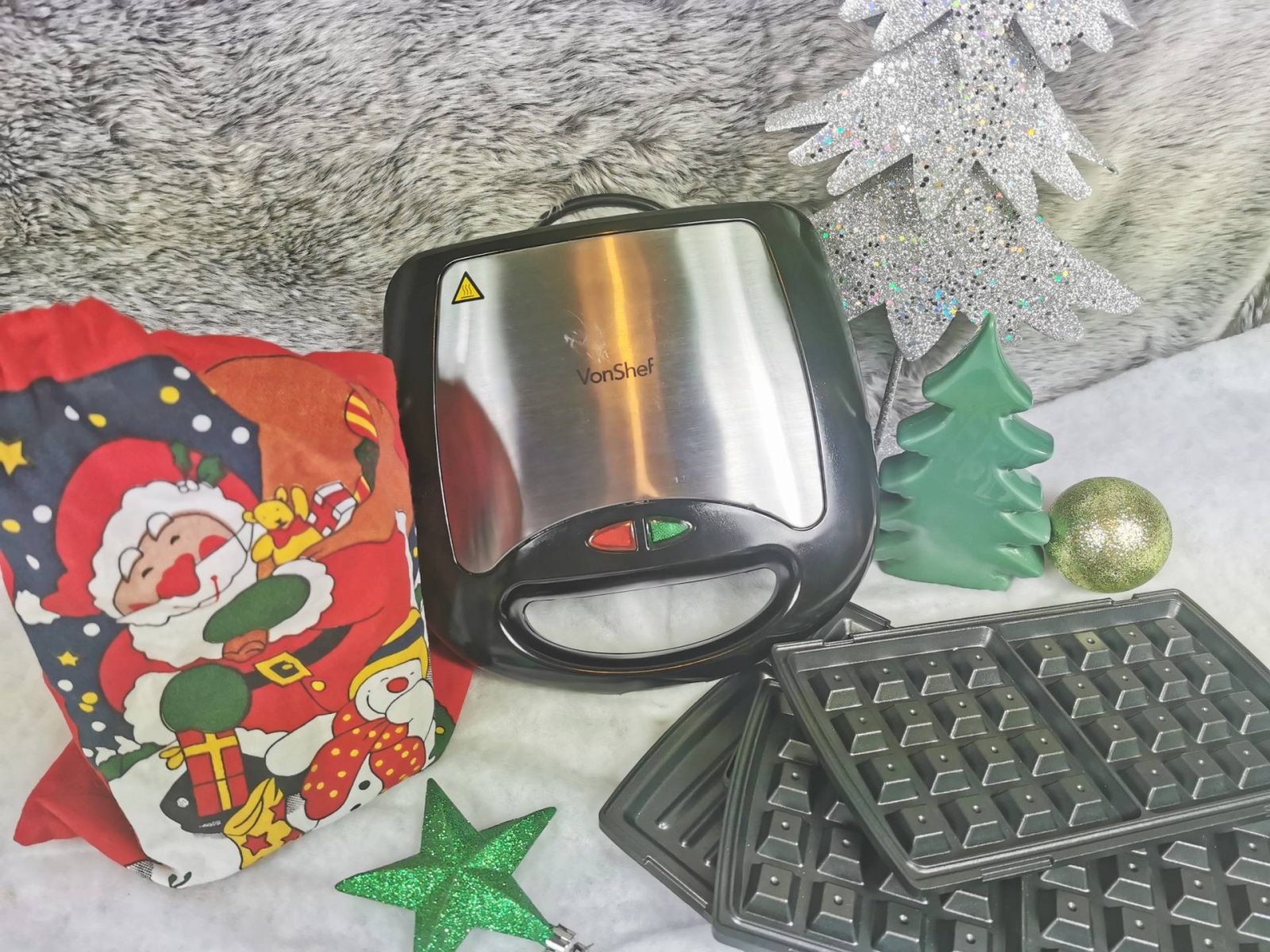 Perhaps a sightly unusual Christmas gift but no doubt one that'd be very appreciated.
The multi use Sandwich Maker, Waffle Iron and Grill would make a great addition to your kitchen and a great gift for any foodie. It has interchangeable plates that can be used to make things like toasted sandwiches, waffles, grilled meat, veg, paninis, focaccias and more. It's extremely easy to use and clean so using it is a pleasure.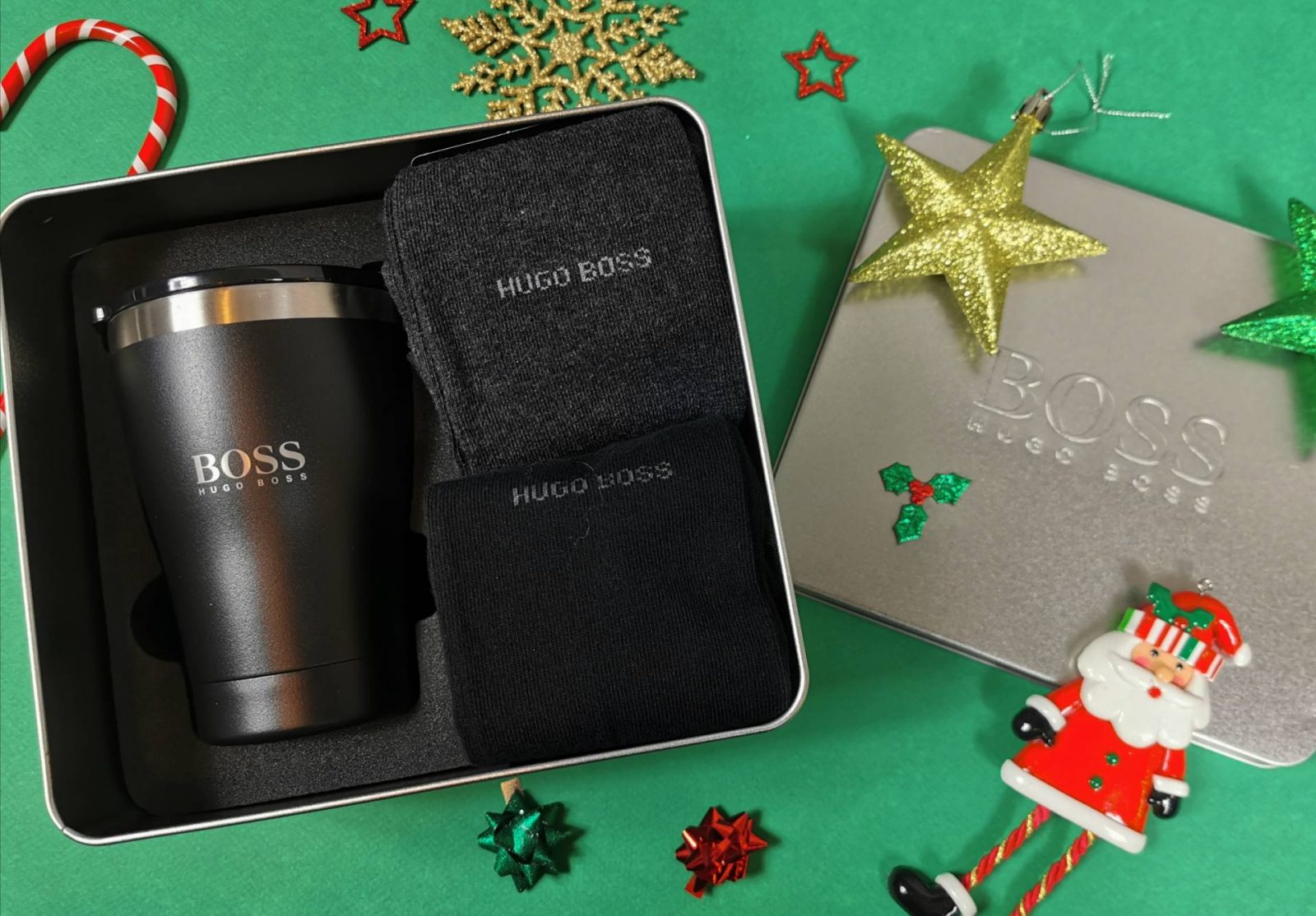 This elegant Hugo Boss gift set is from Mainline Menswear, a leading menswear retailer. They stock over 100 designer brands and around 10,000 products. The Hugo Boss set looks great but is practical too. It contains a branded travel mug which is perfect for the early morning commute and two pairs of branded cotton Hugo Boss socks.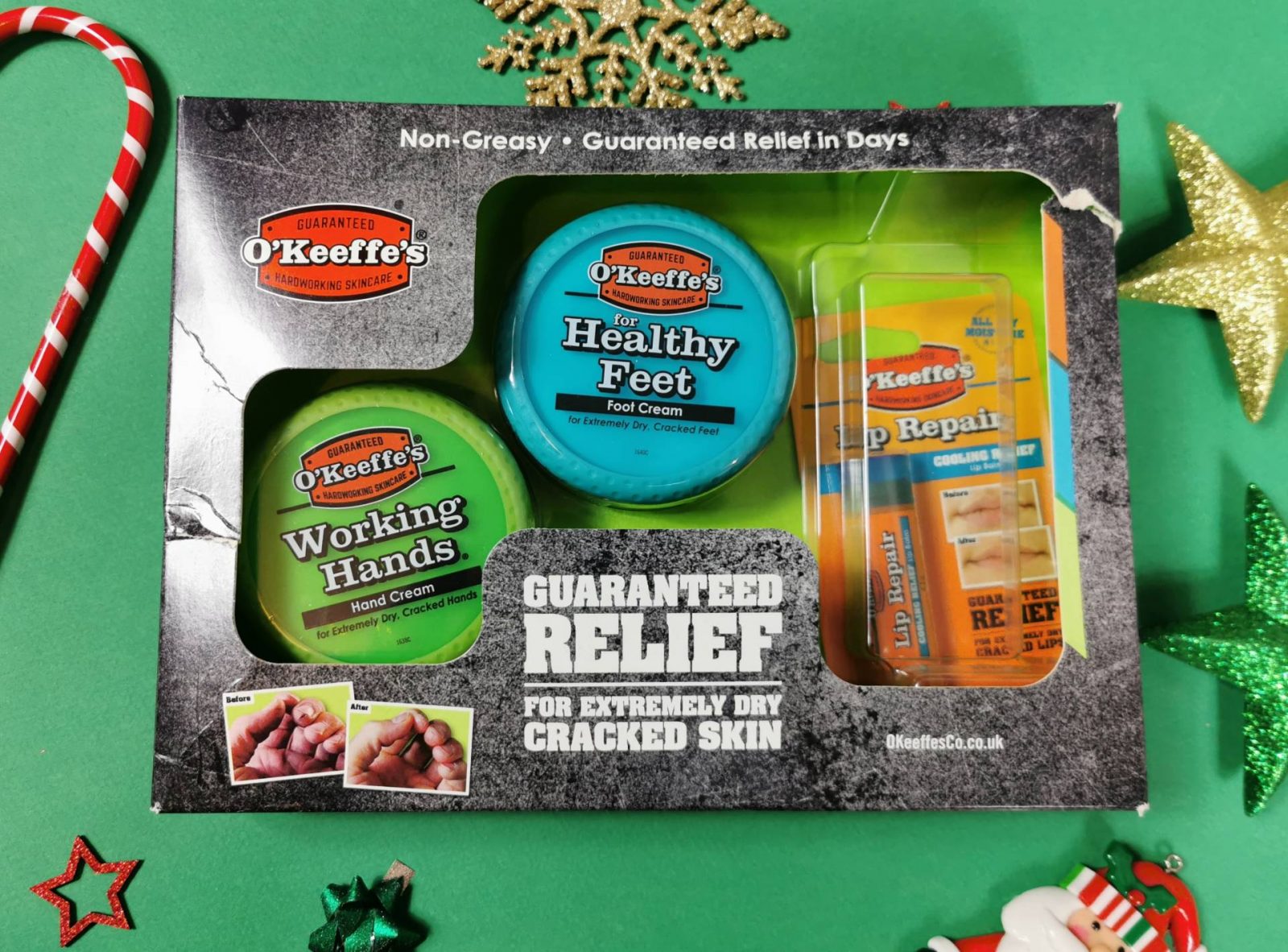 As someone who has extremely dry skin, O Keeffe's is one of my go to brands. This lovely gift set contains three of their amazing products – Working Hands hand cream, Healthy Foot cream and Lip repair cream. It's ideal for for this time of year when most of us suffer with out skin.
Norma & Dorothy are an online boutique selling gorgeous handcrafted homeware items, stationary and gifts, most of which can be personalised.
I love this personalised floral burst notebook. Filled with 100gsm plain paper it's perfect for doodling or writing down that all important list. You can choose from a selection of hard covers with metal spiral spines and soft covers. and you can even choose the foil colour for the personalisation. Any stationary lover will be grateful of a notebook like this.
How beautiful are these two velvet storage chests? They're so Instagrammable!
They're very sturdy but look so pretty with their velvet exterior. They can be stacked on top of each other or stored inside one another. They're an impressive size with plenty of room to store your important belongings. I think they will be very popular with teens and would make the perfect make-up and accessory storage.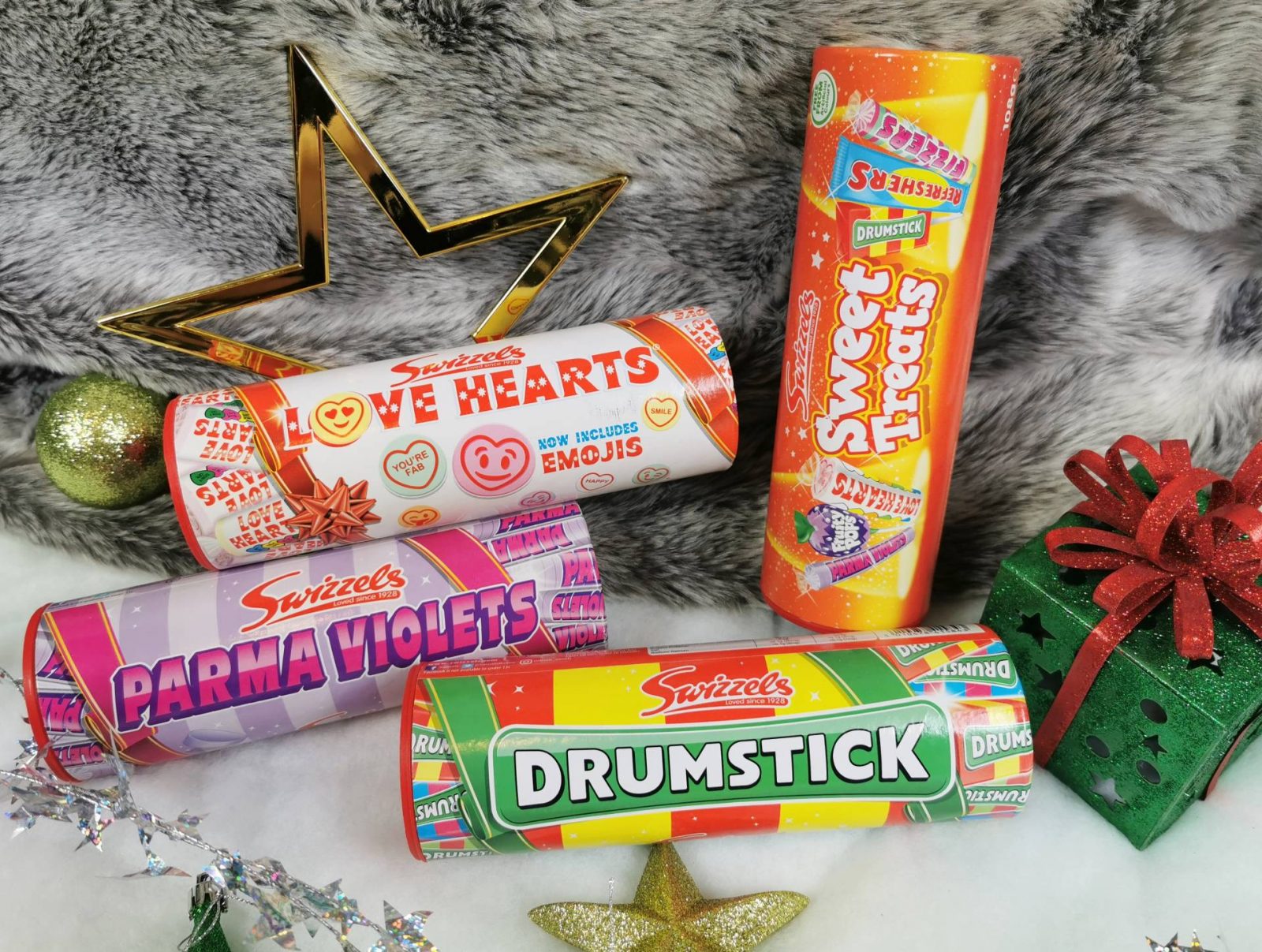 Swizzels are one of my favourite sweet brands. Who doesn't love their Love Hearts and Drumstick Lollies?
They've been around since 1928 and are famous for so many delicious sweet treats. Their sweet tubes make great stocking filler gifts and are great for both children and adults.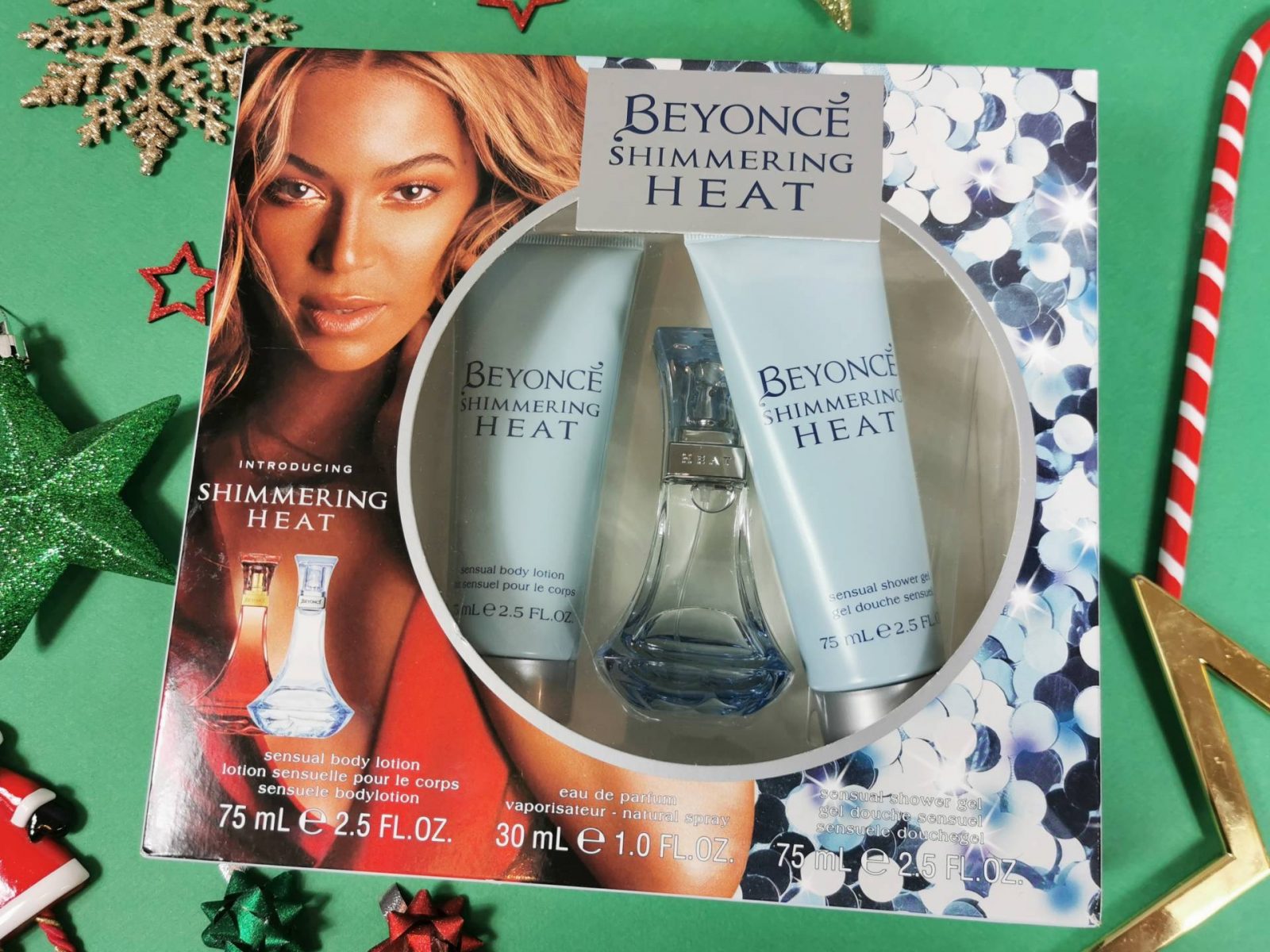 The Beyonce Shimmering Heat set contains a body lotion, eau de parfum and shower gel all fragranced with the musky woody scent of Shimmering Heat. If you're looking for a secret Santa gift this set would be a good choice.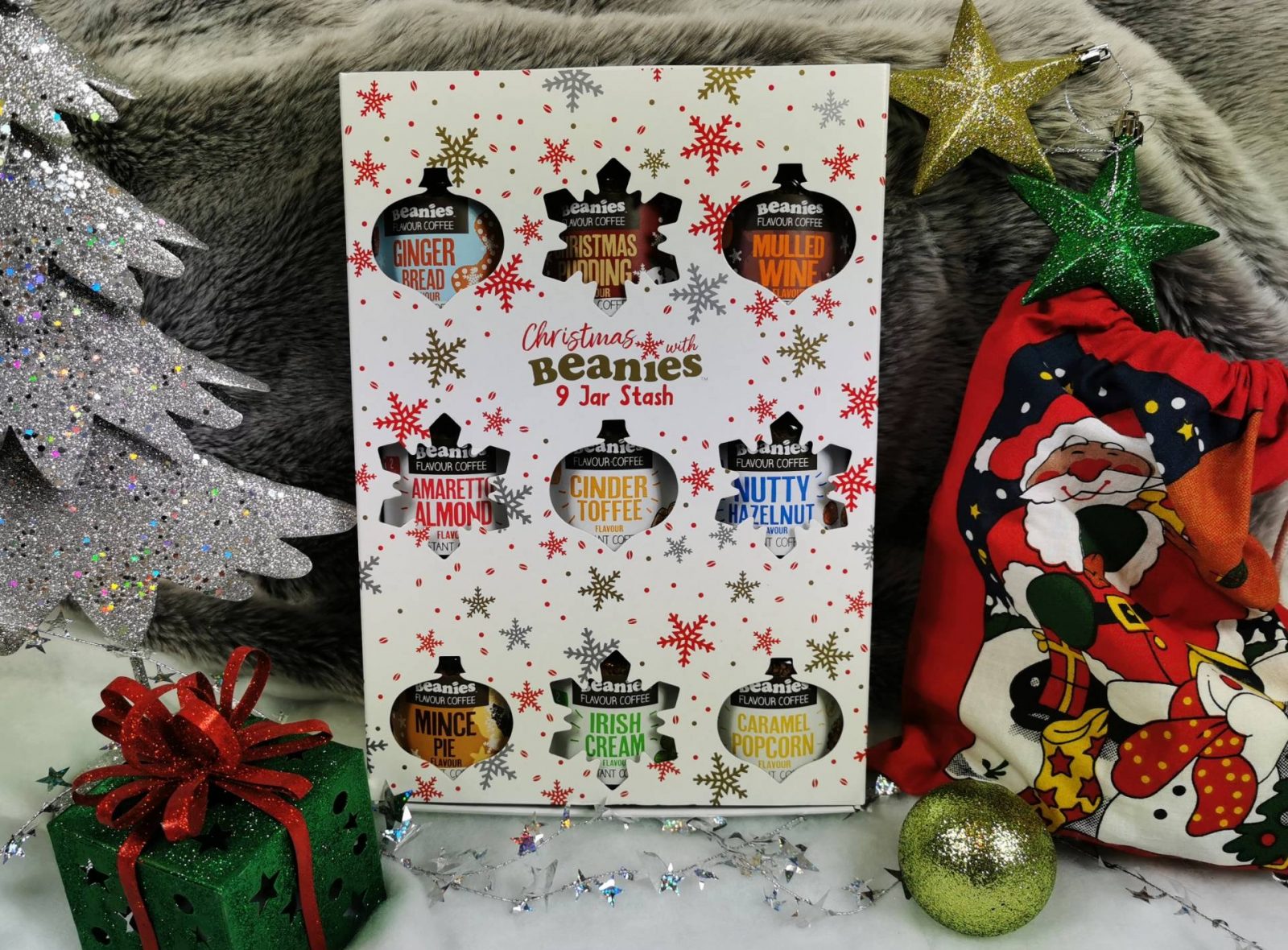 We love Beanies coffee in our house. The Christmas Stash box contains a whopping 9 50g jars of flavoured coffee. Beanies Coffees contain just 2 calories per cup and are sugar free. They're suitable for people who are Gluten, Wheat and Dairy free and are also nut free. Vegetarians and Vegans can also enjoy their coffee. The 9 jar Christmas stash makes an absolutely perfect gift for anyone who loves coffee.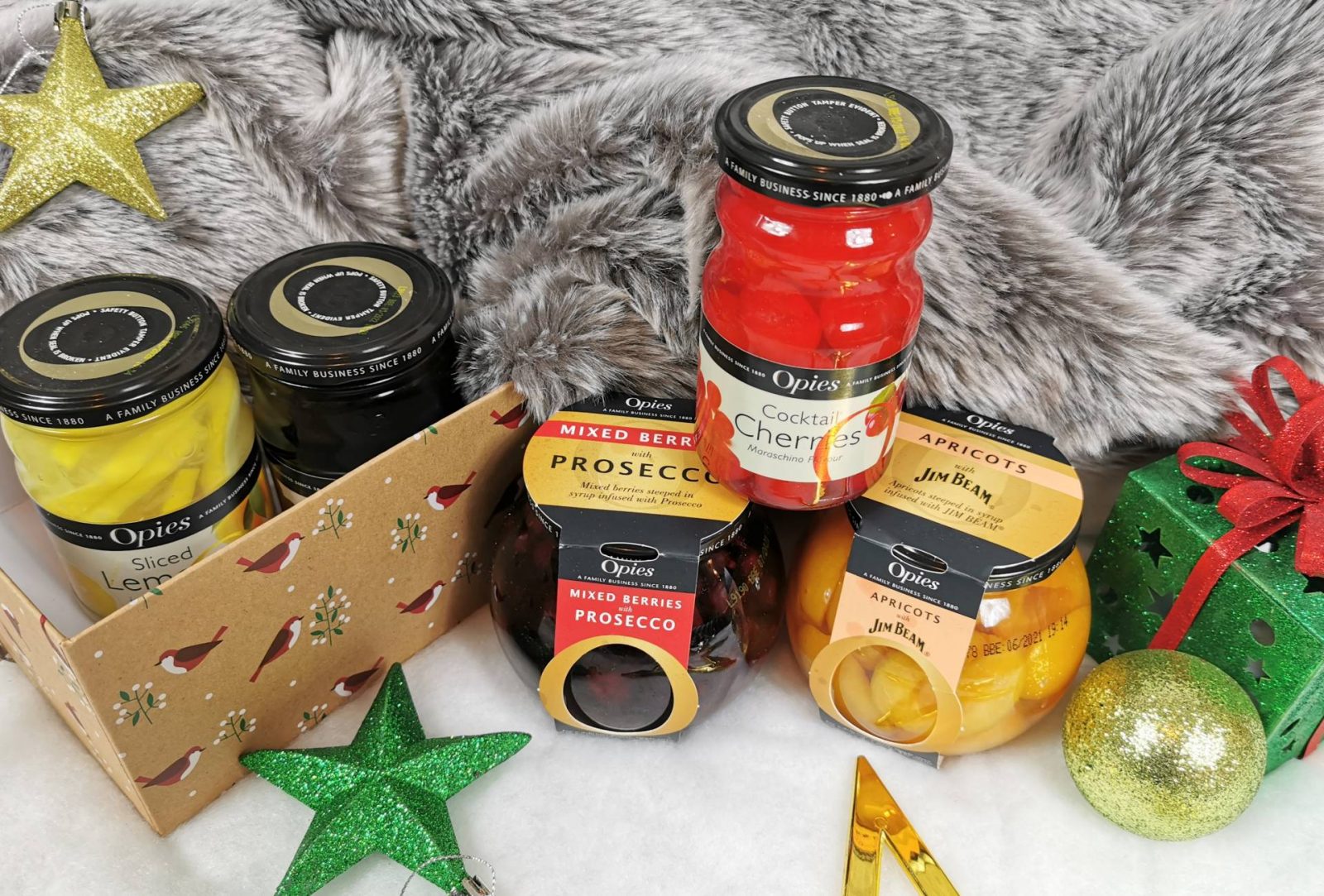 What about creating a luxurious hamper to give as a gift? These delicious products from Opies are an affordable but luxurious treat that would look perfect in a homemade hamper. They're recently released two new products Apricot with Jim Bean and Mixed Berries with Prosecco and are perfect to use in desserts and other recipes. Don't forget their cocktail cherries which make a perfect garnish for festive drinks.
Another beautiful personalised gift is this wooden photo frame from The Personalised Gift Shop. It's a total bargain at just £13.50 and looks great with your own 6 x 4 photograph inside. You can have it engraved with any message so you don't just have to give it as a Christmas gift.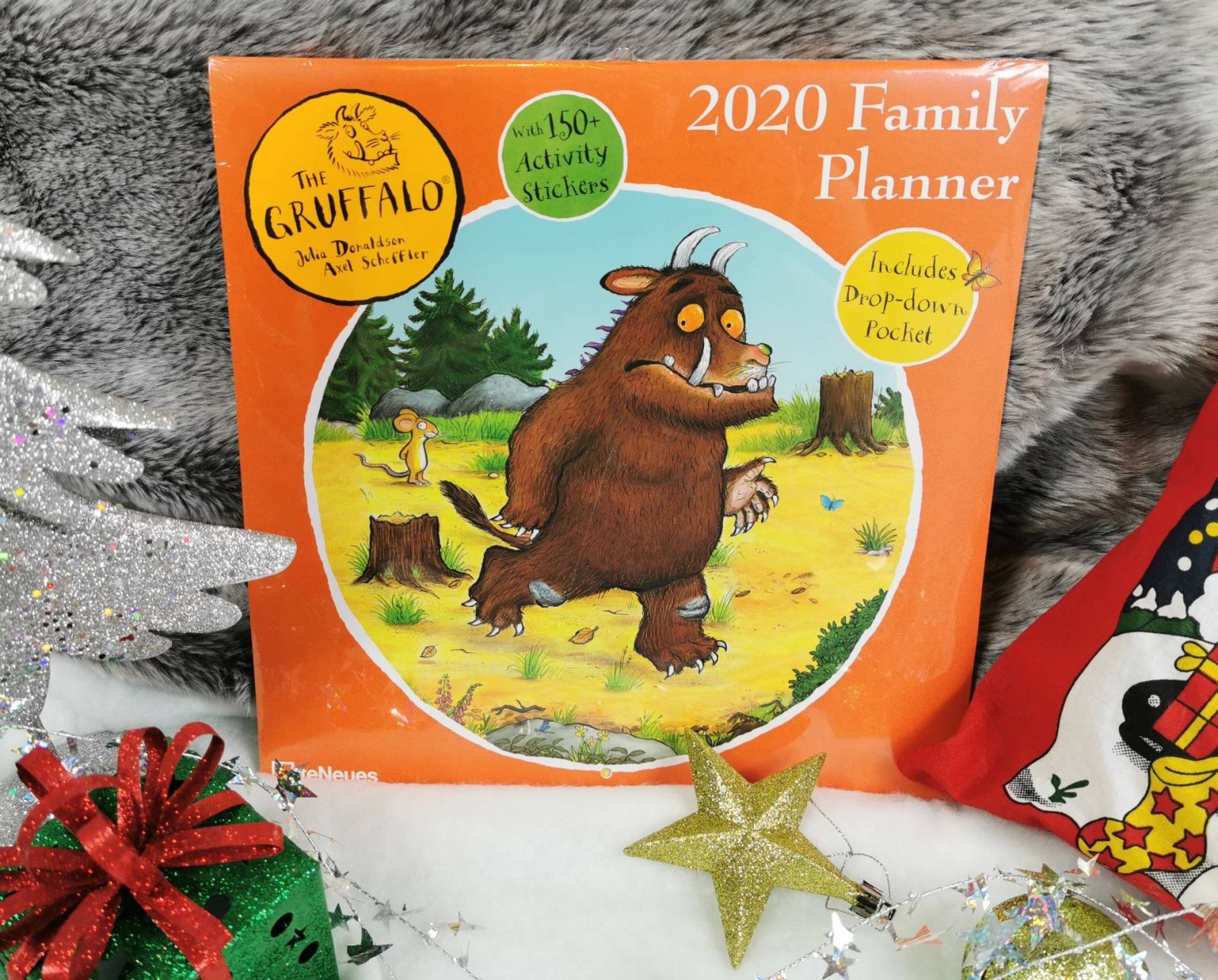 The Gruffalo Family Planner is a great gift for anyone with a busy family life. It's available to buy in places like WH Smith, John Lewis and Waterstones. The planner has 5 columns, which give you and your family plenty of space to record important dates and events. It also includes 150 event and activity stickers and sturdy pocket to store invitations or important notices.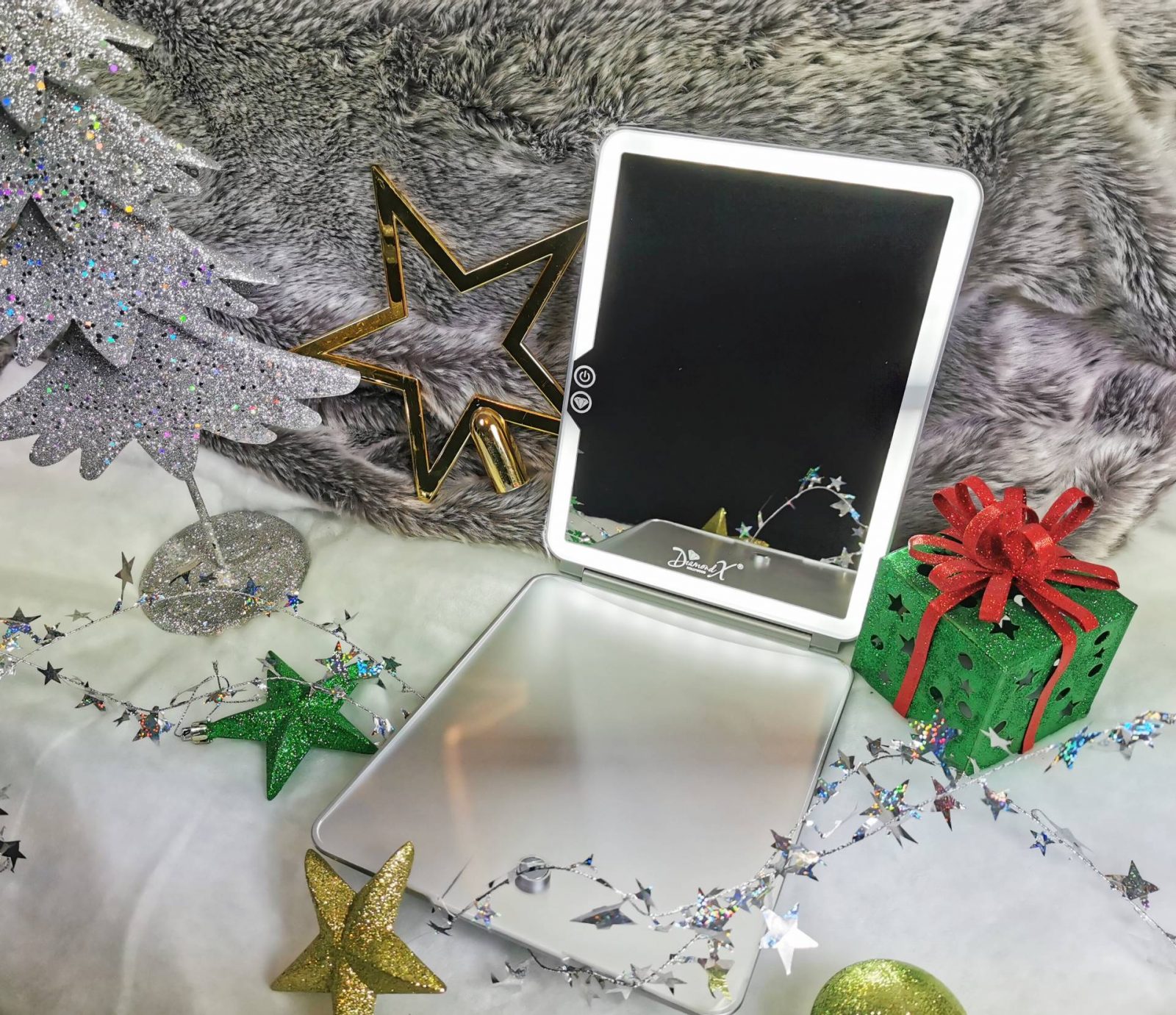 Modern Mirror Design have a great range of unique mirrors including some absolutely amazing Hollywood mirrors. The Hollywood X-Press Personal Make Up mirror would make a wonderful gift for Christmas and it's a very affordable price. The mirror is lightweight and perfect for travelling. It seems quite robust and is the angle can be fully adjusted.
The lightening on the mirror is amazing, it has two different light settings – warm or daylight, making it perfect to use whatever time of day or location. It's rechargeable via a Micro-USB lead and charges pretty quickly. It doesn't have to be used for travelling, I've found it's a great for my early starts. When I'm at work I get up at 5am and the light is never great for putting on make up however, the Hollywood X-Press Personal Make Up Mirror with the daylight light on makes things so much easier.
It's not Christmas without a a tin of Cadbury Roses! My favourites are the Hazelnut Whirl, what are yours?
Cadbury also do a great range of stocking filler chocolates. The 5 festive Santa's can be hung on your tree if you don't eat them up first. The large Dairy Milk hollow Shushing Santa would make a great secret Santa gift. It's beautifully packaged so you don't even need to worry about making it look pretty.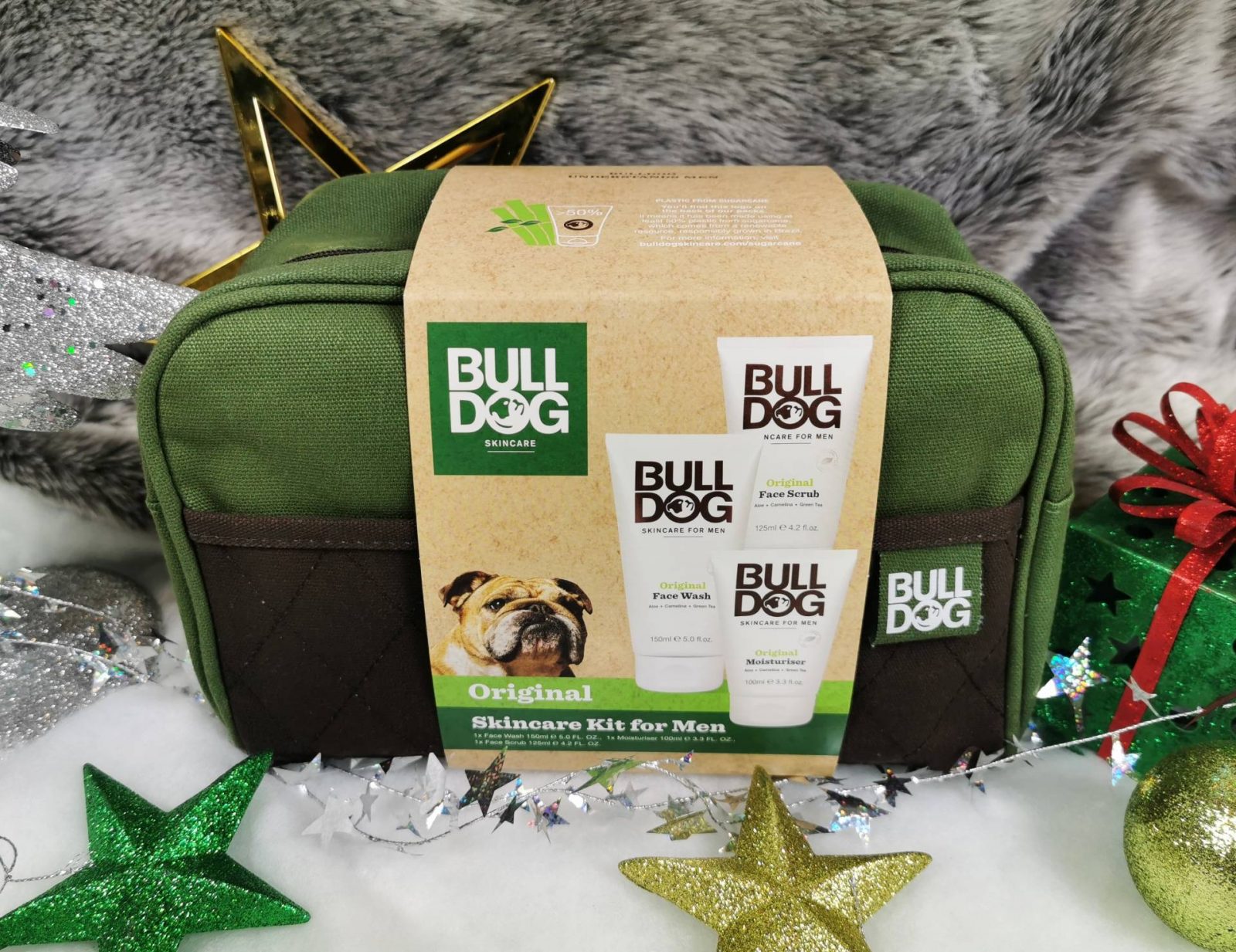 Skincare isn't just for the ladies. This great skincare kit for men from Bulldog looks great and is a bargain. It retails at just £15 and contains 3 full sized Bulldog products inside a really good quality wash bag.The Skincare Kit includes Original Face Wash (150ml), Original Face Scrub (125ml) and Original Moisturiser (100ml) and would make a great gift for men both young and old.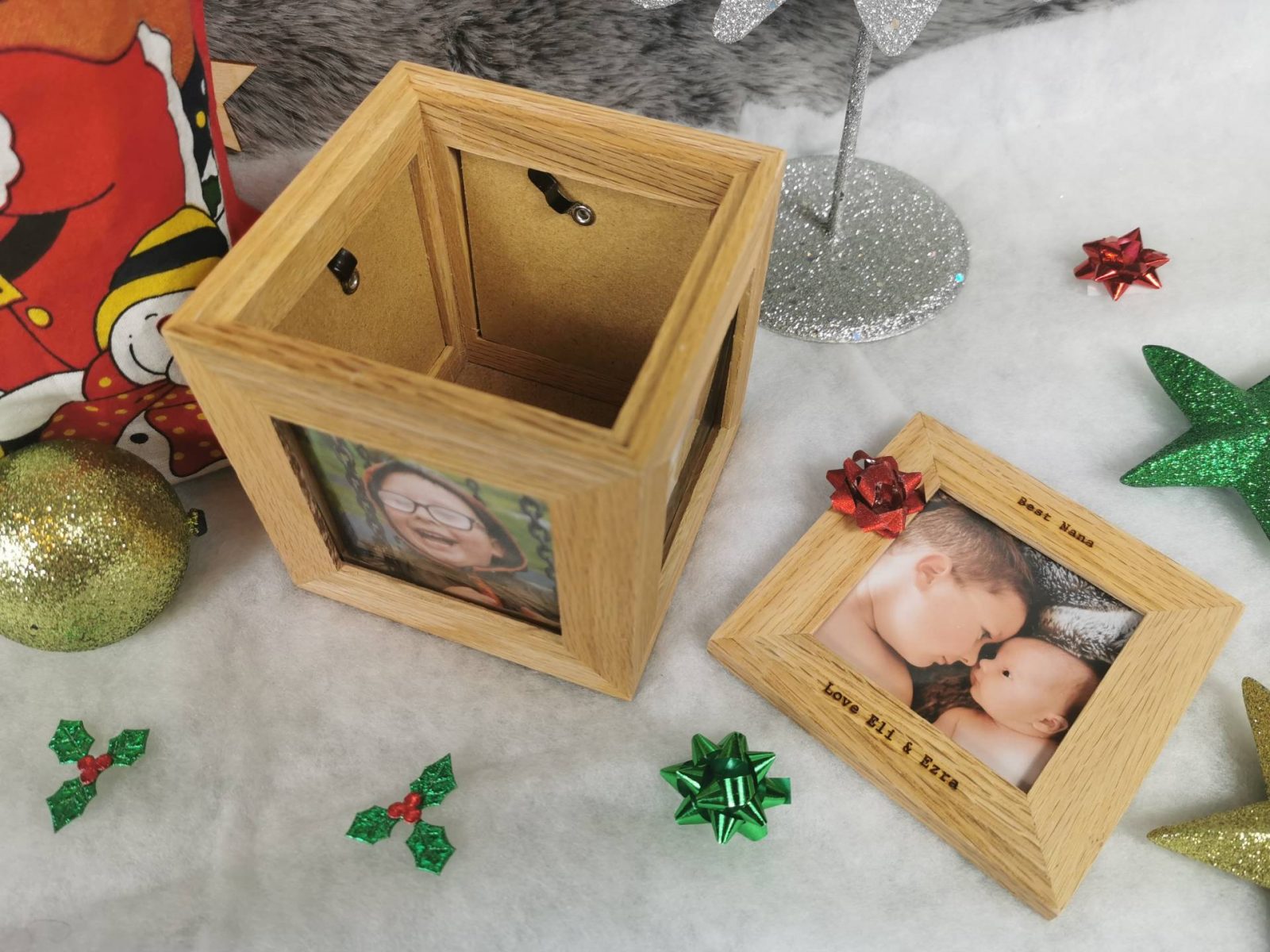 One of my favourite gifts to give this year is this beautiful Personalised Oak Photo Cube Keepsake Box from The Gift Experience. It can be personalised with 4 lines of text and is such a lovely gift for any occasion. Each of the sides and the lid hold a 7cm x 7cm photograph which you can easily insert or change. It would make a great gift for grandparents if you filled it with pictures of your children like I have.
This post contains press samples which were sent for inclusion consideration