Sponsored post in collaboration with Enviroclothes
Since Little E was born I've found myself with less and less time to keep on top of tidying and sorting. We've been using his bedroom as a bit of a dumping ground for clothes and a home to clean clothes that need to be be put away. However, now he's 8 months old, its time to start thinking about moving him into his own room which inevitably means, a mass clear out so he can actually fit in there.
Enviroclothes recently got in touch and asked if I'd like to learn more about their business and give their service a try. As well as giving me the much needed kick start, I was also intrigued to hear about the incentive they offer for your unwanted clothes.
In the UK alone we throw away around 350,000 tonnes of clothes each year. With fast fashion increasingly popular, it doesn't really surprise me. It does make me feel quite sad though and actually works out at £140 million pounds worth of clothes! In an attempt to take small steps to reduce our own contribution to this I've recently started buying more sustainable and ethically made clothing for our children, things that last longer, can be passed on and reused by other children and clothing that is made in an enviornment I feel more comfortable with.
Rethink. Redistribute. Reuse.
What is Enviroclothes?
Enviroclothes is a North East based company who buy your unwanted clothing and other items. They will pay you 40p per kilo for them and then they ship them to other countries and redistribute them for them to be reworn and reloved. They encourage sustainability and recycling and reusing unwanted clothing rather than throwing them away.
What do I need to do?
As you would if you were donating to a charity shop or selling your unwanted clothes, you sort out things that you no longer want or need. You need to check that the clothing is in a good, wearable condition with no wear/tears/stains/damage. If clothing has been stored for a while or kept somewhere like the attic then give them a wash so they are nicely refreshed – the items are sent directly to be reworn and reloved so aren't washed or cleaned before being sent on their way. Making sure they're not inside out will save time when they're being checked.
Things like school uniform, work uniform and things with logos cannot be accepted and things like underwear, socks and nightwear can only be accepted if it's brand new and unworn.
I decided to follow some of the Kon Mari principles when I sorted out our clothes. I emptied our wardrobes out and worked through the clothes, separating things to keep and things to take to Enviroclothes. I found it quite therapeutic, choosing what to keep, bagging it up and tidying up our wardrobes in the process.
Then what?
When you've sorted out your clothes and made sure they meet the Enviroclothes criteria, then you can either take them to a local drop off point or arrange a collection from your home address. This is pretty simple and can all be done on the Enviroclothes website. You simply complete their collection form, choosing the date you'd like the clothes to be collected and picking the most suitable 2 hour time slot. They ask for an idea of the number of bags you have and then the address that they're to be collected from. Alternatively, you can take them along to a local Enviroclothes kiosk ( the two closest to me are situated in the carpark of retail parks.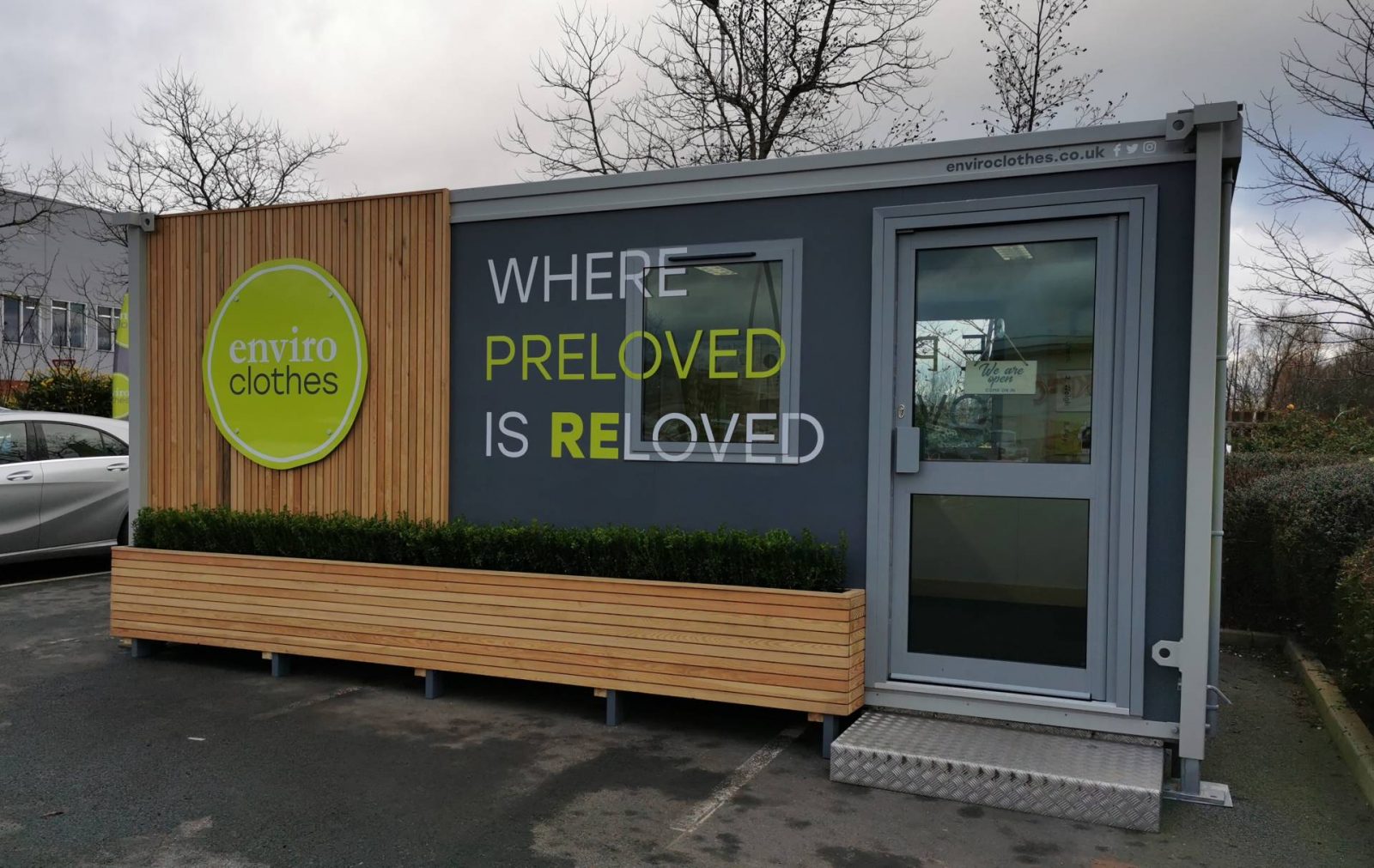 At the moment, there are three different Enviroclothes drop off points, all of which are open Monday to Saturday 9am – 5pm and Sundays 10am – 4pm.
We visited our local Enviroclothes drop off last Saturday and I was really impressed with the quick and simple process. We headed to the Arnison Centre in Durham. Enviroclothes has a relatively large kiosk in the car park opposite Sainsburys.
It has it's own designated car parking space, which was a god send on the busy Saturday that we visited.
The kiosk is light and bright and has various screens that flash up information about the company and information about the amount of clothing that is thrown away and what we can do to help.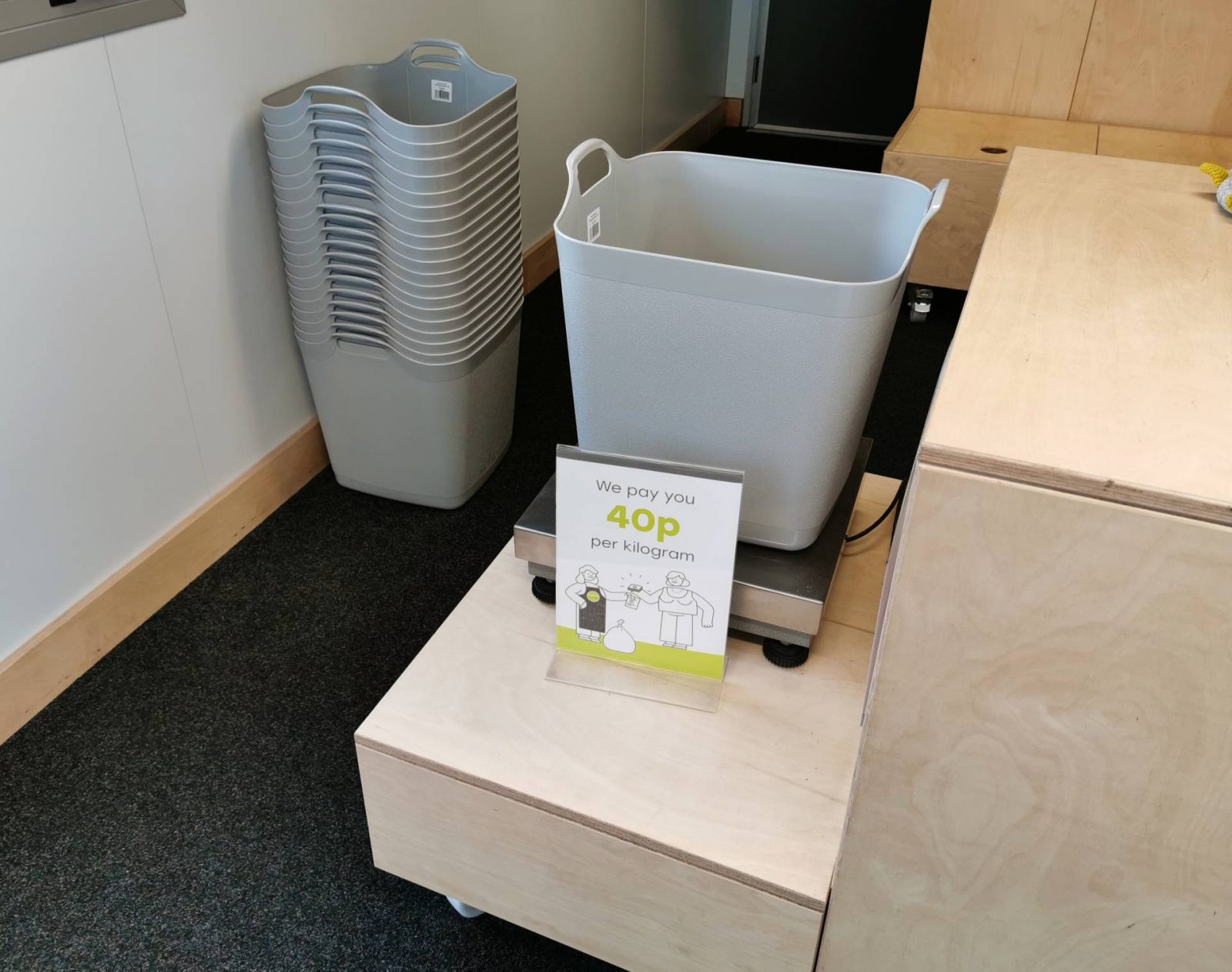 The member of staff in the kiosk was lovely, she chatted away while sorting and weighing our clothing and explained more about the company and where the clothes go once they leave the kiosk.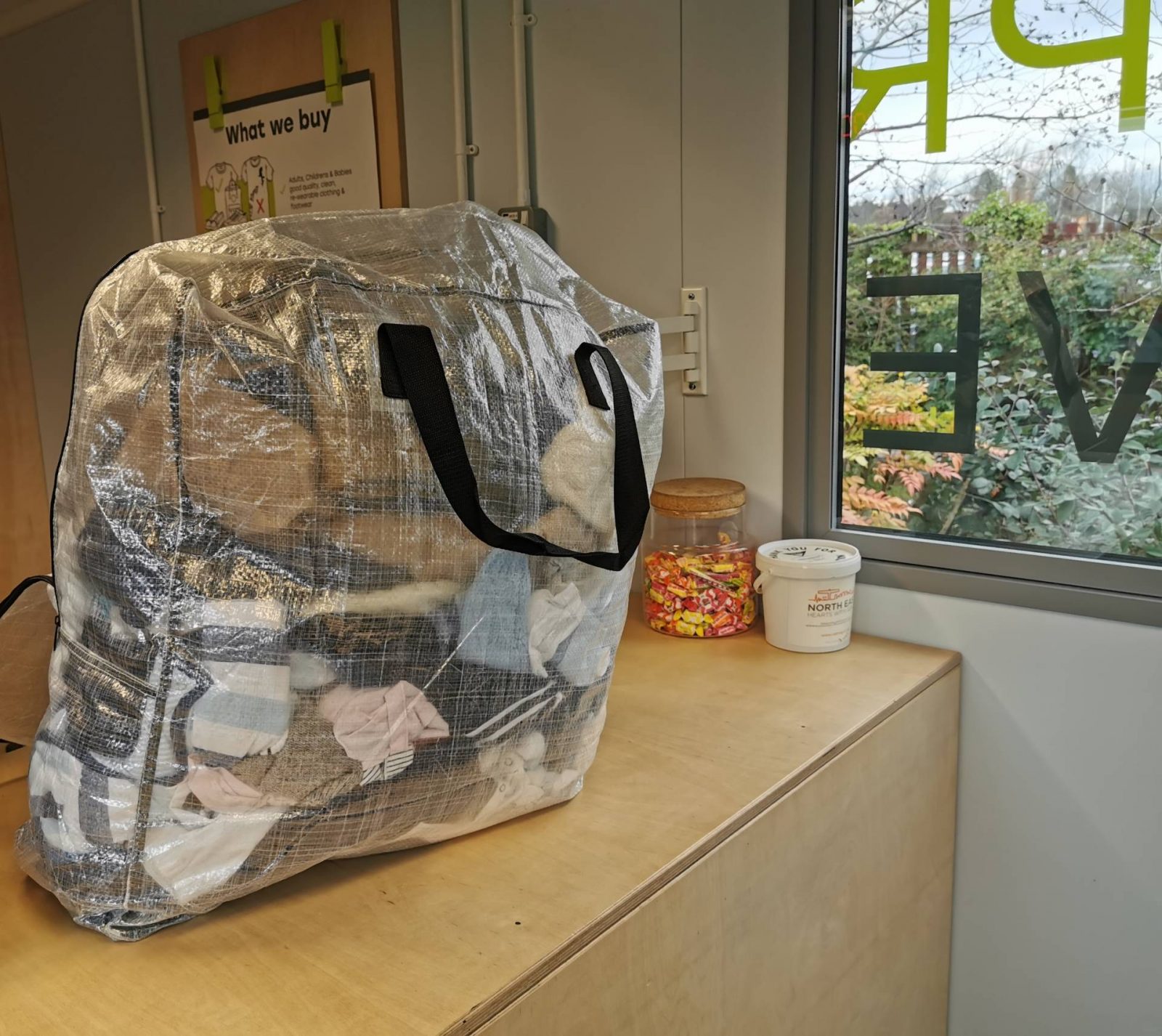 Despite the member of staff checking each item of clothing as it went on the scales, it was done very quickly.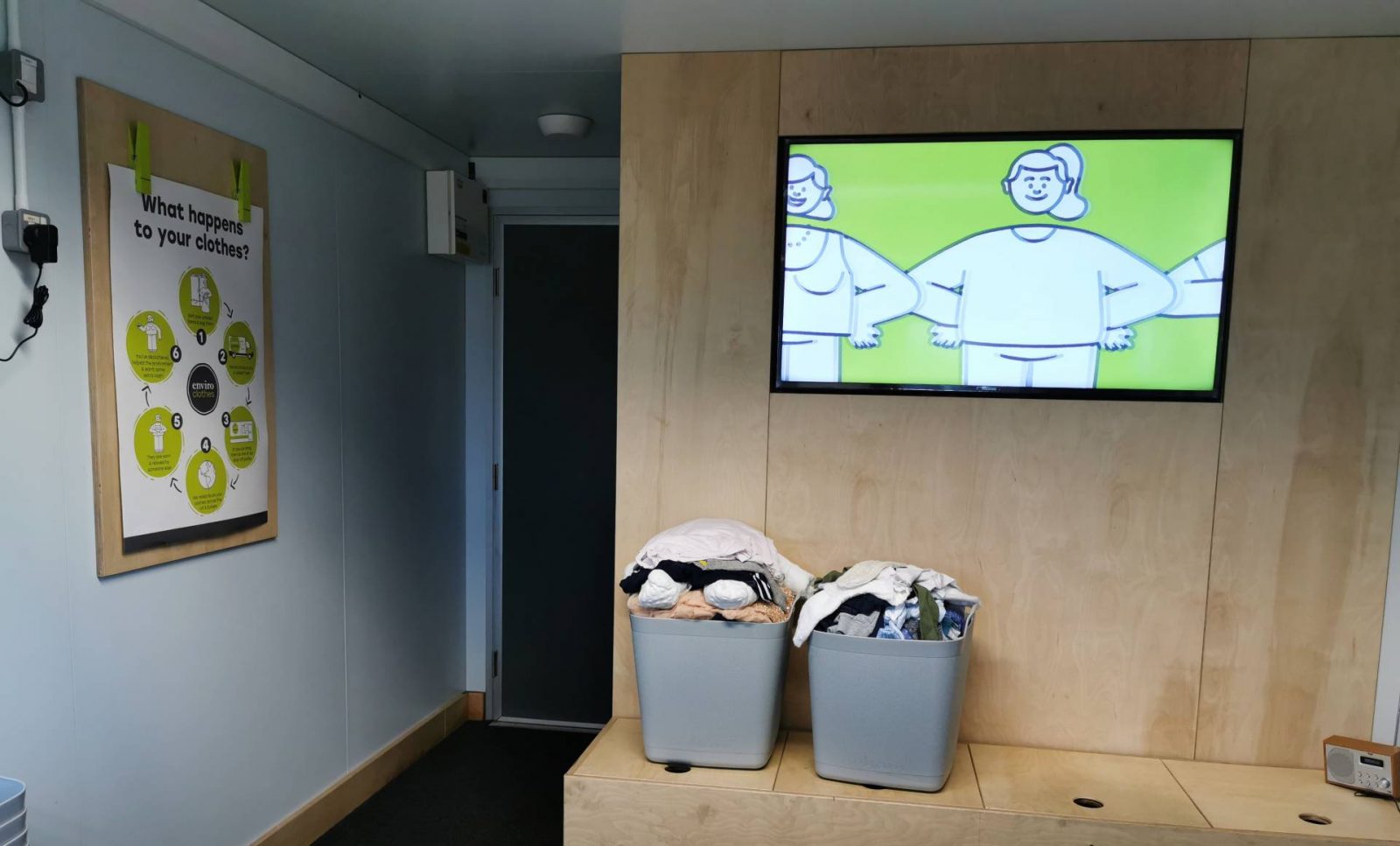 You're able to see the weight increase as more items are added to the basket. I liked that I could see what was going on and the transparency of being able to see the weight easily. Once everything was weighed out and there was a final figure I was given a receipt with all the details of my transaction on and the value of my items in cash.
It was a quick and pain-free process and I was also pleased to see Enviroclothes supporting a local charity, North East Hearts With Goals who help place lifesaving defibrillators into public places such as schools, colleges and sports clubs. and raise awareness of the importance of CPR.
Enviroclothes are offering my readers a a special increased price for their unwanted goods. Instead of 40p per kg, my readers can receive 50p per kg for the next month, up until 29/02/2020, just use code, ROCKANDROLL50.
I've already started packing another bag to take to Enviroclothes at the weekend, I'm challenging myself to beat the weight of last week's bag!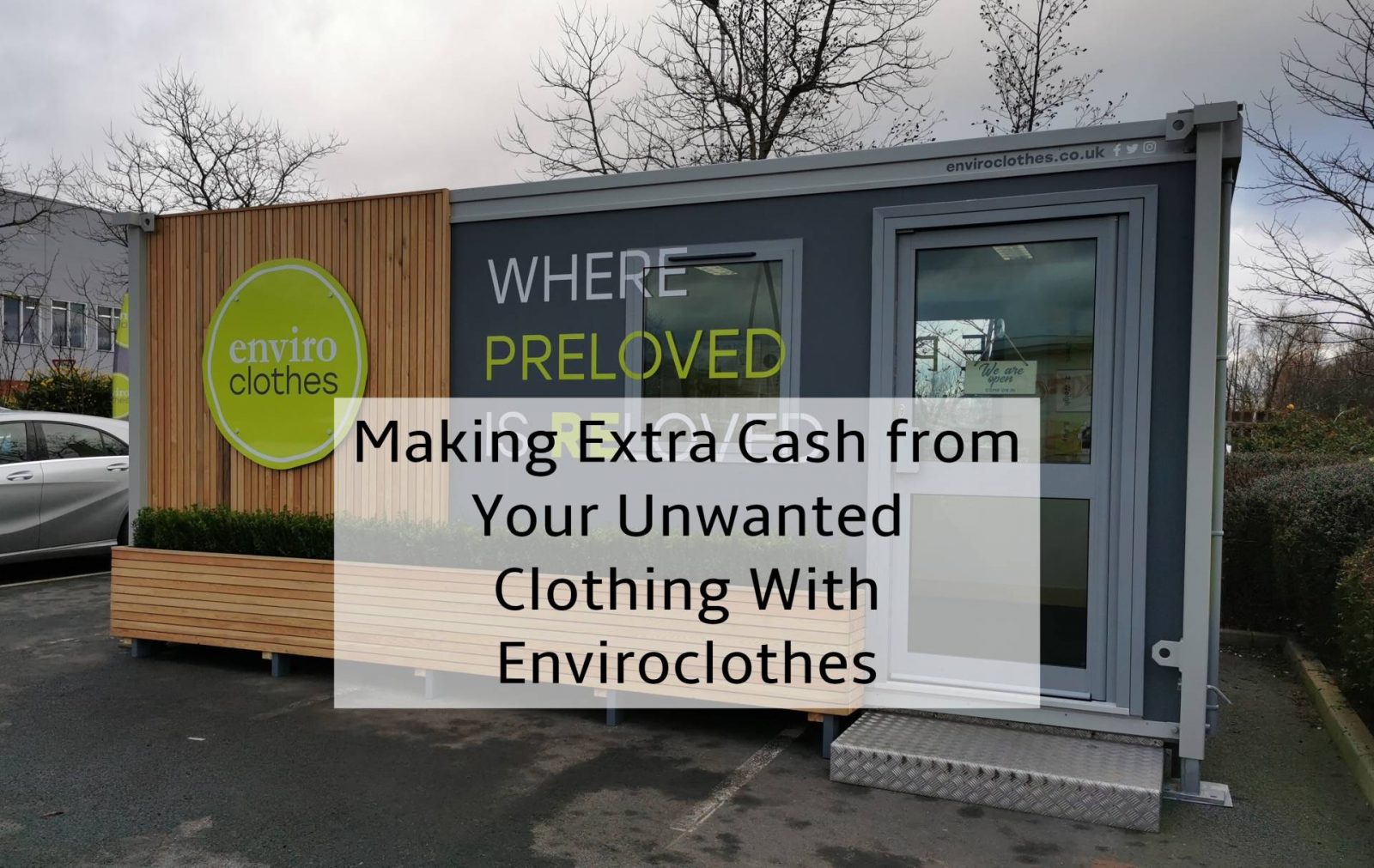 Sponsored Collaboration with Enviroclothes