Sample product sent in return for review.
I'm an avid photograph taker and memory keeper. I love snapping pictures of the kids and our days out and adventures. In recent years I've made more of an effort to print pictures off and display them around the house, we have shelves stacked with photos and pretty much every available piece of wall filled with family memories.
I love buying personalised photo gifts for friends and family as well as ourselves, so when My-Picture.co.uk got in touch to ask if I'd like to try out something from their range, I couldn't wait to have a look.
As well as traditional photo gifts like canvas prints and mugs, they also offer a great range of more unique products such a puzzles, a custom face mask and a personalised photo blanket.
After much deliberation and time spent scrolling through their pretty products, I decided on the personalised photo blanket. It looked like a great way to print off one of our recent photos without trying to find wall space to display it on.
The blanket is available in three different sizes – 100 x 70 cm, 150 x 100 cm and 200 x 150 cm, I chose the largest size without actually measuring or checking how big it would actually be. The photo blankets are safe for those with allergies and are machine washable at 30°C. They use dye-sublimation printing to force the ink as deep as possible into the core of the fabric so the print is vibrant and long-lasting.
Placing my order was simple. The website is very easy to navigate and I was able to find the different sections with ease. Once I'd chosen the section I needed I just had to decide on which photograph to use.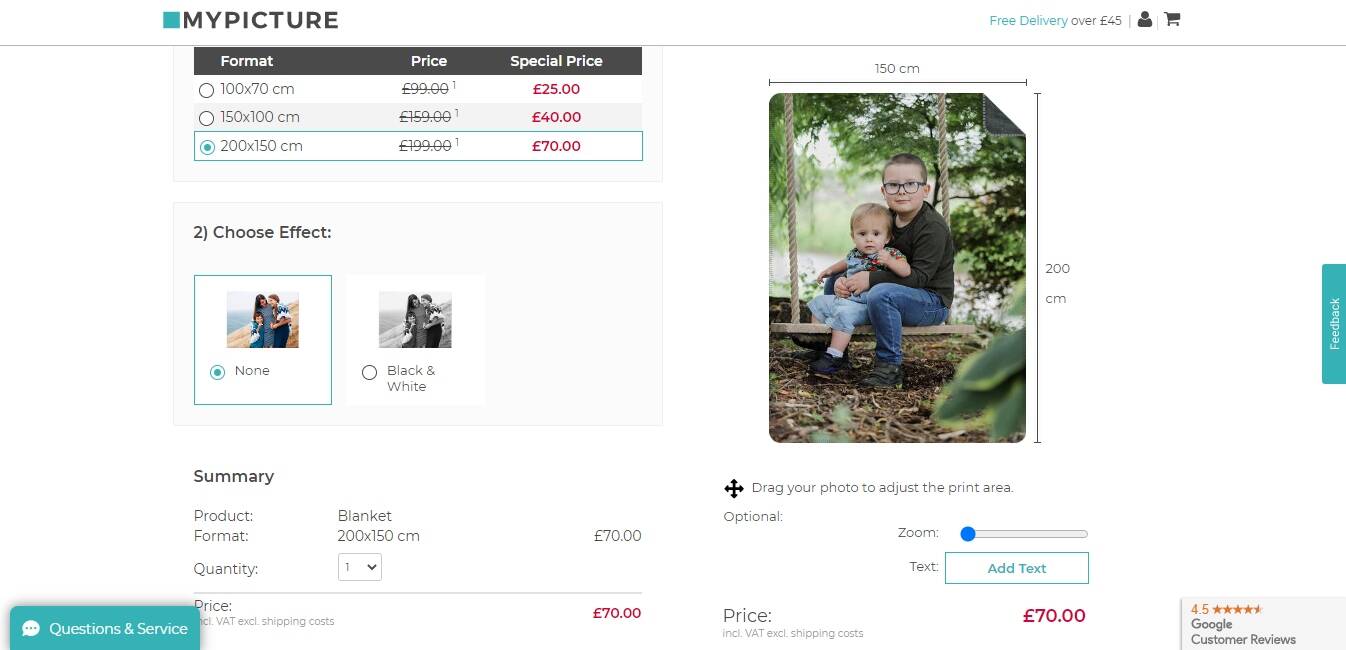 I decided on a recent picture of both boys where they are both actually looking in the same direction ( such a rarity!).
I would recommend using a high quality photograph where possible ( picture scan be uploaded from a computer or a smartphone. I used high definition photographs that were taken using a SLR camera but I imagine good quality camera phone would be fine too, just maybe check the quality before choosing a large print.
You're able to pay for your design by either card or Paypal and there is an option to use a coupon code if you have one ( hint hint – read to the end).
Delivery was really impressive. I placed the order on 6th of July and received an email to say production was complete on the 9th of July. You're sent helpful reminders about the stages of your order and you can even log into your account to see the progress. I was expecting to wait quite a while for delivery but I was very pleasantly surprised to see my order delivered by courier less than a week after placing the order. It came well packaged with just the right amount of protection and in perfect condition.
I honestly couldn't believe how nice ( and how big) the blanket was when it arrived. It's a luxuriously downy and super-soft blanket with my picture printed on one side and cosy grey material on the other.
The print quality is amazing. It has no pixelation and looks so clear and detailed.
The colours look as bright as they do on the actual photograph and they work so well with the blanket material.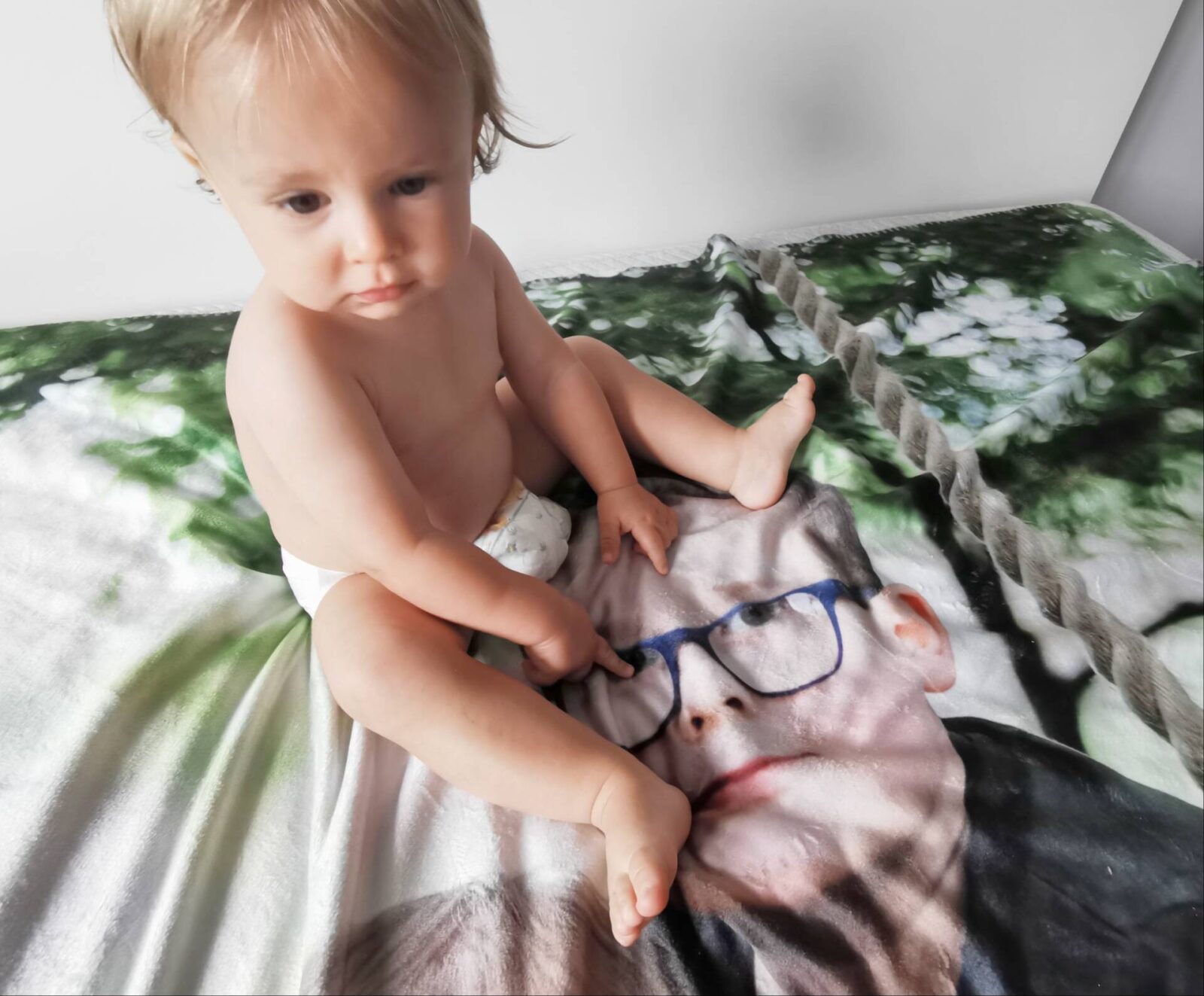 Little E is a little bit obsessed with looking at himself and his big brother on the front of the blanket. He will pull out the blanket to snuggle with and point at himself and his brother.
It's really big too, it covers our standard double bed making it perfect for snuggling up under to watch TV or using on a bed.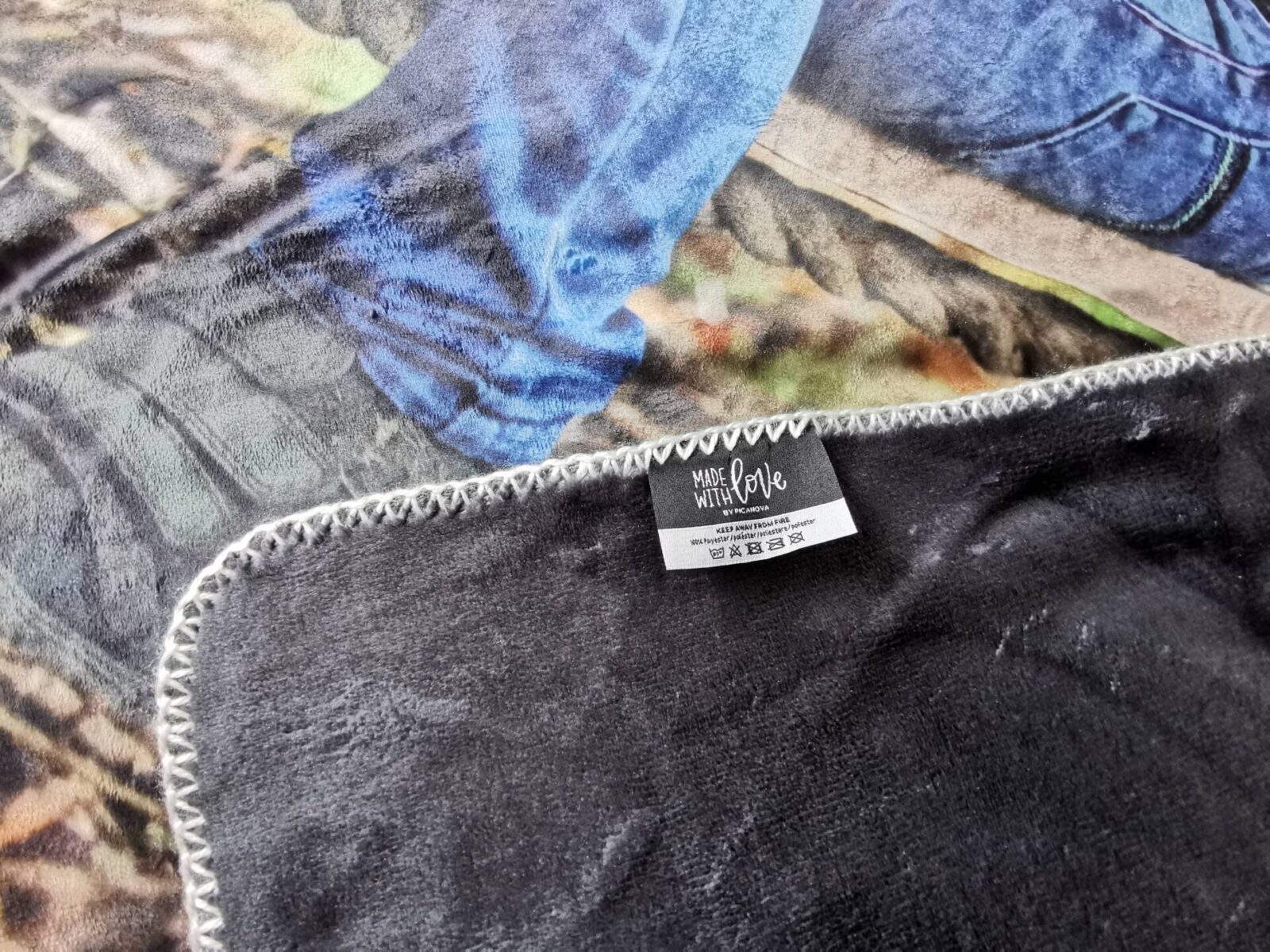 I'm so pleased with the photo blanket. It's really good quality and is such a unique way to display some of our photographs.
If you'd like to try them out yourself, you can use the code ROCKANDROLLCAT10 to get an additional 10 % off any products on the www.my-picture.co.uk website.
The blanket was sent free of charge in return for an honest review. I was also compensated for my time.