We were invited along free of charge in return for an honest review
The NYMR Light Spectacular is back for 2023 and its as twinkly as ever. The unique, immersive light and sound experience is a brilliant event to enjoy over the half term.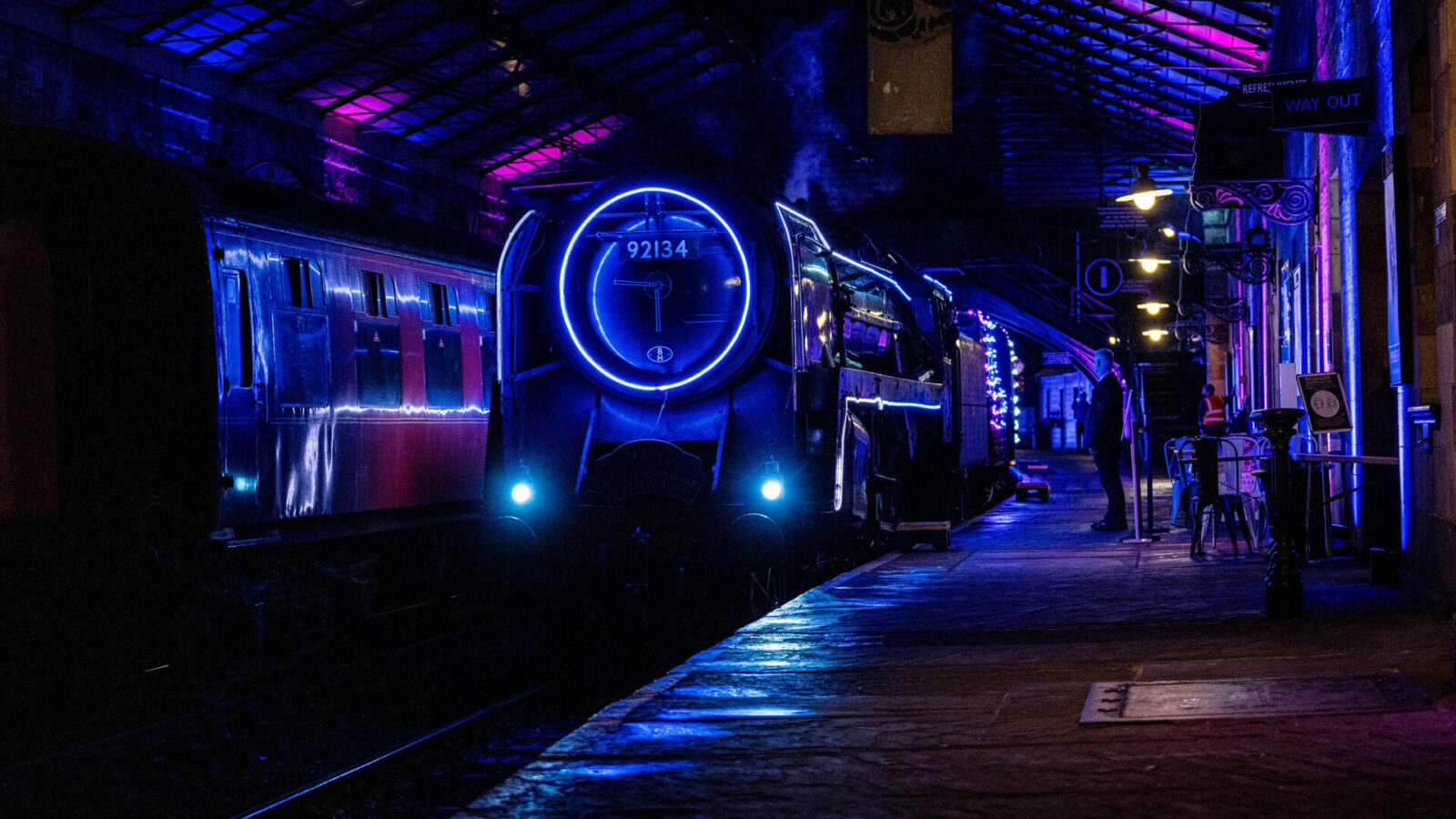 This year the event is running from 27th October to 5th November and also the 10th to 12th November 2023. There are two departure options – 6.15 pm or 7.45 pm, from Pickering Station each evening.
The train and it's sparkly carriages travels to Levisham for an hours light and sound spectacular, with on-board narration from the famous 'Voiceover Man' Peter Dickson (you'll recognised his voice from X Factor, Britain's Got Talent and Ant and Dec's Saturday Night Takeaway) before returning to Pickering.
We arrived at Pickering Station at 5.15pm for our 6.15pm departure. We knew from last year that the car park fills quite quickly so we were keen to park up early to allow plenty of time. There is usually a £5 parking charge in car park at Pickering Station but it is wavered during the Light Spectacular events. As we'd arrived early, the boys were able to have a look at some of the trains and machinery in the grounds of the station and the extremely full river that runs alongside .
Before boarding the train each guest is given an interactive wristband by a NYMR volunteer, these wristbands flash a range of bright colours when you press the button on the side. Once you're on the train, they sync in time to the music and you don't get back control of the wrist band until the journey is over. The volunteers will happily explain how it works and will answer any questions you have about the railway. This wasn't our first visit to NYMR Light Spectacular but the volunteers were as pleasant and friendly as they were last year, I honestly believe the volunteers MAKE the railway and the event, they're all so nice. Once we'd collected our wrists bands, we headed round to the station itself.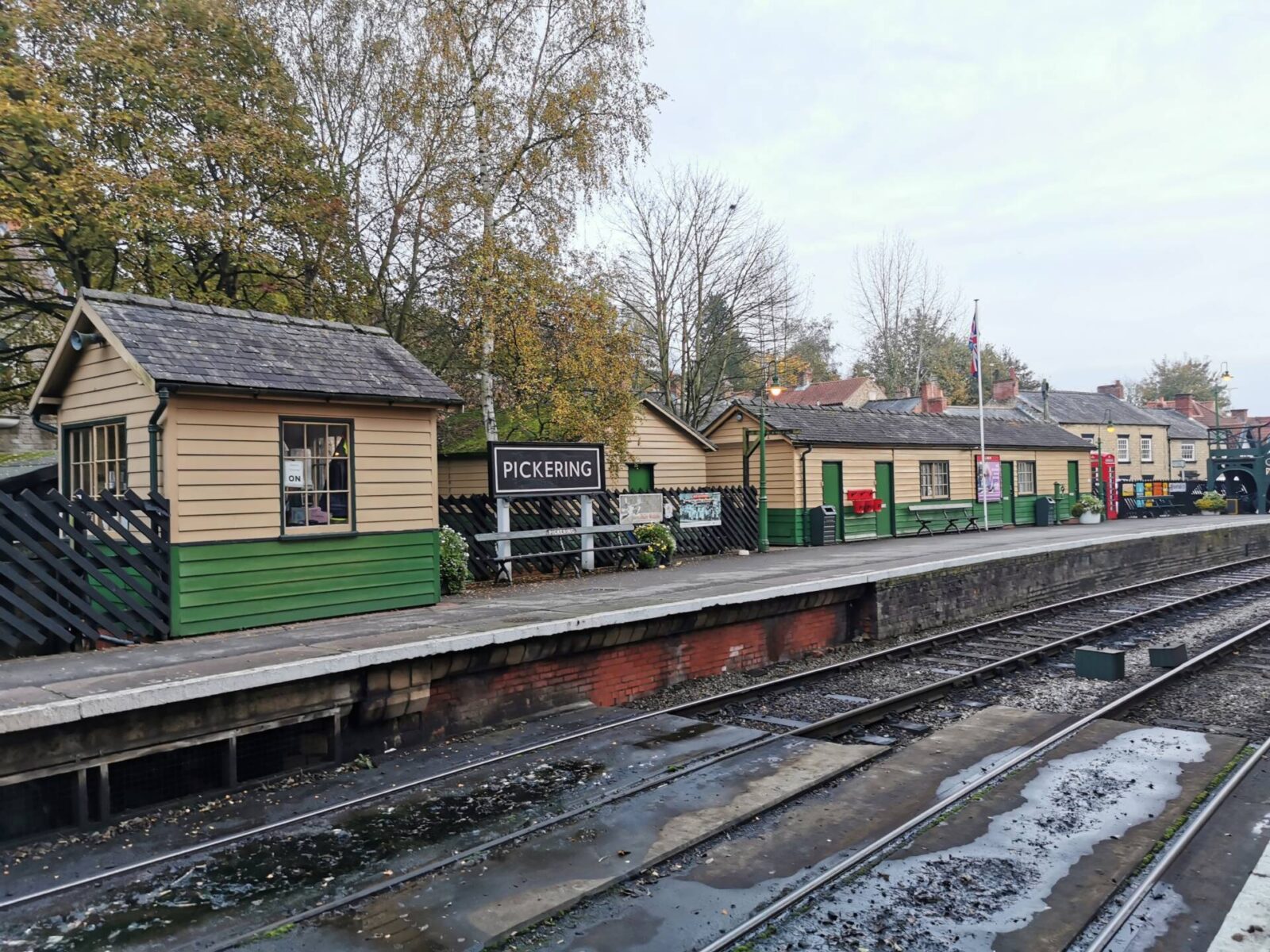 Pickering Station is an attractive, 1930's themed station with a magnificent roof structure which was recently re-instated to the same design as the original, built in 1847 by G T Andrews.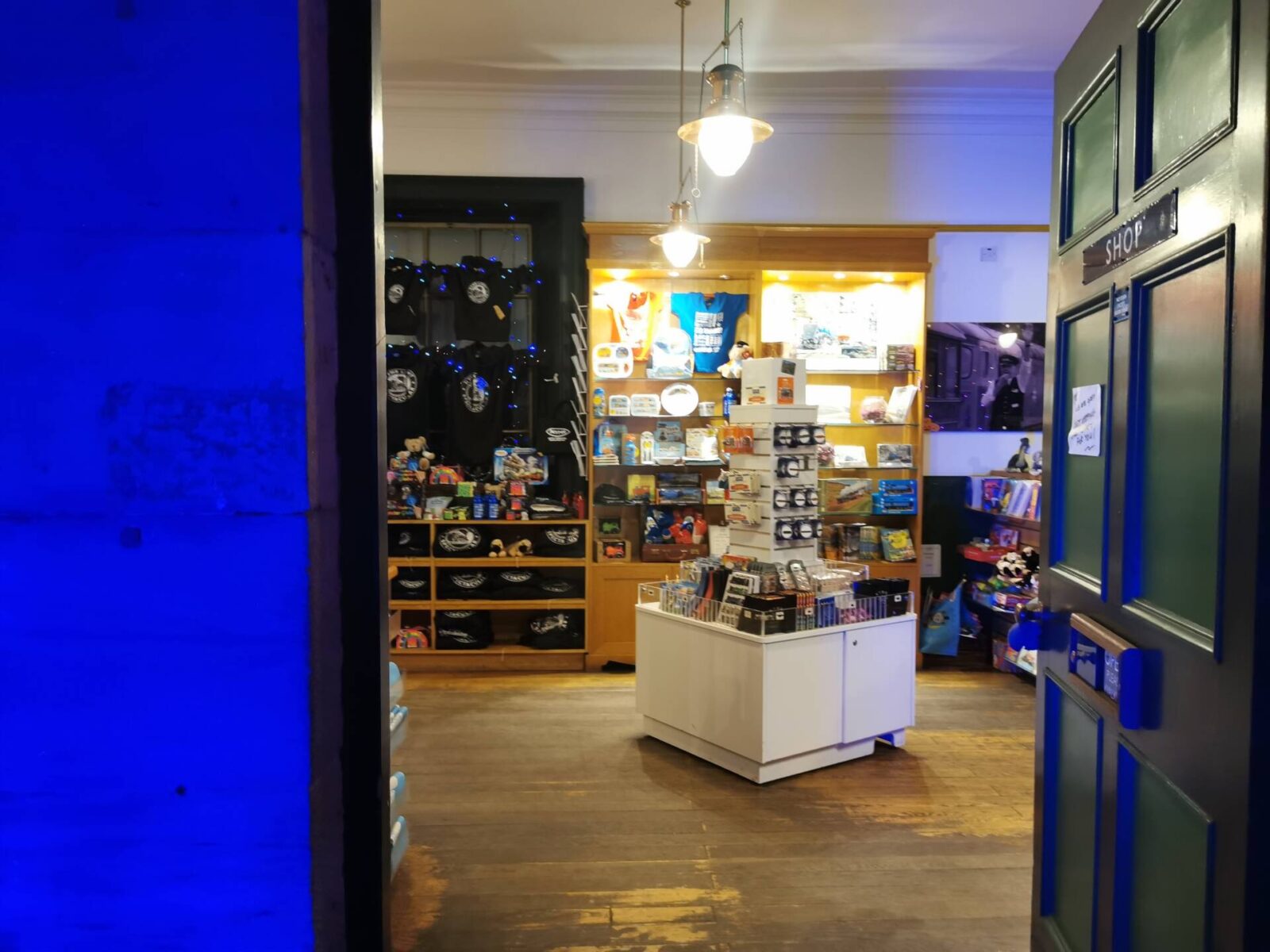 The gift shop in the station was open so the kids were able to purchase some keepsakes. There were a range of things to buy for varying budgets, from fridge magnets and badges to NYMR branded hoodies and t shirts.
The cafe was also open and had a range of goodies for sale. I had serious regret once I'd got on the train that I hadn't purchased a hot chocolate. Expect to pay £2.30 for a cup of Yorkshire Tea and £3.15 for a latte. There were also alcoholic drinks on offer, a bottle of large was £4 and a individual bottle of Prosecco was £6.60. There were also things like slices of cake and premade sandwiches that you could purchase to take on the train or enjoy while you were waiting to board.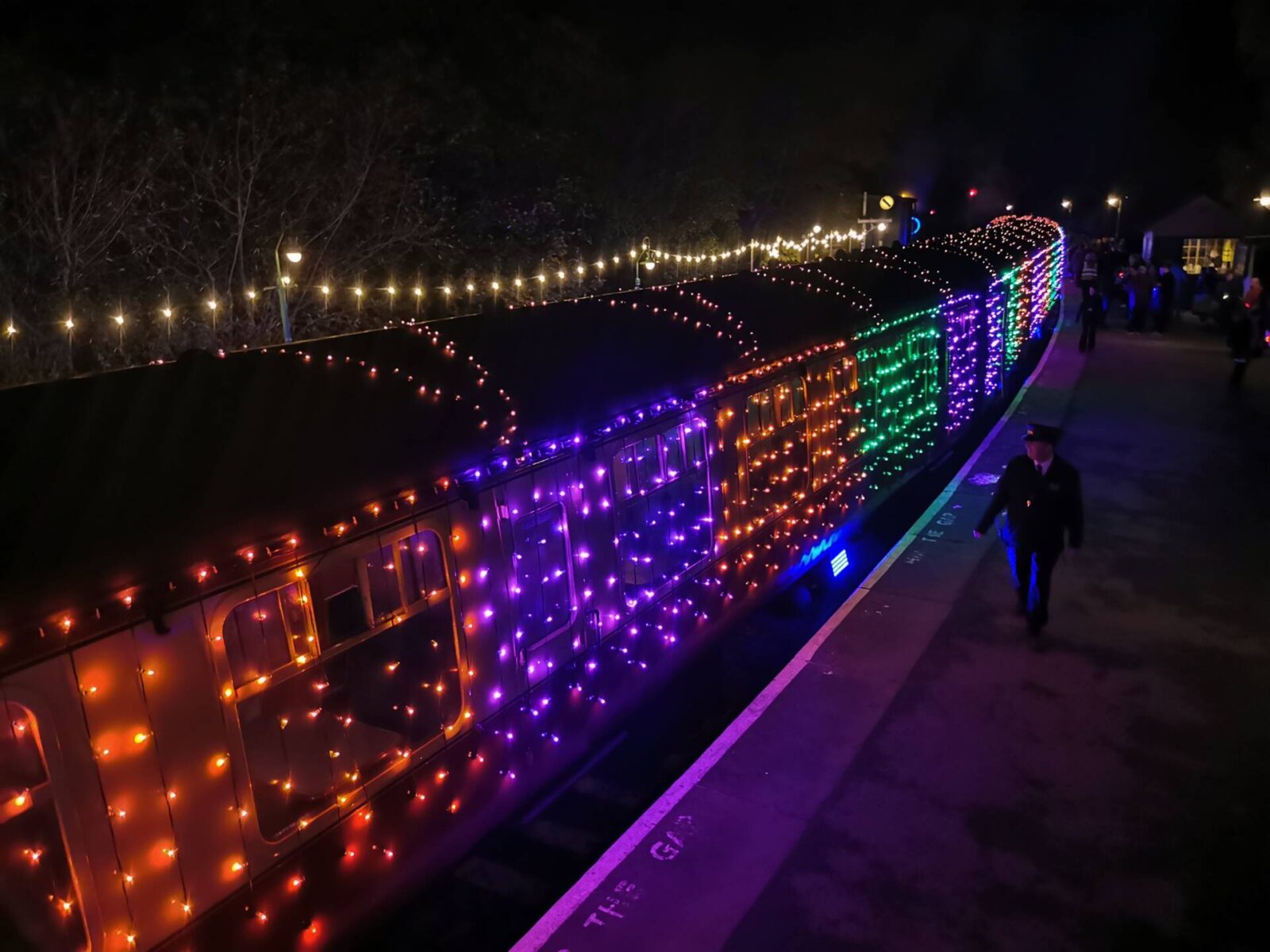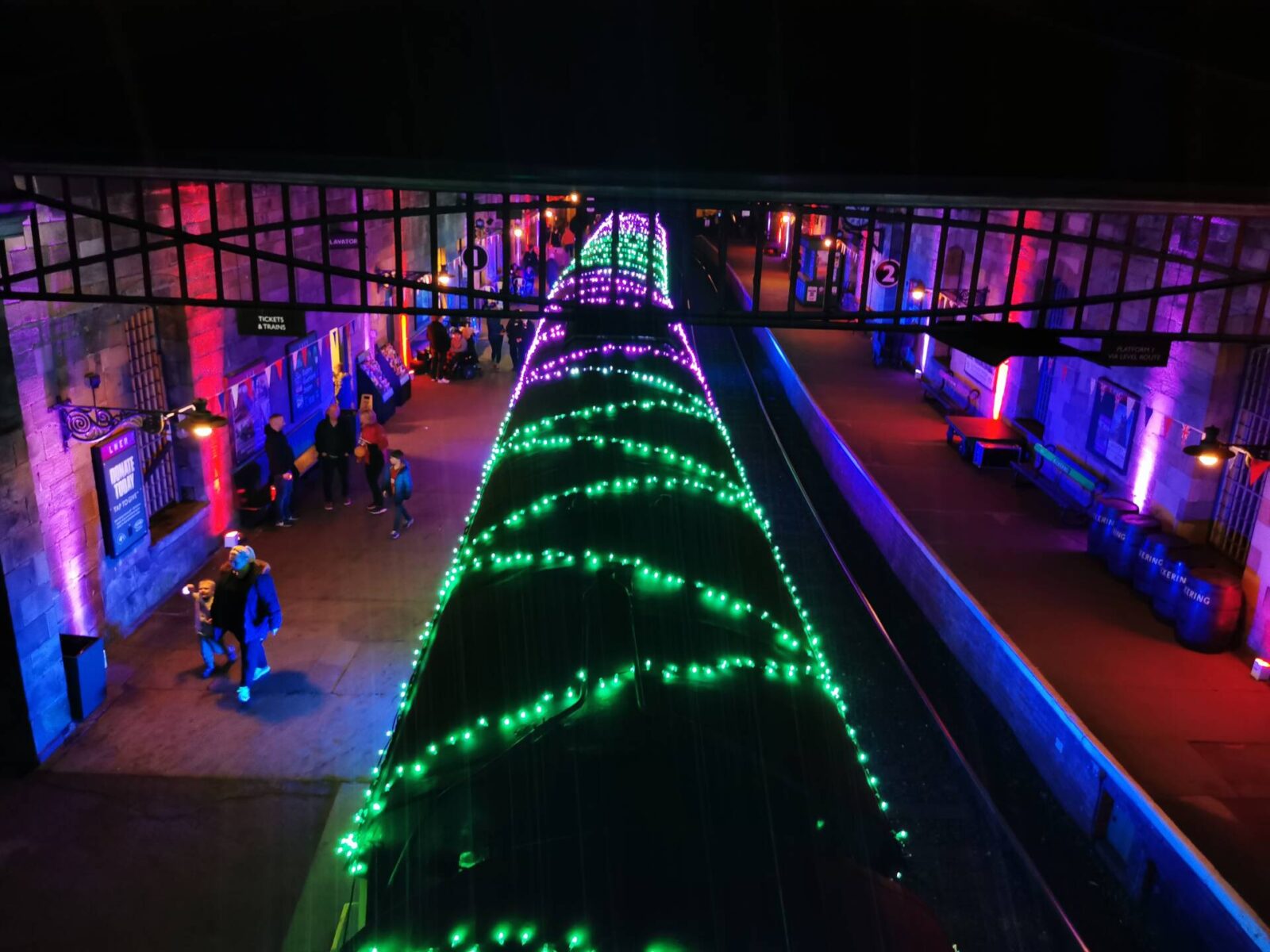 Watching the train pull in is quite magical. Covered in thousands of twinkling lights, people were mesmerised. There were lots of people there who weren't travelling and had just come to take pictures and see the pretty train.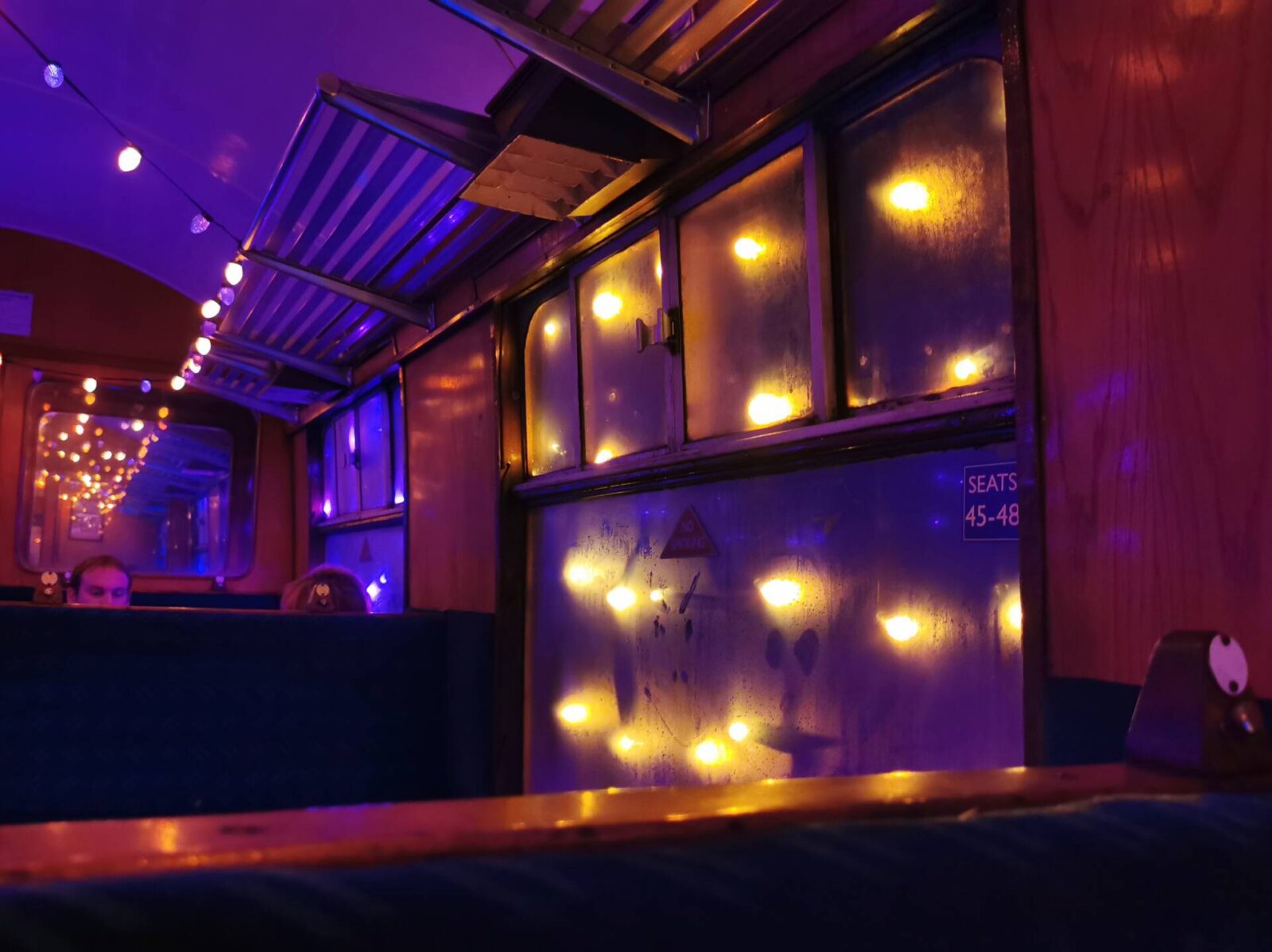 Seats for the Light Spectacular are allocated before the event so there's no made dash to board the train. We were able to leisurely board and find our seats in carriage D. The carriage had a table between every four seats which was ideal for our family of four. There is plenty of space in he carriages and the seats are nice and comfortable.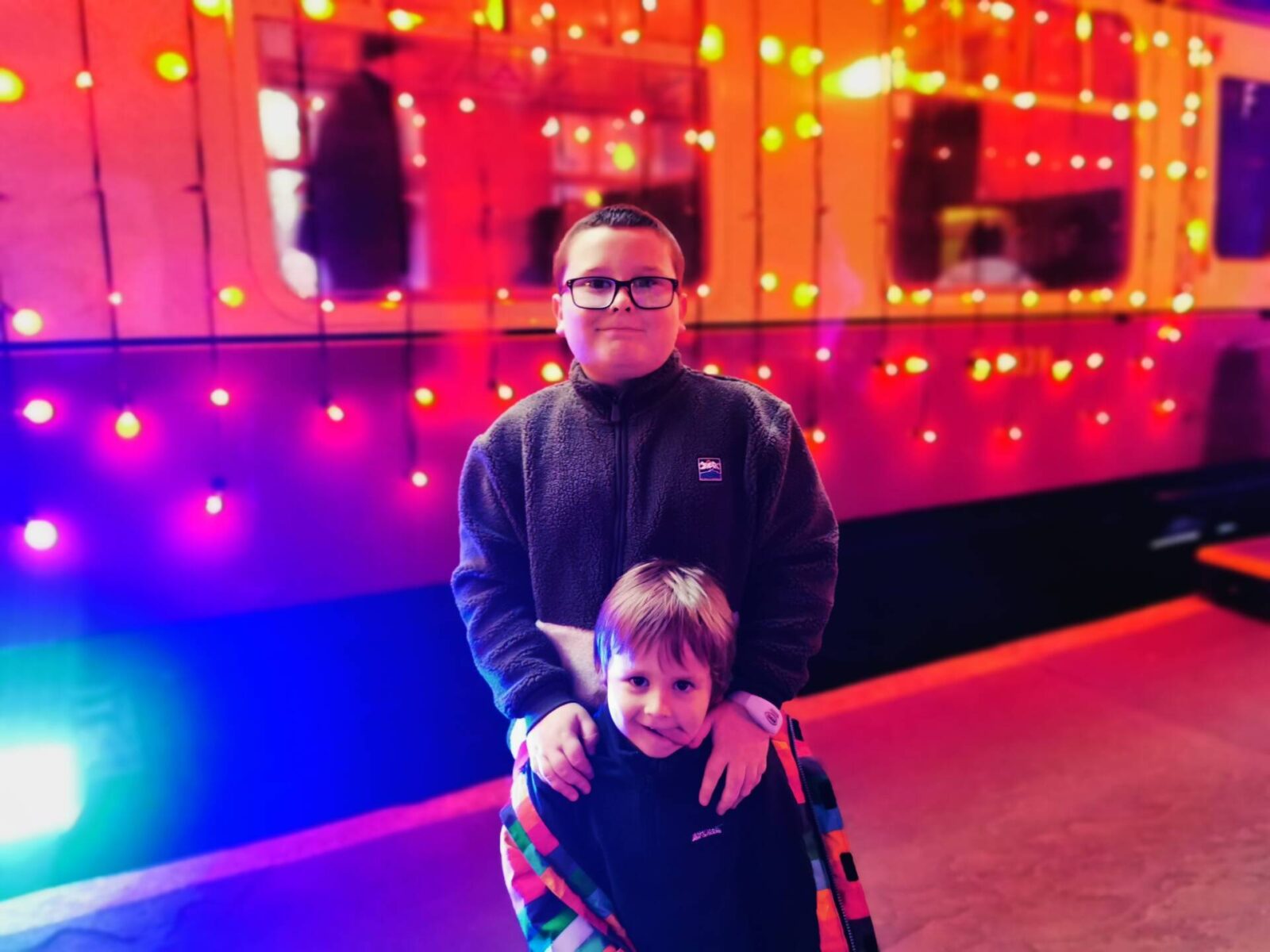 Our carriage seemed to be mainly families but we did see a range of visitors including young couples and a couple of older people who appeared to be travelling alone.
As the journey started it was starting to get dark. The wristbands and the lights inside and outside the train helped keep everything light enough to see.
We remembered to take some light up toys with us this year after seeing lots of people with them during our last visit. The boys enjoyed playing with the light up Halloween mask and flashing stick during the journey.
We didn't have long to wait for our journey to start, Voiceover Man announced what would happen during the journey and gave us an idea of what to expect with our wrist bands and the type of genre of music to expect.
There was a trolley service on the train with a range of treats and drinks available to purchase. We did notice a sign to say there were toilet facilities on three of the carriages this year too, although we didn't use them.
The journey was a mixed of popular songs from across the decades and lots of cheesy jokes and fun from Voiceover Man. Everything was very family friendly and the boys enjoyed his 'Dad' style jokes.
Our carriage was relatively calm this year. Last year we'd been with a very lively bunch whereas this year there were less dancers and singers, more people seemed to be enjoying the atmosphere and train journey. The boys enjoyed singing and waving along to the music and enjoyed picking out songs the recognised from the likes of MC Hammer, The Spice Girls and Queen. At one point some of the wrists bands went pink and others went blue and each set of passengers wearing those colours had to sing the male or female parts to a Grease Megamix.
The lights both inside and outside the train looked amazing, as we travelled along the illuminated train shone across the countryside. It was amazing to see so many people topped to wave and take photos of the train – I bet it looked strange chugging along if weren't expecting it!
The half way point of the journey was a stop at Levisham so the engine could couple to the rear of the train for the return journey to Pickering. The train stopped for a while but the music and Voiceover Man didn't – he encouraged people to dance and stamp their feet along to 'We will Rock You'. After the top the train headed back to Pickering with lots more music and fun.
We all enjoyed our second visit to the NYMR Light Spectacular. The journey was lots of fun and it was a nice, family friendly event. It makes a great alternative to Halloween and there are till some tickets available for this week!
Pickering station has free disabled parking, accessible toilets and it has accessible routes to the two platforms which are suitable for wheelchair users. There is also a hearing loop in the Station Tea Rooms and Customer Services / Booking Office.
If you're not just visiting for the day, Pickering Premier Inn a short distance from the train station. We've stayed a couple of times and found it reasonable and very clean.