What
the company say

The
freshskin
by
Elemis
range consists of 14 fab new products designed especially for the
needs of young skin.
Skin will appear brighter and more
radiant whilst the freshskin Skin Clear range targets problem, oily
and blemish prone skin.
Every freshskin product is formulated
with naturally active ingredients which have been specially chosen
for their ability to help cleanse, exfoliate, moisturise and target
the problems of a young skin.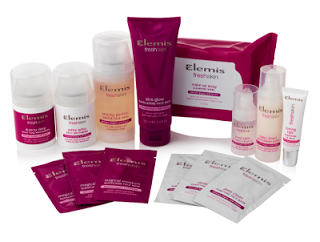 Price
and Stockists

Price
List
Make Up Away Cleansing Wipes (25) £8
Peachy Perfect Gentle Face Wash 100ml
£12
Skin Glow Exfoliating Face Wash 100ml
£12
Loving Lips Quenching Lip Balm – 10ml
£8
Face Mask Duo deep clean and magical
moisture – 6 x 7ml £15
Tired Eyes Soothing Eye Rescue 15ml £15
Super Boost Moisturising Serum 30 ml
£18
Softly Softly Daily Moisturiser 50ml
£20
Dreamy Sleep Night-Time Moisturiser
50ml £22
freshskin Discovery Kit £19.90

Super
Boost Moisturising Serum 30 ml £18
NEW
to the range is this intensive and hydrating Super Boost Moisturising
Serum. The lightly textured serum combines a specially selected blend
of natural hydrators, ideal for when your skin is looking dull and
lifeless and in need of a moisture boost. Maintaining your skin's
natural moisture levels and preventing further dehydration. Ceramides
and hyaluronic acid work together in synergy with softening plum oil,
and vitamin E to energise your skin, boosting radiance and revealing
a natural, healthy glowing skin.
My
thoughts

I
use this on a morning before my moisturiser and before putting on my
make up. It's a light serum which has a pleasant almond scent. It's
extremely lightweight and settles into the skin instantly.
Personally,
I find that I need to use moisturiser as well as this as my skin a
little too dry to get away with just this. I do like the fact my skin
doesn't feel stick or odd after using serum, I've found that effect
previously.
Loving Lips Quenching Lip Balm – 10ml £8
This refreshing peppermint lip balm, is enriched with passionflower oil, sweet almond oil and vitamin E to soften and condition the lips.

My thoughts
I
adore this stuff. It's extremely moisturising and feels so soft on my
lips. The peppermint scent and taste is really refreshing. I use it
prior to bed and then throughout the day. I stick in in my hand bag
and reapply regularly. The only issue I have is it's staying power,
it doesn't stay on your lips very long.
I
usually apply it over the top of my lipstick which I feel makes it
last a little longer.
My
lips are noticeably softer with no dry patches which I usually suffer
from.
Peachy Perfect Gentle Face Wash 100ml £12
Hydrating chicory extract, conditioning elderflower and skin-awakening lemon, leave the complexion beautifully soft and glowing.
My thoughts

This is another of my favourites. I find this really gentle and nourishing. Although my skin isn't as sensitive as it used to be, I do sometimes find products, especially face washes and toners make my face a little store and red, this on the other hand couldn't be more gentle if it tried. My skin feels very soft and smooth after use and the smell is great, it reminds me of Mojito's! It has a faint lime scent and is very refreshing.
Dreamy Sleep Night-Time Moisturiser 50ml £22
Specially formulated with a powerful liposome complex of vitamins A, C and E, this intensely hydrating night-time moisturiser improves skin radiance whilst you sleep. Blackcurrant seed oil and barley extract help to further refine skin texture and increase skin smoothness.
My thoughts
This is a light and simple moisturiser which combined with a relaxing scent is perfect for use before bed. I really like it. It's not a heavy, sticky moisturiser, it's light and fluffy but still makes your skin incredibly soft and smooth. I think the scent of lavender is very obvious in the moisturiser and I find it really relaxing before bed as you can smell it on your face.
Theres no stickiness or residue left with the moisturiser. It sinks into your skin very quickly and leaves your skin feeling silky smooth, much different to night creams I'm previously used, that make your skin really greasy, clogging your pores.
Overall
I really liked this range. It was light and fresh and has helped my skin no end. My skin is spot and blemish free and is much less oily. I think this range would be perfect for teenage girls just getting into skin care and would make an ideal present.
The range is slightly expensive so maybe not the most cost effective for a young girl, but something maybe her parents could help with. I think it's probably most suited up to the age of 25, as after that a more intense moisturiser could be required.
Overall a fab range which is gentle on the skin and contains no nasty ingredients.
(PR Sample)