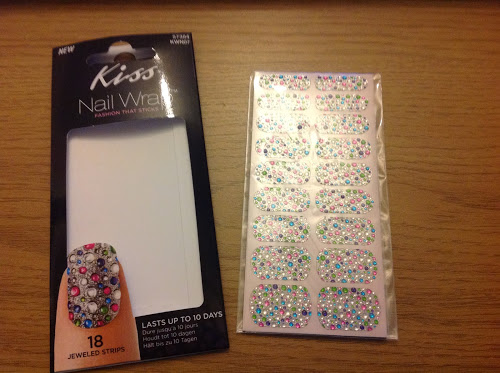 Although it's almost too late for shopping, you still have time to pick up a few last minute stocking fillers for the lady in your life, or your best friend who you might have accidentally forgotten about.
Below are a couple of suggestions, all of which can be picked up on the high street.
Kiss Nail Wraps are so pretty. They cost £5.99 for 18 individual strips which can be used on both your finger nails or toe nails. They last up to ten days (perfect for a couple of nights out over the festive period)and are really quick and easy to apply. You can pick them up in Asda, so when you're doing the food shop you can sneak them into your trolley.

Haute Couture lashes come with an applicator, making them much easier to apply than the usual false lashes. Prices start at £4.49 and you can pick them up in Superdrug.
The quality of the lashes is great, they're really thick and make a massive difference to your lashes, perfect to glam up when you're going out straight from work.

Kiss Everlash MD+ serum is a clinically proven serum that makes your lashes look longer and thicker in 4 – 6 weeks. It's a non irritating, hypo allergenic formula and costs £17.99 in Superdrug.
I think it would make a perfect sticking filler, it's something I would love to get off my husband. Every lady wants naturally gorgeous lashes and a husband or partner that acknowledges it!