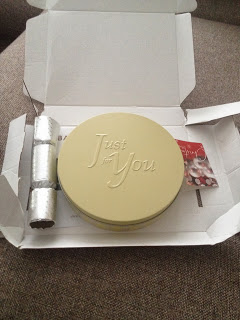 Baker Days make a range of cakes including a 'LetterBox Cake' which is small enough to fit through your letterbox. 'Small enough to fit through the letterbox, but large enough to celebrate the biggest occasions.'
They are currently advertising letterbox Christmas cakes which I think looked ideal for thoughtful Christmas presents for those awkward relatives that you know you need to buy for, but live so far away.
They have 32 individually designed Christmas cakes that can be customised in a variety of different ways, i.e. sponge, gluten free or dairy free.
The cake itself came in a small simple white box, which doesn't look too much unlike a beauty box subscription. Upon opening it up I was greeted with this little cute lot.
A cute little silver cracker, a Christmas gift card and a funky gold metal tin, which contains the cake!
How cute is my cake?!
I love the little Robins on the icing and the fact I could customise it with my Blog name. The cake itself is a soft and moist Maderia.
If I'm honest I was a little concerned that the cake may be a bit dry or not that great, after all if did come through the post and was sat on my doormat, BUT it was delicious! It was soft and tasty and full of flavour.
The letterbox cake costs 314.99, is 5 inches in diametre and provides 3-4 portions, and obviously it comes in the post, fits through your door and still tastes delicious.
I think Baker Days cakes are a fab idea for an unusual but thoughtful present, especially if you add a picture to the front. It'd be fab for those Grandma's who live miles away.
(PR Sample)